Earlier this week I talked about two mega-ton reveals that Mezco Toyz announced at New York Toy Fair 2019 and didn't show (ONE:12 Collective Moon Knight and Gambit), but there's still one figure that they did show at NYTF I need to talk about and post my hi-res photos of. And weirdly enough, it just so happens Mezco has officially solicited that figure today: the ONE:12 Collective Captain Marvel figure is now up for order! And with a portrait like that—look out Hot Toys!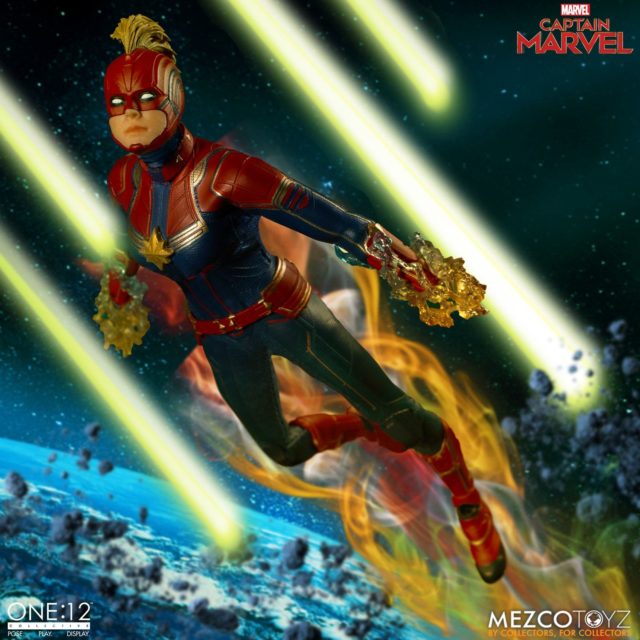 The Captain Marvel movie hits theaters next week, so it's no surprise that every toy company around with the license wants to get their Carol Danvers goods up for sale ASAP. Mezco Toyz was one of the remaining stragglers, but they're finally ready to launch their own Captain Marvel ONE:12 Collective figure for pre-order today!
At 80 bucks for a 6" movie figure, it's a hefty cost for those who want to upgrade to Mezco's from their Hasbro Marvel Legends version. Is she worth it?
If I were basing my judgment solely on the official photos sent out today with the solicitation, I'd probably be a lot more ambivalent about this figure. But having seen the world premiere of its unmasked Brie Larson head sculpt at New York Toy Fair 2019 two weeks ago, I'm definitely on board with this release more than I typically am for ONE:12 Collective movie figures!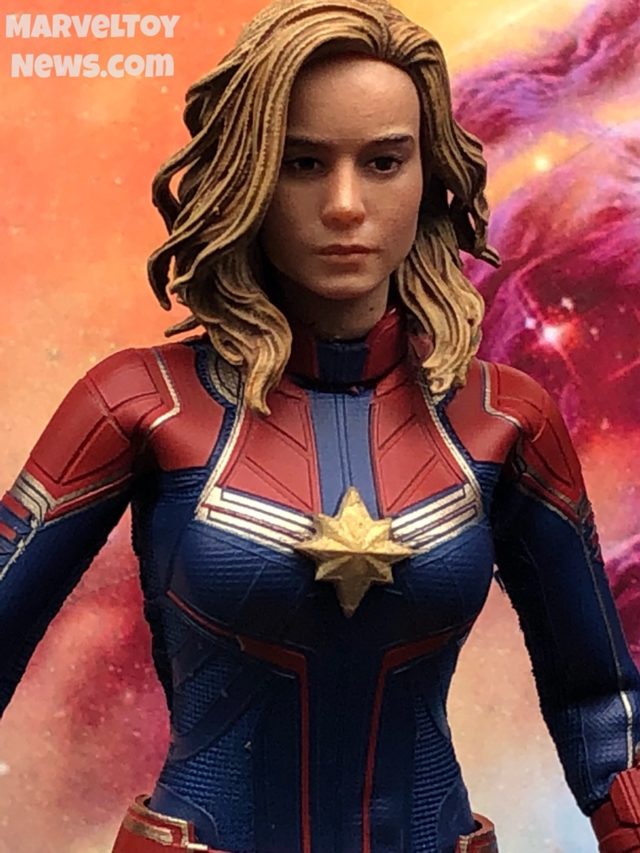 For whatever reason, I don't think the Brie Larson likeness is really shining in the new official photos, but I saw the portrait in person a week and a half ago at NY Toy Fair and it is absolutely gorgeous. The likeness as I saw it in person is Hot Toys level, beautiful, and simply incredible.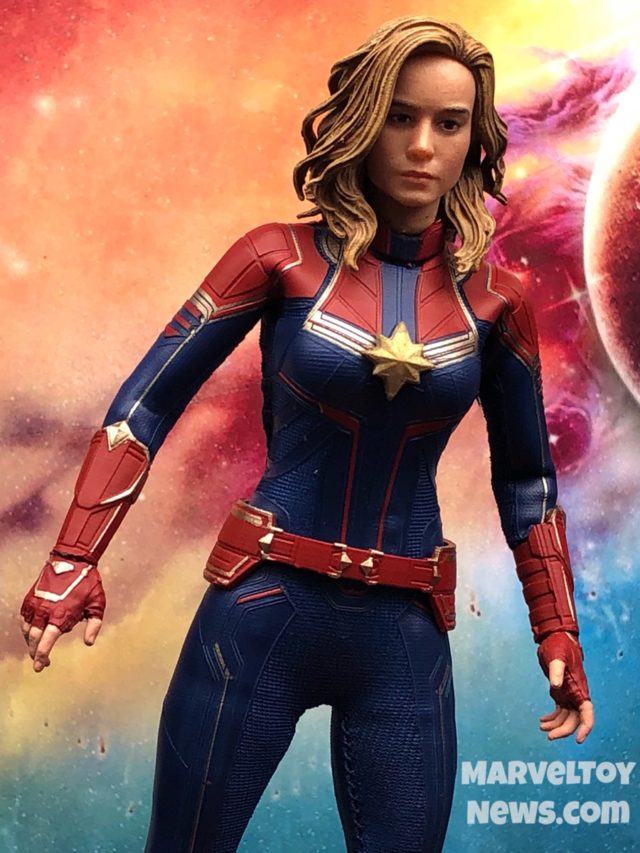 I've seen some folks down on this face sculpt—and Brie Larson in general as Carol Danvers—because she's not constantly smiling. This Captain Marvel Head sculpt is neutral and serious, and I like it that way. Great likeness; suitable expression for many poses.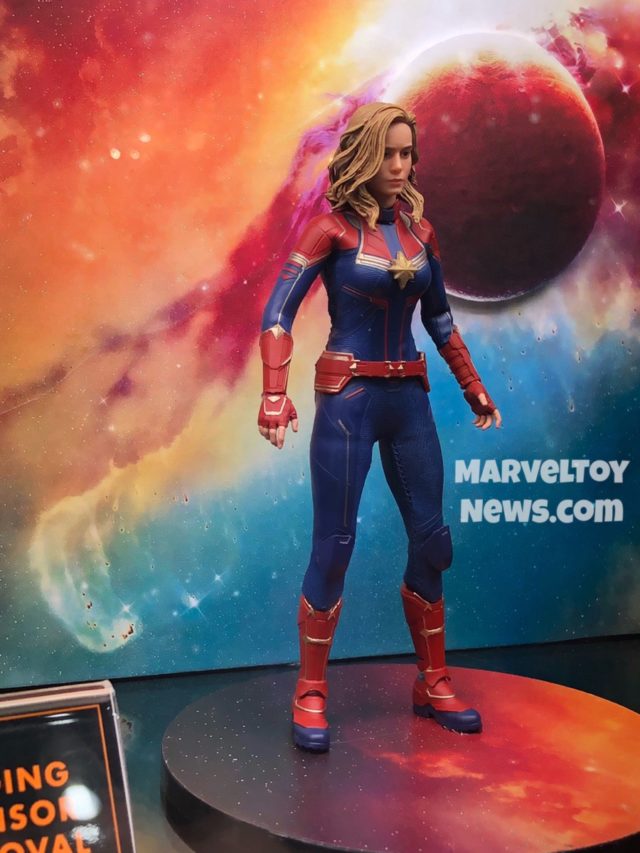 The costume itself looks very high-quality and authentic to the movie appearance, but as nice as the Suit is, where this figure shines most (beyond the portrait) is the accessories.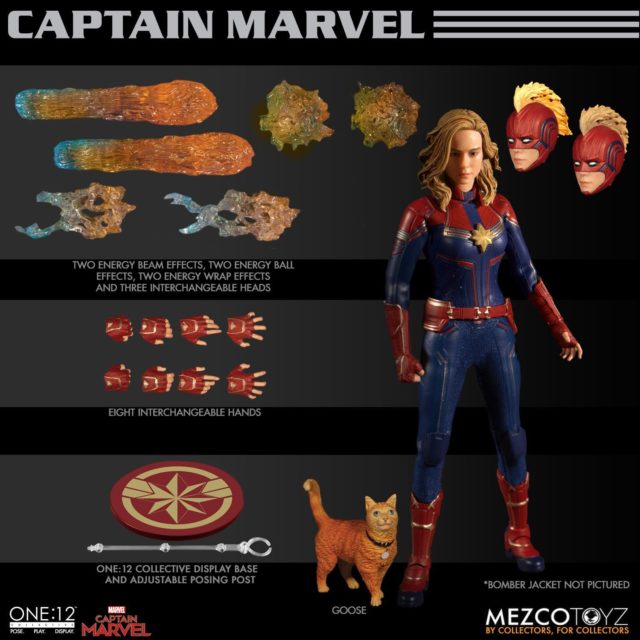 For those who like their Captain Marvel masked and mohawked, have no fear: we get two masked heads with mohawk with the ONE:12 Collective figure (with and without energy-charged hair and glow-in-the-dark eyes). I prefer the excellent unmasked head, but preference will vary widely on this one.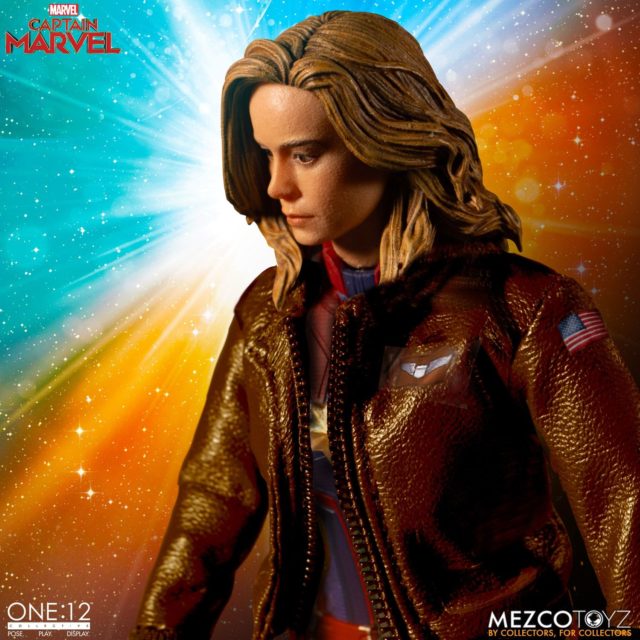 Goose the Cat and the Bomber Jacket are two of the big draws of the Deluxe Hot Toys Captain Marvel, and both those items are included as standard with Carol here. We can only see the front of the jacket in photos and it wasn't at Toy Fair, but it looks well-done from what we can see. As for Goose, well—it's easily the best (and cutest!) 6" scale Goose the Cat figure around, in my opinion.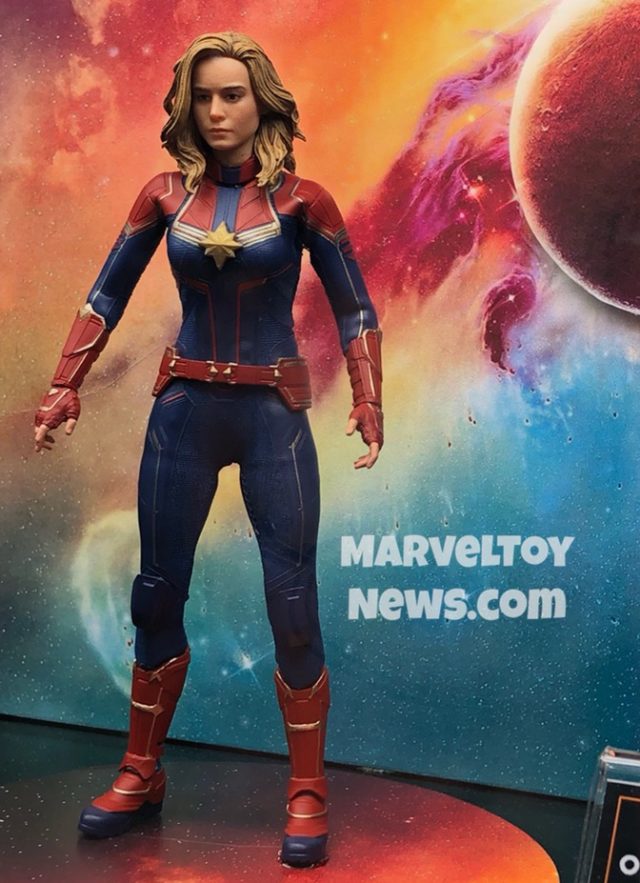 In addition to the three heads, Goose cat and the flight jacket, the Mezco Captain Marvel action figure will include eight interchangeable hands, the obligatory display base with posing pole, and best of all: six new energy effects!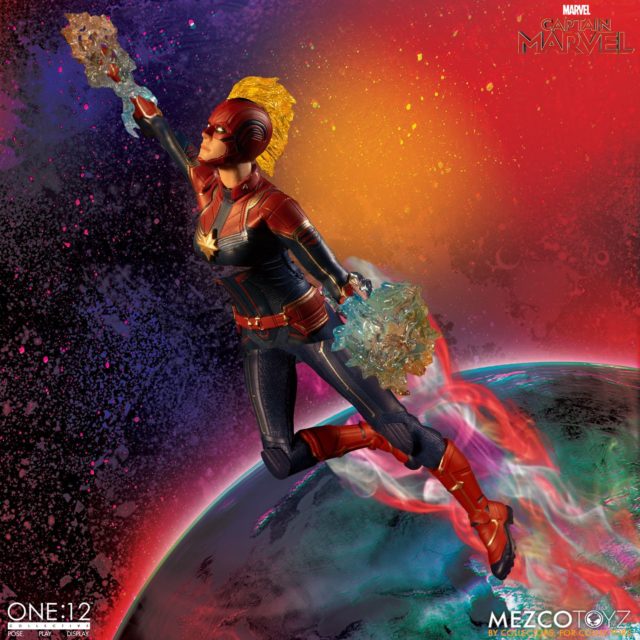 We get one pair each of energy balls, energy beam effects and wrapped energy for Carol's fists. I have no shame regarding my known weakness for well-done energy effects, and all of these look awesome and should add tremendously to the posing and display value for this figure.
For those who the Starforce Captain Marvel costume is the personal preference of, don't lose hope. Mezco loves variants, so I absolutely cannot see a green Starforce variant of this figure not being released as a limited exclusive figure later this year. If green Carol is your jam, hang tight.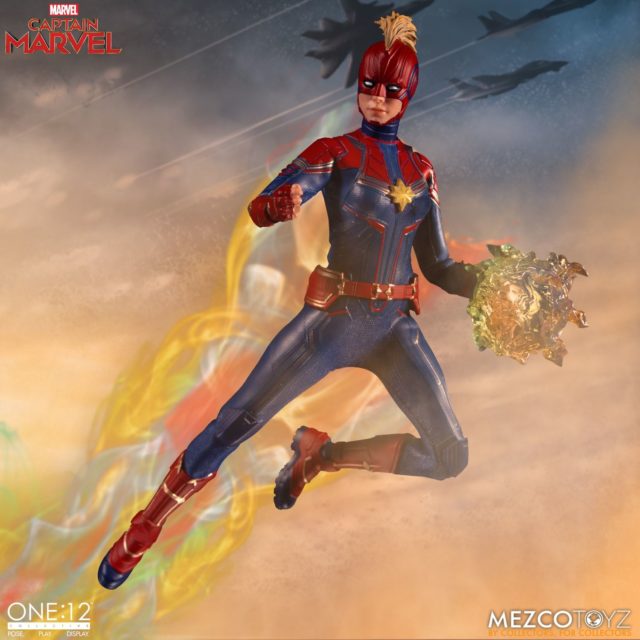 The Captain Marvel ONE:12 Collective figure is now up for pre-order (with free shipping from EE!), and is scheduled to be released in late 2019. Carol is priced at $80, which is the minimum threshold amount that Mezco can set the MSRP at on their Marvel figures.
Now that you've seen both the official glamour pictures and also my in-person hi-res photos, how do you rate Mezco's take on Carol Danvers, Marvel collectors? Will this six inch figure supplant your Hasbro Marvel Legends version, or are you not impressed enough to make that upgrade?
The post Mezco ONE:12 Collective Captain Marvel Movie Figure Up for Order! appeared first on Marvel Toy News.