With all of our regularly scheduled conventions and events where we would have usually seen new Marvel figures revealed over the last year-plus cancelled, one of the things that I have really and truly missed most is seeing smaller companies like Mezco Toyz being able to unveil their announcements under a huge automatic hype-generating spotlight. Their latest Marvel reveal would definitely have been incredibly buzz-worthy if it had premiered at, say, Toy Fair—but it's gotten the attention of many collectors nonetheless being dropped cold: the Mezco ONE:12 Collective Fantastic Four figures box set is now up for order! Does this set capture your attention… and $420?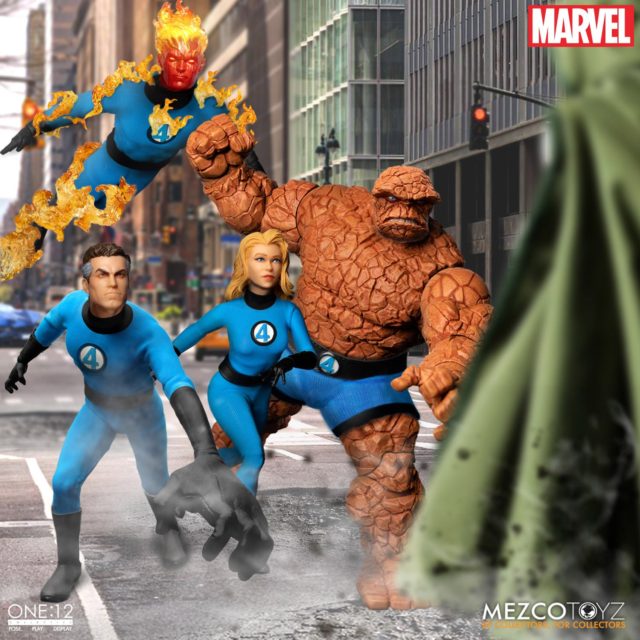 When Mezco Toyz announced not one, not two, but five new Marvel ONE:12 Collective figures out of the blue last week, I was taken totally off-guard. We've never seen a set of Mezco Marvel figures larger than two figures (Black Bolt and Lockjaw) launched in tandem before as a set, so this ONE:12 Collective Fantastic Four set was a real shocker of a surprise.
Mezco may have (perhaps correctly) judged that Reed and Sue might be a tough sell as characters individually, so they're being bundled into a set with top stars the ever-loving blue-eyed Thing and Human Torch serving as the main carrots. Do the figures look good enough for this daring $420 stratagem to work?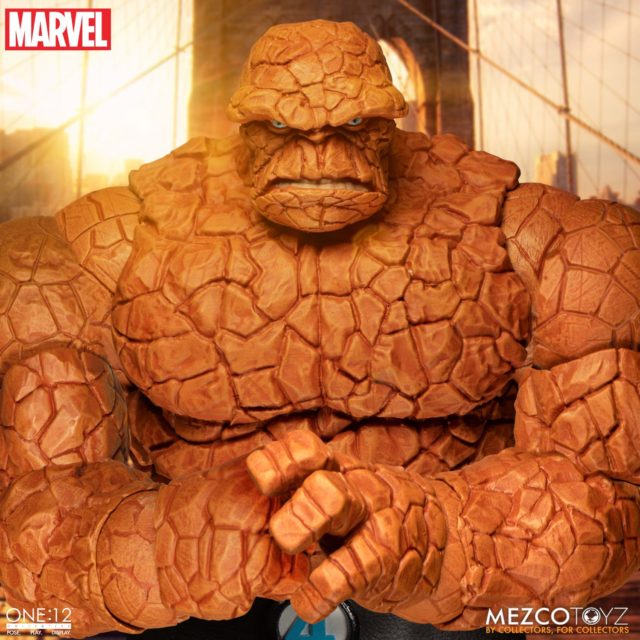 Let's start with the headliner in this set: the Thing. Hasbro has given us some excellent Marvel Legends Thing figures over the past few years, but—holy crap, is this ONE:12 Collective Thing figure cool. I am basically astonished by how much fun stuff Mezco Toyz is giving us to customize and enjoy this figure of Ben Grimm.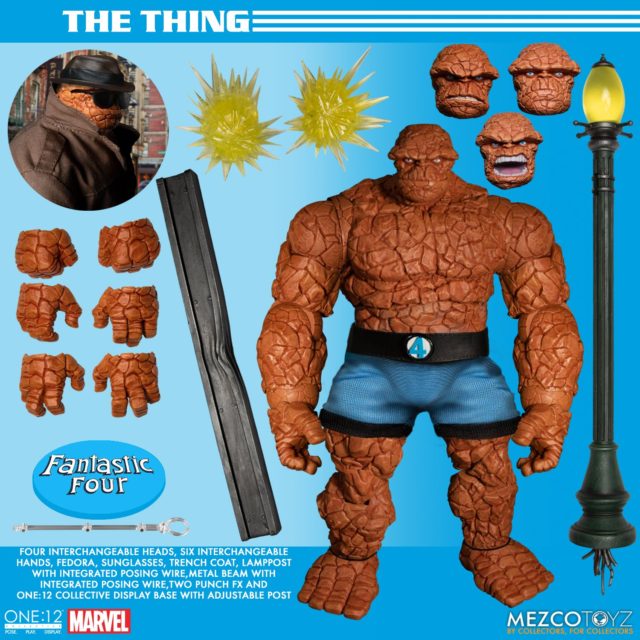 The accessories load out is absolutely wild, including four interchangeable heads, a trenchcoat/fedora/sunglasses disguise, six interchangeable hands, lamppost and steel beam weapons with posing wires, punching effects pieces and the ubiquitous display base with posing pole.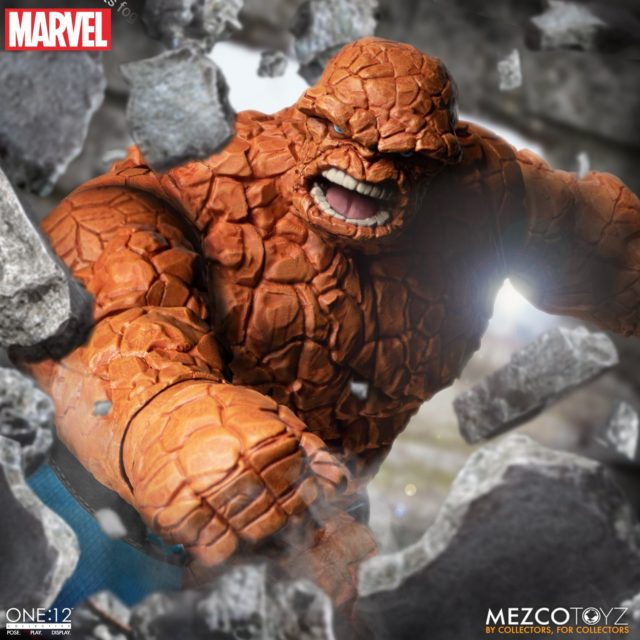 This is an insane amount of stuff to choose from when readying your The Thing figure for display, and it is honestly boggling to try to think of just one ideal configuration for displaying. The weapons are both awesome, the punch effects look better than I'd expect, and every one of those four portraits is a winner. If I had to pick a favorite it would be the angry/yelling head, but all four are great.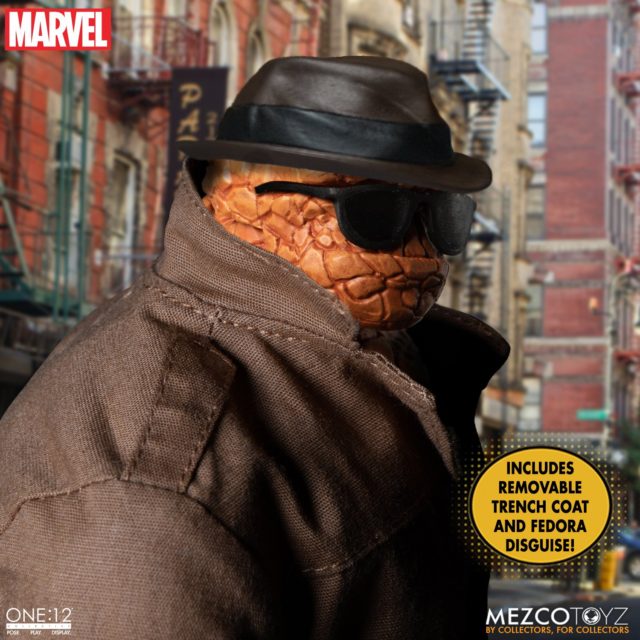 The sculpting on the rock skin is super-detailed, there's just enough to paint deco on the body to make all those details pop, the range of motion on Thing's arms looks impressive, and seeing that disguise on Ben Grimm always puts a smile on my face. This is a heck of a figure. Nice work, Mezco.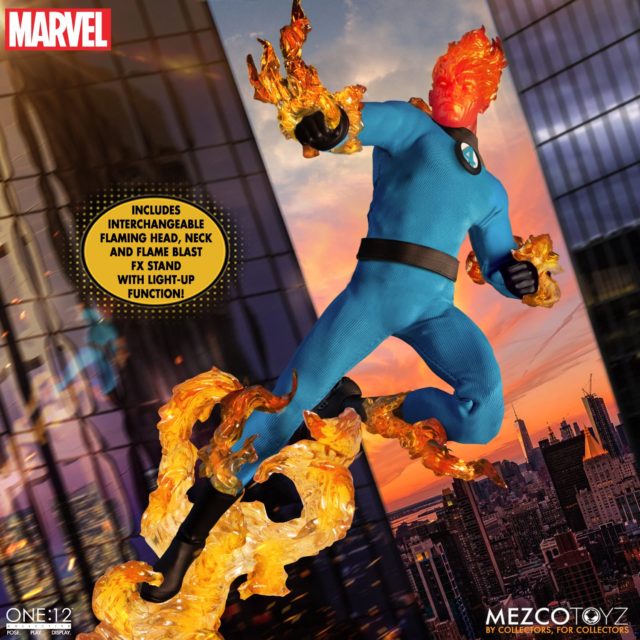 I have a hard time saying the same about this ONE:12 Collective Human Torch figure, though. Call it my own bias, but I fervently hate the look of flame-on Johnny Storm with his FF costume covering his body. It just looks outright ridiculous to me. I understand why Mezco felt compelled to do this look (what with soft goods being their thing in this line and all), but it does not look good. At least, not to me.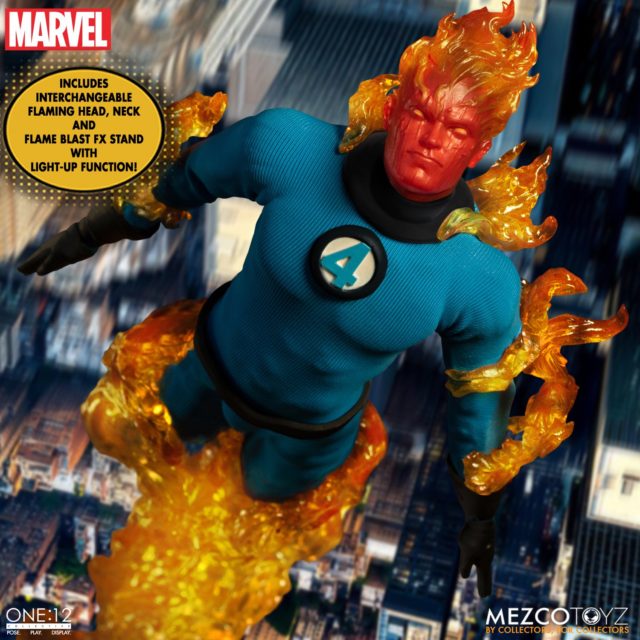 On the bright side, we get a copious amount of fiery flame-on effects pieces and three interchangeable heads with this Human Torch (one flaming and two looks for Johnny Storm). The fire blast base has LED functions, and the various fireballs look really neat and definitely are compelling accessories. I wish Hasbro would give us accessories like these for a true Human Torch figure in a fully fiery body.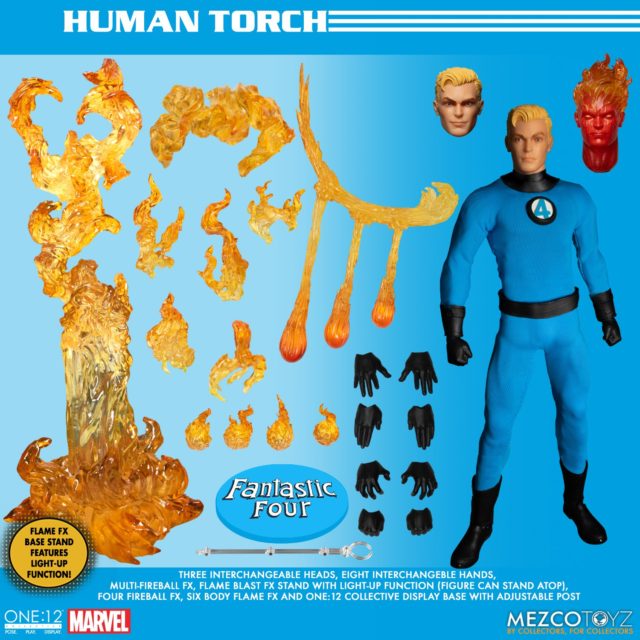 But personally, it's an uphill battle for me to cope with a flamed-on Human Torch with nothing exposed except his head. It's a bizarre look that doesn't work for me at all. As a Mezco Johnny Storm figure, though, this is quite nice. I don't know if he looks so nice I'd feel like I need to pay 100 bucks for him over a Hasbro Legends iteration, but nice nonetheless. Easily the weakest link in this box set for me.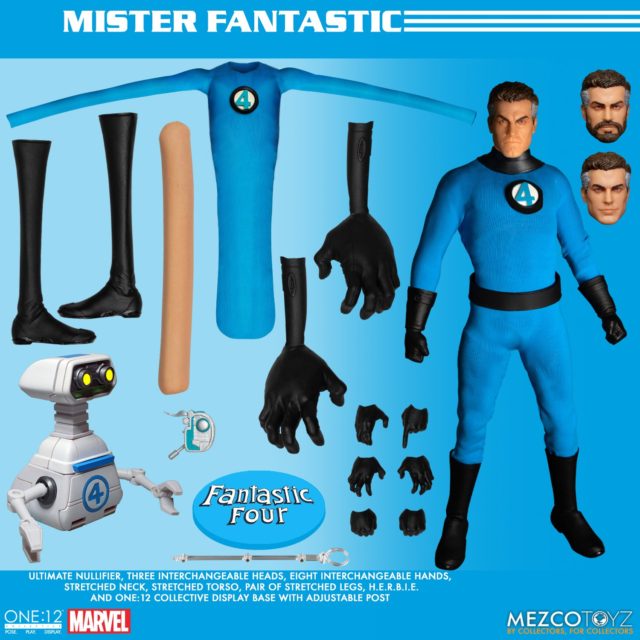 But back to happier notes, this Fantastic Four Mezco set also gives us what just may be the coolest Reed Richards figure ever. Just looking at the catalog page showing the figure and accessories doesn't give the full picture, but the glam shots really sell just how neat the various stretched limbs look with the stretched out alternate body.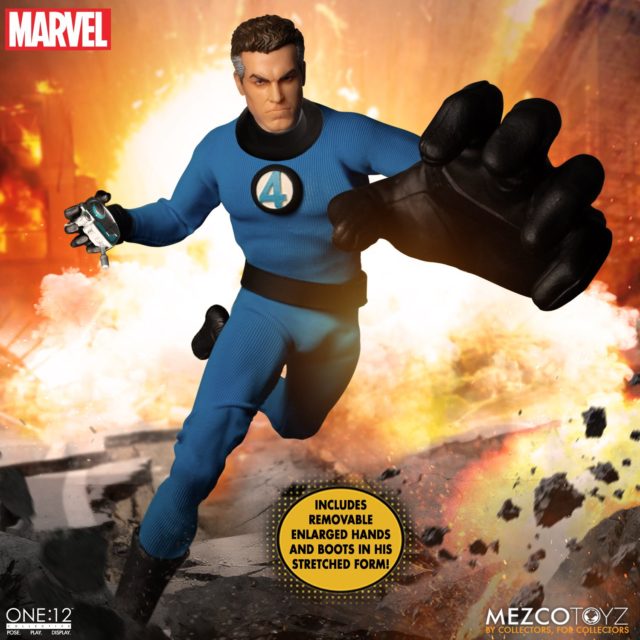 The ever-popular Ultimate Nullifier makes an appearance, as well as three interchangeable heads (don't worry, beard fans–bearded Reed Richards is heartily represented here), but the stretched body parts are easily the star of the show.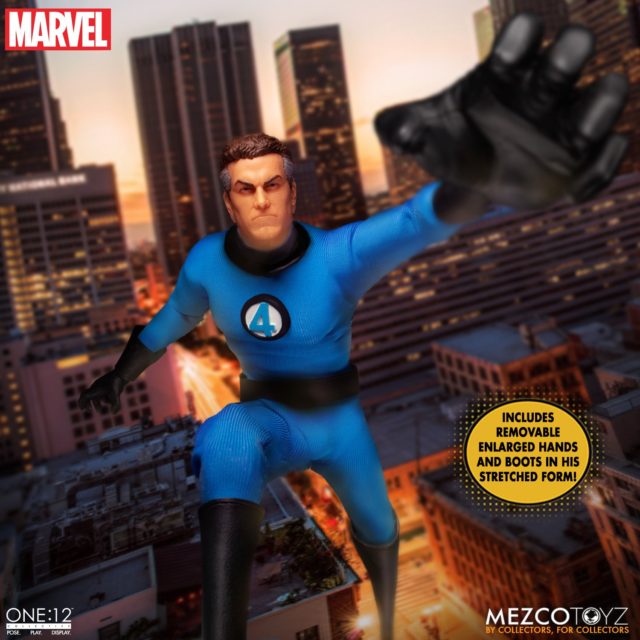 I think it may be a real test for Mezco Toyz to make sure all of the joints stay nice and tight and supportive for a figure of this nature, but their quality is usually top-notch, so I'm hopeful on that front. This Reed is too good to mess up.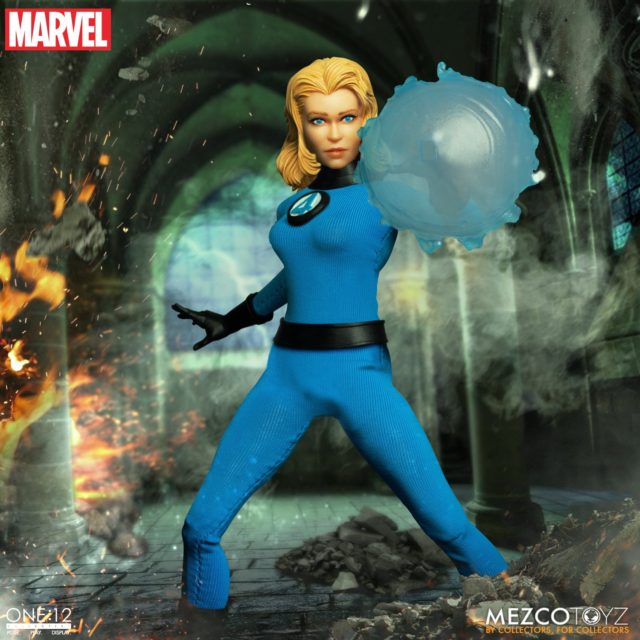 Finally, we've got the ONE:12 Collective Invisible Woman (don't call her Invisible Girl), Sue Storm. While I don't hate this figure as much as I do the weird Human Torch, Susan is definitely looking a bit too "Barbie" to me with the soft goods clothes and a vapid stare on her default portrait.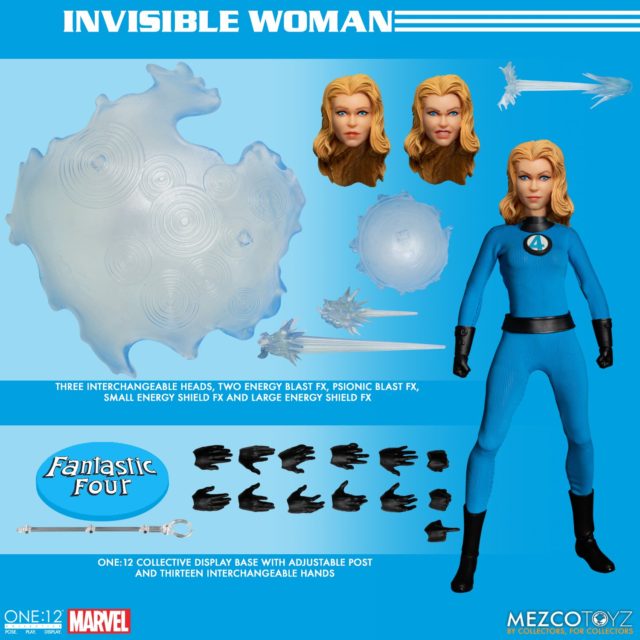 We don't get many (any) comic-styled women figures in the Marvel ONE:12 Collective series, and that may be why Invisible Woman looks so awkward to me here.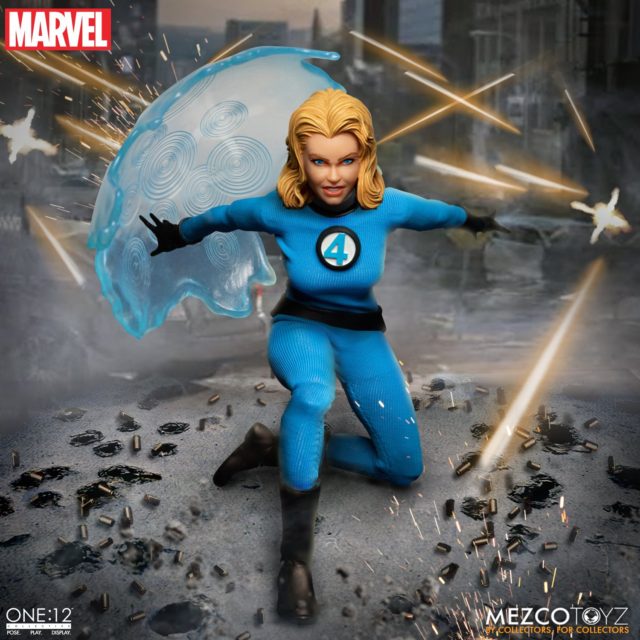 Sue's got killer accessories including large and small invisible shield effects, at least, but even with the angry head being the best of the bunch, I am not wild about any of the three portraits.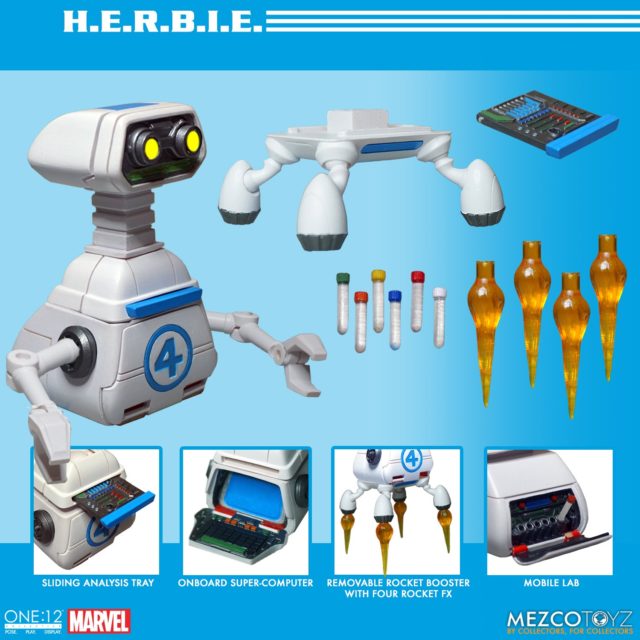 But wait—there's more! Technically he's listed as one of Reed's accessories, but a sort-of fifth figure in this box set is HERBIE the Robot! I'm counting him as his own figure, as he comes with his own load out of a dozen accessories. Crazy.
The sliding analysis tray, mobile lab with removable vials, rocket booster with blast effects… the bar wasn't exactly high to begin with, but this is the definitive HERBIE robot figure (never thought I'd be saying those words).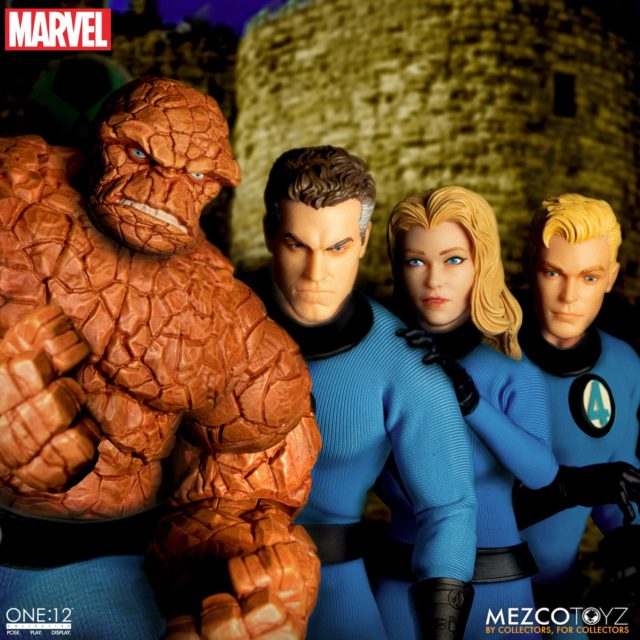 The price for this 4 (or is it 5?) figure box set is $420. That's a price-tag that will give many Hasbro collectors a heart attack, but I don't think it's necessarily a bad or unfair price when you take into consideration that standard ONE:12 Collective Marvel Mezco figures are 90 bucks and up now—and The Thing alone would be priced much higher due to his size and unique tooling.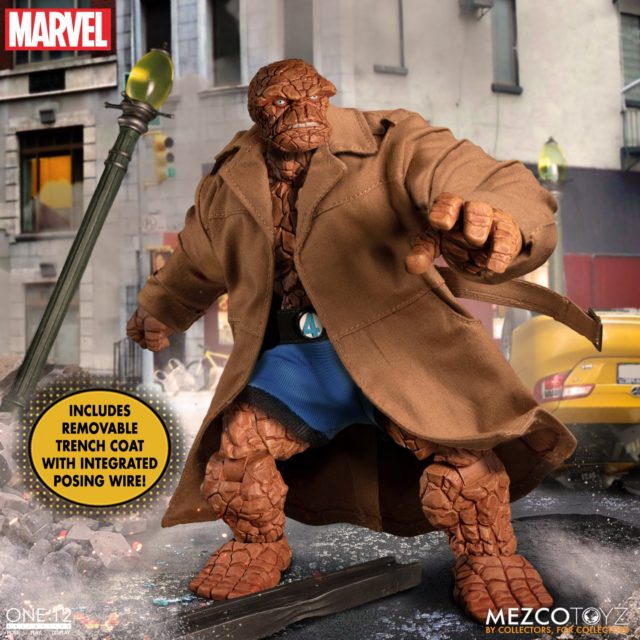 If you don't love all the figures in the set, though, you will definitely want to piece out and sell the extraneous stuff you don't want at that $400+ price-point. The Mezco Doctor Doom ONE 12 Collective figure teased in the official photos is as good an argument as any for getting the whole team to face off against Doom, though.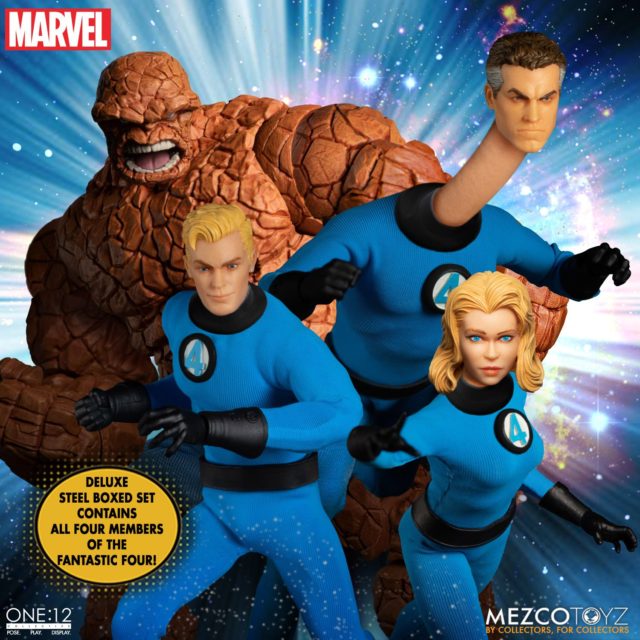 The Mezco Fantastic Four ONE:12 Collective box set is now up for pre-order, with a scheduled release in early 2022. This seems like the sort of set that a lot of resellers will buy to split up and sell individual figures from at inflated prices, so it might be smart to lock this in early regardless of whether you want the full team or just to keep a few figures and flip the rest. I can see this being a set that's extremely expensive on the aftermarket post-sell out, as The Thing and probably Mr. Fantastic will command sky-high aftermarket prices.
This was announced last week, so there's been a fair bit of time for all the details of this set to sink in. What do you think, Marvel collectors? Has Mezco Toyz created any can't-miss Fantastic 4 figures in this set, or are you satisfied with some of the many Marvel Legends versions Hasbro has created for us over the years?
The post Mezco Marvel ONE:12 Collective Fantastic Four 6″ Figures Box Set! appeared first on Marvel Toy News.