UPDATE 4/23/2021: It's been almost 7 years since the last time the Marvel Select Watcher was solicited for reissue—and then cancelled—but DST is now bringing The Watcher back one more time! The Marvel Select Watcher figure is now up for pre-order–but orders are being heavily allocated and he's already selling out from some retailers! Make sure to get in a pre-order soon if you want one!
ORIGINAL 5/16/2014: Up until now, 2014 just hasn't been The Watcher's year. See, after decades of observing the most major disasters and catastrophic events imaginable occur in the Marvel Universe (and choosing to do nothing to help), somebody decided to brutally murder The Watcher by blowing out poor Uatu's brains and, uh… stealing his eyeballs. No, I'm not making this up. But hey, things are looking up! While Uatu won't be around to enjoy it himself, his only action figure ever is finally returning to stores– the Marvel Select The Watcher figure reissue is now up for order!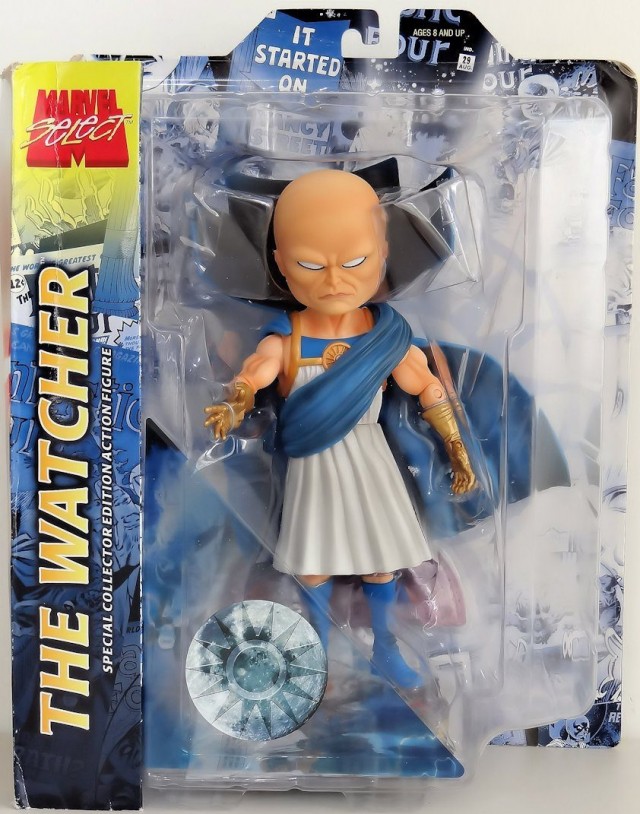 Alas, poor Uatu. He was perhaps more prominent than any non-combatant, non-civilian character in comic book history, but the world's most famous voyeur has passed on. While we won't find out exactly who killed The Watcher (or why) for a couple months, his key role (of a sort) in this summer's huge Marvel "Original Sin" crossover event has given Uatu fame and notoriety that the character hasn't had since, well… ever.
As a result of the increased interest in The Watcher, Diamond Select Toys is finally planning to re-release the much-demanded Marvel Select The Watcher figure in late summer/early fall 2014! This Marvel Select Watcher action figure was originally released in 2005, and has been one of the most popular and sought-after Marvel Select figures in recent years.
Fans have been paying up to $100 for Uatu on the aftermarket, but thanks to this new production run by DST, collectors will be able to acquire a shiny new (non-dead) The Watcher Marvel Select figure for less than a quarter of that cost in just a few months.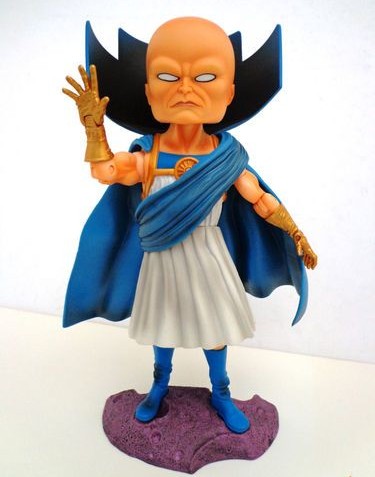 The Marvel Select Watcher figure reissue is now available for pre-order, and is expected to be released in September 2014. I can't imagine that The Watcher Marvel Select figure will ever be re-released again after this year (what with The Watcher being irrevocable dead and all), so if you think you'll ever want this Uatu the Watcher action figure, now may be the time.
Are you excited to finally get a fresh chance at the Diamond Select Toys Marvel Select Watcher figure, Marvel fans? For about $22, will you be adding this 7″ The Watcher action figure to your collection this fall?
The post Marvel Select The Watcher Uatu Figure Reissue Announced! appeared first on Marvel Toy News.