Given that who would ultimately end up with Captain America's shield in the series was a foregone conclusion in the minds of most fans the moment that "The Falcon and the Winter Soldier" was announced, Disney did a pretty admirable job of keeping the conclusion of the show under wraps. But now that everyone has had three days to watch the final episode, it's time to let the merch flow—and surprisingly, it's Diamond Select Toys with first blood: the exclusive Marvel Select Falcon Captain America Sam Wilson figure is now up for order!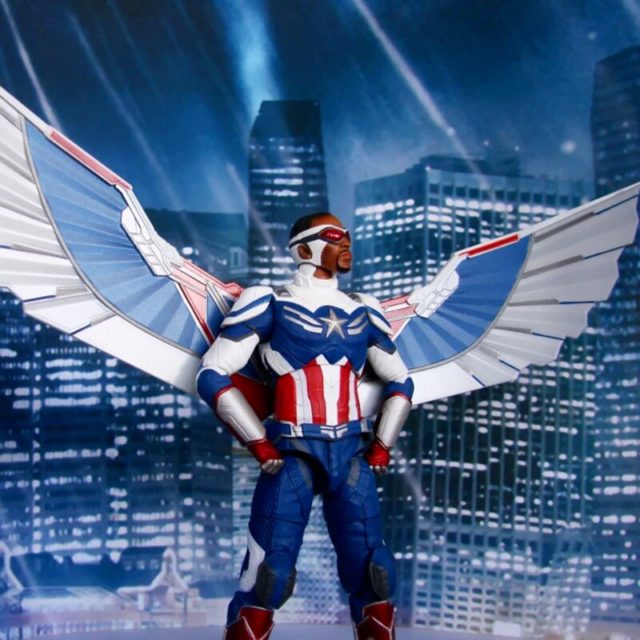 I'll avoid talking about the specific story content details of the series finale of "The Falcon and the Winter Soldier" itself here, but obviously the cat (or I guess the bird?) is out of the bag regarding the new Captain America who debuts at the end of the Disney+ show: Sam Wilson.
A few early photos of this action figure actually managed to slip out earlier this month, but my eyes quickly farted away and my mind blanked that spoiler content from my mind, so let's take a look at this 7" action figure with fresh eyes…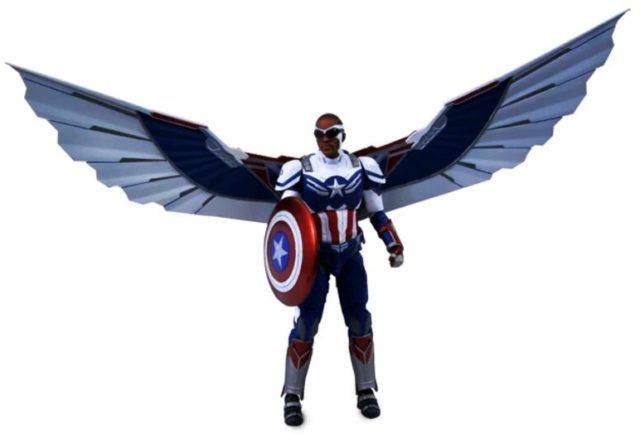 As expected this Marvel Select Sam Wilson Captain America is a Shop Disney (Disney Store) exclusive. It seems a little bit odd for this to be such a limited release since Falcon Cap is a pretty humongous deal in the Marvel Cinematic Universe, but I think making this an exclusive was really the only way to keep the series ending and Sam's new costume a secret for as long as they were.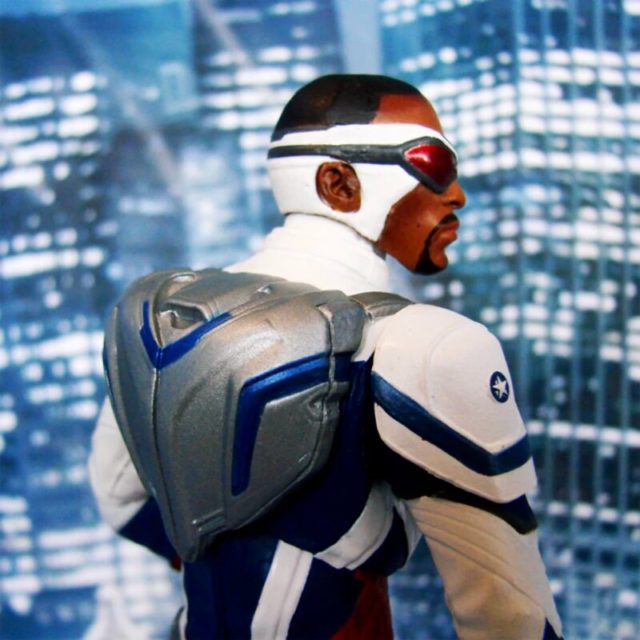 I ordered my copy of this figure this morning, so I won't have him in-hand for a few days. But as far as the official photos go, I'm very happy overall with the look of this seven inch action figure.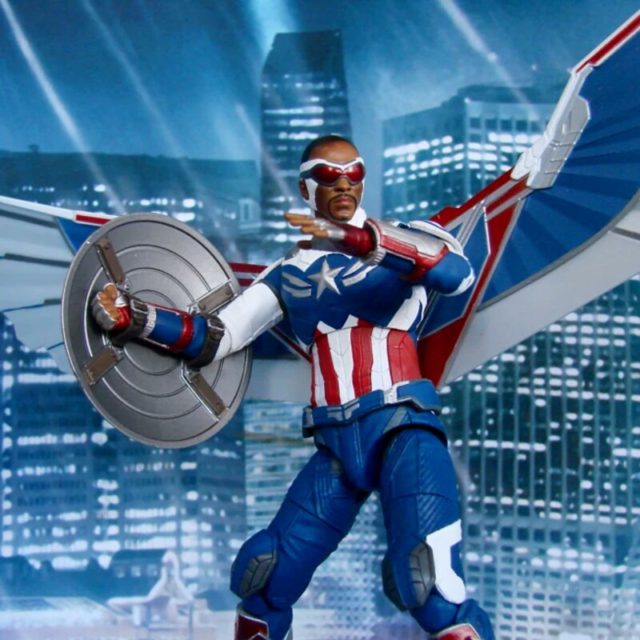 DST Marvel Select figures come at a slightly higher price-point than Hasbro Marvel Legends do in general, but you also tend to get more elaborate sculpting, paint deco and accessories for that higher price. And not shockingly, we make out pretty well in all those departments with this Captain America Falcon Select figure. The sculpt here looks superb, and the paint apps—at least in the photos we're being shown—look on-point.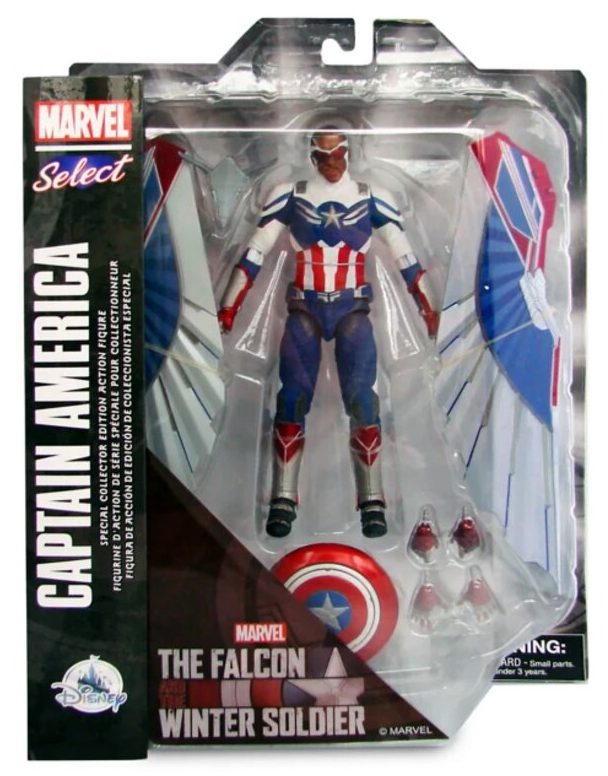 For accessories, we get six interchangeable hands, a drone, Cap's shield (obviously) and a pair of removable red, white and blue wings. The wings have about a 13" wingspan, which I think is adequate (although the scale may have been fudged a little bit and they might be a hair undersized). For a $29.99 action figure that's a 100% new sculpt, this is basically a treasure trove of extras.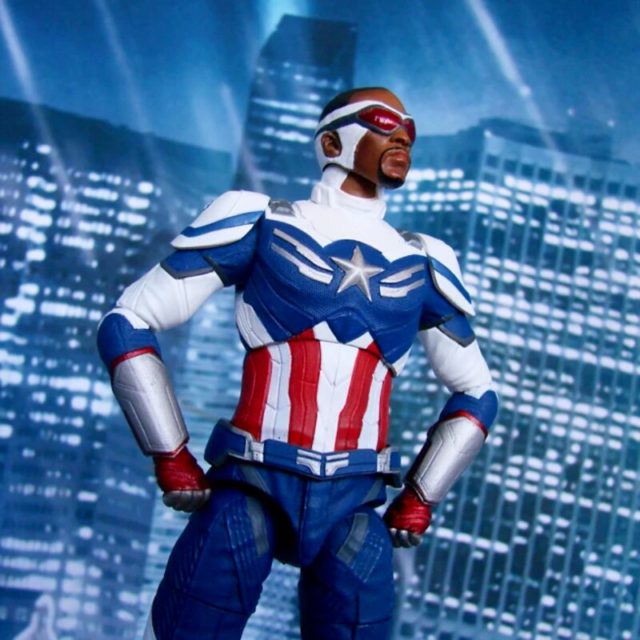 It's obviously hard to judge the articulation on an action figure we've only seen a handful of official photos of outside the package, but the 16 points look solid here. I would have preferred double-jointed elbows to ball-jointed elbows, but I'll made do. I need to really mess with this figure in person to determine how I like the articulation scheme, but it seems workable at a glance (although Hasbro will likely destroy it).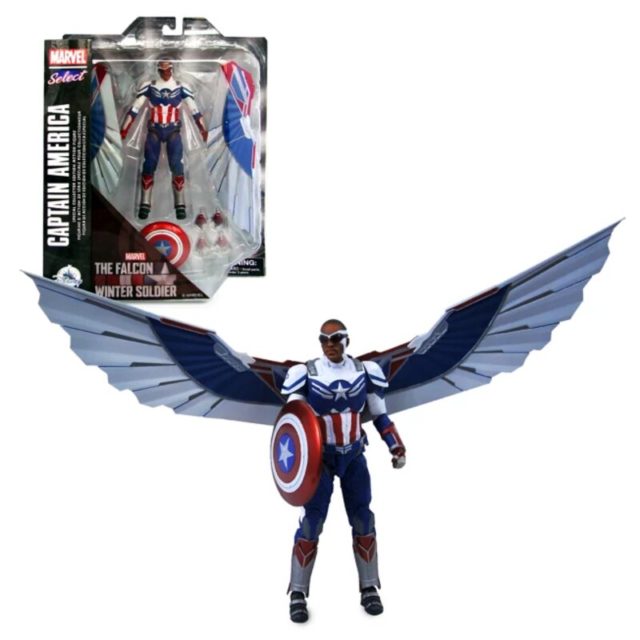 The Disney Exclusive Marvel Select Captain America Sam Wilson figure is now up for order, and is in-stock for shipping immediately. This is a major release that has even beaten Hasbro out of the gate, and I foresee a fast sell-out for this one similar to some of the better-selling Disney Store Marvel Select Exclusives in the past. Don't dilly-dally too much if you know you want this figure.
What do you think of the very first Captain America Falcon collector figure to make it out of the gate, Marvel collectors? Do you think Hasbro's version will be able to top DST's effort, or are you expecting this to be your Sam Wilson Cap figure of choice? And hey—who besides me can't wait to see a Hot Toys of this costume?
The post Marvel Select Captain America Falcon Sam Wilson Exclusive Figure Up for Order! appeared first on Marvel Toy News.