I don't believe I've ever talked about two statues as expensive as the Sideshow Juggernaut Maquette and Iron Studios Sentinel Diorama in one week before, so today let's turn the focus toward some more reasonably-priced pieces from Diamond Select Toys that are available to more than just the absolute most affluent collectors. They debuted at NYCC 2019 last month, and the Marvel Premier Collection Vision statue and Skottie Young Deadpool Animated statue are now up for order!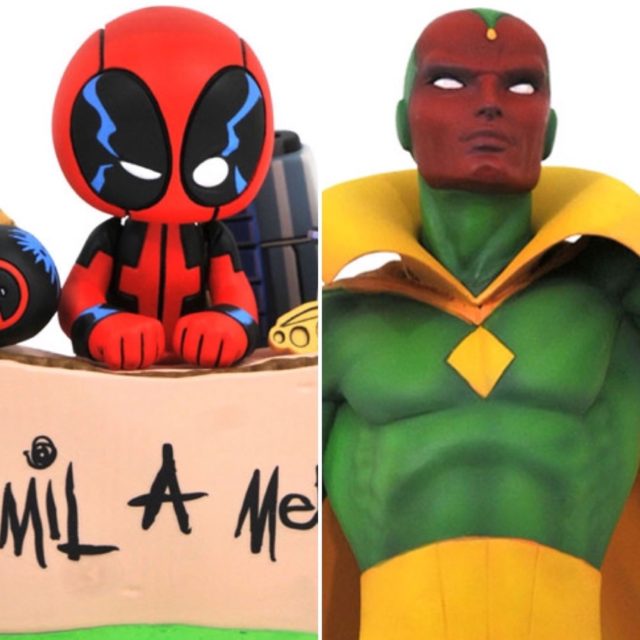 I'm still a little bit shellshocked myself that I dropped fourteen hundred dollars on that 1/4 Juggernaut Sideshow statue earlier this week, and am even more stunned that I haven't totally ruled out getting on a payment plan for the Iron Studios X-Men vs. Sentinel diorama now that it's up for grabs on Sideshow Collectibles.
Those are two pieces that are out of reach either spatially or monetarily to a majority of collectors, so I wanted to spend the rest of this week talking about items that don't cost amounts of money that are, well… insane. And when it comes to value-priced Marvel collectibles, Diamond Select Toys is the king of the hill!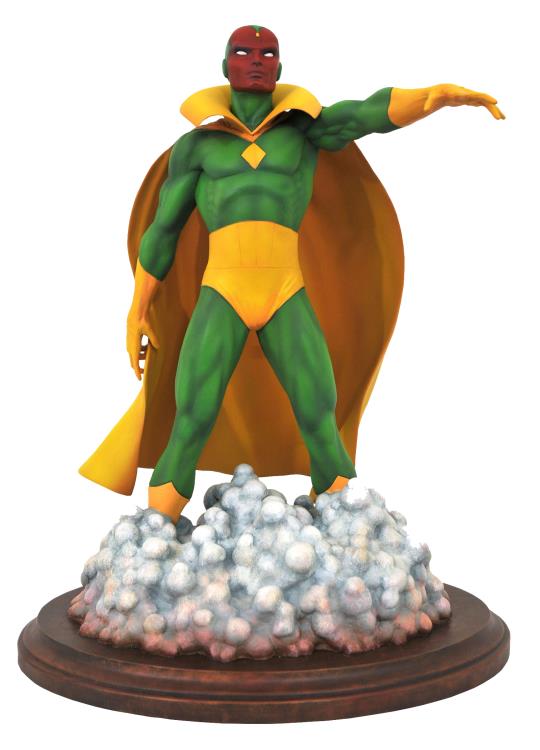 First up we've got the 11" resin Vision Premier Collection statue. The Vision is not a character who gets a ton of statue love, but I think the previously-released 1/6 versions of this character are both good ones. The Kotobukiya Fine Art Vision has a cool design for showing off Viz's intangibility, while the Bowen Designs interpretation feels classic all the way.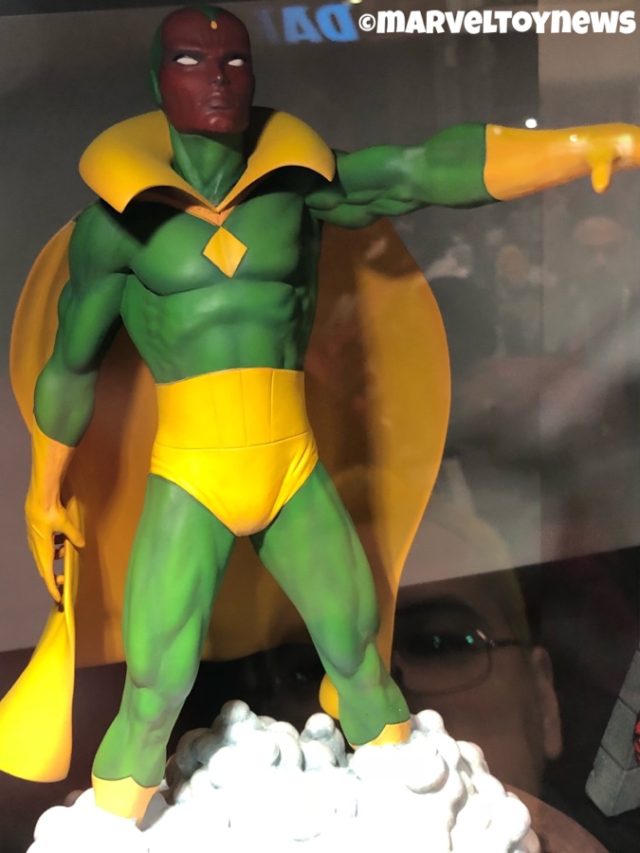 So what does this DST Vision have to offer? Well, frankly, a price-tag that's about half the cost of either of the existing statues, and a Clayburn Moore sculpt with a definite late 60s feel to it.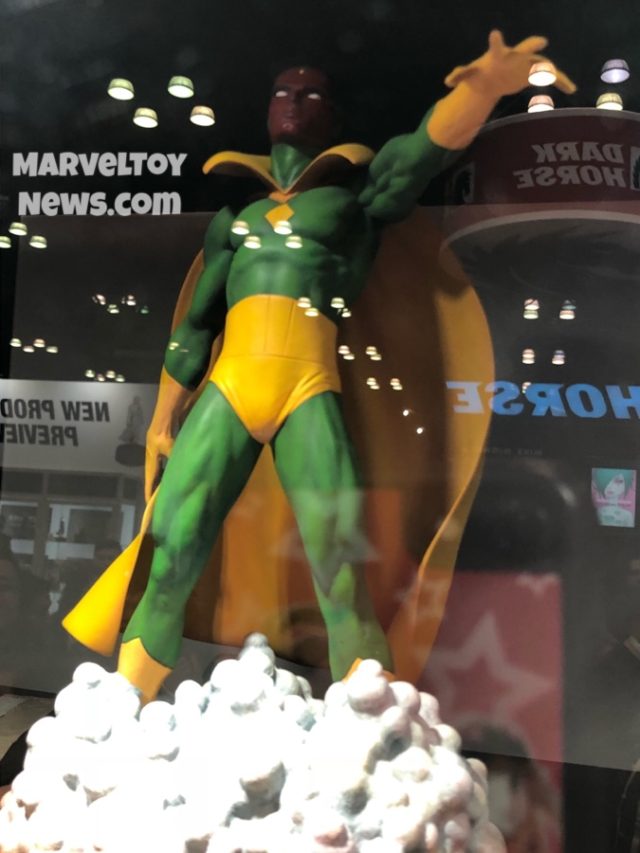 I can't say that I would opt for this over the Bowen Vision, but if you like this art style and want a 1/6 version of the character for under 140 bucks shipped, you're unlikely to ever find a better option than this Marvel Premier Collection statue. I think this is a good piece, but to me the Bowen Designs statue of this character was already perfection.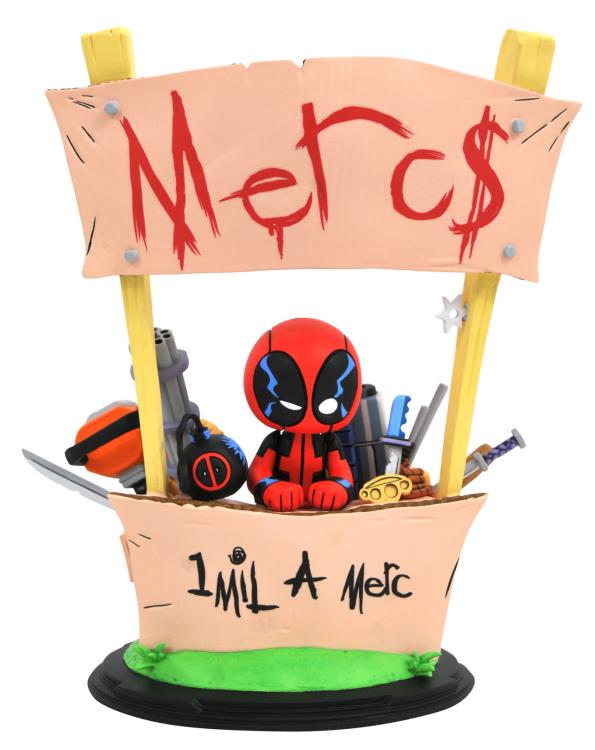 The other new statue on the way comes from the Gentle Giant Ltd. branch of Diamond Select Toys—whether or not it's an improvement will be up to each collector, but it's the second and very different Marvel Animated Deadpool statue!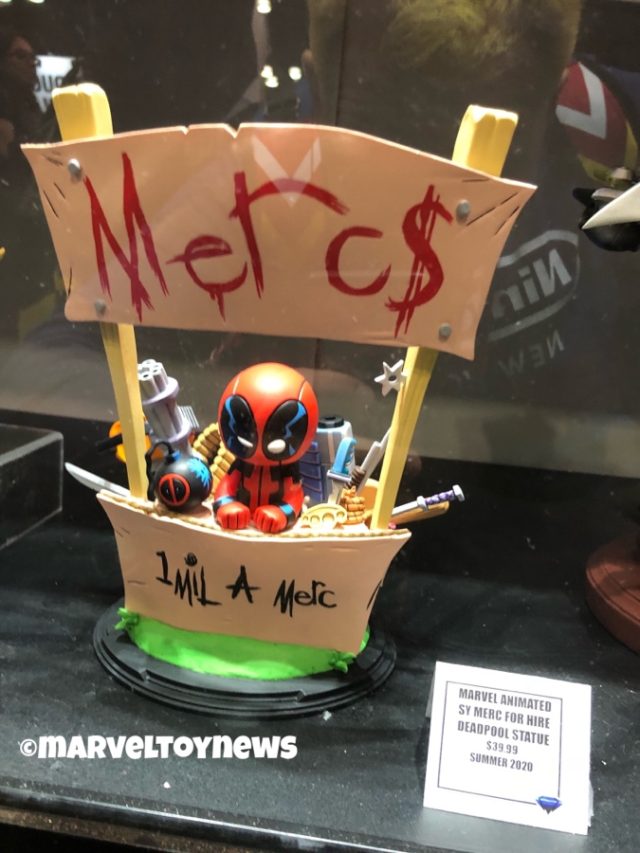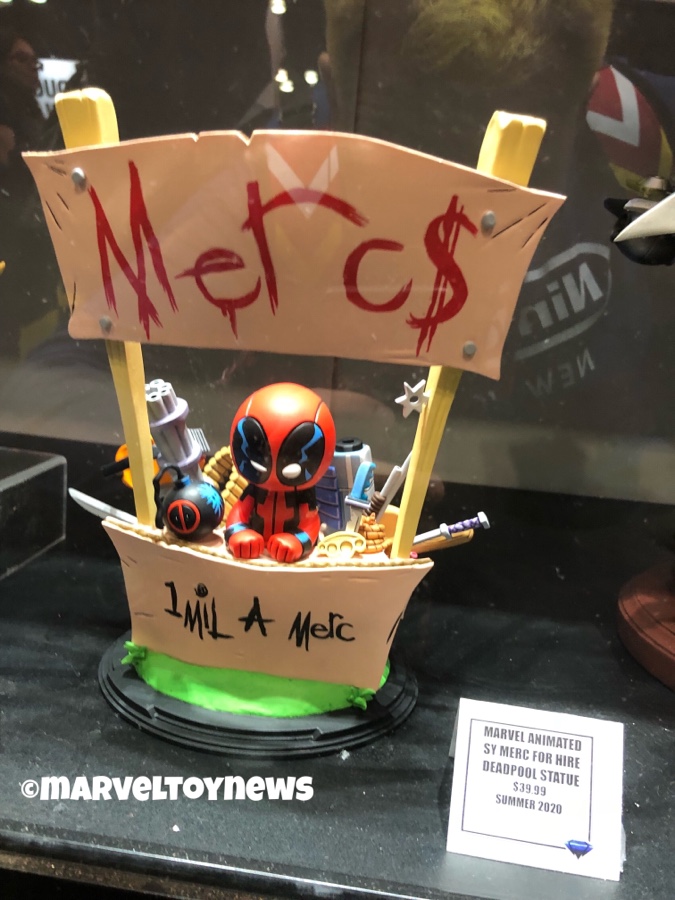 While we got a Skottie Young Deadpool Marvel Babies figure early on in the Animated Series, that particular design was a bit weird as it felt like more of a Deadpool plush toy statue than a true representation of a chibi Wade Wilson himself. This time there's no room for doubt—this is Marvel Babies DP himself in this diorama, running a Mercenary stand akin to Lucy's psychiatry advice stand!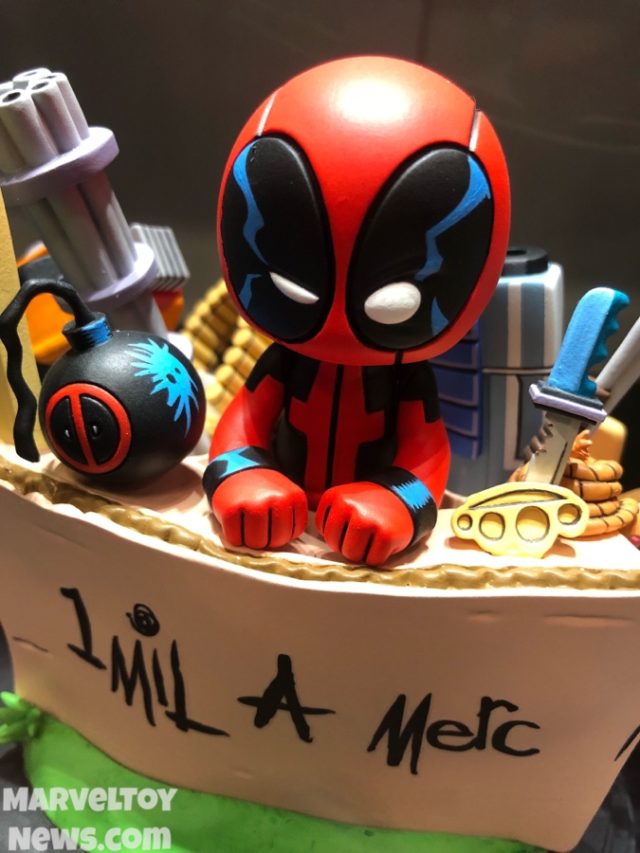 I really like this little piece, as we get a complete and fun scene in resin form for just over 100 bucks. I love the assortment of weapons behind the booth, and that Wade looks a wee bit diabolical and devilish here. At 8" tall, I think this is actually a really nice value for the size as well. I'm a huge proponent of this line, so for me, this is a big win.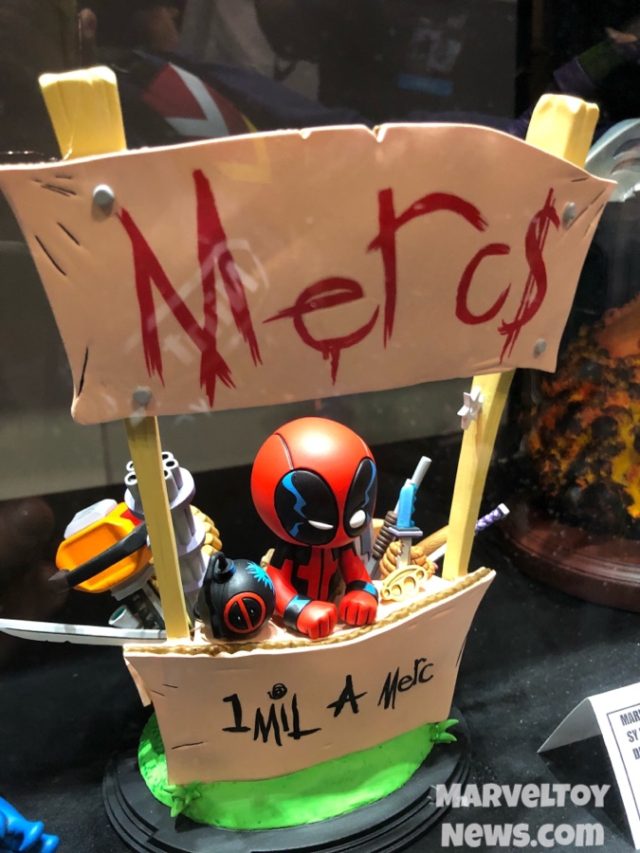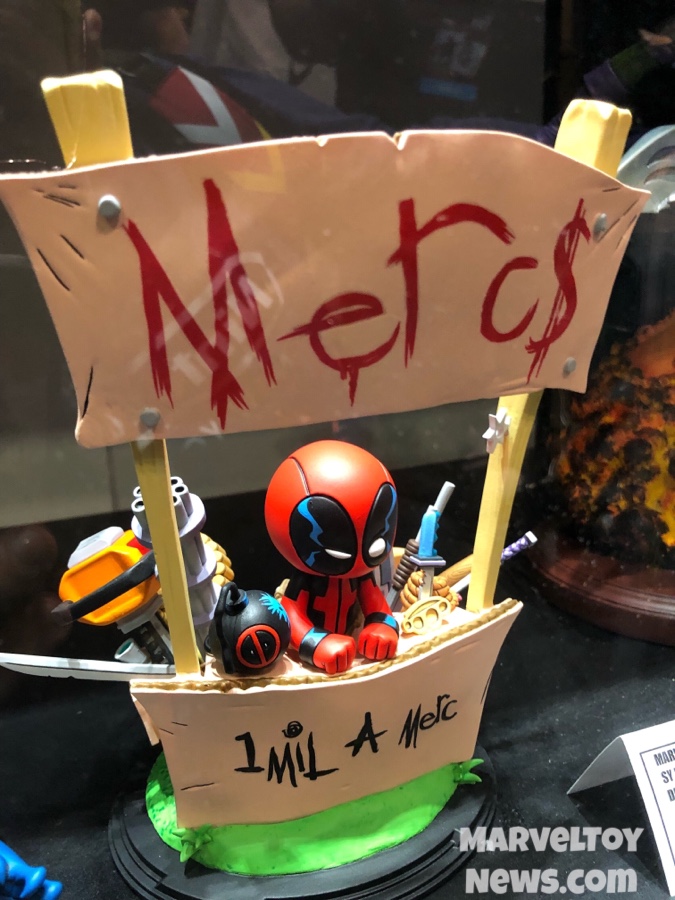 The Marvel Animated Deadpool diorama and Marvel Premier Collection Vision statue are both up for order now, and are scheduled to ship out in March/April 2020. Both are limited edition, with Vision's edition size set to 3000 and Skottie Young Deadpool's LE TBD. I wouldn't anticipate either of these selling out right away, so you should have plenty of time to consider if you're on the fence.
What do you think of this latest duo of value-priced DST goodness, Marvel collectors? Do you like seeing slightly larger and more expensive Animated dioramas like this Deadpool one, or is your predilection the small and super-cheap basic figurines? And for those enjoying the Premier Collection Avengers—which classic character (if any) would you like to see next?
The post Marvel Premier Collection Vision & Animated Deadpool Diorama Statues! appeared first on Marvel Toy News.