It's hard to believe that it's been five years already, but it has now been half a decade since Diamond Select Toys launched their modern Marvel Premier Collection line of resin statues. The second piece in the 2015 line was a classic Thor statue that made up half of a diorama—and five years later, we're finally getting the second half! The long-awaited Clayburn Moore Marvel Premier Collection Silver Surfer statue is now up for order—and for those who missed it years ago, a new run of Thor is being reissued as well!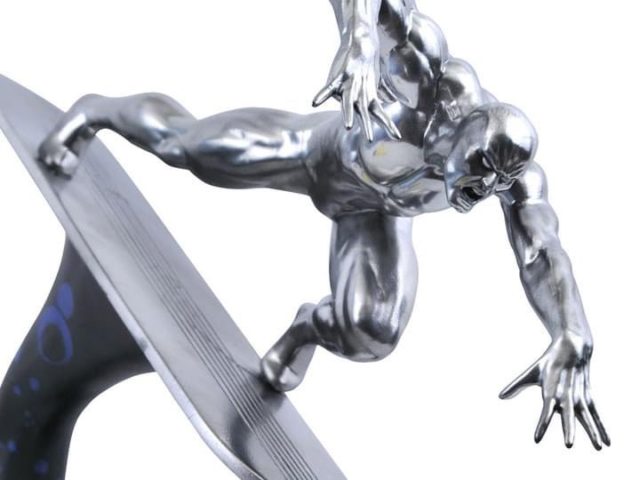 When the Clayburn Moore Thor on Rainbow Bridge statue was first put up for pre-order back in 2015, it wasn't entirely clear whether DST would ever actually be releasing the other half of the scene from the legendary 1969 Silver Surfer #4 cover at all.
Five years later, we have our answer: the classic Silver Surfer vs. Thor battle scene will be completed, as the Sky-Rider of the Space Ways is getting a long-demanded Marvel Premier Collection statue at the beginning of 2021!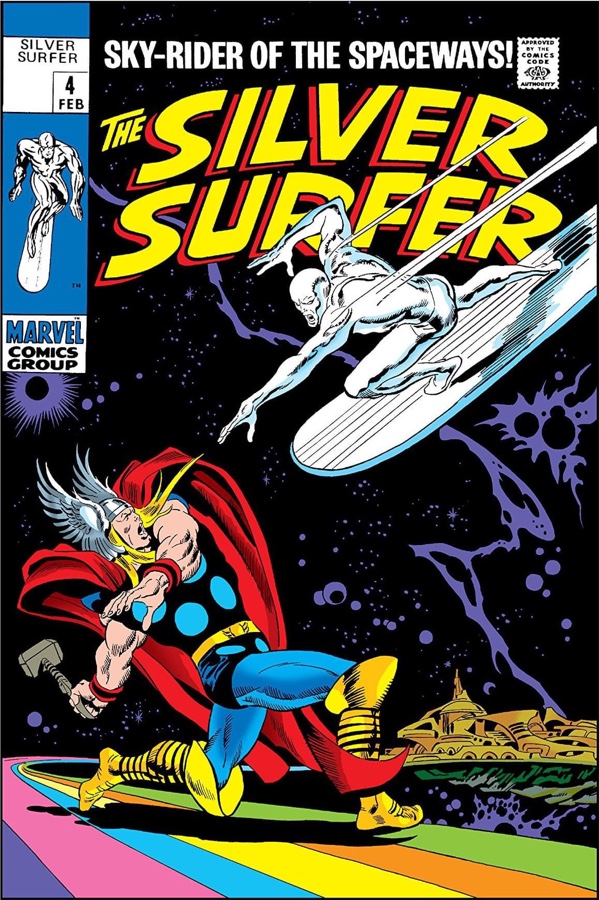 This 12″ statue recreates the iconic cover from over 51 years ago, with Norrin Radd swooping down on his silver surfboard in a dynamic action pose. The base is minimalist, but that's A-OK with me–a simple base keeps costs down, and the clean purple and black design on the base evokes space successfully.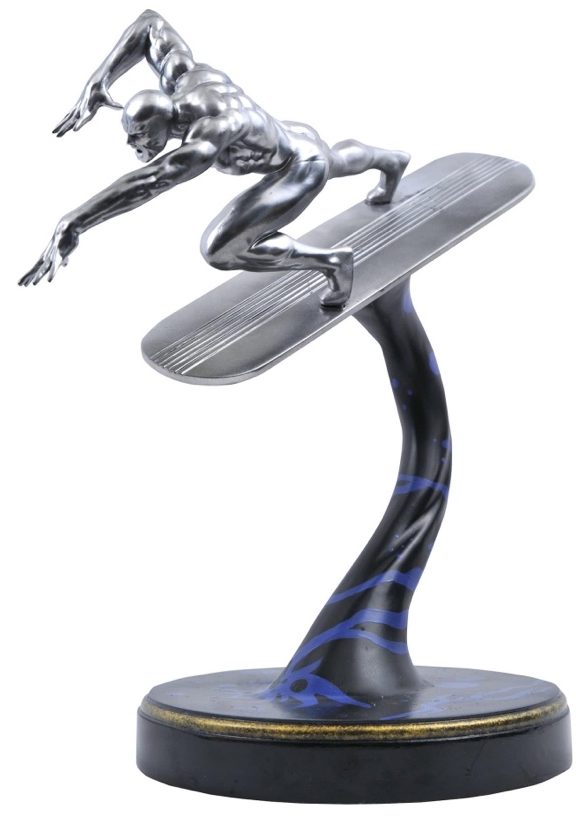 It can be difficult to get the finish on a Silver Surfer just right, but I really like the shiny silver paint that Diamond Select Toys is using for this piece. I've never seen any official company release a sculpture of the Surfer in this particular pose, so this statue has a fresh flavor to it that I enjoy a lot.
I'll probably get some flak for this, but I actually like this low-priced Silver Surfer statue more than the Daniel Bel ~$600 Sideshow Premium Format Figure that was unveiled at virtual Comic Con last month.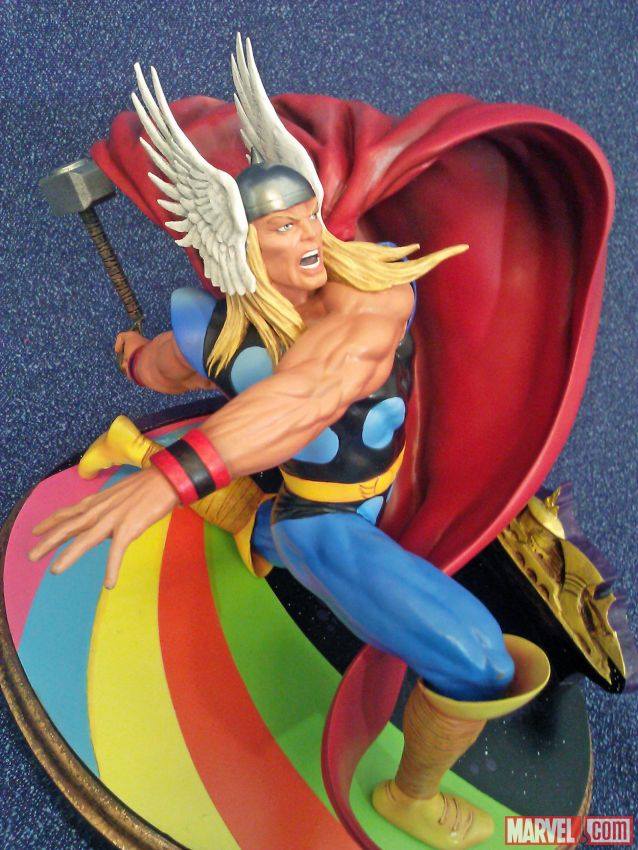 Meanwhile, fans who missed the first production run of the classic Thor Premier Collection statue are getting another crack at him, as a new run of Premier Collection Thor on Rainbow Bridge has been solicited for order as well.
I suspect DST didn't sell anywhere near the LE 3000 edition size the first time out with this piece, so I see no problem with them going back to produce more of the edition. Hopefully there's a lot more interest now that the scene-completing Silver Surfer is available as well!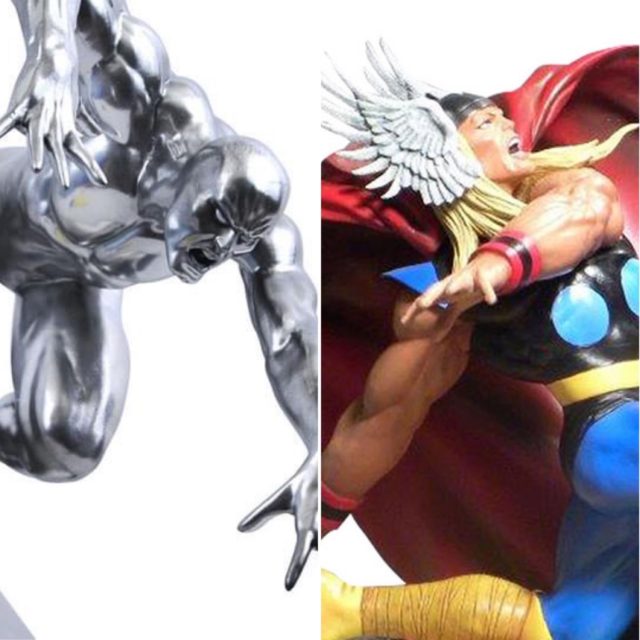 The Marvel Premier Collection Silver Surfer and Thor statues are now up for order, and are estimated to arrive in January/February 2021. EE has the Silver Surfer discounted to $139.99 (from the $175 MSRP) and with free shipping, which is the cheapest price around for it. For a resin statue these days, that's a pretty spectacular price-point, in my opinion.
Now that Diamond Select Toys is finally rolling out the second half of their Thor vs. Silver Surfer diorama, what do you think, Marvel collectors? Who's planning to purchase both halves of this diorama, and is anyone thinking of just scooping up Norrin alone as a cool action pose Silver Surfer statue?
The post Marvel Premier Collection Silver Surfer Statue (+ Thor Reissue) Up for Order! appeared first on Marvel Toy News.