The countdown is on, as we're now just 19 days away from what's sure to be a New York Toy Fair 2019 jam-packed with new reveals for Hasbro Marvel Legends, DST Gallery and more. But while we wait, let's take a look at the latest round of relevant high-end statues from Diamond Select Toys: the Marvel Premier Collection Mystique Statue & Legends in 3D Iron Man 1:2 Bust are now up for order!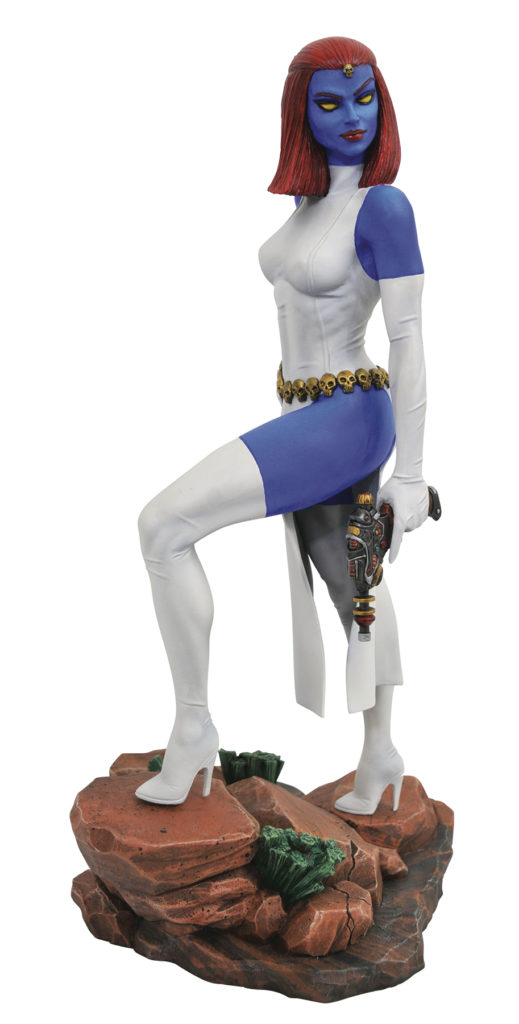 While DST has famously revolutionized what we can expect from low-priced PVC statues over the past few years with their Gallery line of PVC figures, they've also slowly but surely been building an impressive portfolio of limited-edition resin products that are also a killer value as part of their Marvel Premier Collection statue range and their new Legends in 3-D half-scale Bust series.
And for this month's round of solicitations, we were lucky enough to get one of each new addition! Let's have a peek…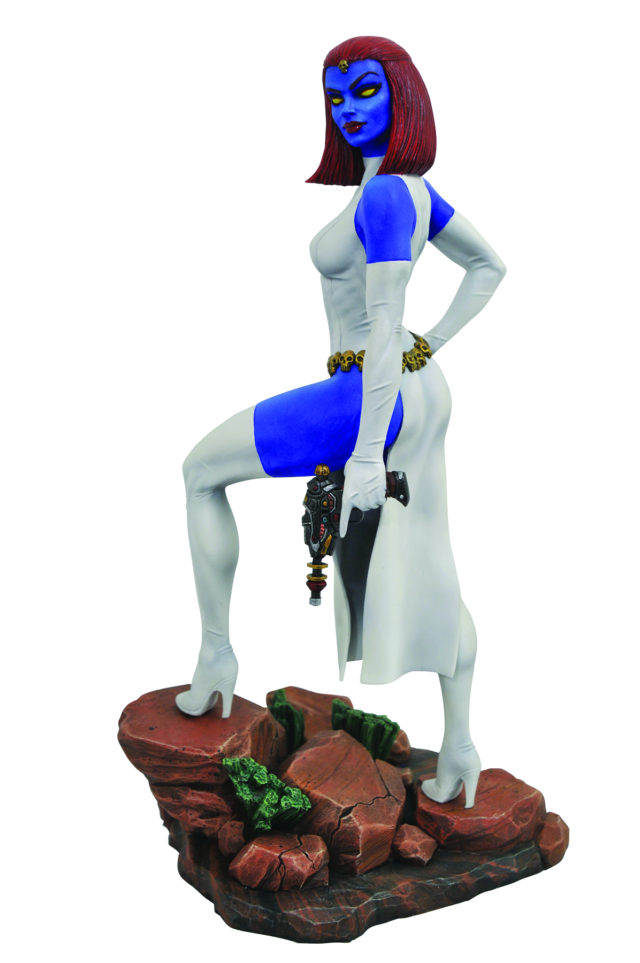 First up is a statue that I think is going to turn a lot of heads and perhaps even steal some sales away from more expensive companies: the Premier Collection Mystique Statue. A lot of fans were dismayed when Sideshow strangely opted to include only one head with their new Mystique Premium Format Figure with hair that seemed very off-model, but Diamond Select Toys didn't repeat that mistake: this 11" Mystique is as classic as they come.
Priced at 150 bucks (and discounted to $135 shipped for POs at EE) and limited to 3000 pieces, I actually think I prefer the aesthetics of this version to the $570 new Sideshow 1/4 Mystique.
While her face lacks some of the supermodel good looks of the $850 XM Studios Mystique, Classic comic book Mystique was never portrayed as the sexiest woman in the universe or anything. In this instance, the simplicity, authentic classic feel and value of the DST piece are really winning the battle for me.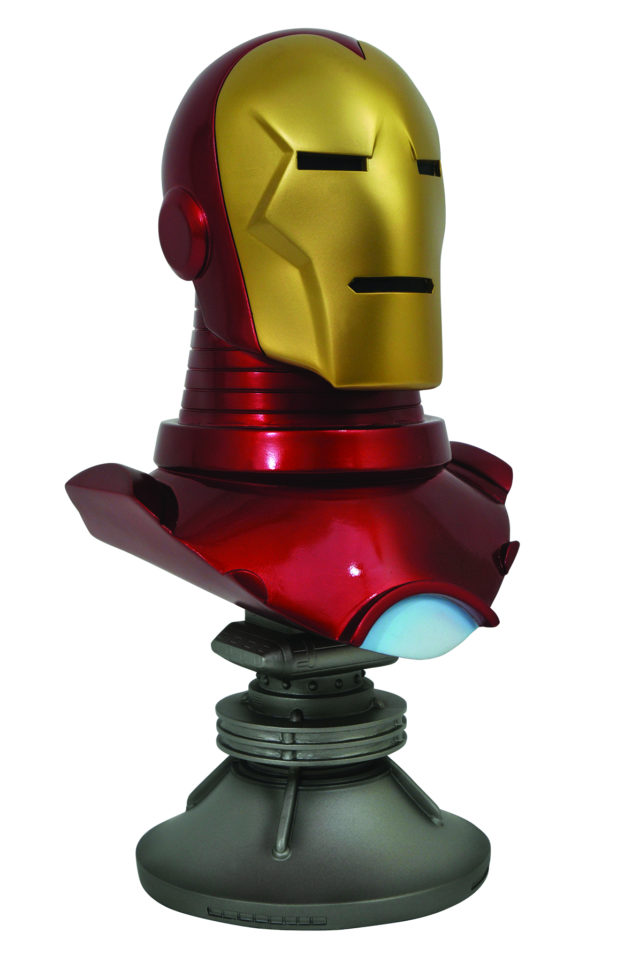 I feel similarly about the new Legends in 3D Iron Man Bust. I have literally no room in my house for humongous life-size Busts anymore at this point in my life, and their current price-tags of $1000 and up certainly don't lead me down the path of temptation (with the exception of that wicked Venom LSB Sideshow debuted last fall).
But as Bowen busts were my gateway into high-end collecting, I'm definitely open to being seduced by smaller scale busts. And this new line of half-scale Legends of 3-D busts Diamond Select began last year is definitely calling my name with its siren song.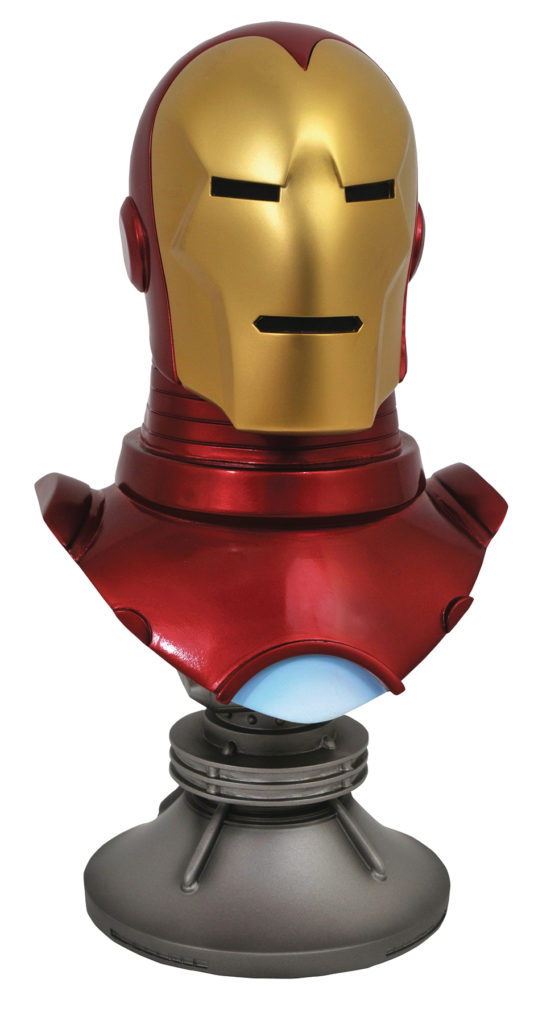 While the Iron Giant, Muppets Animal and Spider-Gwen absolutely rocked my world when they debuted at SDCC 2018 last year and were insta-buys, I've been quietly waiting for this classic Iron Man Bust to appear.
DST is ace at selecting the glossy paint for Iron Man armors at this point, and I think this 10" 1:2 Bust is going to really stand out well on a shelf with other half-scale busts from this line. Limited to 1000 pieces, I expect this to be another quick sell-out for the line.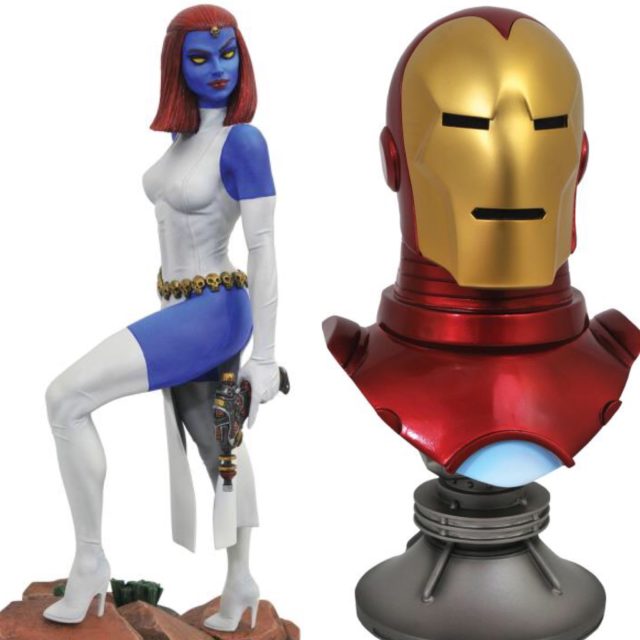 The Diamond Select Toys Iron Man 1:2 Bust and Premier Collection Mystique Statue are now up for order, and are scheduled to ship in June 2019. With their low edition size of just 1000 pieces, the busts have actually been selling out surprisingly quickly, so you might want to reserve an Iron Man if you know you're going to want one. Mystique should last a while longer, although some of last year's Premier statues like Venom are already totally sold through.
Any big fans of either of these DST lines out there? Who got the recently-released 1:2 Deadpool and Venom busts, and what do you think of them? Are there any Marvel characters you're especially hoping to see added to these series at New York Toy Fair 2018 next month?
The post Marvel Premier Collection Mystique Statue & 1:2 Iron Man Bust! DST appeared first on Marvel Toy News.