While the much talked-about Sideshow Psylocke Premium Format Figure will be going up for sale tomorrow (for a cool $585 plus shipping), fear not, Marvel statue collectors who can't afford to drop more than half a grand on every piece! Diamond Select Toys is coming to the rescue again, with an all-new resin Marvel Premier Collection Hobgoblin Statue for just 135 bucks shipped! And a sweet tune for the PVC fans: a Marvel Gallery Black Cat PVC!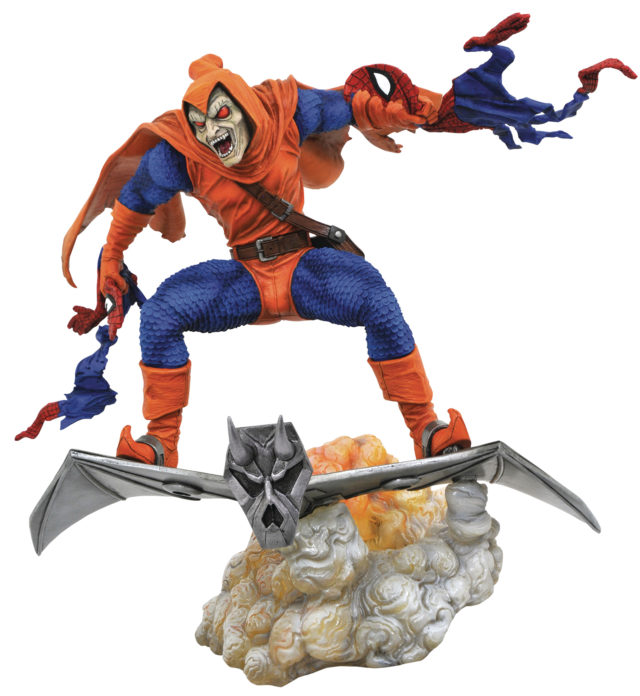 As comic book statue collectors quickly begin facing the reality of skyrocketing costs and dwindling display space, Diamond Select Toys has steadily been taking advantage of this opportunity to expand their presence in the Marvel statue collecting world with economical prices and smaller spatial footprints.
Of course, it's not just about being cheap and small. Quality is key as well—and DST has been steadily increasing their quality throughout the year, churning out real masterpieces like the Marvel Premier Collection Cable and Moon Knight Statues that I've previously reviewed.
And with one of their first releases of 2019, Diamond Select looks like it's ready to strike gold again with a real gem of a classic statue: a 12" resin Hobgoblin!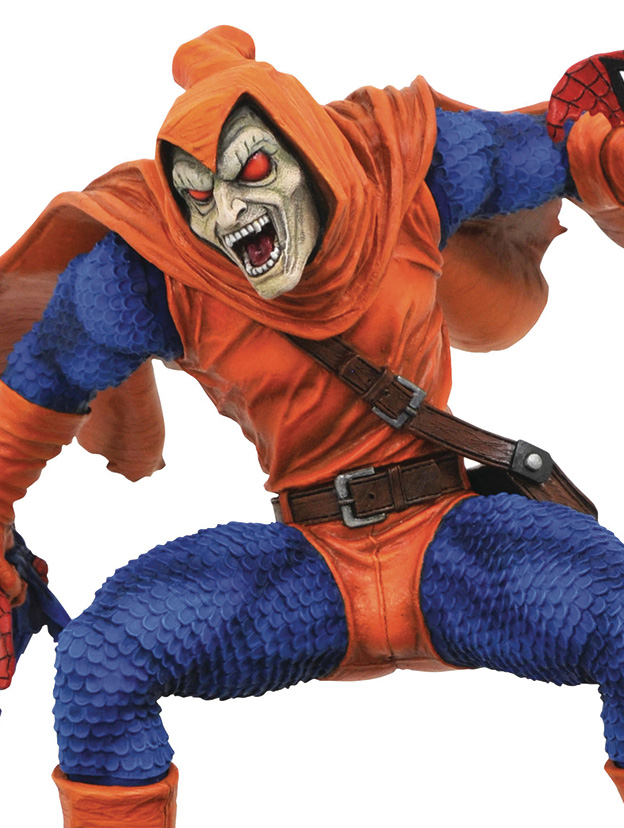 The Marvel Premier Collection Hobgoblin Statue debuted at SDCC 2018 in July, and is opening up for POs today at the discounted price of $135 and free shipping via EE. The statue is obviously largely inspired by the cover to Amazing Spider-Man #238, which featured the Hobgoblin ripping Spider-Man's costume in half (you know—just like he is on this statue).
The sculpting and paint on this Jean St. Jean-sculpted piece look excellent all-around, with the head sculpt, mail armor on the limbs and Goblin Glider all being highlights. I even think the smoke looks pretty cool. This Hobgoblin is a total win for Diamond Select.
As with every piece in the Marvel Premier Collection, Hobgoblin is limited to 3,000 pieces produced—which is a number that I think will really fly by with the low cost of this piece ($150 MSRP; $135 for pre-orders from some online retailers).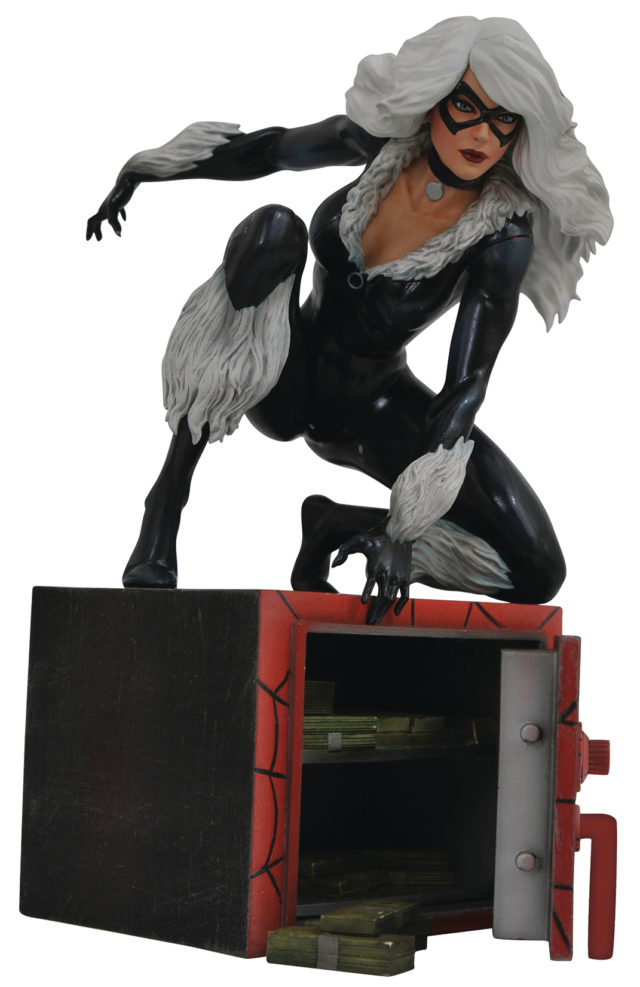 But for those who like their comic statues a bit smaller and cheaper than that, there's also another entry into the hugely popular Marvel Gallery: Black Cat!
This Black Cat PVC statue made her debut at Toy Fair 2018 in February, and is among the last pieces shown at that event by DST to be solicited. While Marvel has been pushing the black-and-yellow "cat eyes" costume rather hard, this is classic-costumed Felicia Hardy through-and-through.
Black Cat looks gorgeous, and is appropriately perched upon a safe that she's robbing (because she's, you know—a thief). I think it's a bit bizarre that the safe has a Spider-Man motif on it (what safe company would make that?!), but that's the only flaw I see in what's an otherwise wonderful PVC figure.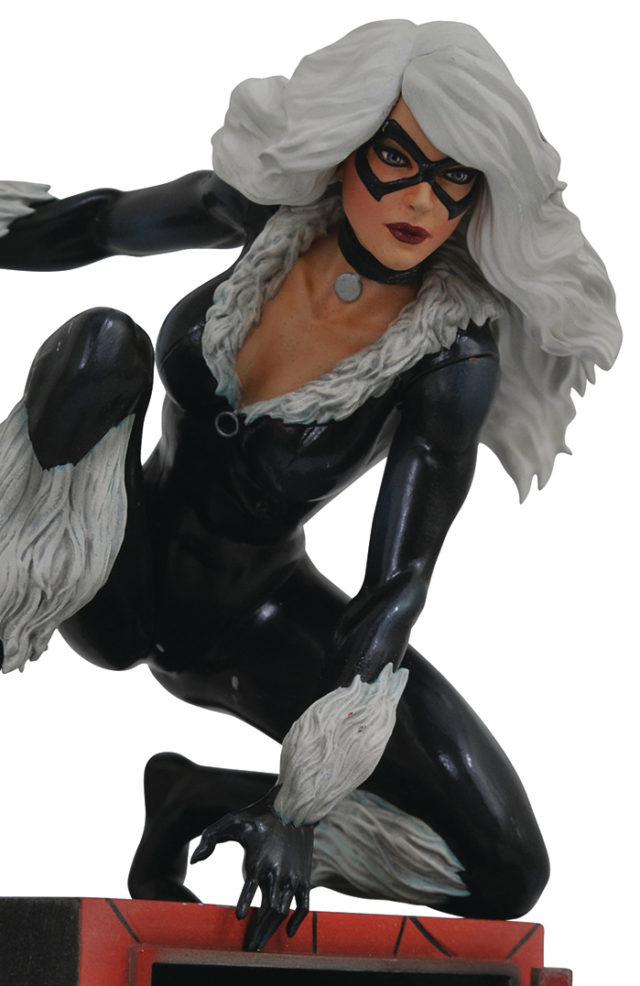 The Marvel Gallery Black Cat and Premier Collection Hobgoblin statues are now up for order, and are scheduled to be released in March 2019. Black Cat is a comic-based PVC, so she should be available for ordering perpetually, but Hobgoblin is a LE piece with the possibility of actually selling out.
What do you think of the two newest upcoming additions to the DST statue collection? Is it another month, another couple of big hits for Diamond Select Toys in your eyes, or do their Black Cat and Hobgoblin fail to catch your attention (and dollars)?
The post Marvel Premier Collection Hobgoblin & Gallery Black Cat Statues! appeared first on Marvel Toy News.