Talk about striking when the iron is hot! Thanks to the mega-success of Deadpool 2, Domino is more popular this week than the character has been since, well… ever! And not ones to miss an opportunity, Diamond Select Toys is ready to swoop in and capitalize: the first-ever resin Domino Statue is now up for order! And that's not all DST has lined up for the Marvel Premier Collection: a Black Panther movie Statue is now on the way as well…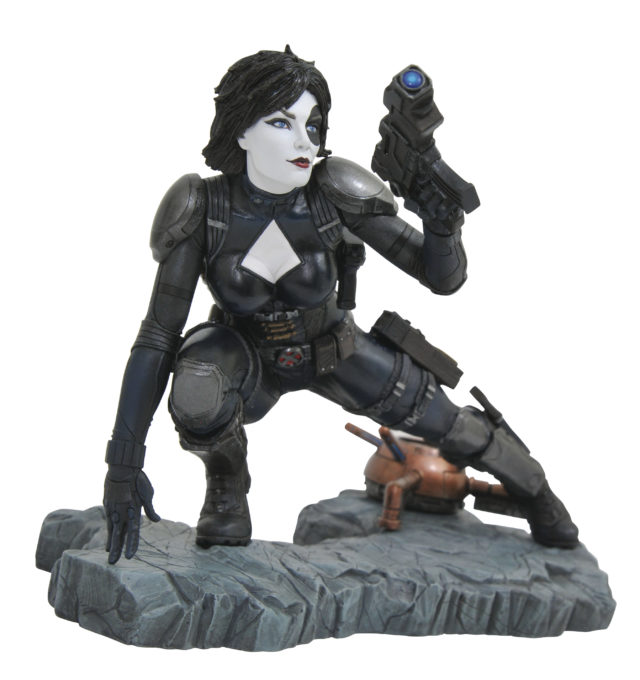 As soon as Diamond Select announced that there was going to be a trio of Marvel Premier Collection statues of Deadpool, Cable and Domino, I immediately knew I wanted Domino the most.
Don't get me wrong—the DST Deadpool and especially Cable look incredible (and I've already ordered both of those as well), but Domino has a certain extra allure, having just one Bowen Designs mini-bust to her name and otherwise never having been a full resin statue before.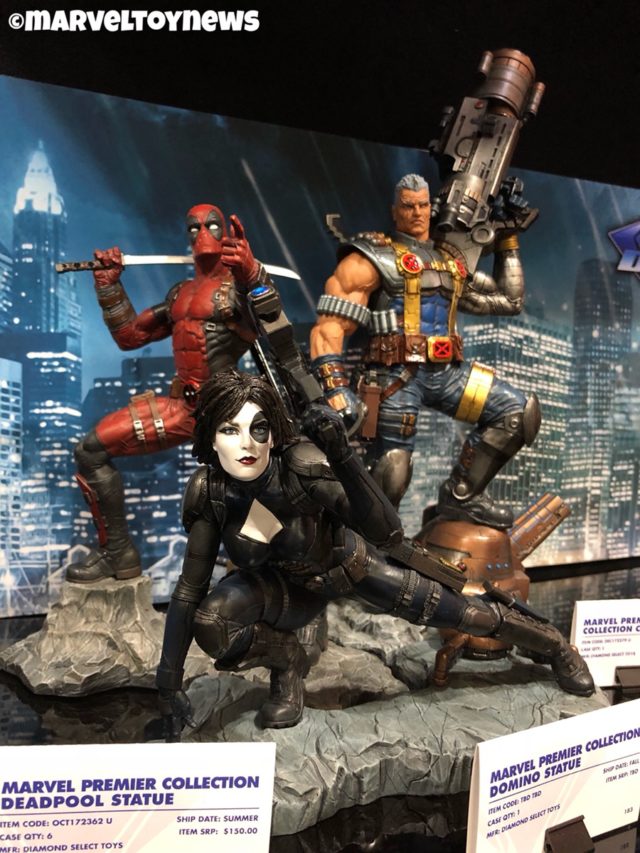 When I saw Premier Collection Domino revealed at New York Toy Fair 2018 in February I was psyched by how good she looked—and that excitement has managed to last a quarter-year, as I instantly pre-ordered her when I saw her up for PO today. Having seen this at Toy Fair in-person, I've got zero complaints—DST created a masterpiece with this one.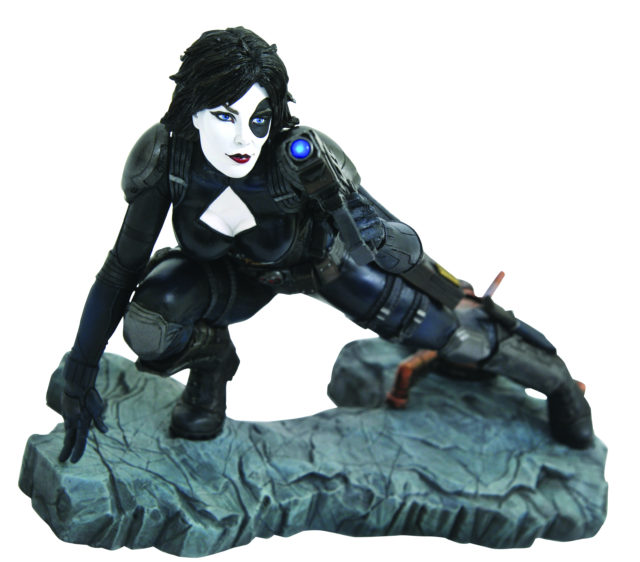 I imagine some folks will complain about the crouched pose on Domino, but as it allows her to be displayed perfectly in front of Cable and Deadpool, I've got no issue with it in this instance. Domino is flexible and athletic–that pose makes sense to me.
She's in the same 1/6 (12") scale as her counterparts, and a real steal at the MSRP of $149.99 (or lower).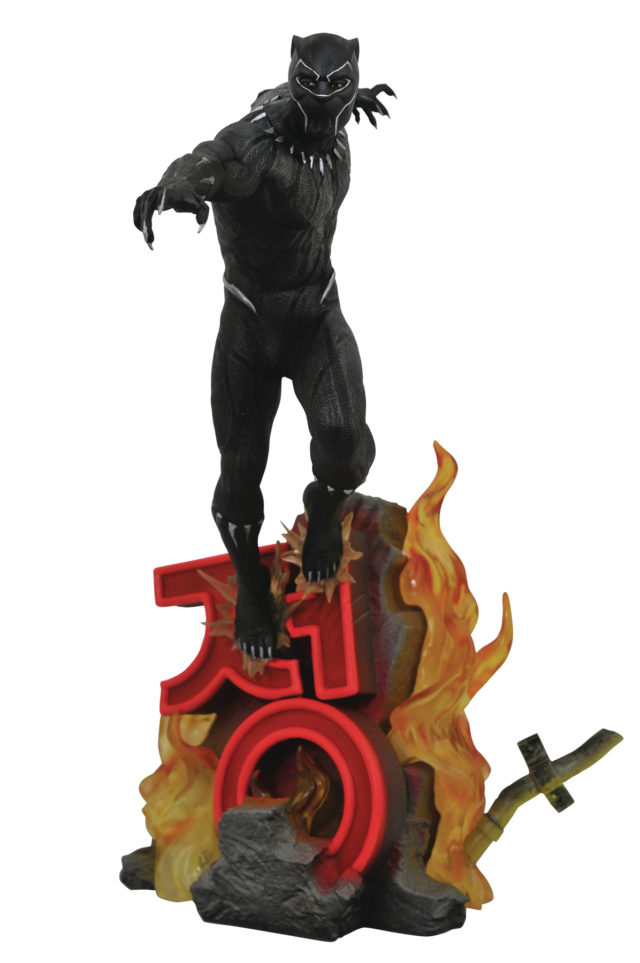 While the Deadpool 2 movie is all the rage this week, Diamond Select Toys hasn't forgotten about another Marvel movie that shattered records beyond anyone's expectations: Black Panther!
While we got several nice Marvel Gallery Black Panther PVC statues for the movie, I'm really glad that DST has chosen to give us a larger, more detailed resin statue as well. The success of the movie definitely warranted it, and there's a big void to fill from companies like Sideshow not making any larger 1/4 Black Panther merch.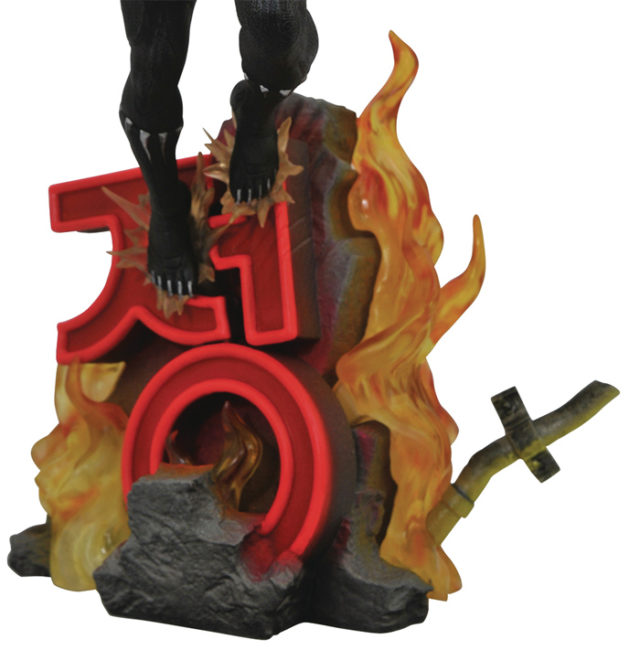 The flaming neon sign base is a terrific contrast visually that really makes Black Panther himself pop (which can be difficult with a guy dressed all in black!).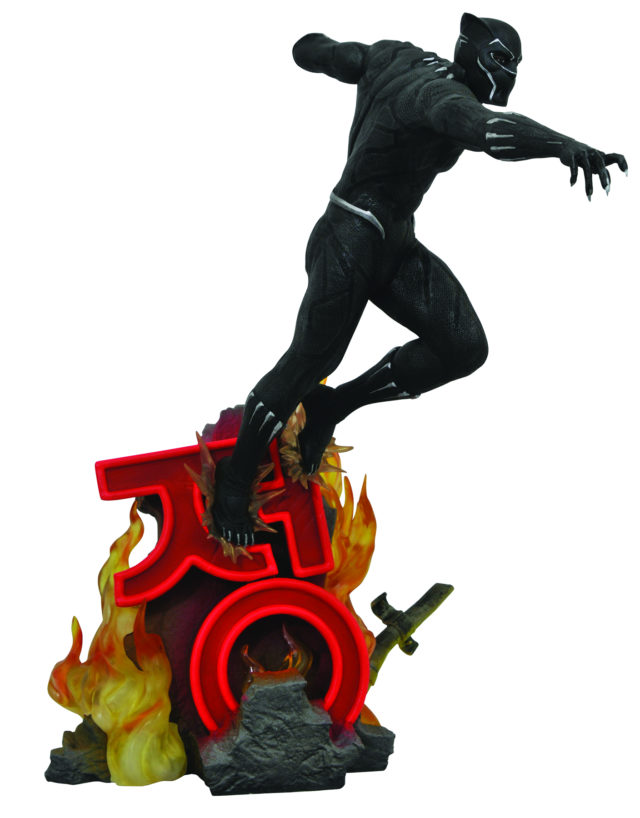 I think having T'Challa jumping from the flaming sign is a good choice, as it gives the statue a sense of dynamism and lets us see his whole body in a non-crouched position.
Hopefully Diamond Select also has a Killmonger Premier Collection Statue lined up as a companion piece, because Erik Killmonger ended up being one of the most charismatic and popular MCU villains to date (even if he was almost immediately overshadowed by Thanos).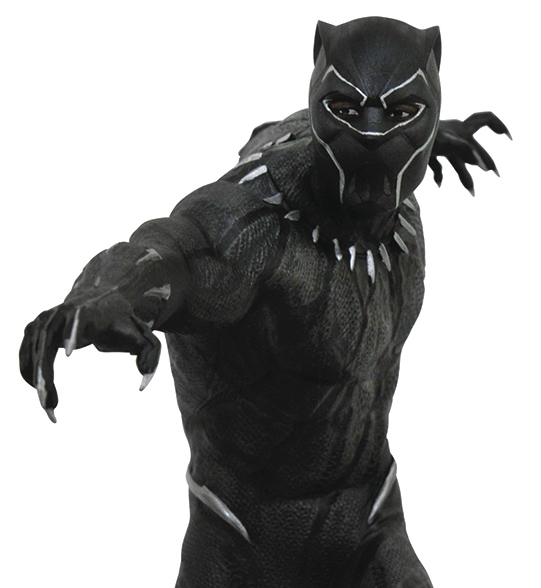 The Marvel Premier Collection Domino and Black Panther Statues are now up for order, and are scheduled to be released in December 2018/January 2019. Both statues are limited to just 3000 pieces. EE has pre-orders for both statues open now with a 10% PO discount and also free shipping, which is the best deal around these pieces.
Are you hyped for either of these latest two Marvel Premier Collection statues, Marvel collectors? Is this the finest Black Panther movie Statue in the land, and are you planning on picking up Domino to complete the Cable/Deadpool/Domino DST triad?
The post Marvel Premier Collection Domino & Black Panther Statues! appeared first on Marvel Toy News.