All hope is pretty much lost at this point for collectors who were hoping for a last-minute surge of announcements for NYCC 2018 Marvel Exclusives. But while there aren't a lot of toy companies bringing Marvel-related exclusives to the show, Funko is picking up the slack with a whopping seven NYCC 2018 exclusives of their own for the event, including a classic Spider-Woman POP, Hulkbuster vs. Hulk and more!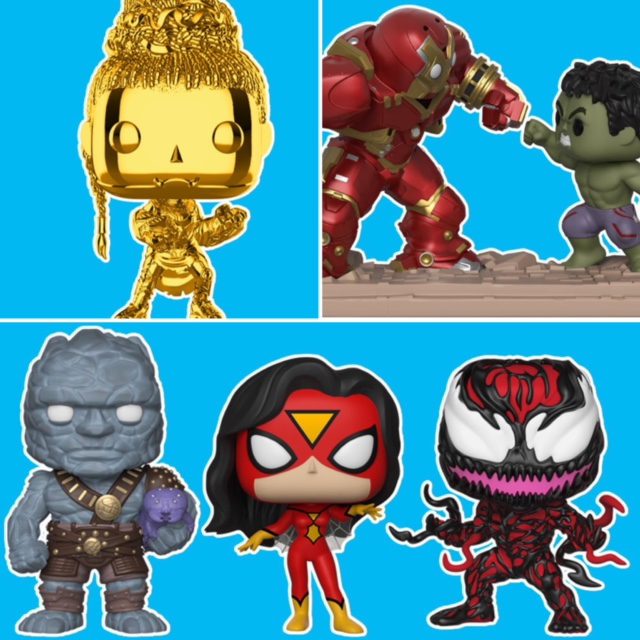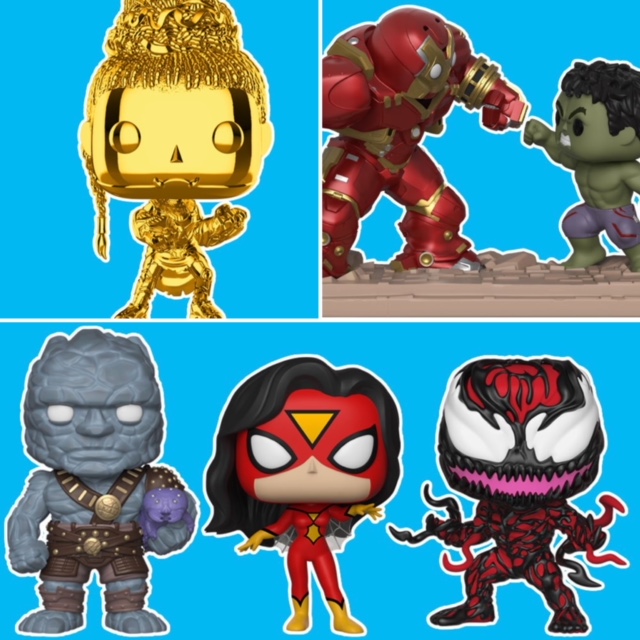 The New York Comic Con 2018 Funko Marvel Exclusives we're officially announced last week, so I'm a little bit late to the party on these. Even so, I wanted to run down the assortment of exclusives for the show, giving my impressions and noting where non-attendees can obtain these items from the shared retailers partnered up for them…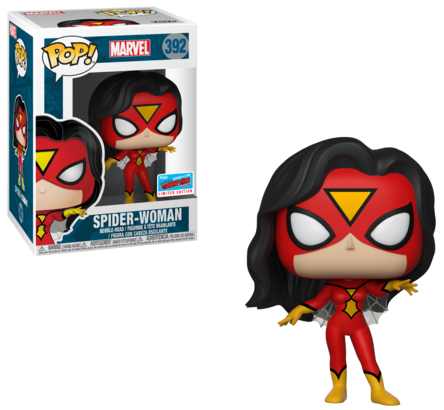 First up, we've got the Funko NYCC Exclusive that I think is the coolest: a classic comic book POP Spider-Woman figure! A popular Avenger who's had her own ongoing series many times, I think there's going to be a sizable number of comic book fans hoping to claim the Jessica Drew Spider-Woman POP Vinyl.
Luckily, the Funko Spider-Woman POP Vinyl will be available online from Entertainment Earth, so assuming that there are a good amount available there, most fans who want one will hopefully be able to get it.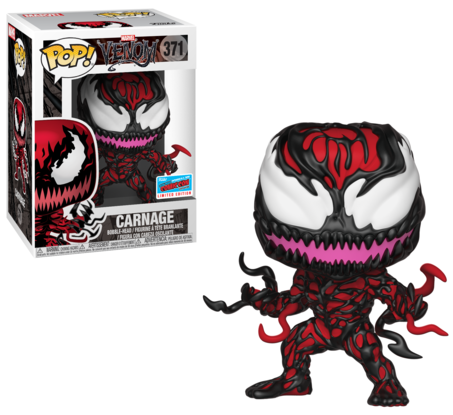 The other comic book-based NYCC POP Vinyl will be a Carnage variant with tendrils coming out of him. This isn't a huge deal, since FYE already has a different version of Carnage (with a scythe arm) available. Still, I prefer this version, and I'll get him from shared retailer Hot Topic if I have the opportunity to do so.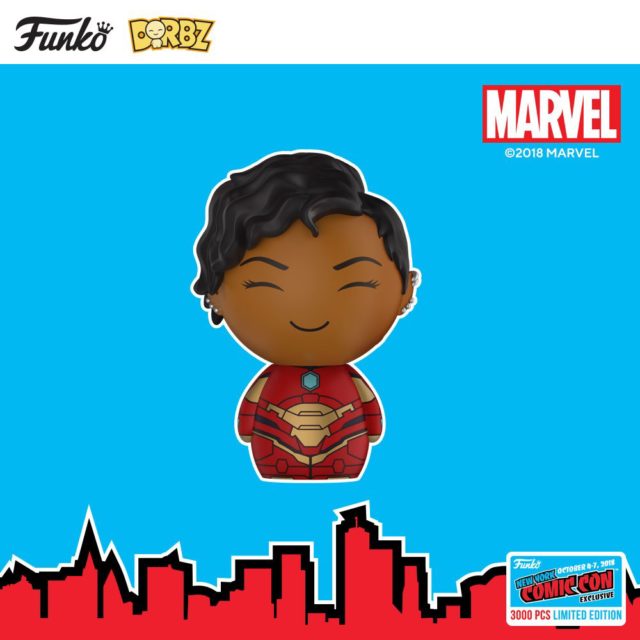 There's one more comic book Funko NYCC exclusive this year: an Ironheart Dorbz! Dorbz unfortunately never took off and became as popular as Funko hoped, and has seemed to be in its death throes for a while now.
Riri Williams as Ironheart hasn't exactly been a mega-popular character either, so I'm guessing this FYE-shared Dorbz Ironheart will be easy to get for anyone who's interested.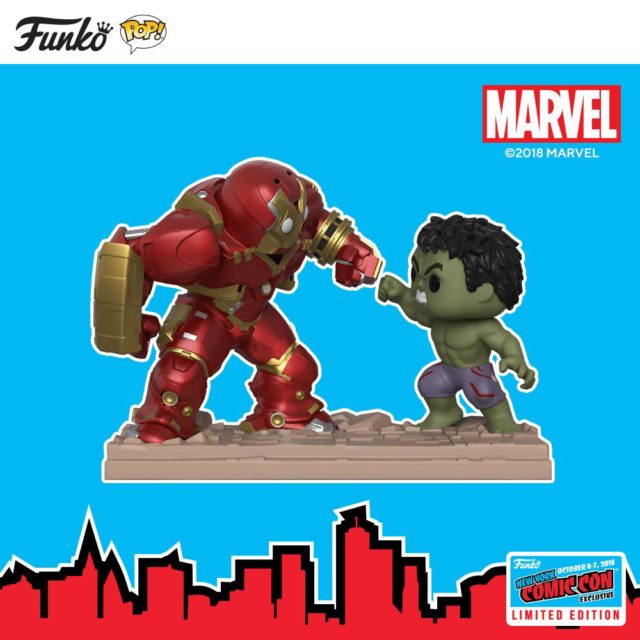 The remaining four NYCC Exclusive items are all MCU-based, with two from Black Panther, one from Thor Ragnarok and one from Avengers Age of Ultron.
The Movie Moments Hulk vs. Hulkbuster POP set will be shared with Walgreens stores. While I think this would have been a tremendously popular set three years ago, I think at this point the ship has sailed on merch from this battle, but maybe I'll be surprised by the level of excitement for this once it's actually out?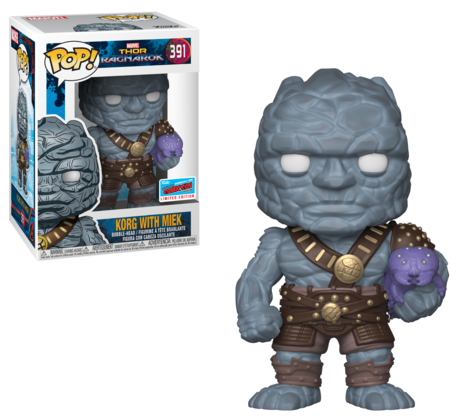 GameStop/EBGames will share one of the quirkier and more fun EXs from New York Comic Con: POP Korg & Miek from Thor Ragnarok! This comes from the end of the movie where Korg is holding the dead/unconscious Miek, and is likely to be the only piece of MCU Miek merch we ever see released (besides the ultra rare 1:72 Miek Mystery Minis vinyl figure).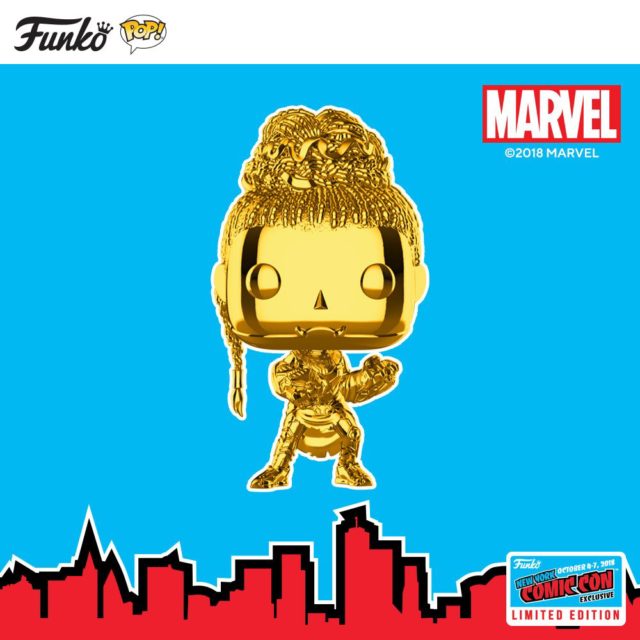 Last but not least, we've got a pair of Black Panther POP Vinyls. Neither is a new character, but I think both will be of interest to big fans of the movie.
10 Years of Marvel Studios Shuri in gold chrome is a bit of a shocker, as I'm stunned we're getting a chrome Shuri when there's not even a chrome Rocket Raccoon on the way. This seems like a totally wild choice to me, but if there was ever going to be a Shuri variant of this nature, now is the time for it. She'll also be shared with GameStop.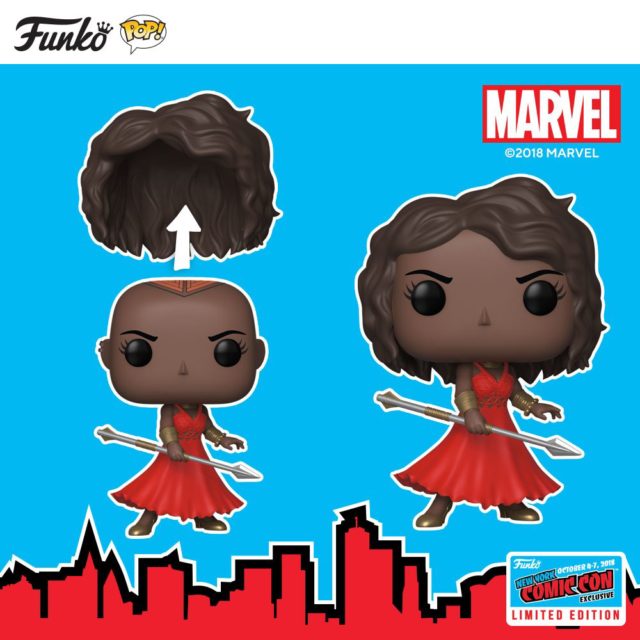 Finally, we've got a POP that I think will be one of the hottest from the show: Okoye with removable wig! Considering that the regular Okoye figure was a limited Funko Shop exclusive that sells for $50-$80 regularly today, I imagine many Black Panther fans will be wanting to add the leader of the Dora Milaje to their POP collections with this figure, even if it isn't in her usual outfit.
The POP Okoye with Wig figure will be available via Amazon, so theoretically she should (keyword: "should") be a snap to acquire for those who won't be in New York City next week.
What do you think of this surprisingly robust selection of 2018 New York Comic Con Exclusives, Marvel collectors? Are any of these a must-have for you, and are you okay with every one of these "exclusives" being shared with other retailers?
The post Marvel NYCC 2018 Funko POP Exclusives! Carnage! Spider-Woman! appeared first on Marvel Toy News.