Ever since Marvel Legends Wild Child was revealed in summer 2019, fans have been anticipating that a second wave of X-Men Marvel Legends Age of Apocalypse figures including Sabretooth MUST be in the works. There were some trepidation the first series didn't sell so well and might jeopardize the sequel, but Hasbro laid those fears to rest this past week when the Marvel Legends X-Men Age of Apocalypse Wave 2 Series went up for pre-order! With 7 single-packed figures and the first-ever AOA Colossus as the Build-A-Figure, is this wave a can't miss for X-Men fans?
EE Links to Individual Figures:
Magneto
Rogue
Cyclops
Sabretooth
Iceman
Shadowcat
Legion
Amazon Links to Individual Figures:
Magneto
Rogue
Cyclops
Sabretooth
Iceman
Shadowcat
Legion
As soon as the full lineup for the X-Men Legends Age of Apocalypse Sugar Man BAF Series was revealed, it was instantly obvious to any fan that Hasbro blatantly was holding out on some of the most popular and central characters for a second wave.
Rumors swirled that the first wave wasn't a monstrous success, but when leaks popped up naming most of the figures in another series for 2021, it was just a waiting game to see when Hasbro would announce the follow-up. And that time finally came last week, when Hasbro played every card in their Age of Apocalypse Marvel Legends deck! Let's have a look…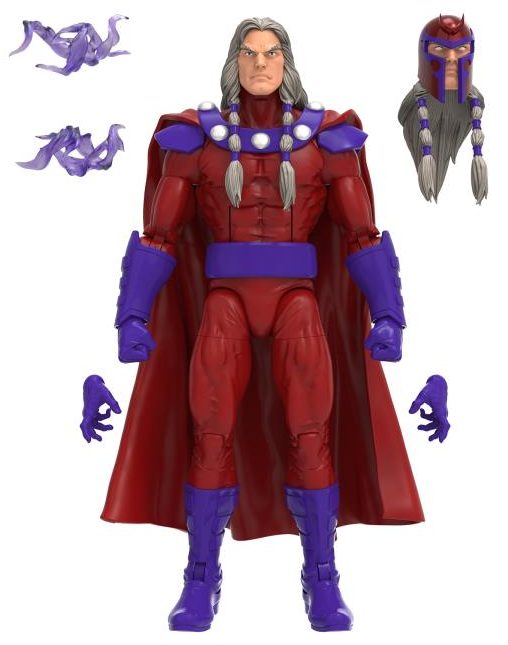 The headliner for this series—and the one figure in it without a Colossus Build-A-Figure piece—is Age of Apocalypse Magneto. As the leader of the AOA X-Men and the character who would ultimately kill Apocalypse himself, AOA Magneto was an absolute sure-bet for any second wave that ever happened.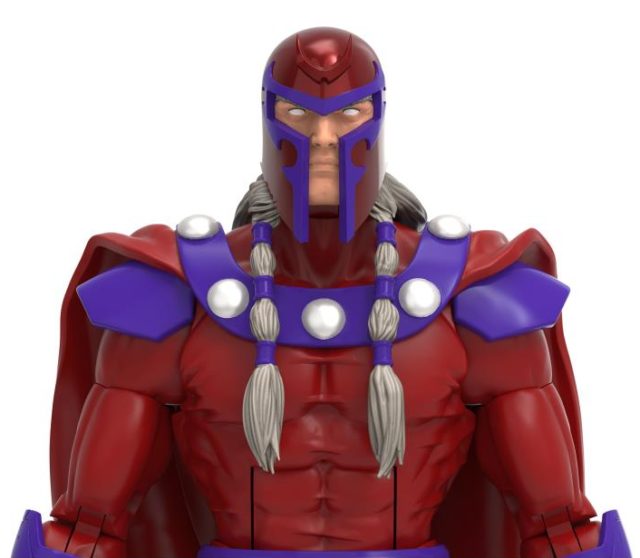 Medicom Toy has an amazing MAFEX Magneto Age of Apocalypse figure out this year, but that figure costs more than quadruple what this one does—and I'm not sure it's necessarily quadruple as good as Hasbro's.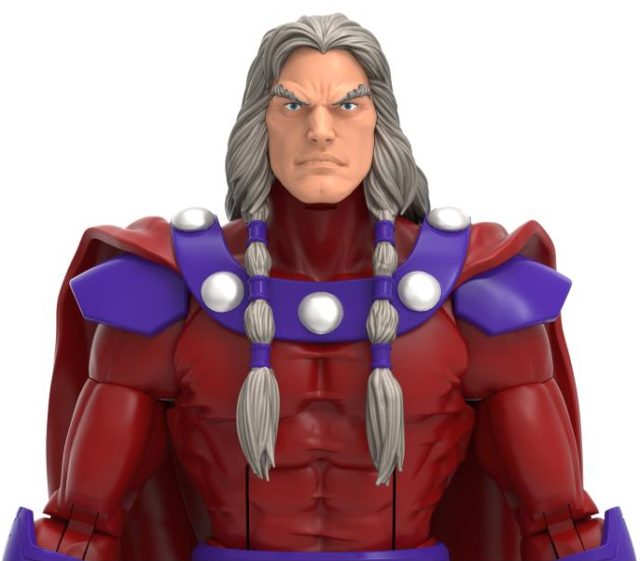 It's really hard to judge based off of these digital renders, but I think the unmasked portrait is going to turn out well on this Magneto, and the physical prototype shown during the Marvel Fan First stream looked nice enough. I also prefer the sculpted cape to mixed media cloth. I definitely love the shaded-in helmet that the MAFEX AOA Magneto gets (which is the primary reason I haven't canceled my pre-order for it), but I may be satisfied with this version at a fraction of the cost of that one.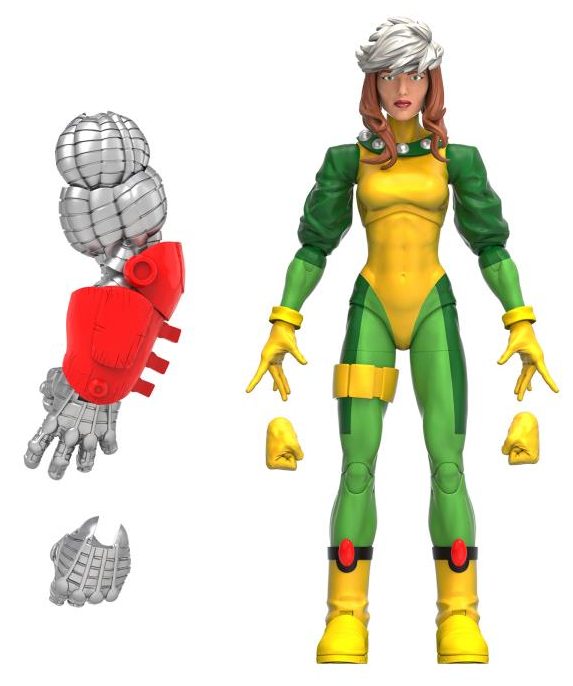 To complement Magnus, we are (of course) also getting the leader of the Astonishing X-Men (and Magneto's wife), Rogue. Toybiz did a bad 5" Age of Apocalypse Rogue figure twenty-something years ago, but this is going to be the true super-articulated update that fans have always wanted.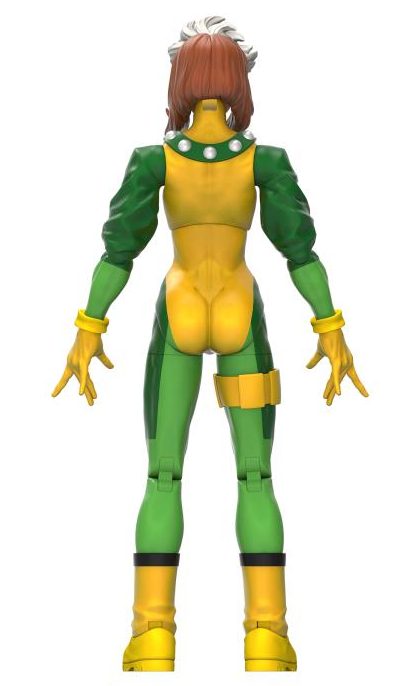 AOA Rogue's face is obviously a little rough in 3D form and even the physical prototype shown looked a tad odd, but hopefully we'll all be pleased when we see it as a final finished reality. I am thankful for the interchangeable hands on this, as Rogue badly needs open-hands and fists both.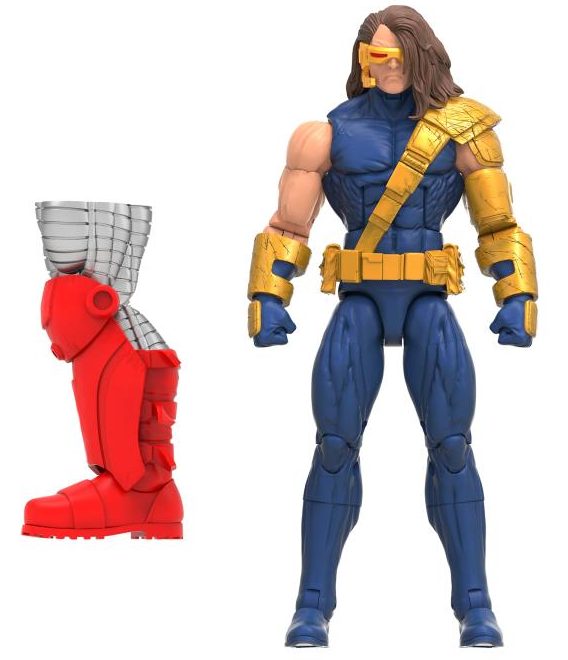 Continuing on, we finally get Marvel Legends Age of Apocalypse Cyclops to pair with the Weapon X Wolverine and Jean Grey from wave 1. I love the long-haired, unshaven Scott Summers design from Age of Apocalypse, and this was an absolute key character that needed to be in this wave.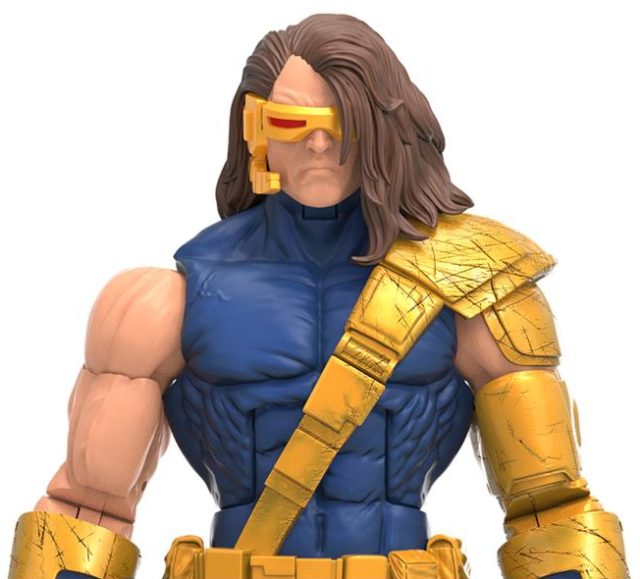 I like the scratches on Cyclops' armor, but I am stunned that we don't see any stubble on the digital render. Clean-shaven AOA Cyclops feels really off to me. I'm hoping we see this fixed for the final physical prototype, although I'm not hopeful since the physical one shown during the stream looked the same as the render.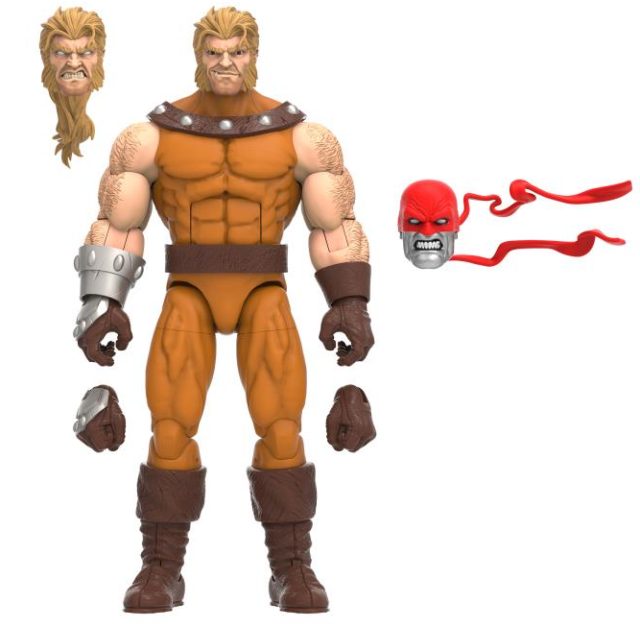 We knew AOA Sabretooth was a lock for this wave when we got Wild Child in Wave 1, and here he is. Age of Apocalypse Sabretooth is my favorite take on the character, and I am hyped to see that we get his more sane look from Exiles and also a vicious, whited-out eyes portrait with this Marvel Legends Sabretooth figure.
We only get fists, open-hands, the interchangeable head and the Colossus BAF head here as far as accessories go, but the ML Wild Child with chain from last year will complete the look. This is going to be very cool when paired with Wild Child.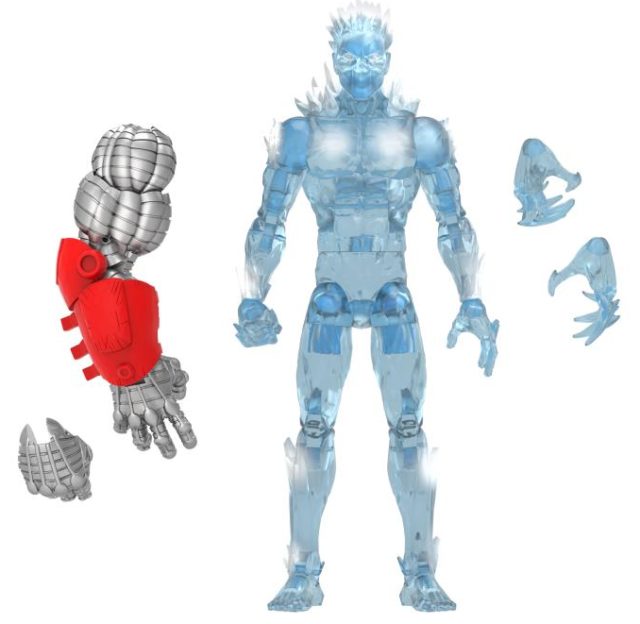 While Toybiz made a few Iceman figures in the 5" X-Men line that were clearly inspired by his AOA look, I don't believe any of these figures were ever officially labeled as being "Age of Apocalypse Iceman". So unless I miss my guess, this Marvel Legends AOA Iceman figure is a first (in name, at least).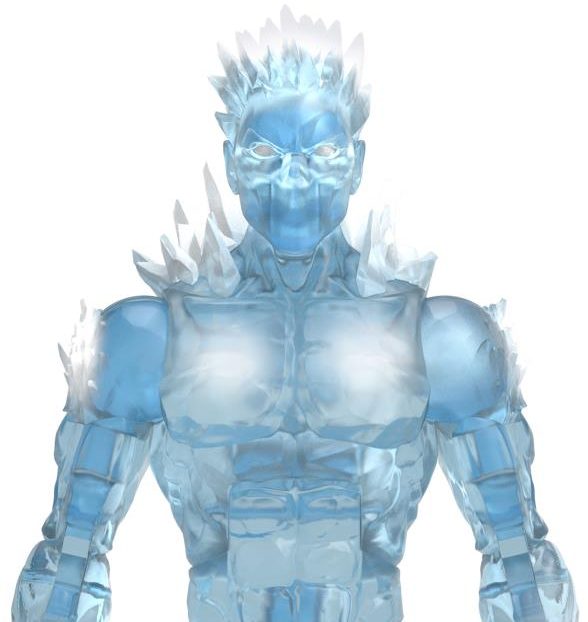 The digital render of this Iceman figure looks super-strange to me because of how the translucent plastic looks as a render, and I'm awaiting seeing the physical prototype of this action figure more than any of the others in the wave.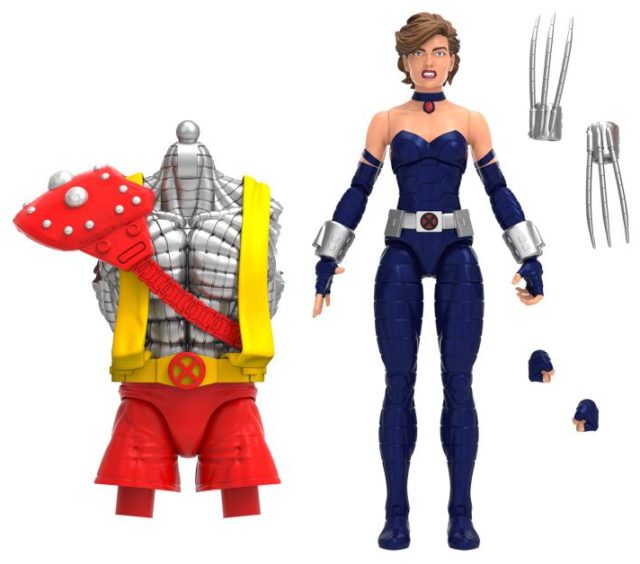 Another first-time figure—this time unquestionably so—is Age of Apocalypse Kitty Pryde/Kate Pryde/Shadowcat. I never liked this clawed design for Kitty, as it looked way too "old" for the character to me. This is one of my least-favorite AOA designs (even if I do really really love the Generation Next story that she is featured in).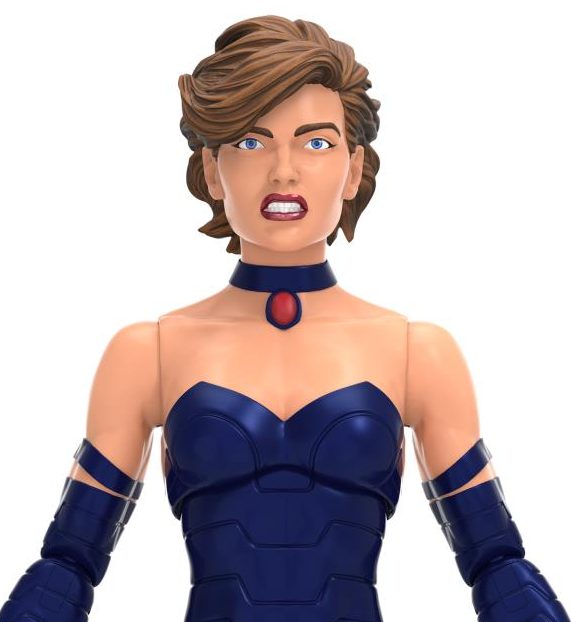 That said, given what the Build-A-Figure of this wave is, Hasbro really couldn't skip Shadowcat. Kitty has interchangeable hands and attachable claws, and I don't really know what else Hasbro could have done with this toy. Let's hope her face looks nicer on the finished figure than the digital (the physical prototype's looked okay).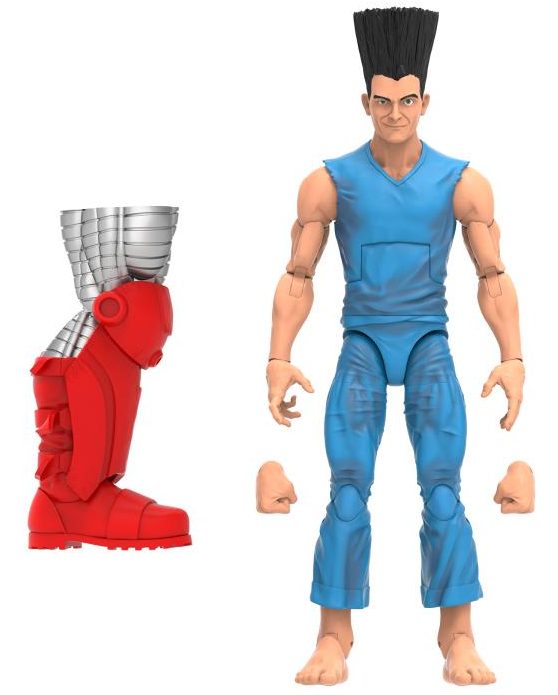 Closing out the single-packed figures, it's yet another first-time character: Marvel Legends Legion! The catalyst for the entire Age of Apocalypse, Charles Xavier's son David Haller is among the most powerful and notable character to never be done in action figure form before. Cannot believe it's taken decades (and years after his own TV series!) to get this character!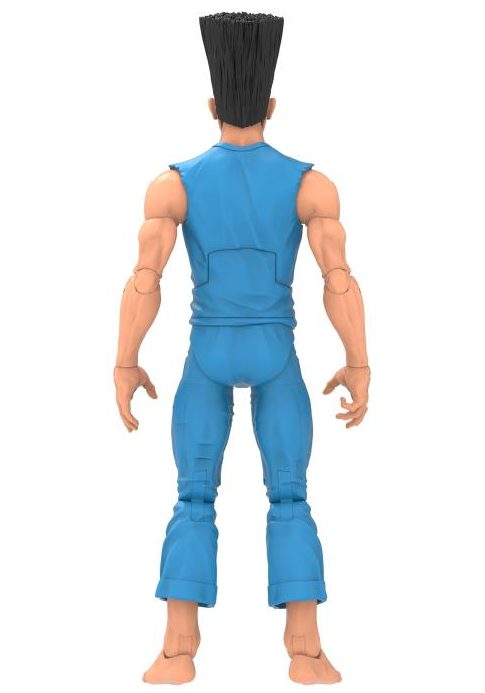 I've heard some complaints about the "costume" choice, but this is Legion's costume from Legion Quest and X-Men Age of Apocalypse Omega, making this beyond a doubt the iconic look for the character. The crazy asymmetrical facial expression is fitting, and this is bar none my favorite individual figure in the wave.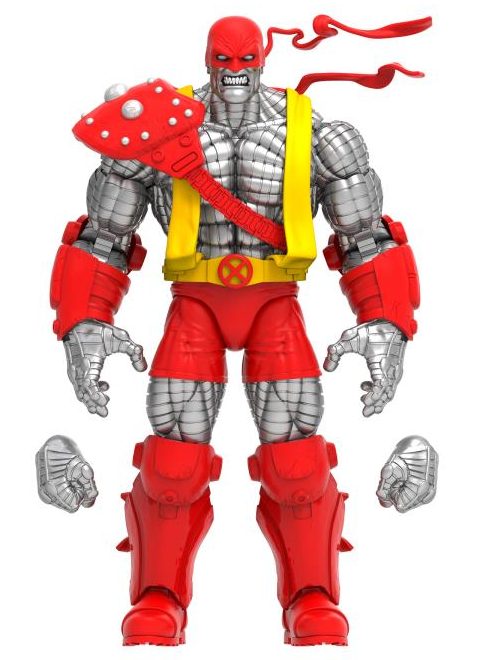 But wait. There's one more premiere action figure: the Age of Apocalypse Colossus Build-A-Figure! Colossus wasn't exactly at his most heroic in AOA—in fact, he stomped his wife to death is a crazy tantrum—but he had a cool design there nonetheless. I think this is going to look awesome on my Age of Apocalypse Legends figures shelf. Very pleased to get him.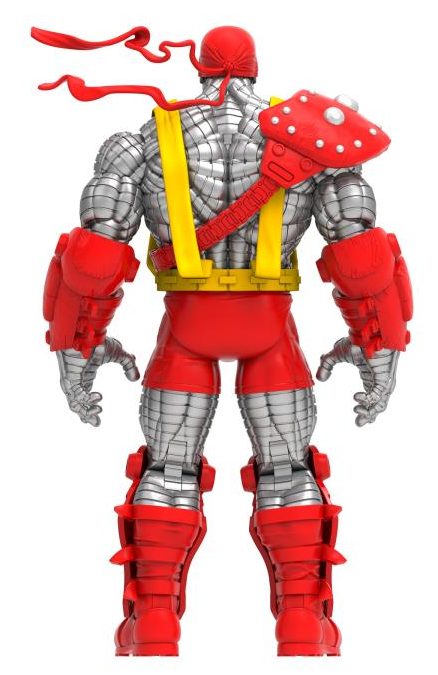 The Marvel Legends X-Men Age of Apocalypse Colossus Series is now up for order, and is scheduled to be released in Fall 2021. Singles of all of the figures are available, as well as sets and cases (with Magneto as the sole double-packed figure).
What are your thoughts on this second wave of AOA Marvel Legends? What figures (if any) are your must-buys from this set? Does this complete the characters you'd want to see from the story, or would you still like a third wave with characters such as Gambit, Storm, Bishop, Holocaust and/or Sinister?
The post Marvel Legends X-Men Age of Apocalypse Wave 2 Figures! AOA Magneto! Colossus BAF! appeared first on Marvel Toy News.