While Hot Toys has been showing off their super nifty (and super expensive) WandaVision sixth scale figures of the white Vision and Scarlet Witch figures this month, not everyone wants to wait another year and spend $500+ for a pair of figures of those characters. And for those fans, Hasbro has their own Marvel Legends WandaVision Scarlet Witch and Vision available now! These (particularly Wanda) seem to be selling out pretty quickly as they come into stock. Is it worth hunting down your own 6" Scarlet Witch figure in her Disney+ costume? Here's my review…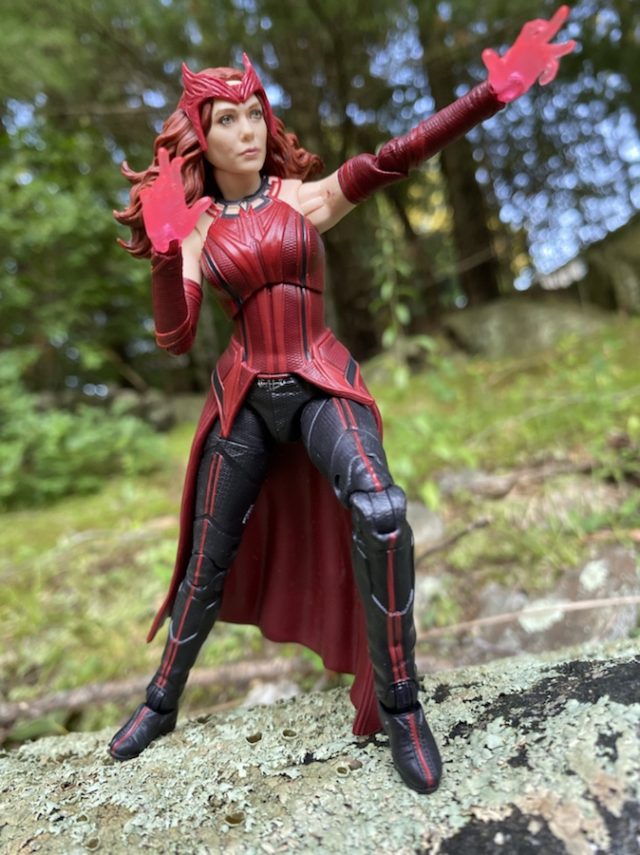 Despite being a mainstay of the MCU Avengers ever since Age of Ultron, we've previously only had an MCU Scarlet Witch Legends figure available individually-packed on a singular occasion: as a hard-to-find entry in the Captain America Civil War Abomination Build-A-Figure series.
I was shocked to see that it was nearly half a decade ago that I reviewed that figure in 2016, and more shocked to see how good I thought it looked back then! Hasbro has come a long way with their movie figures and actor likenesses in the last few years, and this new Wanda Maximoff is a big example of this incredible jump.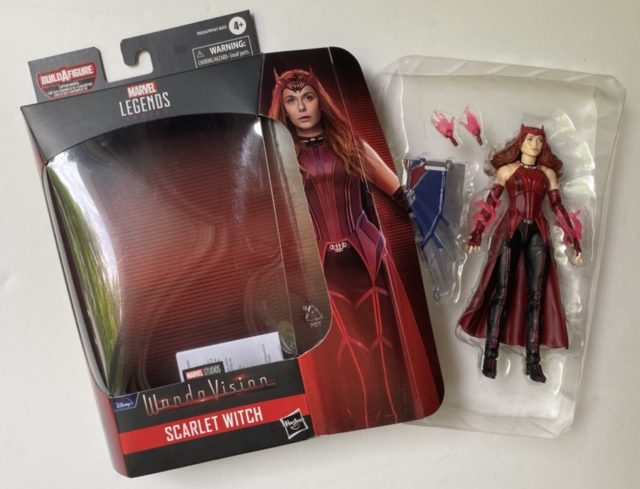 My facial recognition skills are not the best, so I always like to show likenesses to friends and loved ones to get their opinions. When I showed my wife the new Scarlet Witch portrait, she said it was amazing. When I showed her the Civil War version for comparison, she said (and I quote): "Woof! What's wrong with her face!" So Hasbro's improvement is definitely apparent, even to a non-collector.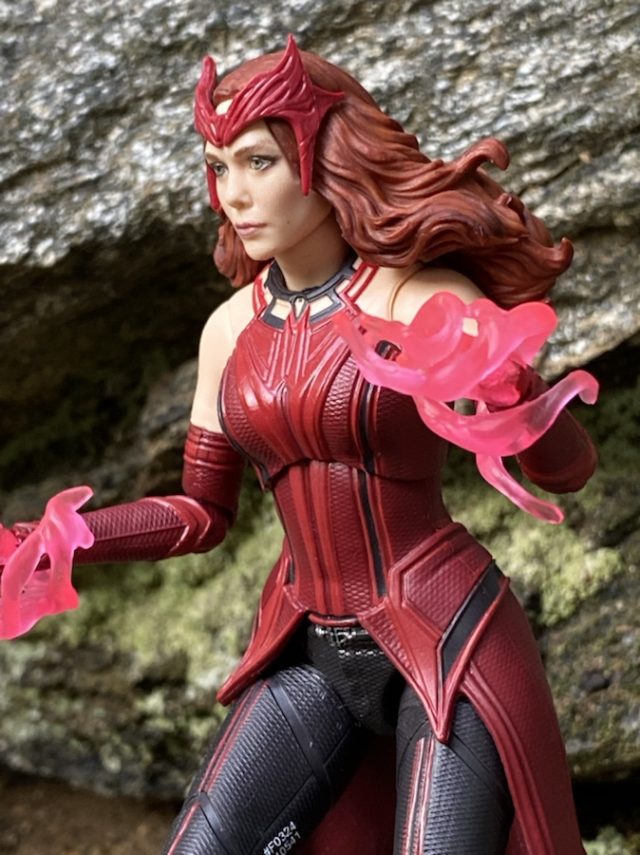 Personally, I think the portrait on this WandaVision Wanda figure is fan-freaking-tastic. It may not be as lifelike as the mind-exploding work that Hot Toys does, but it is really good for a Marvel Legends six inch figure.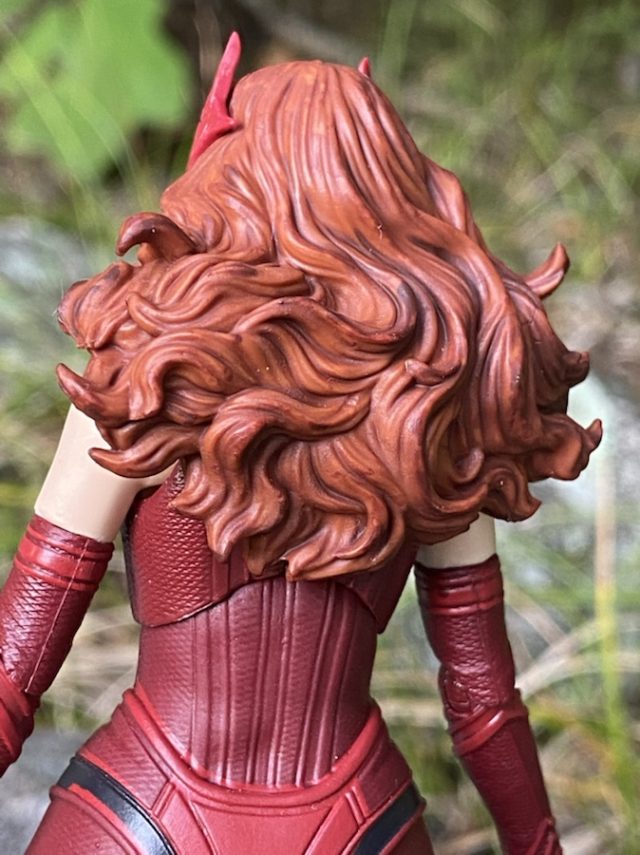 The neutral facial expression works for Wanda, and the texture and paint wash on her sweeping, wavy hair is gorgeous.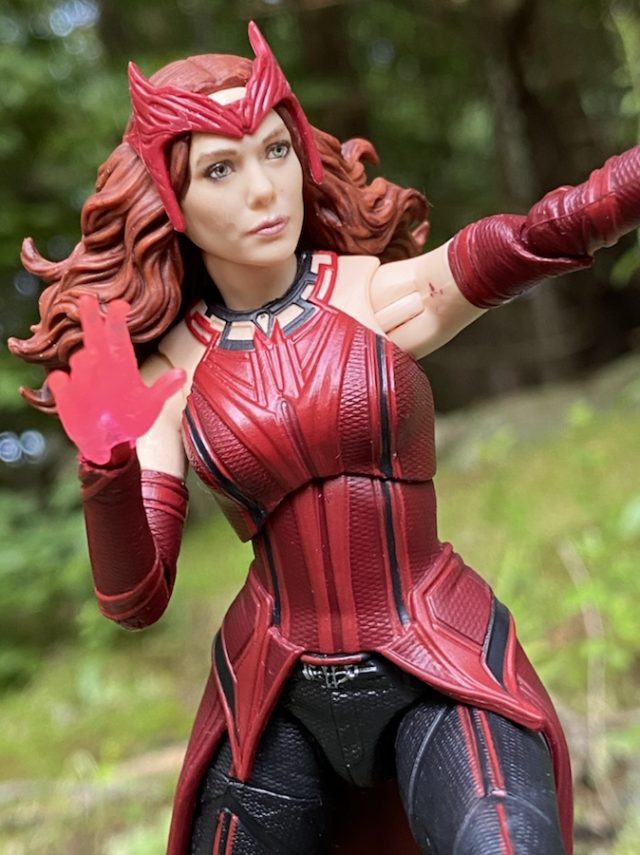 Scarlet Witch's necklace is sculpted on instead of just painted (thank God), and the figure is covered from head to toe, front and back, in accurate new tooling. There are hundreds (thousands?) of tiny sculpted details on her costume, with an ample amount of paint deco for all the necessary spots.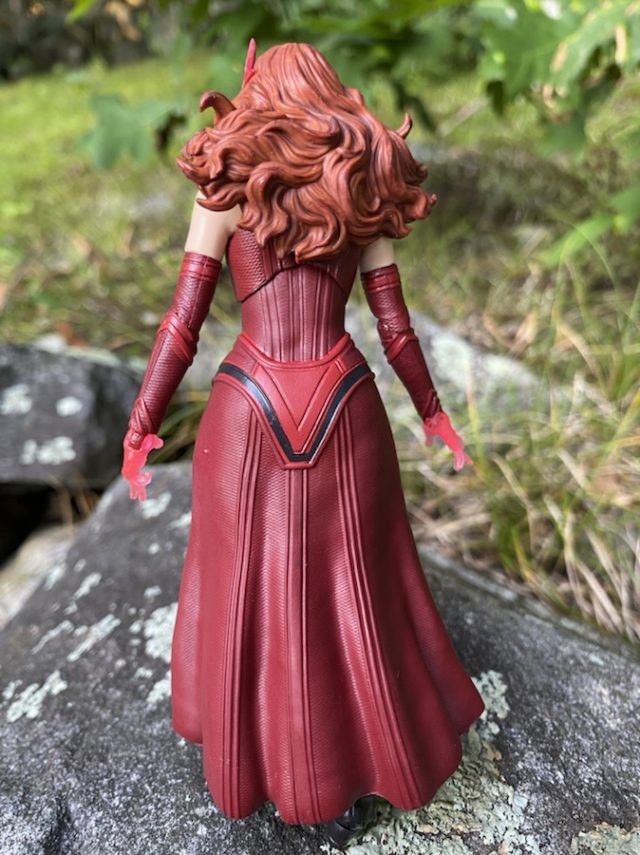 This looks so dang good that I feel rather silly for how much I liked the 2016 version, honestly.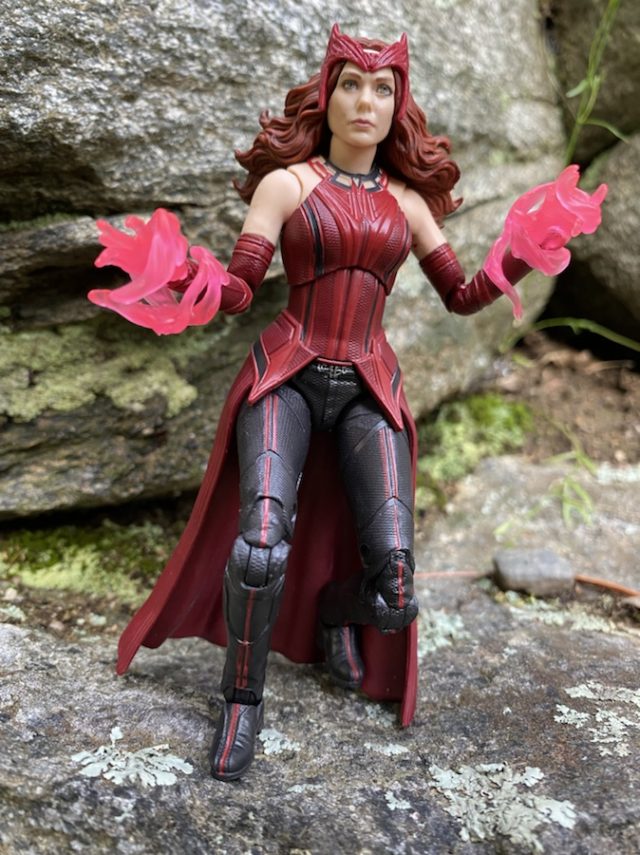 Unlike the horrible fat, giant flame-looking effects pieces that came with the Civil War iteration, we get smaller, swirling magical effects here. I doubt any collectors will argue that these new effect don't look quite a bit better and less distracting than those old ones.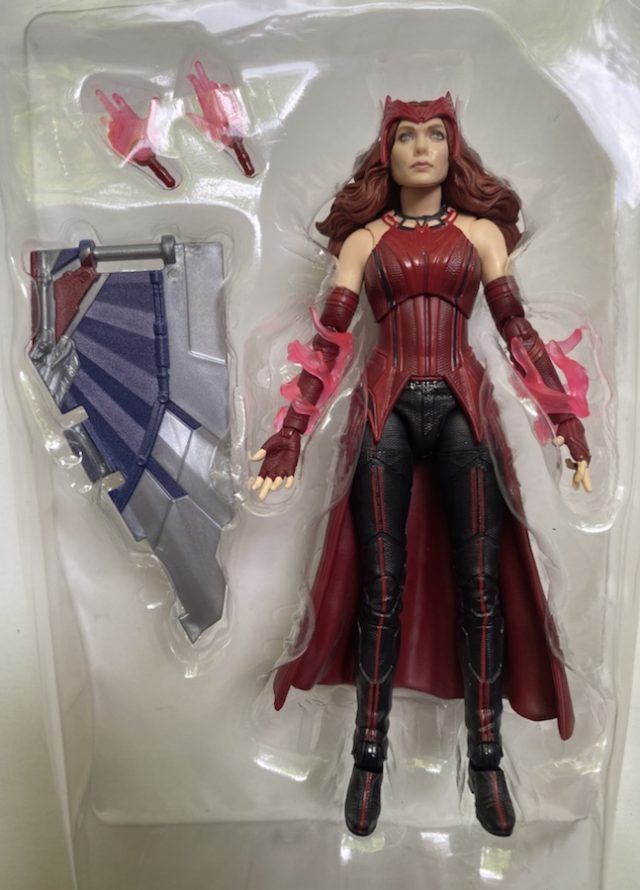 Along with the new effects (and a piece of the Captain America Falcon Wings), we also get magic-charged interchangeable hands accessories as an alternate to the default hands. I love the heck out of these translucent pink hands, which is why they're what's in use in almost all of my photos. I much prefer these to getting fists or some nonsense instead. Good call, Hasbro.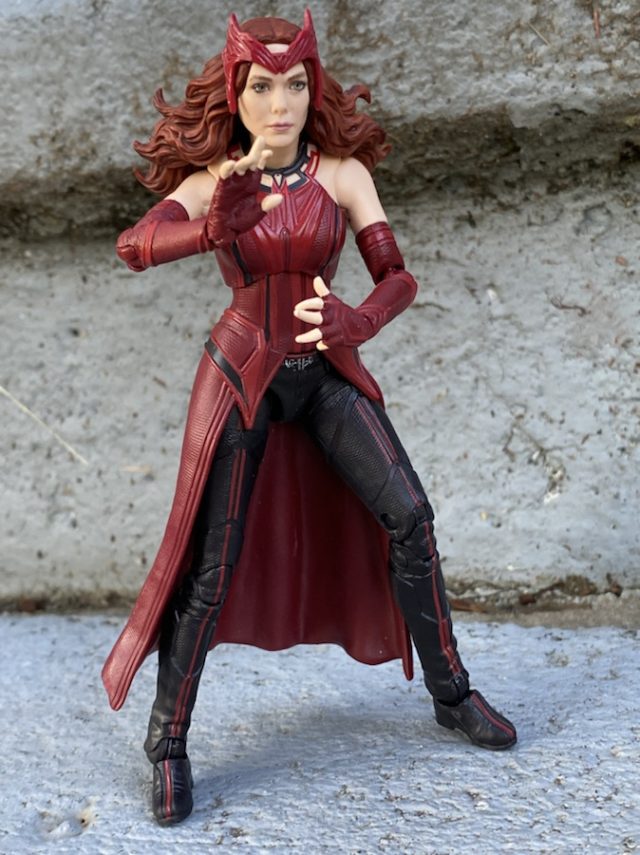 I always worry that articulation is going to be a bust on any Marvel Legends female figure, but it's mostly great on this Scarlet Witch. Wanda's skirt doesn't inhibit her lower body nearly as much as I feared, nor does her hair restrict her neck articulation how I expected it to.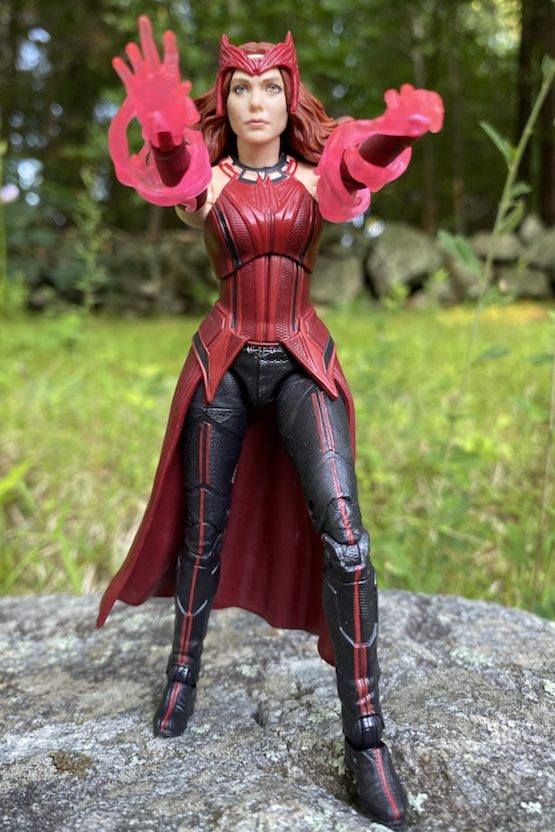 I am extremely irritated by the hinge of her left hand being parallel to the thumb instead of the wrist, as it means Wanda can only tilt her one (right) palm straight forward. It's super awkward and bizarre that the articulation scheme for the hands doesn't match, and I can't really fathom what Hasbro was thinking with this.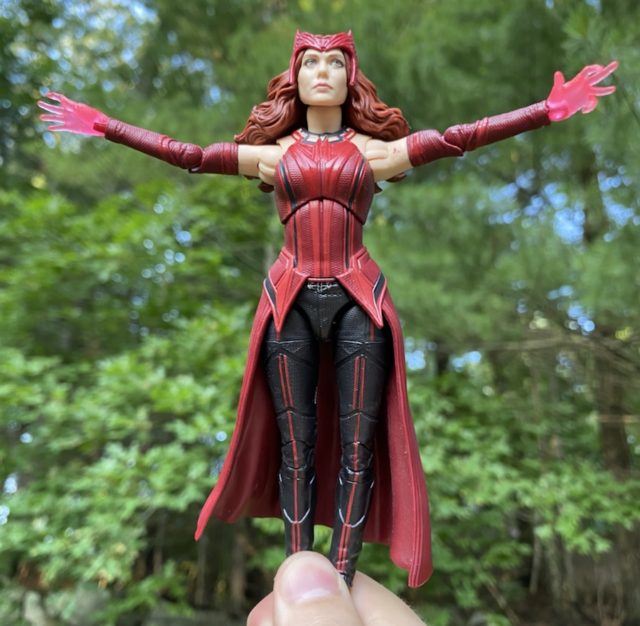 The complete articulation for the WandaVision ML Scarlet Witch figure consists of:
Ball-Jointed Head, Upper Torso and Hips
Ball-Hinge Shoulders and Elbows
Swivel-Hinge Wrists
Swivel Thighs
Double-Hinged Knees
Hinged Ankles with Rockers
She won't be breaking out any Shang-Chi level martial arts poses or anything, but I'm very satisfied with the posing potential of this figure for the most part.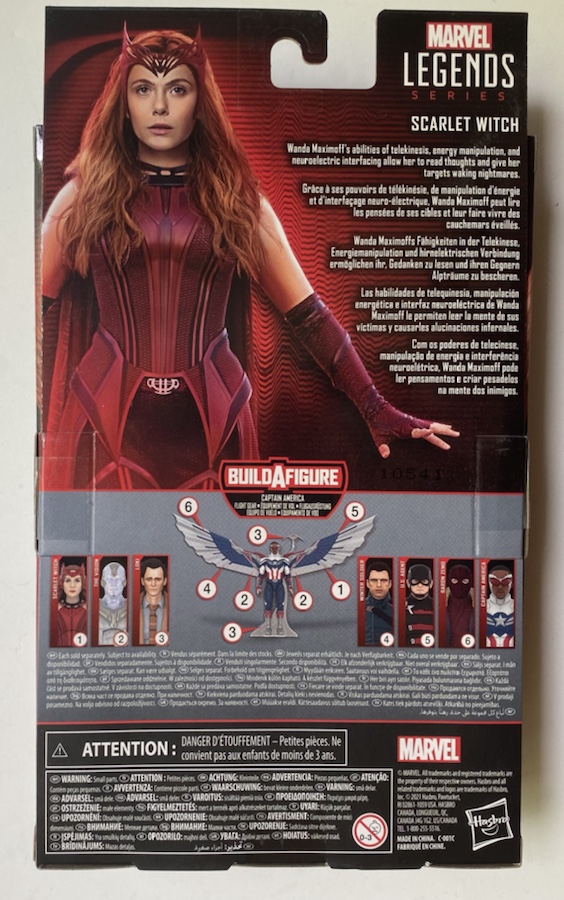 Quality-wise, I have some concerns about the black plastic on the legs potentially warping over time (as it's the rubbery, cheap-feeling black plastic that I hate), but otherwise this action figure feels sturdy and stable. The paintwork is really nicely done, especially the face and the lining on the costume. Wanda deserved an MCU Marvel Legends figure that looks and feels top-notch, and this is it.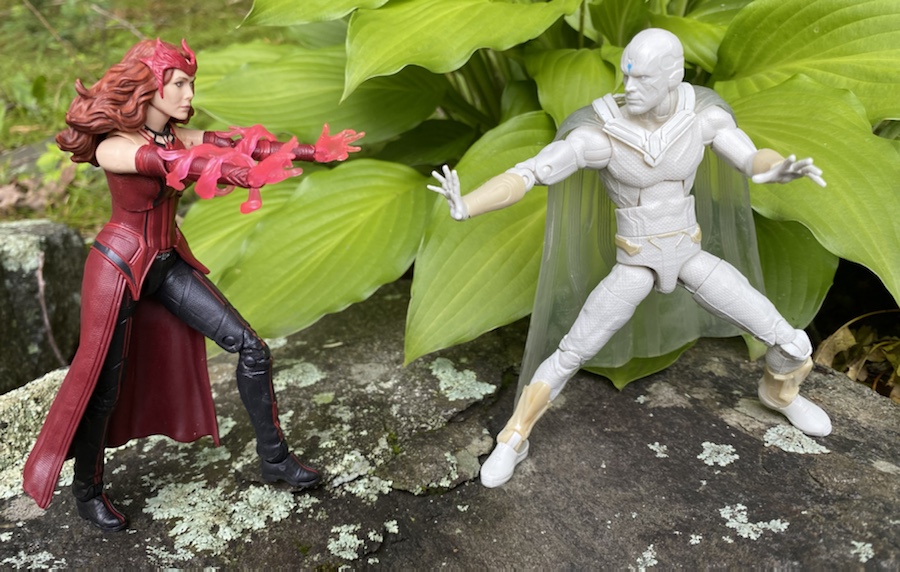 Overall: While it's no 1/6 Hot Toys MMS (and no one should expect it to be), I think this WandaVision Marvel Legends Scarlet Witch figure is pretty outstanding for a 6" mass-retail figure that costs around twenty bucks. The Elizabeth Olsen likeness is easily Hasbro's best to-date, and all of the richly-textured unique tooling of her costume looks fantastic.
The magically-charged alternate hands are a welcome addition, as are the effects pieces that look good with either set of hands. The plastic on the legs feels a bit cheap and rubbery, and I hate where the hinge is at on the left hands, but this is an excellent figure overall. Here's hoping we get plain Vision and Agatha Marvel Legends figures to pair with this in the future, because this is a real highlight for me amongst all the Disney+ figures released thus far.
GRADE: A
The post Marvel Legends WandaVision Scarlet Witch Figure REVIEW & Photos appeared first on Marvel Toy News.