Hasbro has been blindsiding Marvel Legends collectors with surprises all summer long, and that continues this week with one of a different sort! The movie-inspired Captain America shield role-play prop replicas have been hot sellers for years now, and now Hasbro is ready to give us a Cap shield of a (slightly) different color: the Marvel Legends 80th Anniversary Captain America Life-Size Shield Comic-based variant is now up for order! But… what's the difference? Let's take a look…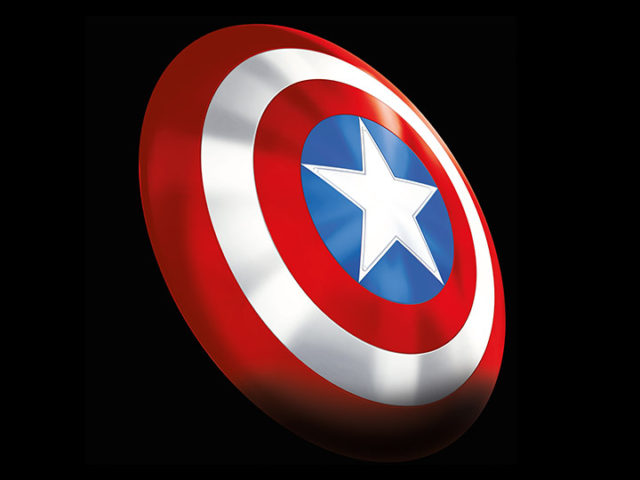 After sitting around patiently waiting for Hasbro to announce this week's addition to their 80 Years of Marvel Legends series, I was definitely a bit befuddled initially when this week's item was actually announced and shown off.
Another life-size Captain America shield? Was this just an 80th Anniversary repack of the plastic version of the shield that kicked off the whole Marvel Legends prop replica/role-play items series years ago? Well… no. Not quite.
While it's true that this is the same 24" size and circular shape (obviously) as the past shields (and presumably the straps on the back of the shield are unchanged, although there are no images of the back yet to verify this assumption), this one actually does have a couple characteristics that make it unique from the more realistic, MCU-inspired iterations: the paint colors chosen are totally different from what we've seen previously.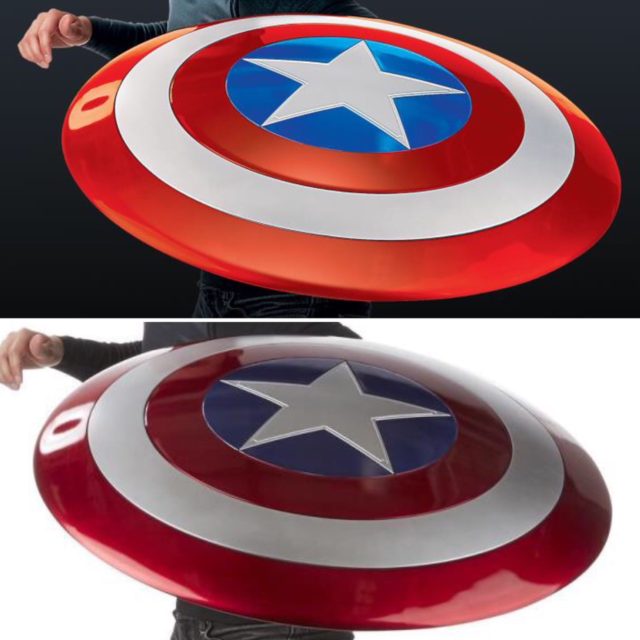 While I briefly thought that Hasbro had omitted making the star on the shield raised this time in order to further differentiate between the comic book and MCU versions, upon a quick glance it's obvious that this is just a repaint of that original mold. Even so, I gotta admit: I really do like the bright red and blue selected for this shield, as well as pure white replacing the silver on the movie-based shields.
Is there a market for this sort of paint variation? Of course! I actually have talked to quite a few collectors who said they were holding out for a more true-to-comics red-white-and-blue Captain America shield over the past few years, and I'm sure they'll be delighted about this 80th Anniversary Marvel Legends variant. While the MCU reigns king over the world right now, there are still a lot of long-time fans who prefer the classic comics over the modern movies.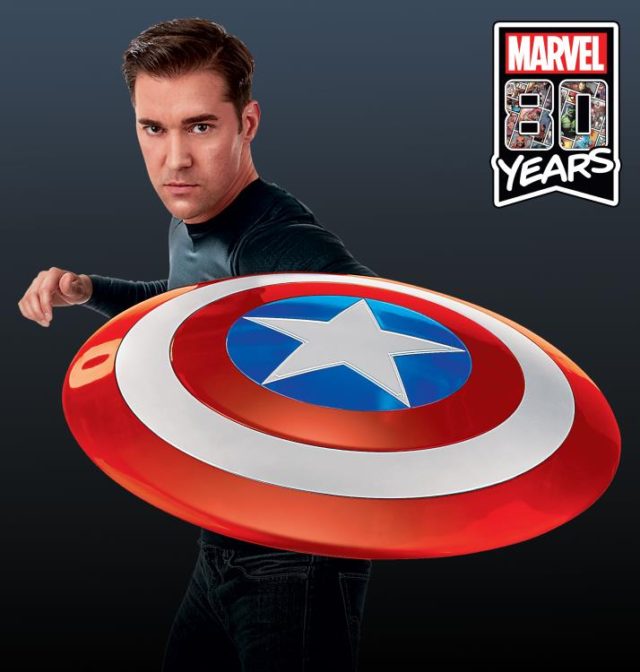 The Marvel Legends Captain America Shield Comic Version variant is now up for order, and is scheduled to be released in October 2019. It carries the standard $99.99 MSRP of almost all items in the ML prop replica series, and is almost certainly going to be a limited-time run without reissues since it's specifically part of the 80 Years line.
It's a shame that Hasbro missed the chance to show this off on the 4th of July by a week! But that disappointment aside, what do you think, Marvel collectors? Does this more classic comic book version of Cap's iconic weapon have a place in your future collection? And if Hasbro went all-out and made a metal version in these colors for a couple hundred bucks: would you buy it?
The post Marvel Legends Life-Size Captain America Shield Comics Version! appeared first on Marvel Toy News.