After they kicked off this week with the announcement of three new Marvel Legends Infinity Saga figures, I don't think anyone was expecting to hear more from Hasbro about the popular movie-based 6″ figure line this week. But appearing out of nowhere, Hasbro struck this afternoon with five more additions to their Marvel Legends Infinity Saga series: the Amazon Exclusive Endgame Captain Marvel and Pepper Potts 2-Pack, Target Exclusive Happy Hogan and Iron Man Mark XXI and Iron Man Mark 3 figures are all up for pre-order now! Which are worth your dollars, Marvel collectors?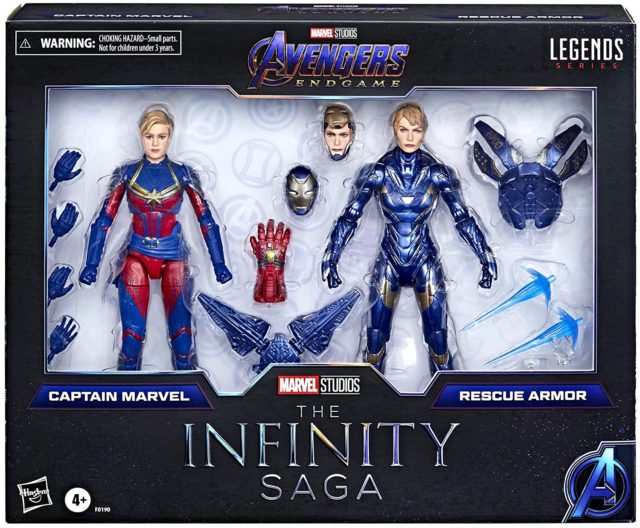 Amazon Exclusive Marvel Legends Infinity Saga Captain Marvel and Rescue Two-Pack
With one heavy-hitter character being released after another for mass retail and specialty stores in the Marvel Legends 2021 Infinity Saga series, it seemed like it was only a matter of time until we got some limited store exclusives as part of the lineup. And that shoe finally dropped this afternoon, when Hasbro unexpectedly announced retailer exclusive two-packs for both Amazon and Target!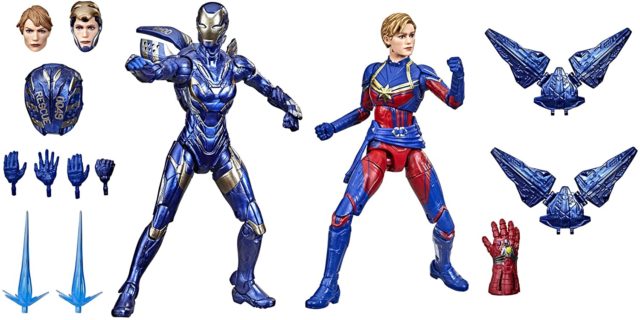 Rescue Pepper Potts and Endgame Captain Marvel Figures and Accessories
The Marvel Legends Amazon Exclusive two-pack comes from Avengers Endgame, and includes an updated Pepper Potts Rescue figure and an all-new Captain Marvel in her post-timeskip outfit. We needed a bunch of new accessories for Rescue and new sculpting altogether for this Carol Danvers, so these feel like worthy additions for a 6″ premium-priced series.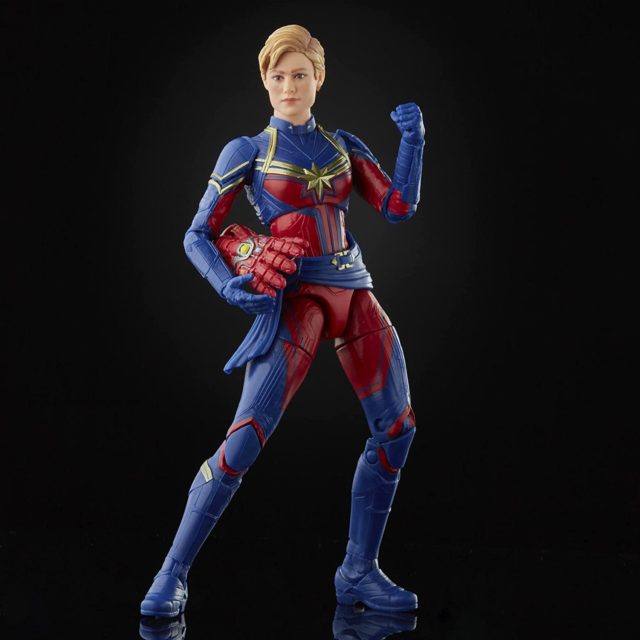 Amazon Marvel Legends Avengers Endgame Captain Marvel 6″ Figure
I am ecstatic about getting the Endgame costume for Carol Danvers here, as I prefer the short-haired version of the character 1000 times more than the long-haired look from her solo movie. Hasbro didn't quite nail the costume here–Carol should have fingerless gloves when wearing this costume–but I think the figure looks pretty rocking anyway. Love it. The Nano Gauntlet for her to hold is a decent accessory, although I would have preferred some energy blast effects, personally.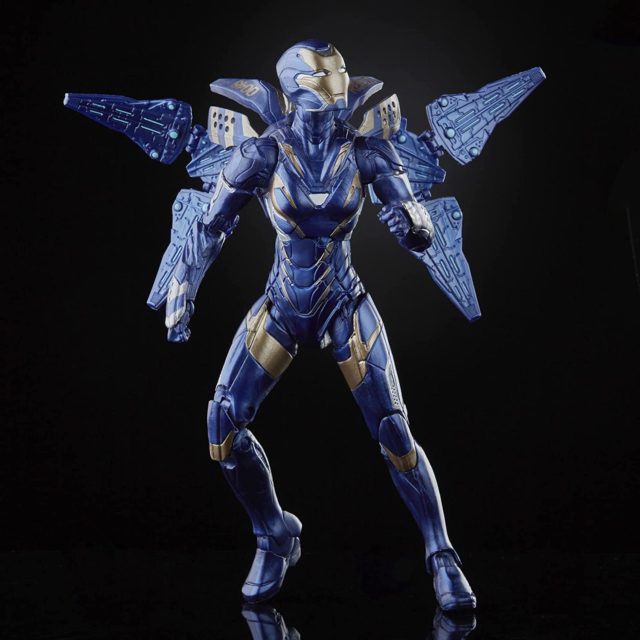 Marvel Legends Rescue Pepper Potts Infinity Saga Figure
While we got the basic version of this Rescue action figure way back in the second wave of Avengers Endgame Legends, this new release includes some weapons and accessories that we couldn't get there that many fans really wanted.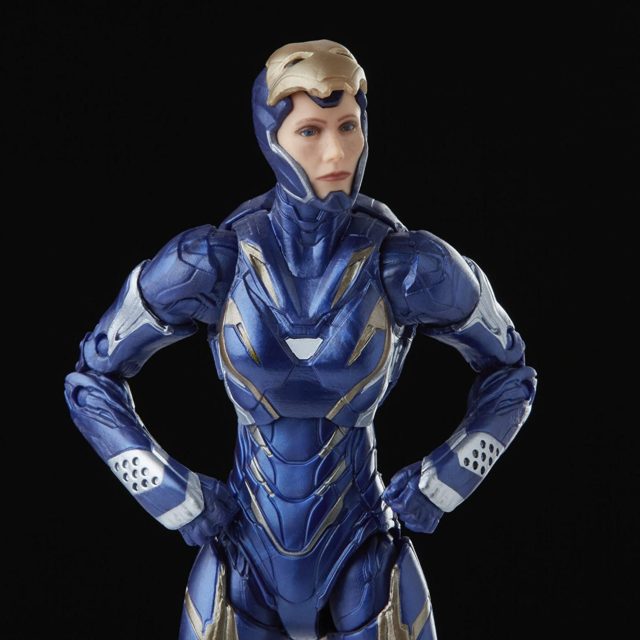 Marvel Legends Infinity Saga Rescue Figure with Faceplate Up
I'm not a big fan of the full-on Pepper Potts head sculpt that's included, but the face-only faceplate-up head has a very nice Gwyneth Paltrow portrait and looks great. And hey–the new Unibeam backpack looks freaking awesome. This is a big upgrade, and while I'm buying this two-pack for Captain Marvel, I think this is clearly a more complete-feeling Rescue.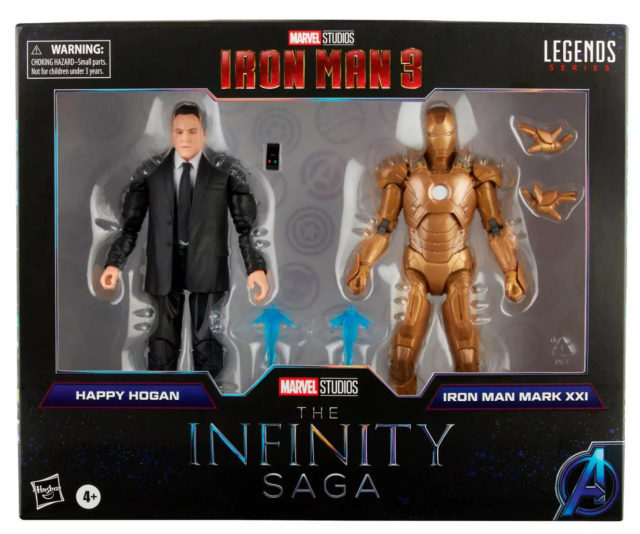 Target Exclusive Happy Hogan and Iron Man Man XXI Midas Figure
Next up, we've got the unlikely Target Exclusive duo of Happy Hogan and Mark XXI Iron Man (Midas). I well and truly did not believe that there was ever a possibility of a Marvel Legends Jon Favreau figure being made, so the very existence of this pack is a true eye-opener and exciting development.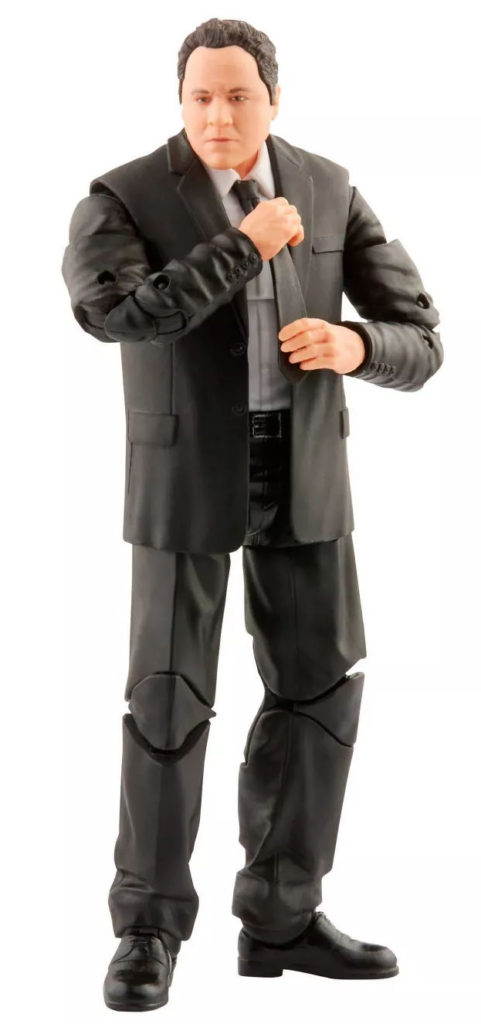 Marvel Legends Happy Hogan 6″ Figure
This isn't the greatest action figure I've ever seen or anything, but I can definitely tell that this is an action figure of Jon Favreau as Happy Hogan–almost certainly the only one in this scale that is ever going to exist. He's got a cellphone, dress shoes and a proper suit and tie. A nice niche character for a store exclusive.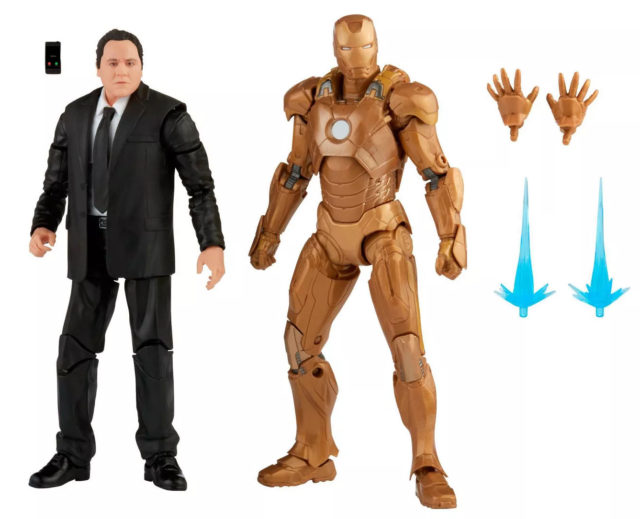 Iron Man 3 Marvel Legends Infinity Saga Happy Hogan and Midas Iron Man Figures
What is a way bigger bummer in this pack–and probably in the Infinity Saga Legends lineup altogether–is this Iron Man Midas armor action figure. The Mark 21 Midas armor permutation is supposed to be one of the most striking and beautiful armors in the Hall of Armor, and Hot Toys and other companies have spoiled us with some truly resplendent action figure of the armor.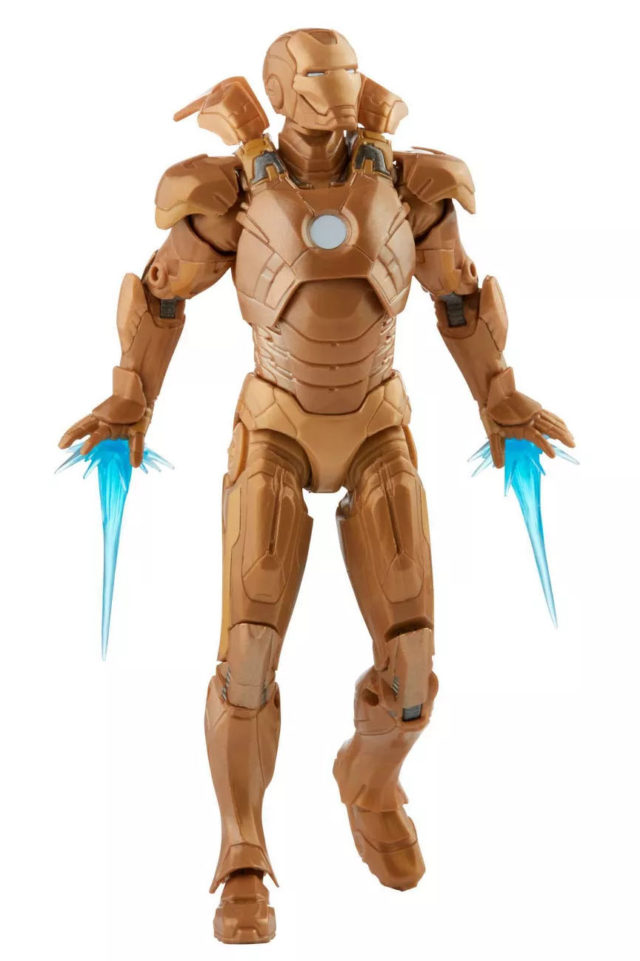 Hasbro's version frankly looks like a matte, ugly mustardy gold figure that doesn't stand up well in comparison at all. While I accept that the days of getting chrome action figures from Hasbro may be behind us, this at least needed a really shiny golden paint. As it is, this Midas Iron Man ML figure just looks awful and is the worst version of the armor I've seen. Sadness.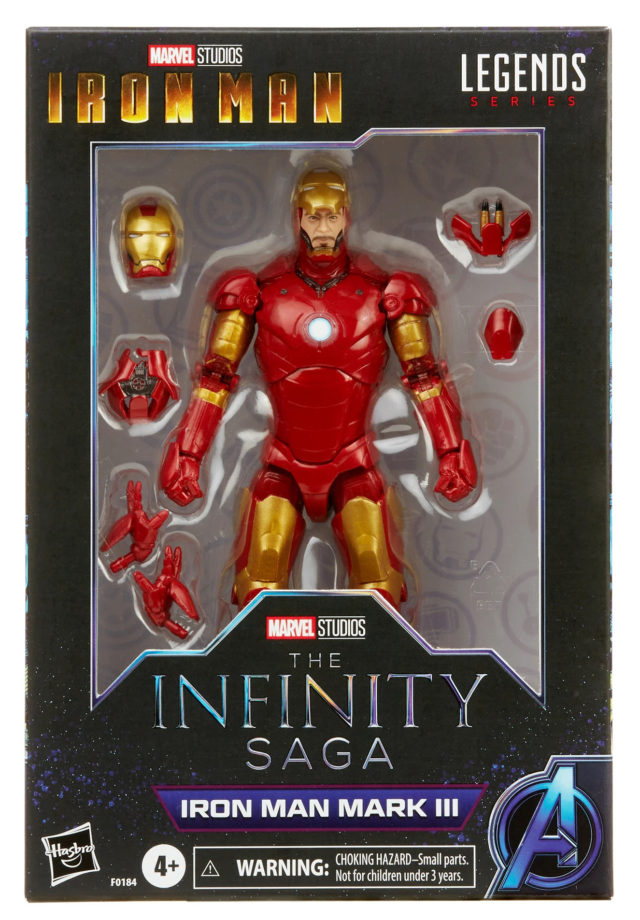 Infinity Saga Marvel Legends Iron Man Mark III Figure
Finally, we have a figure that you would think would be reasonably common given how many years Hasbro has been pushing out MCU movie figures now, but has actually been scarcely had iterations produced in the past: Marvel Legends Iron Man Mark III, the iconic armor from the first Iron Man film.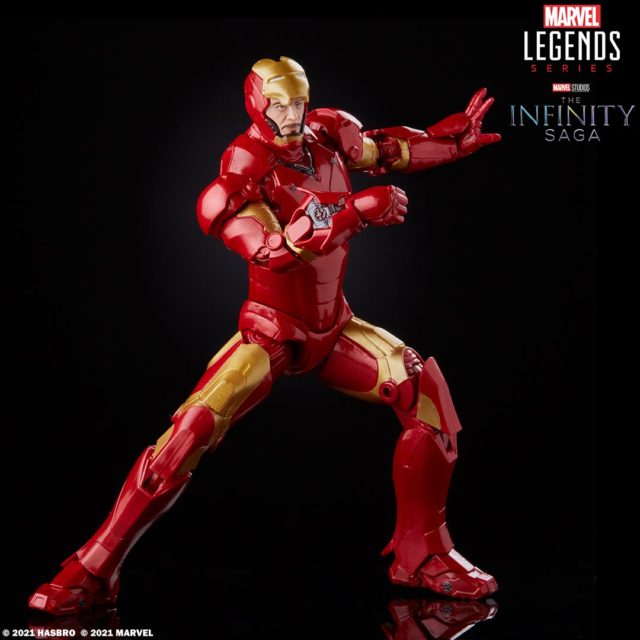 Mark 3 Iron Man Marvel Legends 2021 Infinity Saga Figure with Faceplate Up
The Robert Downey Jr. portrait under the faceplate actually looks very decent here, and the paint deco on Infinity Saga Iron Man Mark 3 are nice-looking. Given the higher price-point of this series of "premium" figures, I still think Hasbro could have added a few more paint applications and improved the look of this figure even further (and added hinges to those repulsor palm hands), but this is a figure a lot of collectors have never had a chance to own and will consider essential. Great choice for a single-packed figure in this series.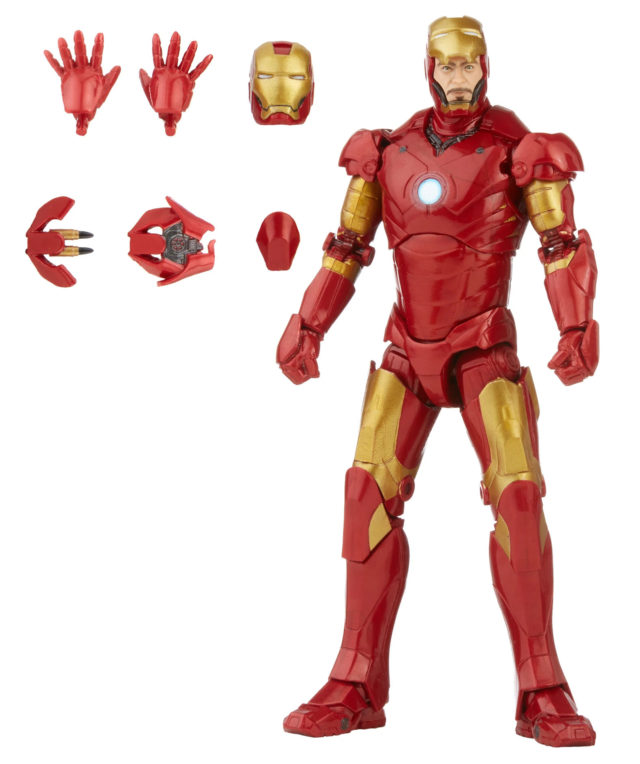 These five Marvel Legends Infinity Saga figures are all up for pre-order now, and are expected to be released in August/September 2021. Sometimes Amazon and Target exclusives sell out quickly and become a real pain to find in stores and online, and sometimes they linger–it's rather unpredictable. But if you think you'd want to secure yourself a Happy Hogan or Captain Marvel Endgame figure, now would be a good time to lock one in.
What do you think of the five newest additions to the Marvel Legends Infinity Saga lineup, Marvel collectors? Is there anything here that you feel was an absolute must for your MCU movie figure shelves, or are you still hoping Hasbro has more movie-based surprises up their sleeve?
The post Marvel Legends Infinity Saga Captain Marvel Rescue Happy Hogan Iron Man Mark 3 & More! appeared first on Marvel Toy News.