Last summer, Hasbro lit the Marvel action figure collecting world ablaze with the runaway success of the Marvel Legends Sentinel HasLab figure, a project which ended up obliterating all its stretch goals and netting an amazing 21,000+ backers. So it's no surprise that Hasbro is back at it again this year with what's beyond a doubt the most popular other hugely oversized character they could make: the 32" tall Marvel Legends HasLab Galactus figure has now been fully revealed, and the campaign is on to get 14,000+ backers and make this project a reality!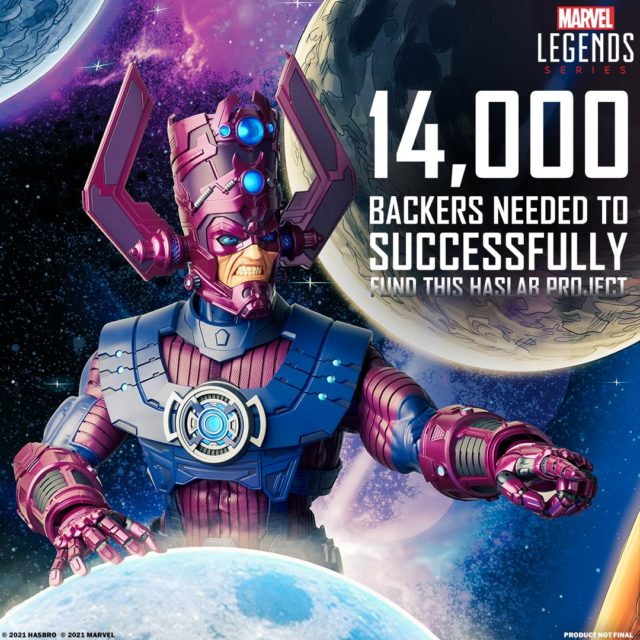 Hasbro has not exactly played coy this year about the fact that they had a huge Marvel Haslab project related to the Fantastic Four in the works, and while a small percentage of fans thought there might be a Fantasticar coming our way (I legitimately do not think we will ever see something like that again, sadly), it turns out today that the project was what the vast majority expected: a Marvel Legends Galactus HasLab figure!
Hasbro is really reaching for the stars with this campaign, requiring 14,000 backers just to commit to producing the World Devourer at all (more than double the 6,000 required for the Sentinel last year)—and that doesn't even begin to take reaching the stretch goal unlockables.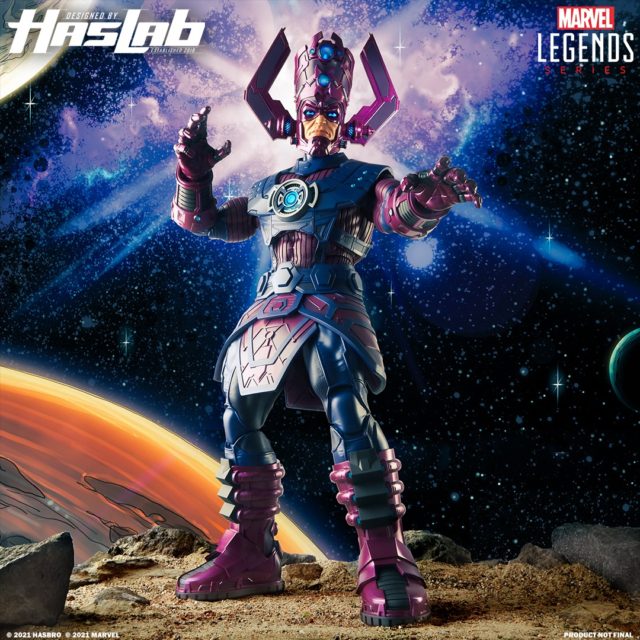 Even so, within 3 hours of the announcement, there's already nearly 4,000 backers for the $399.99 toy, proving there is a definitely a collector hunger for He Who Hungers. But will that appetite be enough? We'll have to wait and see. But in the meantime, let's have a close look at this mega-sized Marvel Legends figure…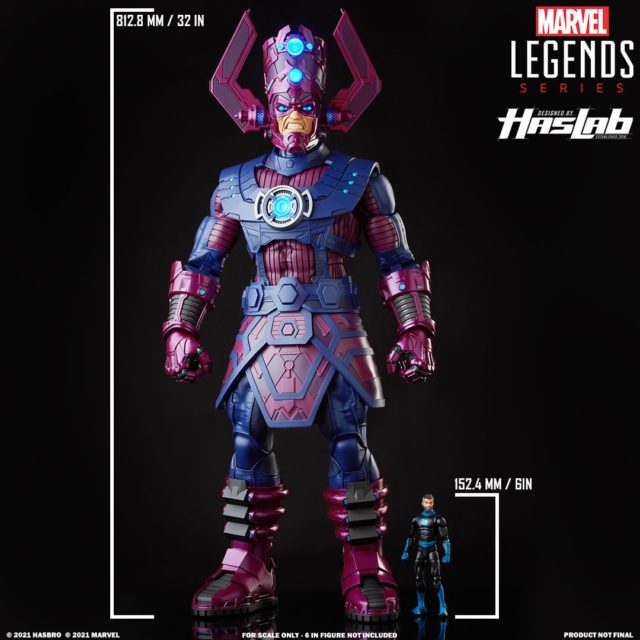 The most obvious thing to point out about this HasLab Galactus Legends figure is the insane size that we are unlikely to see again: 32" tall, making it the largest Marvel Legends action figure ever created—half a foot taller than even the mighty 26" Sentinel! At almost 3 feet high, this beast of an action figure is even larger than the vast, vast majority of quarter-scale statues on the market. Basically, this is one Hell of a humongous figure. If you order this, start planning where you're gonna put it now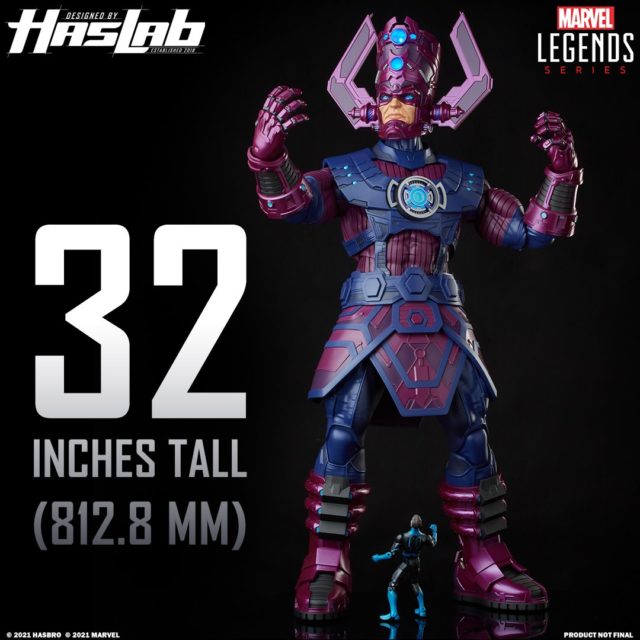 Of course, size isn't everything. One can get a cheaply made, hollow roto-cast figure that's quite large too for a fraction of four hundred dollars. But the different here is that this figure is high-quality and all-amazing.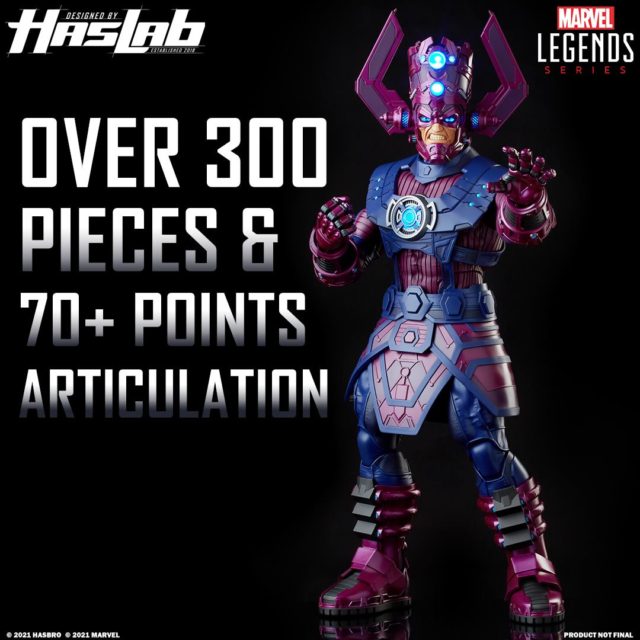 As is necessitated by the size and design of the character, ML Galactus is comprised of 300 pieces, including an immense amount of new tooling—tooling that's basically unusable for any other character that Hasbro would want to make. The majority of these parts are never going to be used again, so Hasbro definitely needs to make sure they're getting their money's worth with as many orders as possible.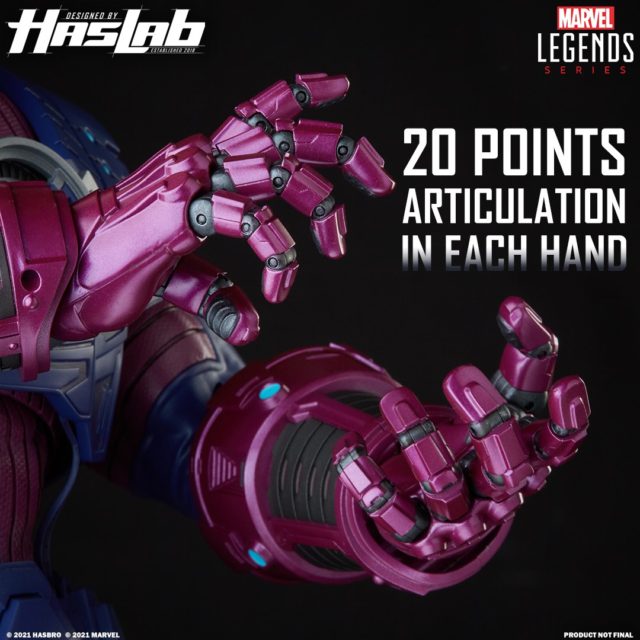 With 300 pieces making him up, you could reasonably expect that this humongous Galactus should be the most articulated Marvel Legends figure Hasbro has ever made. And hey—turns out that with 70+ points of articulation (!!!!), he is!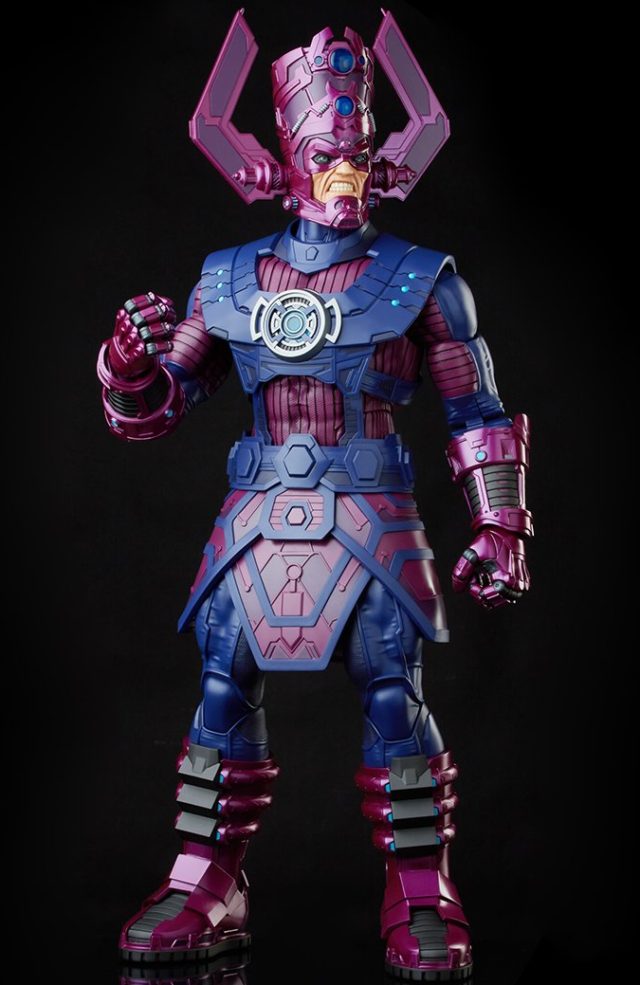 That is an unheard of amount of articulation, and Hasbro deserves mad props for going above and beyond with it. 20 points of articulation per hand to make fists, grasp objects, point, karate chop or gesture…? Yes, yes! Very nice! *applause*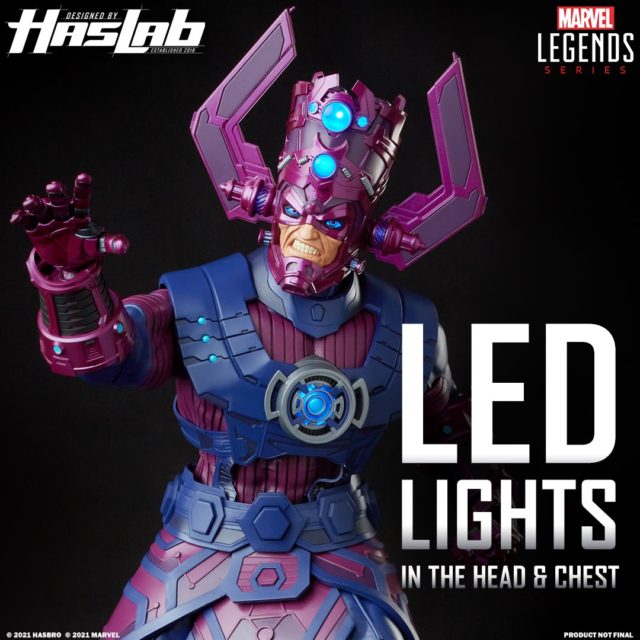 I am honestly not into LED lights on action figures, but the LED light-up functions for Galactus's head and chest are fine. They look cool enough, and I guess I could see myself turning on the lights of his eyes on rare occasions. If these functions could be implemented without raising the price much (and I'm confident they could), I've got no gripes.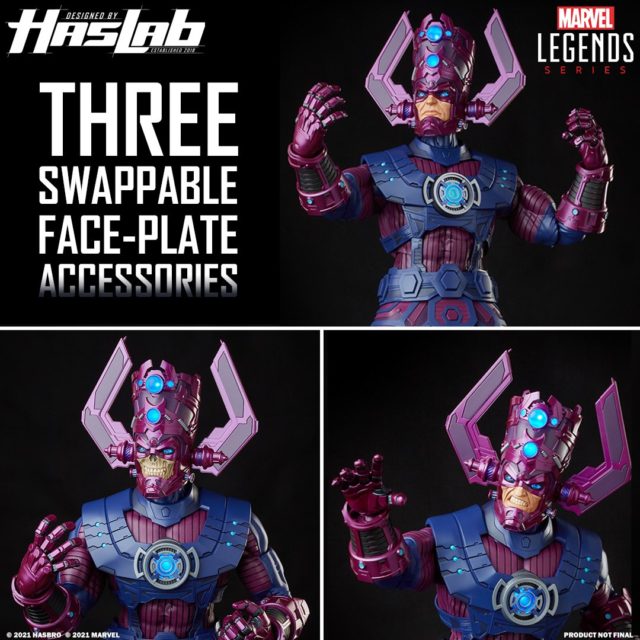 Galactus is worlds (no pun intended) away from being the same type of army-builder character that the Sentinels are, but Hasbro is giving him 3 swappable face plates to change things up for fans who might—might—want to purchase more than one (the limit is 5 per customer, by the way). You get neutral and angry expressions for traditional Galactus, as well as a skull-faced Death version (which is admittedly really slick-looking, though I would never display it).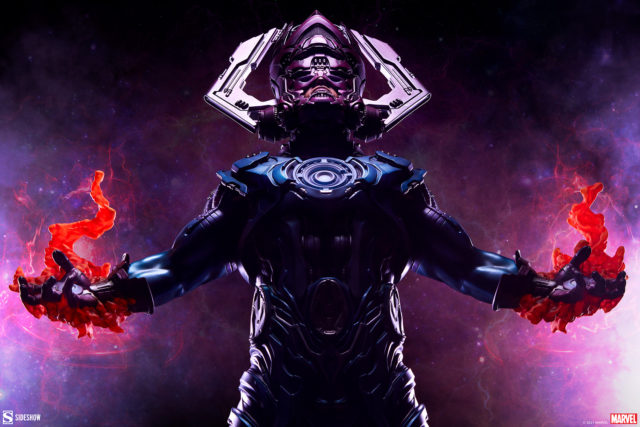 Sideshow's Galactus statue earlier this year was not wonderfully received, so I think it's smart that Hasbro sort of split down the middle with the comic-inspired design here. This Galactus has a bit too much detail to fully be the classic iteration, but he also isn't anywhere near as stylized as some modern versions of the character have been. I think this is close enough to appease most fans of either era (which it needs to if it aims to surpass the 21K sales the HasLab Sentinel banked).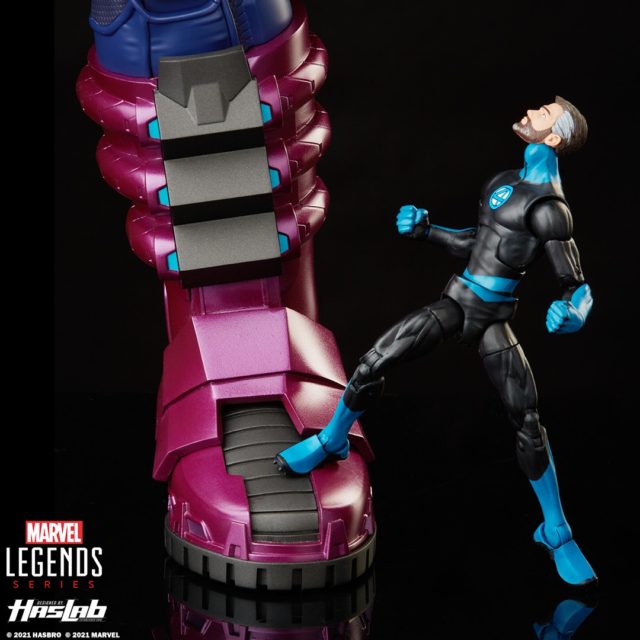 Once the campaign chalks up 14,000 backers, Hasbro will start revealing the stretch goals. Considering this is a larger and more expensive figure of a character I am not convinced is as popular as the X-Men Sentinels and that does not really have much army-builder potential, I am a little nervous that the stretch goals may legit not all be reached this time out.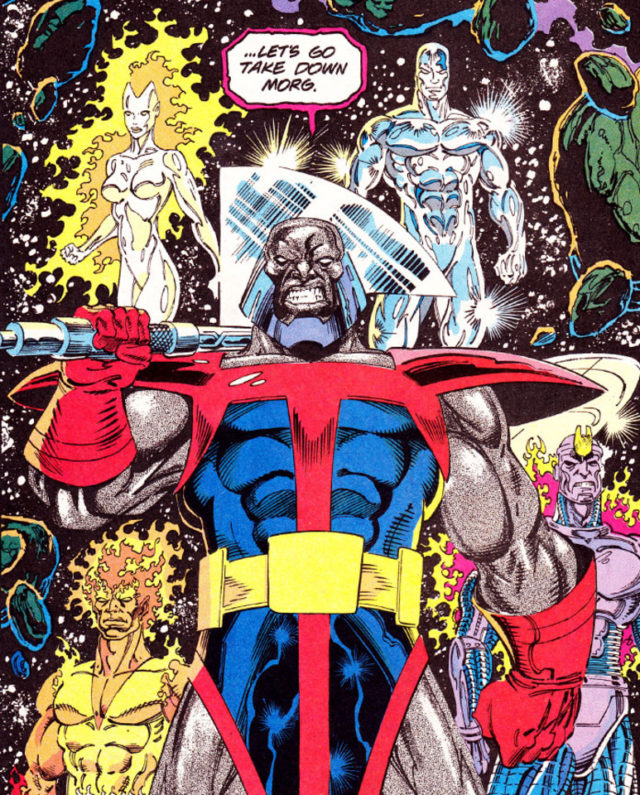 Even so, I suspect Hasbro has some wild choices in store for the unlockables, potentially including things like 6″ Heralds of Galactus Marvel Legends Firelord, Air Walker and/or Frankie Raye Nova figures that we've never seen before. Perhaps even a Retro packaged Silver Surfer Legends figure, as the Walgreens exclusive was not easy for many collectors to find and is wildly expensive on the aftermarket now.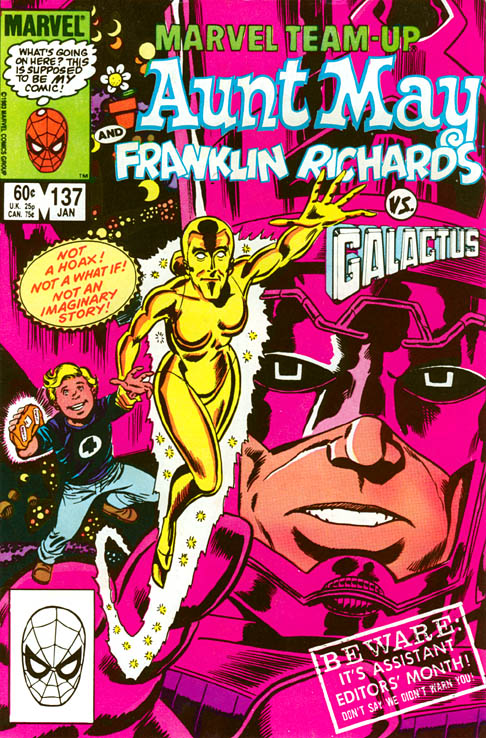 (My heart would just about explode for an Aunt May Golden Oldie Marvel Legends figure, but that really might be too much to ask for…! Nor would I mind a little Franklin Richards figure to go with Golden Oldie, but I'm trying not to get too greedy here with my far-fetched ideas that are literally never gonna happen.)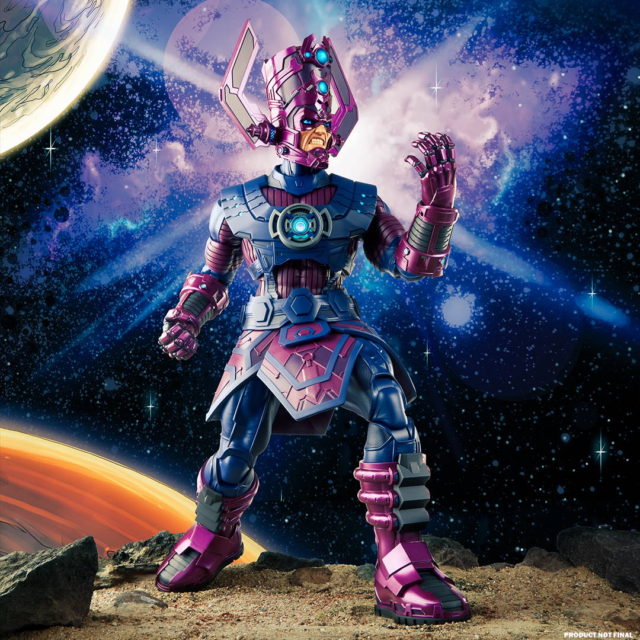 The Hasbro Marvel Legends Galactus Haslab Project will be open for backing until August 30, 2021, at a cost of $399.99. That makes this the new most expensive Marvel Legends item ever made, but depending on what the bonus extras that unlock are, I think this actually may end up looking like a very solid value for all that's included.
I can definitely foresee this figure being $800-$1000 on eBay at this time one year from now, and I have a hunch plenty of speculators will be stocking up a few extra of this for just that reason.
I think that just about covers the basics, so let's hear it, Hasbro Marvel figure collectors! What do you think of this 32" World Devourer? Will he be devouring 400 bucks from your bank account, or has Hasbro failed to win you over just yet?
The post Marvel Legends Galactus HasLab Figure Project Officially Revealed & Photos! appeared first on Marvel Toy News.