Hasbro has slowly been giving us peeks at the hotly-rumored Marvel Legends Disney+ series over the course of the past few months, so it didn't take a psychic to know what they had up their sleeve when they announced a Fan First Monday Marvel livestream for three days after the last episode of The Falcon and The Winter Soldier was released. And sure enough, the biggest announcement today was what fans have been waiting for: Marvel Legends WandaVision, Loki and Falcon and Winter Soldier series figures are now up for order!
Individual Figure Links:
Scarlet Witch ►
Falcon Captain America ►
Baron Zemo ►
US Agent ► 
Winter Soldier ►
White Vision ► 
Loki ►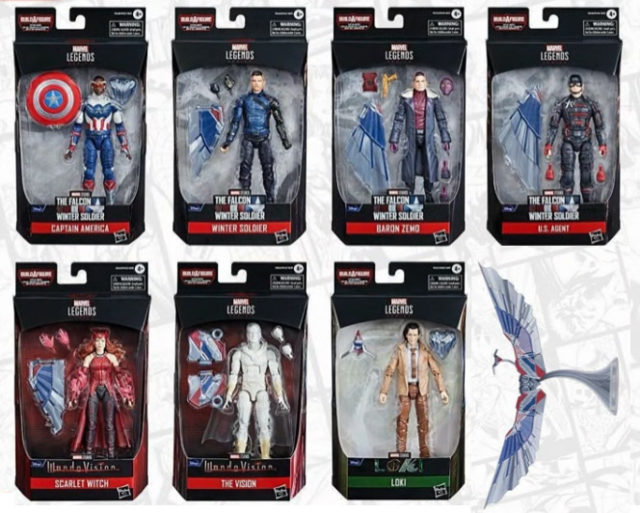 With no Marvel Cinematic Universe movies actually arriving in theaters for a span of nearly two years, it only seems practical that Hasbro give some love and spotlight to the various Disney+ Marvel series that have really taken the world by storm (plus one that hasn't exactly had a chance to just yet).
Much to the delight of MCU fans, Marvel Legends 6" figures are now on the way featuring the primary characters of WandaVision, The Falcon and The Winter Soldier and Loki! Let's start our look with the figures that Hasbro already revealed in the last couple months, shall we?
First up, we have Scarlet Witch Wanda Maximoff in her final costume from WandaVision. I actually wouldn't have minded a Halloween costume two-pack of Wanda and Vision (and we may still get one), but this was clearly the look Hasbro had to go for for the token mass-retail Marvel Legends WandaVision Scarlet Witch.
WandaVision Marvel Legends Scarlet Witch has got new magical effects pieces and a wonderful head sculpt. I think maybe her costume could be a shade darker, but really this is a terrific figure. Hyped to buy it.
I'm less jazzed about the WandaVision Vision Marvel Legends figure. The white aesthetic is nice, but the parts that should be pearlescent white or a weird almost tan color instead. The Paul Bettany portrait also leaves a ton to be desired. I'll buy it because I totally adored WandaVision, but I think this figure will need a version 2 or at least a repaint with a new head, honestly.
Moving on to The Falcon and The Winter Soldier, Hasbro showed us the first of four figures for the show three weeks ago: Marvel Legends Baron Zemo. Daniel Brühl is one of the high points of that series for me, and I am delighted that we're getting him in action figure form (not at all a sure thing for a villain/secondary character).
Along with a book and interchangeable hands, we also get masked and unmasked Zemo heads. Masked Zemo is iconic, but we don't see much of Baron Zemo masked in the show. Meanwhile, the Daniel Brühl likeness is terrific. This is the one figure in the wave I am seriously considered grabbing an extra of, as I doubt we'll see a toy for this movie character again.
Moving onto today's new reveals, we have Marvel Legends US Agent, John Walker. I am traditionally NOT a US Agent fan (at all), but I did find the character interesting in the Disney+ series. Since Walmart already got the Captain America John Walker figure as an exclusive (which I wish came with a bloody shield, but whatever), I'm glad this US Agent 6" figure is a mass release at least.
A new Marvel Legends Winter Soldier Bucky Barnes was obviously going to be in this wave as well, given he's a titular character and all. I've grown to really love Bucky in the MCU, and I frankly like this newest costume a whole lot more than the Infinity War costume.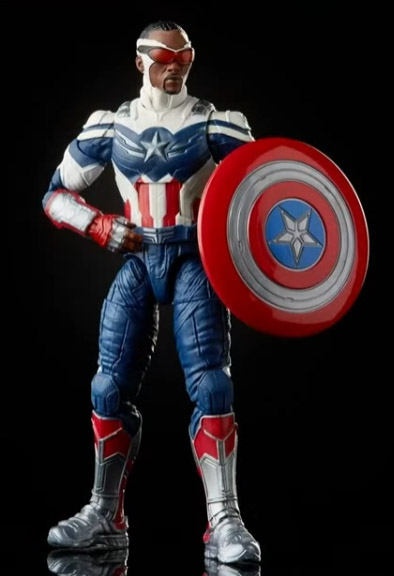 Last for The Falcon and the Winter Soldier, it's Marvel Legends Captain America Falcon Sam Wilson. I wouldn't have minded an early-series Falcon in his pre-Cap clothes as well, but this needed to be in this Marvel Legends Disney+ wave. It's a nice figure that is certain to be hot at retail, despite the fact that it's obviously missing certain somethings (which I'll talk about momentarily).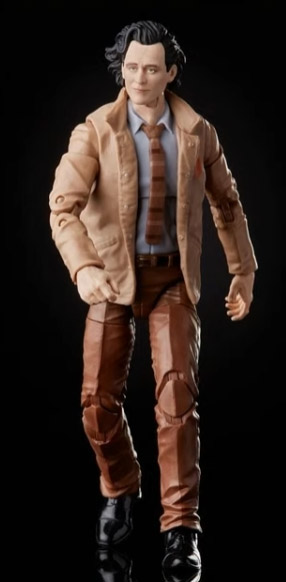 Finally, we've got the token entry from the upcoming Disney+ Loki series: Marvel Legends Loki, Tom Hiddleston. Even the not-great Ragnarok Loki ML figure did fine at retail, so this was a safe bet for Hasbro. Despite being rather bizarre in street/business clothes with "Variant" written on the back of the jacket, this is still a good-looking figure, and one can never have too many Loki's.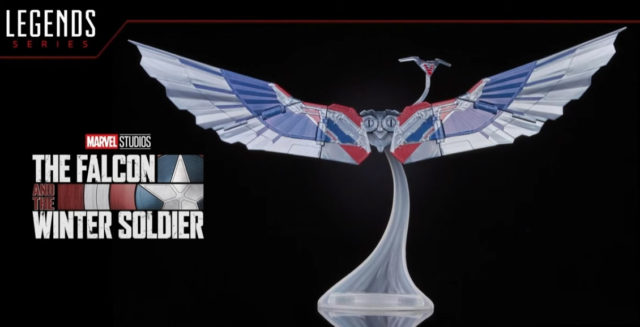 I think Hasbro found a good way to ensure that almost everyone buys this whole series instead of just picking a figure or two from their favorites: The Build-A-Figure for this wave is… Captain America Falcon's wings, which come with a sturdy flight stand and a slightly-articulated Redwing drone. The wings themselves are actually articulated as well, and can pivot forward in a cool way for some fun poses. I dig these.
This type of carrot worked like a charm for the Spider-Man Homecoming Vulture wave's sales, and I think it will work as well here. Fans are going to want wings for their MCU Sam Wilson Captain America figure (something that the comic-based iteration never got), so this seems like a sure-fire incentivization stratagem. And if it means we get the wings with idealized tooling, size and paint deco, that's really okay with me.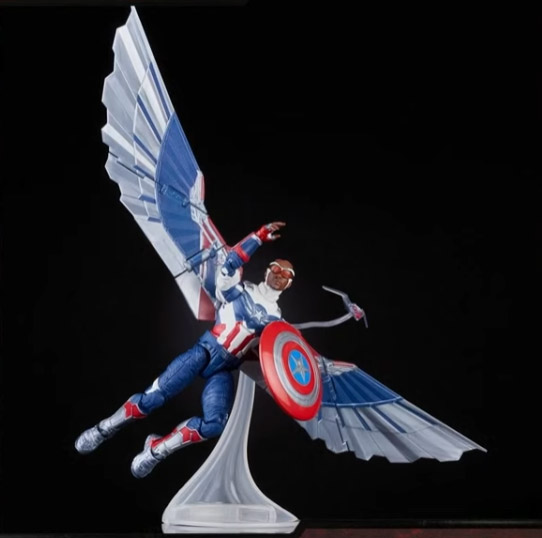 The Marvel Legends Disney+ Series of figures is now up for order, with more figures based on Disney+ Marvel shows announced by Hasbro as arriving throughout 2021 and 2022 (although they haven't announced any beyond this wave just yet).
What do you think of this first-ever Disney+ Marvel Legends series, Marvel collectors? Did Hasbro make the right choices for the seven figures to include in this wave, and how do you feel about the Captain Falcon wings as a Build-A-Figure? And what characters are you still hoping to see Hasbro add 6" figures of in the future: Agatha? Pietro? Sharon Carter?
The post Marvel Legends Falcon & Winter Soldier Series Up for Order! Disney+! appeared first on Marvel Toy News.