Marvel Legends 2020 figures are finally starting to ship out via online retailers (and arrive in some brick and mortar stores), and as such I'm able to launch my first 2020 Marvel Legends review today at last! And what better place to begin than with the leader of Marvel's first family: the Fantastic Four Marvel Legends Mr. Fantastic figure is shipping out now online—if you already have the Walgreens version, does this new iteration of Reed Richards have anything to offer?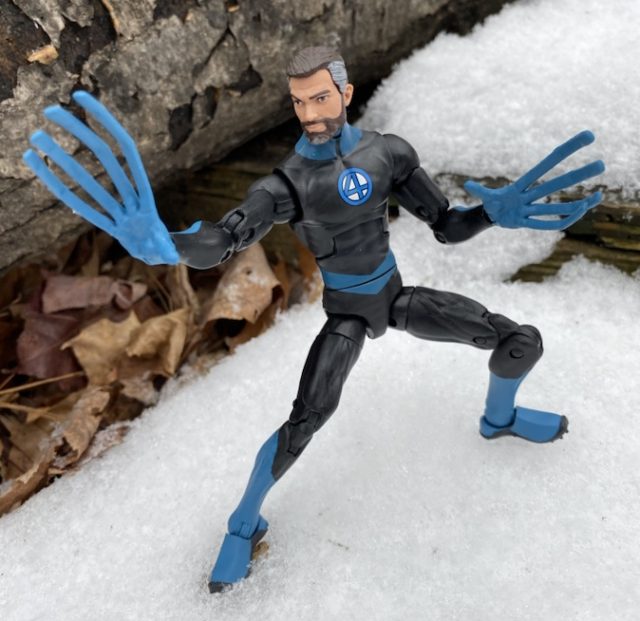 I was starting to get a little bit antsy last week waiting for Hasbro figures to drop for the new year—until I got my shipping confirmation from EE last week that my Marvel Legends Fantastic Four series figure were on the way! They've arrived this morning, so I've now got my first seven Marvel Legends 2020 figures lines up and ready for review!
I'll be adding members to the team one day at a time, so while I'll be reviewing and photographing the new ML Mr. Fantastic alone today, by the fourth review I'll have photos of all four family members together. Stay tuned!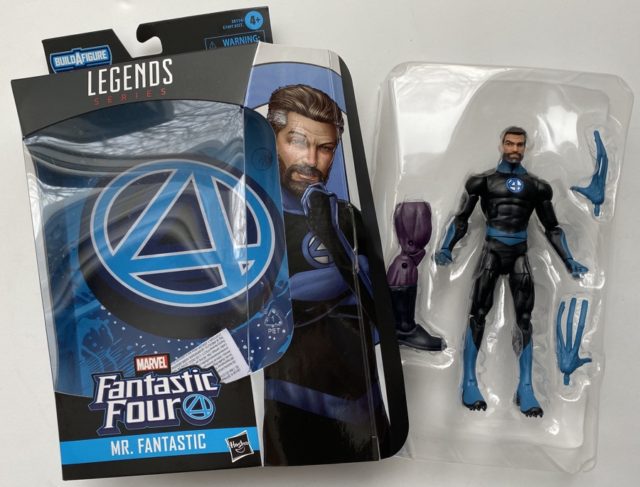 Alright, so the first thing that needs to be discussed here is certainly Hasbro's costume choice. These are the black outfits fans are familiar with from the Marvel Future Fight mobile game, which have also had some spotlight in the Dan Slott Fantastic Four comic books over the past year.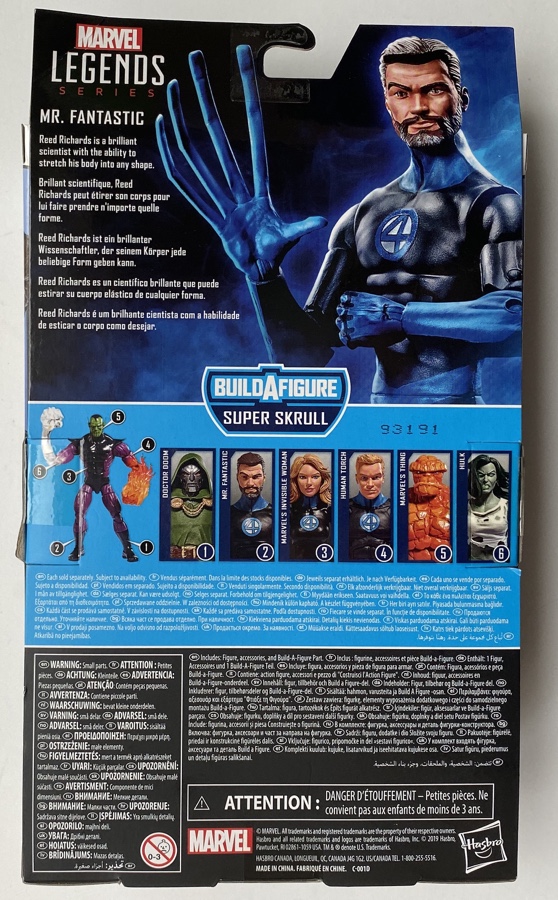 I think many classic fans will reject these modern FF costumes outright in favor of the iconic blue and white costumes—but for my part, I'm happy to get more modern-attired superheroes for my Marvel Legends display. I would have personally preferred white costume Future Foundation versions, mind you, but for the moment these will do fine.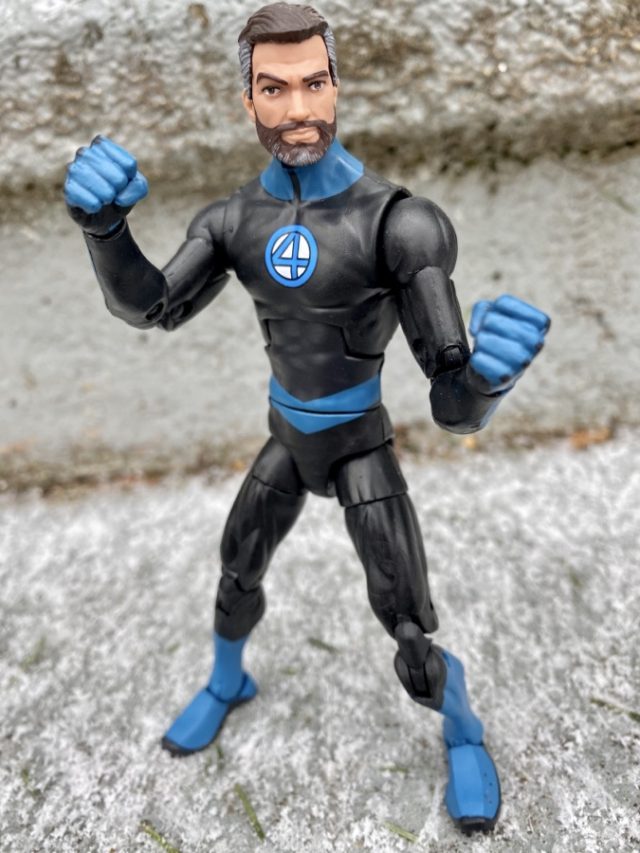 There are three key difference between this Fantastic Four Legends Mr. Fantastic figure and the Walgreens exclusive version: the paint deco, the head sculpt and the accessories.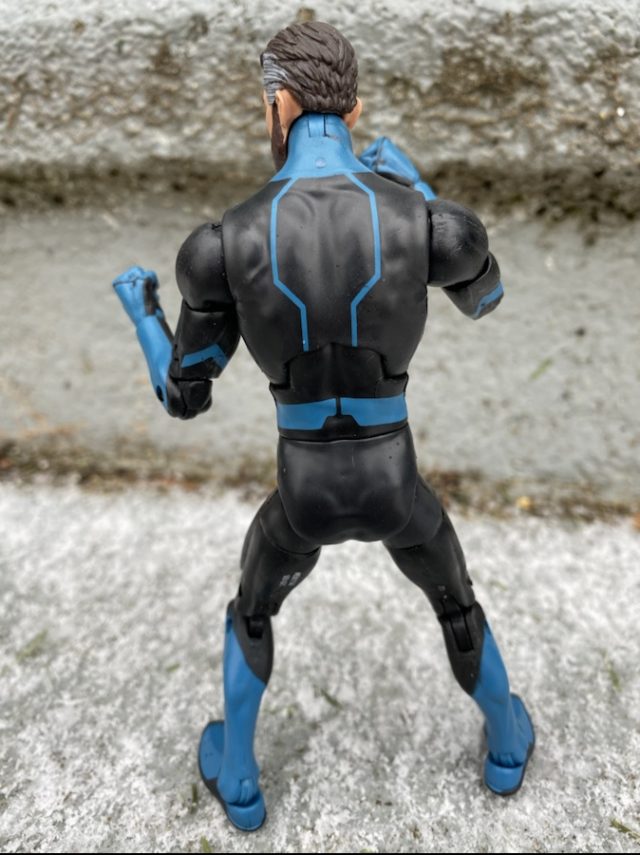 The black and blue costumes won't be for every F4 fan—as they have not exactly appeared in a ton of legendary stories or media to date—but I do think they look stylish. And I have to commend Hasbro's factories on the paint apps on this costume—it's generally easy to see imperfections on black, but the blue lining has been expertly applied and looks phenomenal on Reed.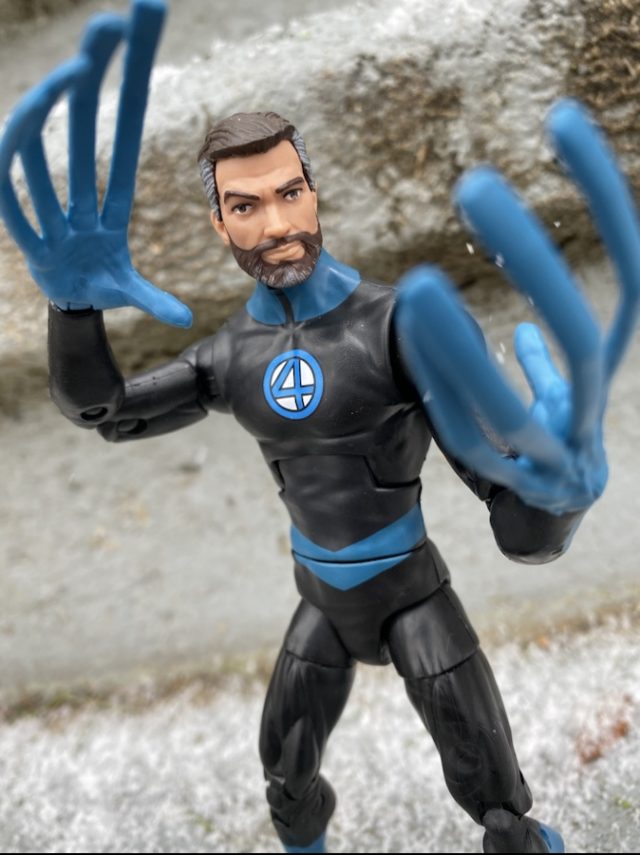 Head-wise, this is definitely Reed Richards with a beard. He's missing the lock of hair falling onto his forehead seen in Future Fight, so this appears to be specifically based off the recent Dan Slott run. The paint on the eyes on my Reed is slightly off (enough so that I'll replace him once I find one at retail), but otherwise I like the serious head sculpt. It feels natural for Reed and I can tell who he is from the portrait. Success.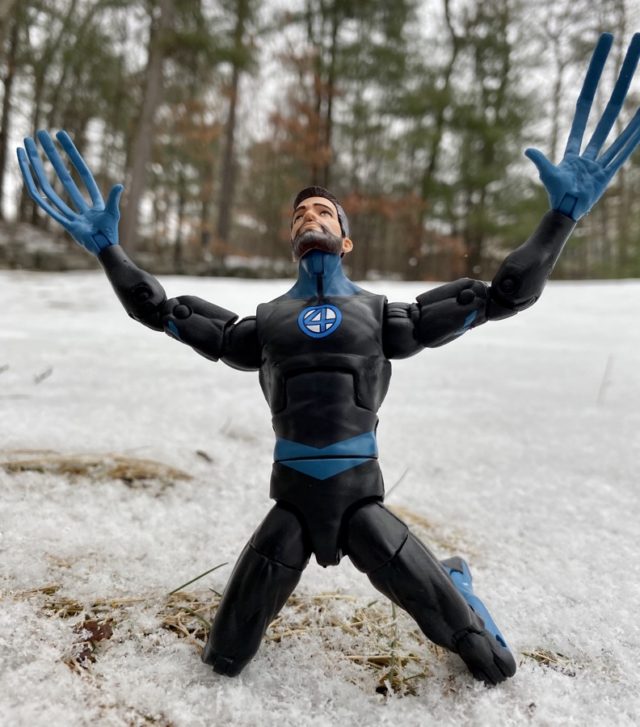 The real fun of this figure is the new alternate "stretched-out fingers" hands, though! As soon as I popped off the fists and put these on, I never wanted to take these stretchy hands off again. While there's no wire on the fingers, they're pre-posed in a neat way—and the swivel-hinge wrists allow for lots of fun posing Mr. Fantastic.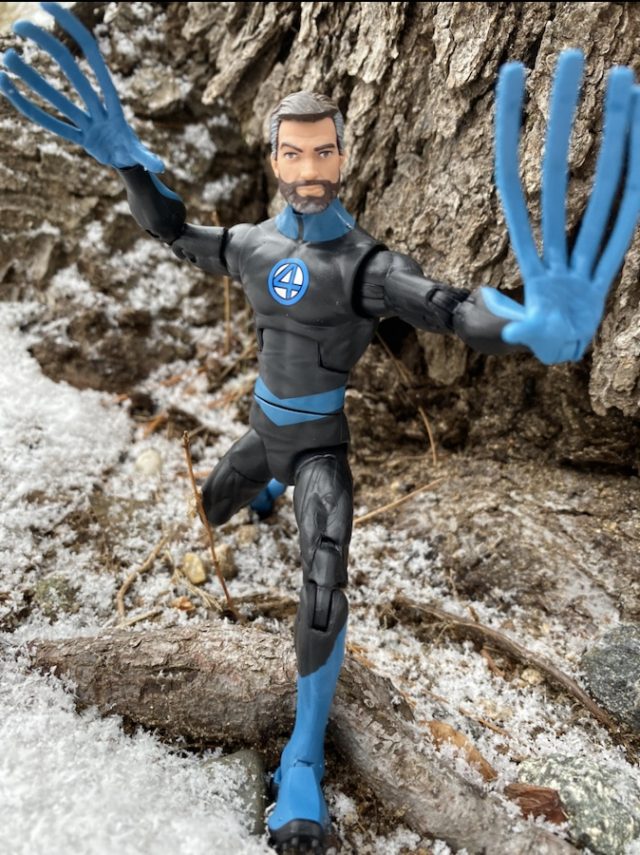 Frankly, I like these more subdued hands a lot more than the wild and crazy super-stretched arms from the Walgreens exclusive version. I think these will ultimately fit into displays much better than the Walgreens arms. And unfortunately, no—these hands won't really work with the Walgreens Mr. Fantastic, since that figure should have black gloves instead of blue.
The bottoms of the boots on the Fantastic Four Legends figures also feature little treads for traction while off-road adventuring! It's a little detail that really makes me smile. Too bad The Thing doesn't have any giant shoes so he could partake in the treads as well!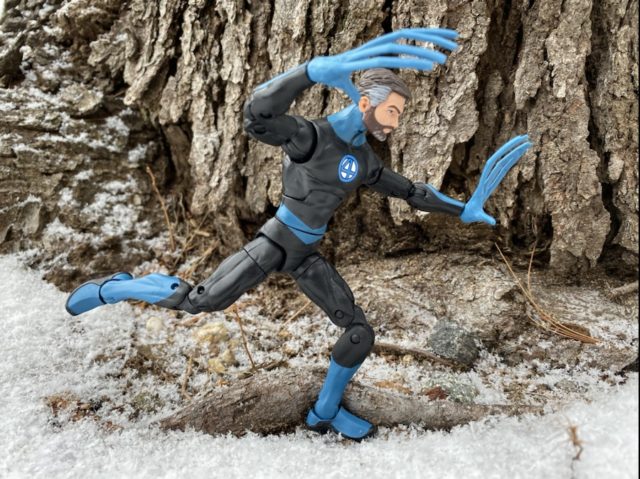 As for articulation, it's everything you'd expect from a modern male Marvel Legends figure:
Ball-Hinge Neck and Shoulders
Ab Crunch
Ball Hips
Double-Hinge Elbows and Knees
Swivel Waist, Biceps and Thighs
Swivel-Hinge Wrists
Hinged Ankles with Rockers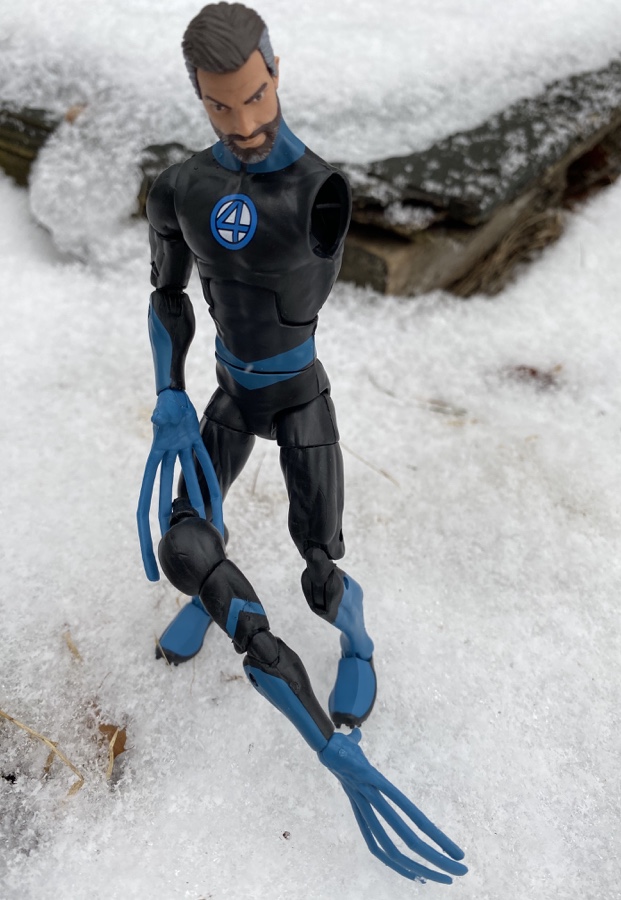 Butterfly swivel shoulders might have allowed some more dynamic, wacky poses with the stretched hands, but I'm content with the articulation scheme we got for the new Mr. Fantastic Legends figure as-is. The arms are also removable in the manner that a Build-A-Figure's are, although no full alternate arms are included here.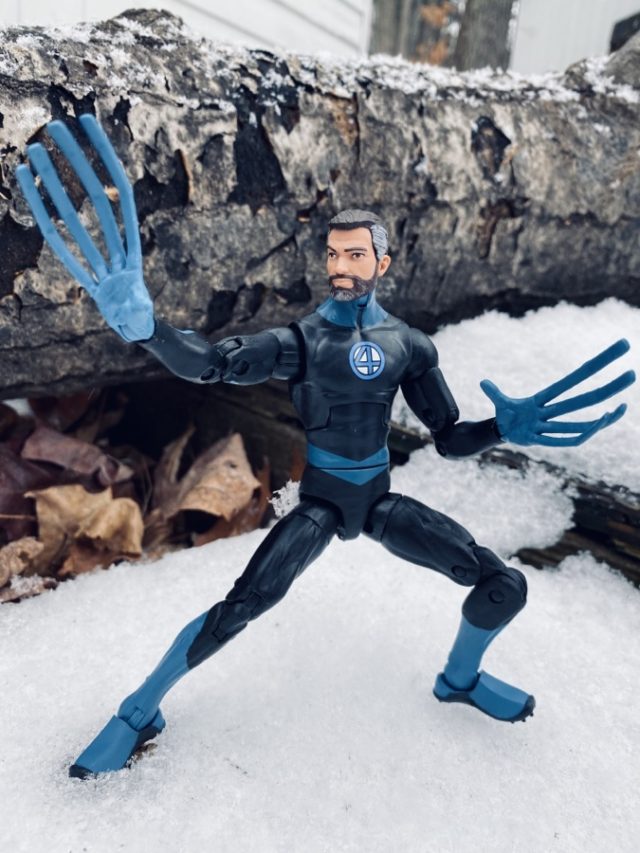 Overall: I was pretty prepared to be "meh" about this new Reed Richards figure… but dang it, after messing around with it and doing photography with him, I kinda love him. The paint apps on the body are surprisingly masterful, the alternate stretchy hands are a joy to pose with, and the black costume and bearded head are snazzier than I expected.
Other than the eyes on my specific figure being slightly off, this is a really good toy that I'm happier with than anticipated. Hopefully fans don't reject black costume Mr. Fantastic outright, because Hasbro did an excellent job brining this version of the character to plastic life.
GRADE: A-
The post Marvel Legends 2020 Fantastic Four Mr. Fantastic Figure Review appeared first on Marvel Toy News.