While there can be no doubt that there was absolutely no shortage of Avengers Infinity War collectibles released this year, there are still some important characters from the film who got the shaft merch-wise. The Black Order is among those characters most affected by this—especially Ebony Maw and Corvus Glaive. Both those characters will be getting love from Hasbro in 2019, but at least one of them is getting his first statue as well: the DST Marvel Gallery Corvus Glaive figure is now up for order! And he'll be joined by a certain unmasked King of Wakanda…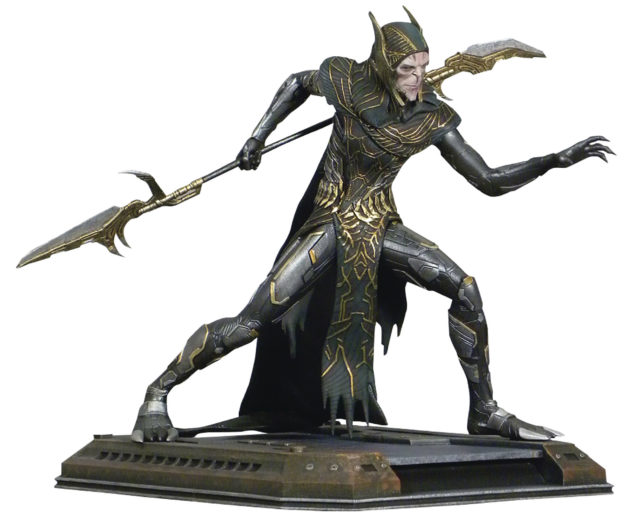 Diamond Select Toys is trucking right along with their best-selling, value-priced Marvel Gallery PVC statues line, and this month's solicitations contain an unprecedented six pre-orders for (mostly) new additions to the line!
I'm going to divide and conquer this month's DST solicitations over several posts so that each item gets its rightful attention, and I'll begin with the two new MCU Gallery figures. I'll follow up with separate discussions of the comic book-based and Netflix entries.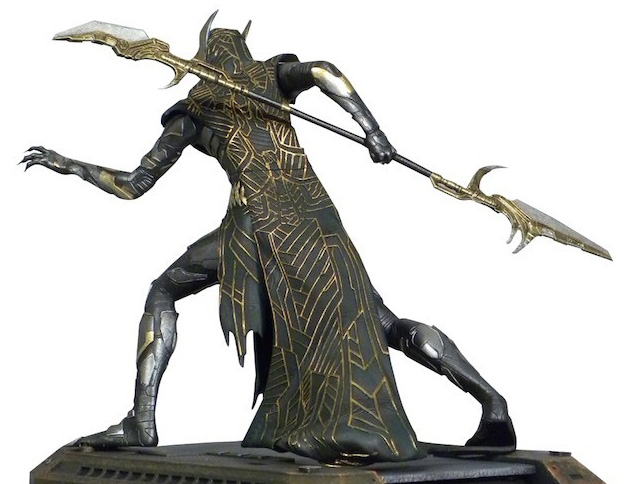 Of all this month's newly-solicited figures from DST, the Corvus Glaive Gallery Statue is definitely the one that I think collectors are going to be the most hyped about. Hot Toys has never put their 1/6 version of the character up for sale (despite displaying it at several cons), and the Hasbro Marvel Legends Corvus Glaive and Ebony Maw figures won't ship until an unknown point in 2019.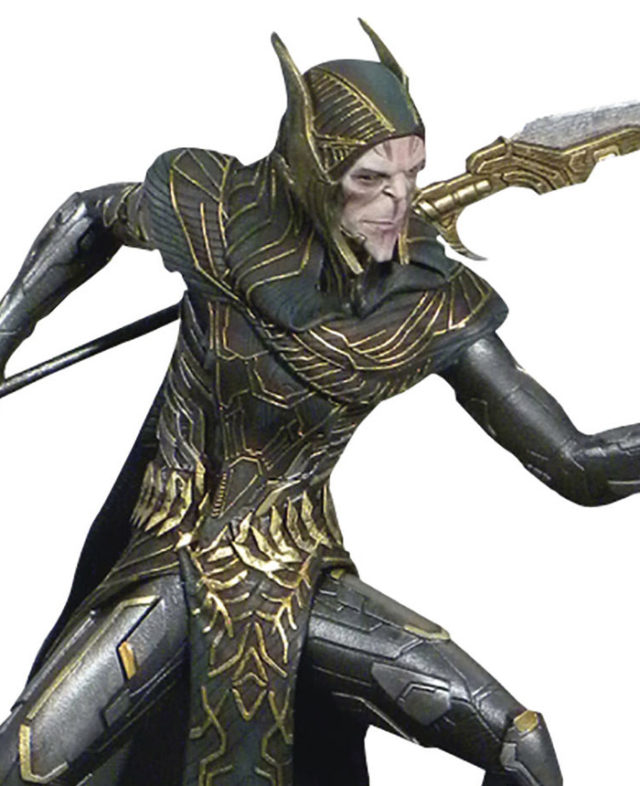 Corvus Glaive is the first member of the Black Order (besides Thanos himself, if you count him) to get a statue from DST. He carries the usual rock-bottom 45 buck price-tag, and because he's crouched down a bit, he stands about 8" tall.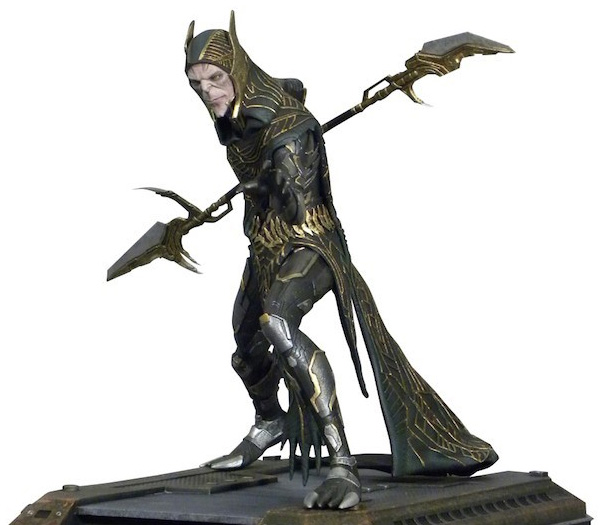 I wasn't totally sold on the portrait from the side view of the sculpt, but head-on Corvus Glaive looks terrific. The sculpting on the back of his costume is also impressive. I really hope that we get all four members of the Black Order in this form next year—I think that'll make for quite a display!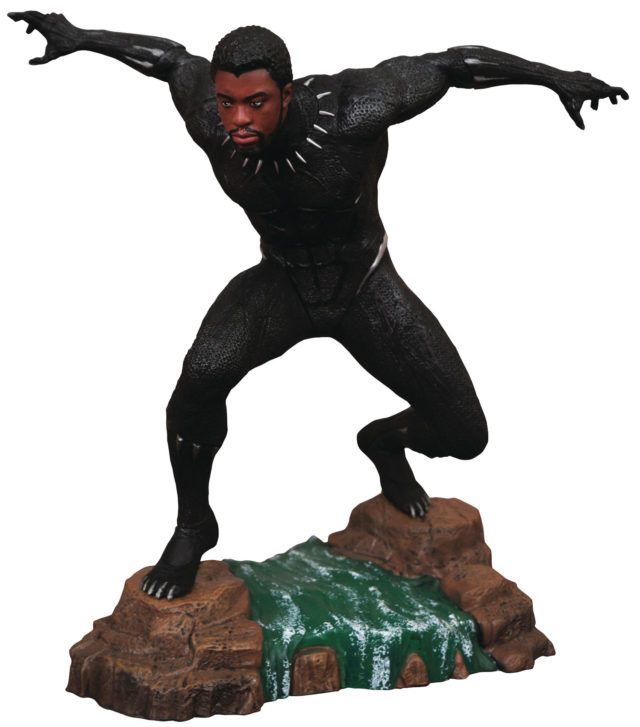 The other new(-ish) movie statue in the new round of solicits is an Unmasked Black Panther Gallery Statue. This actually debuted at NYCC 2018 earlier this month, but I wasn't able to get any real good photographs of it because of the massive glare on the display case it was in at the Diamond Select Toys booth.
While the portrait on this Black Panther Unmasked T'Challa figure isn't Hot Toys level or anything, I think it looks pretty solid for a 9" 40 dollar PVC figure. I'm okay with the regular/masked version of this statue I already have, but I'm glad an Unmasked variant is going to be produced for those who want it.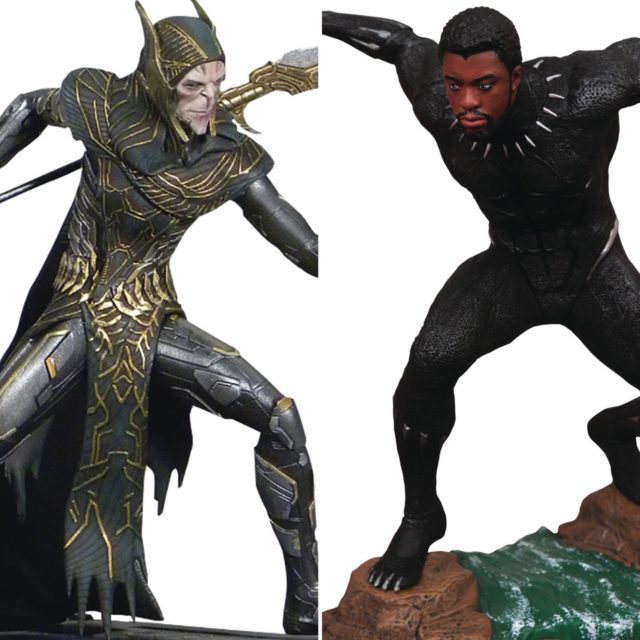 The Marvel Gallery Corvus Glaive and Unmasked Black Panther statues are now up for order, and are scheduled to be released in April 2018. A surprising number of MCU movie characters in this series have sold out during pre-orders this year, so you might want to place a no-deposit pre-order somewhere if you're jonesin' for one of these.
What do you think of this newest pair of DST Gallery PVCs, Marvel collectors? Are you interested in building a 9" scale Black Order in reasonably-priced statue form? And how do you think Diamond Select did with their attempt at a Chadwick Boseman portrait?
The post Marvel Gallery Corvus Glaive & Unmasked Black Panther Figures! appeared first on Marvel Toy News.