While the vast majority of headlines in the Marvel toy news world over the past week have appropriately been centered on the happenings from San Diego Comic Con 2019, that doesn't mean there weren't some exciting goings-on occurring elsewhere–including at the Medicom Toy Expo in Japan over the weekend! Fans dreaming of a definitive 6″ Miles Morales from the recent animated movie are getting their wish: a MAFEX Into the Spider-Verse Miles Morales figure is now up for order! And for the Spidery comic book fans, Medicom has a zany comic version of their popular MAFEX Spider-Man as well…

The stunning success of Spider-Man: Into the Spider-Verse movie caught pretty much every toy and collectibles company other than Hasbro and Funko with their proverbial pants down, and as a result we're only just now starting to see most companies beginning to show off and solicit merch for the film.
But although it's taken a while for Medicom Toy to develop their first Into the Spider-Verse action figure, I think fans of the movie are going to unanimously agree that what they've come up with is worth the wait!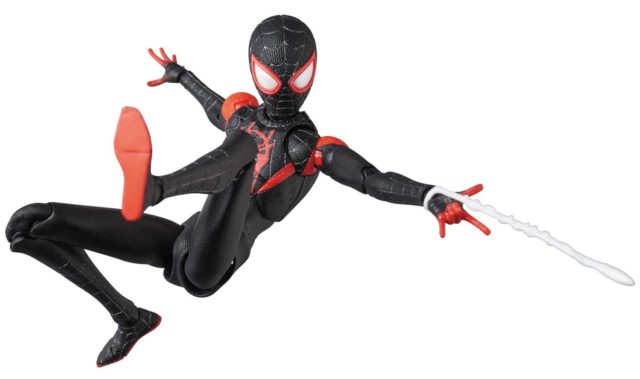 Kicking off a Spider-Man Into the Spider-Verse lineup that will include at least one other figure (a Peter B. Parker prototype was also shown at Medicom Expo), it's a 6" MAFEX Miles Morales figure!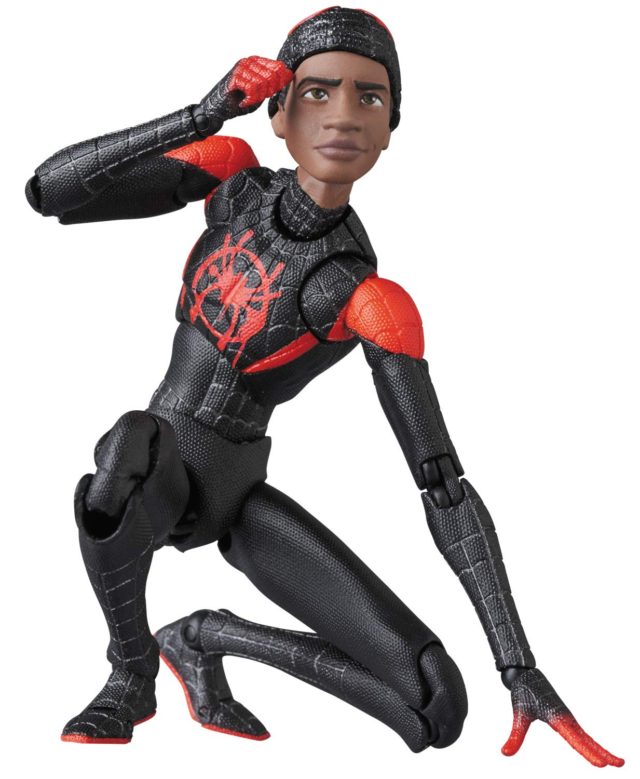 While Hasbro was ready to roll with their own "Animated" Miles Morales Marvel Legends figure to coincide with the release of the movie in late 2018, I doubt we're going to hear any arguments regarding that Legends figure being superior to the MAFEX in any conceivable way beyond price and availability.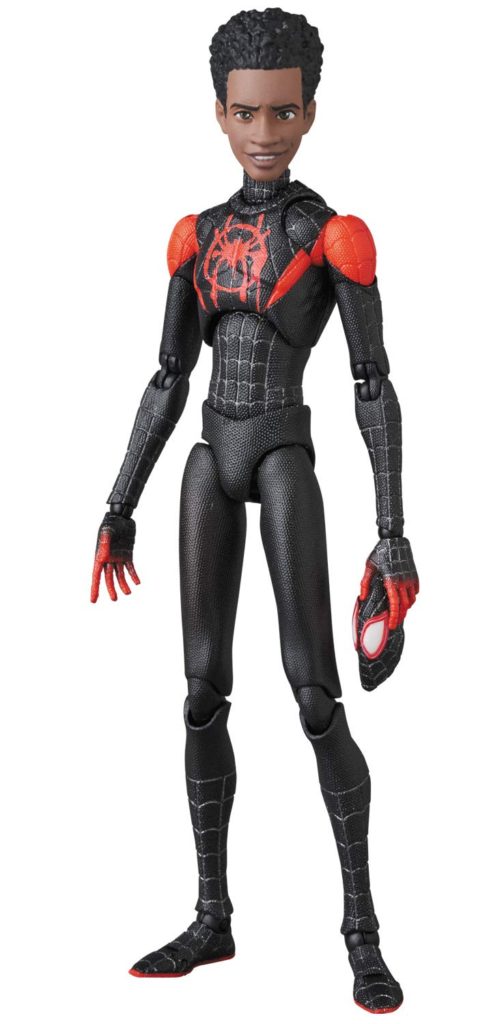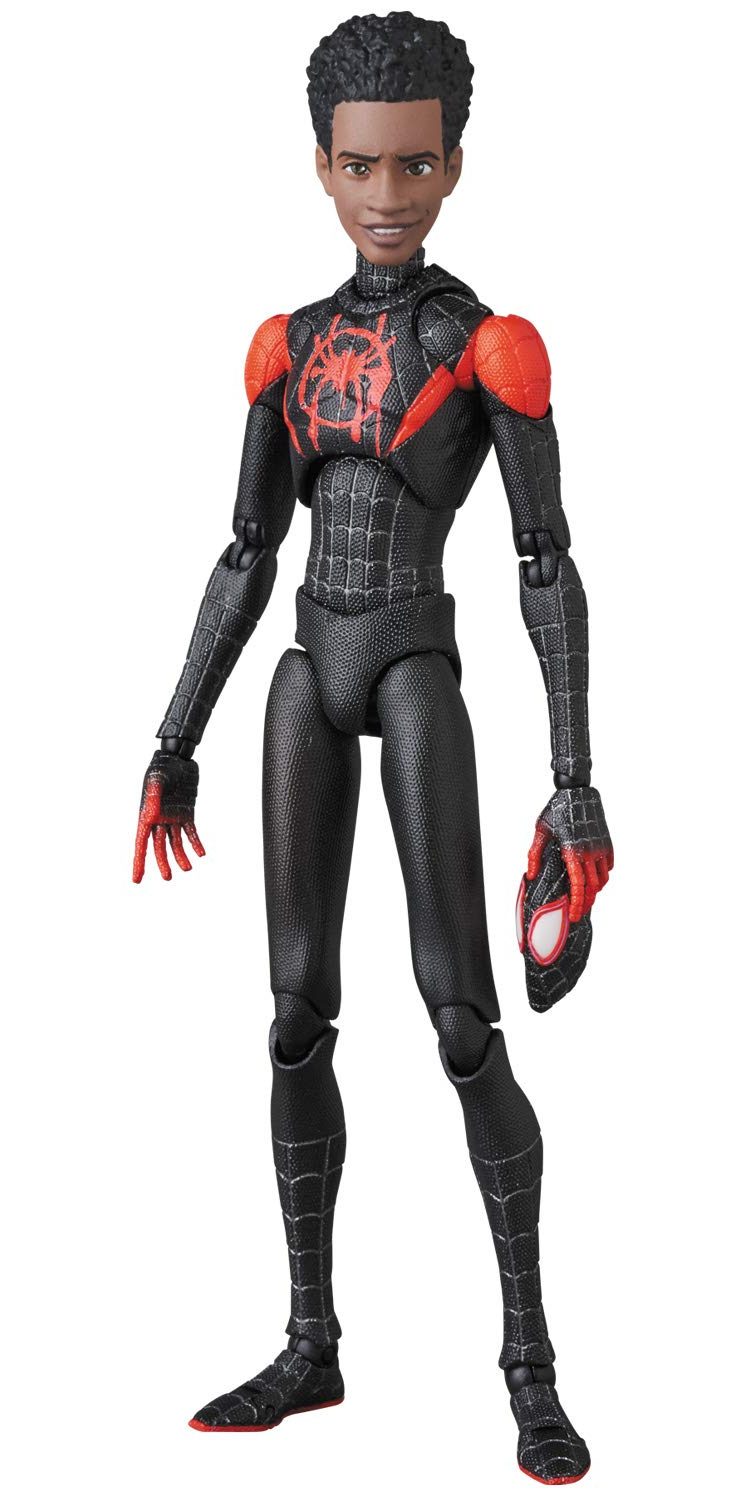 Simply put, the proportions and screen accuracy of this animated movie Miles are light-years ahead of anything else that's out there for him right now. The authenticity of this figure is off the charts.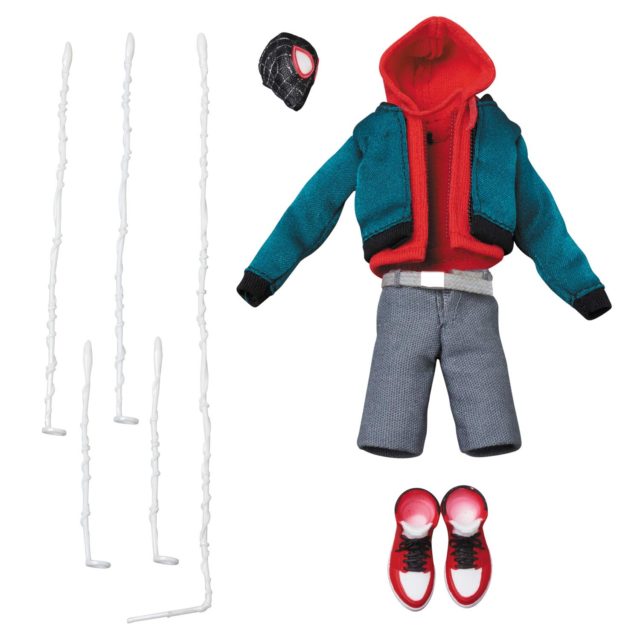 And to bring things to the next level, Medicom has included an impressive array of accessories that includes not just web effects and interchangeable masked/unmasked heads, but also a wonderfully-tailored outfit consisting of a layered hoodie, shorts, shoes and even a little belt!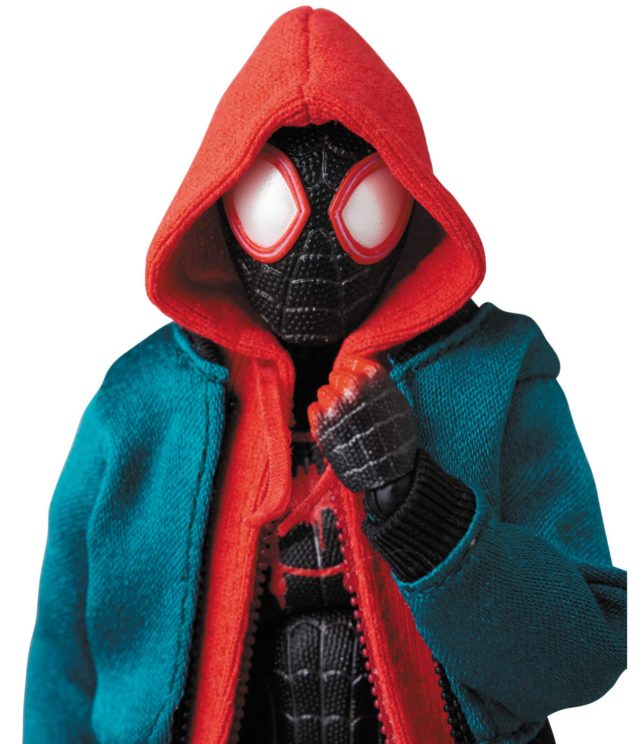 I'm generally very picky about soft goods clothes on six inch figures, but I think Medicom has done a bang-up job with them for their Miles MAFEX. Seeing him with his hoodie up is just too sweet!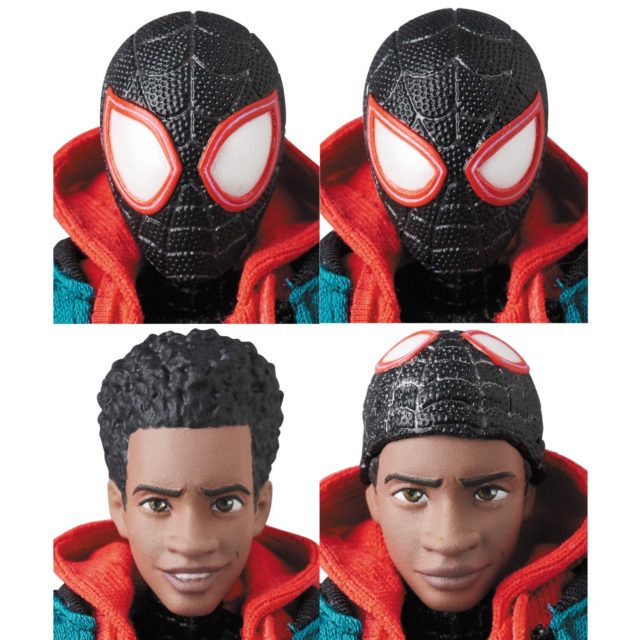 The one thing that's likely to come as a monumental disappointment to fans is the release date for this MAFEX Spider-Verse Miles Morales figure: June 2020. That's 11 months from pre-order to release, which is a long time-span for a fully-revealed 1:12 scale action figure.
I think we can reasonably assume that the soft goods on this figure are adding slightly to the long wait for this release—and it is important for the factory to get them perfect—but man, that wait is going to be killer.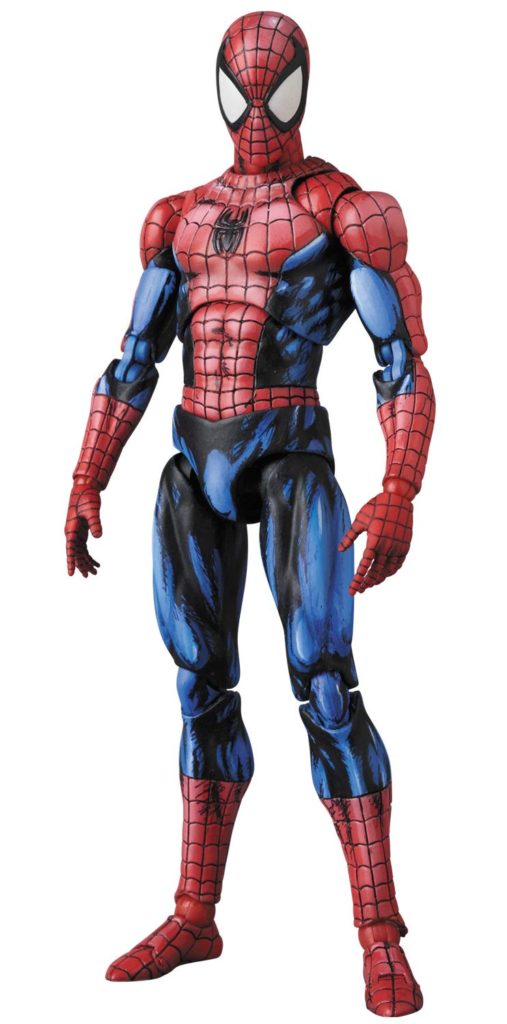 But fear not, Spider-Man comic book and Peter Parker fans—Medicom has got something lined up to take your future dollars as well: a "comic paint version" repaint of the already-released (and immensely popular) comic-based MAFEX Spider-Man figure!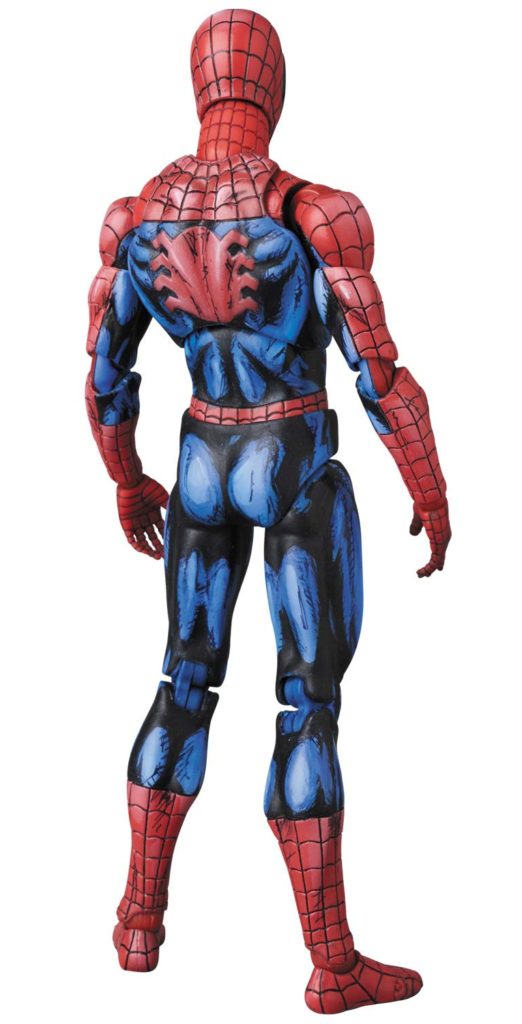 Basically, this is the existing figure with a fresh coat of paint meant to simulate a comic book/cel-shaded look, similar to the ever-popular "Manga Dimensions" line of Banpresto figures/statues.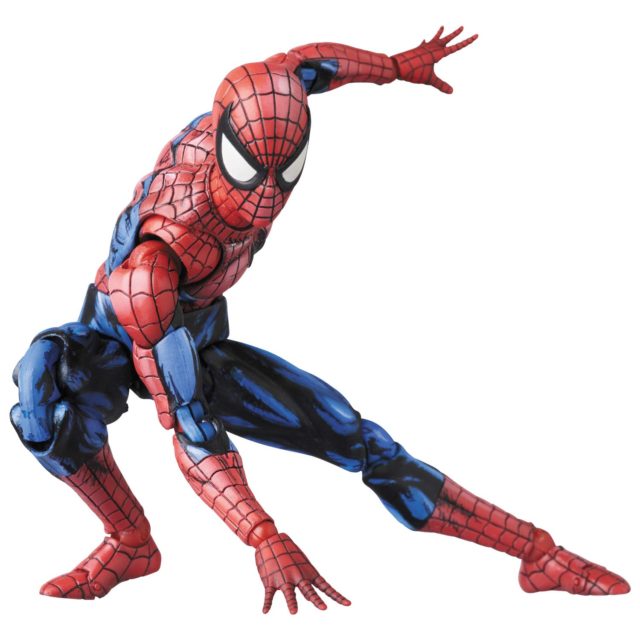 I'm a huge fan of this style that Banpresto specializes in, and while I was skeptical about the notion of applying the concept to Marvel comics characters, the result looks slick and visually compelling. I dig it!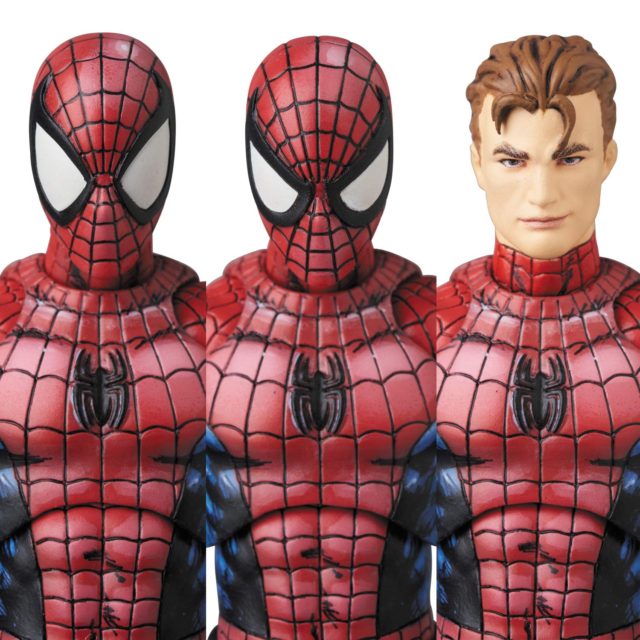 I'm still not wild about the unmasked Peter Parker head Medicom cooked up, but Spidey himself looks sensational with the mask on.
And thankfully, since this is just a repaint we won't have nearly as long to wait to get our hands on it: MAFEX Comic Paint Spider-Man should ship in December 2019 before the end of the year. I bought the regular version of this toy, but I'd be lying if I said I didn't kind of want to have this repaint too now!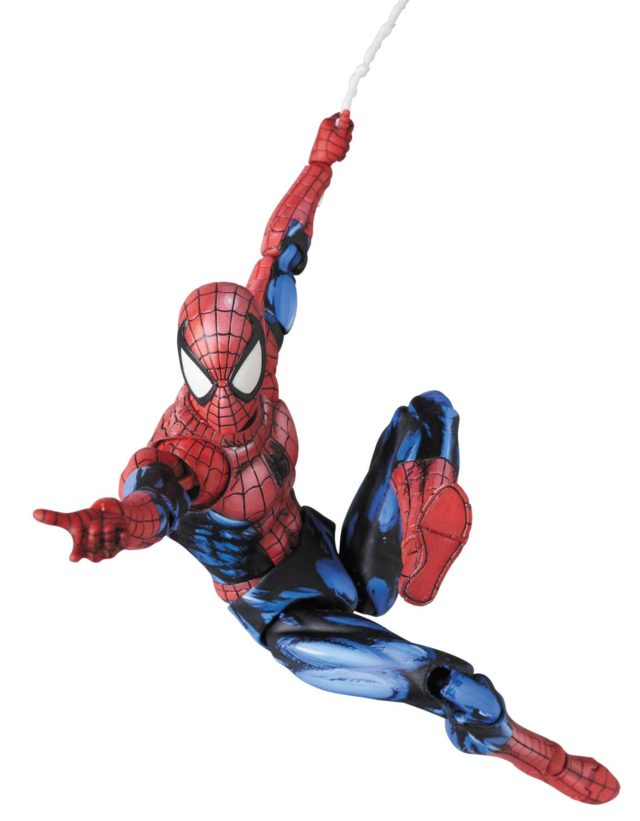 But as usual, Medicom Toy does not have a license to distribute these Marvel figures in North America, so if you want them, you're either going to be paying to import them yourself or buying from a US distributor like BBTS that's importing them.
That raises their prices up from the Japanese MSRPs of around 8,500 Japanese yen to around $95 in the United States. Not the worst up-charge ever, mind you, but still a considerable amount to pay for six-inch action figures (even exquisite ones like these).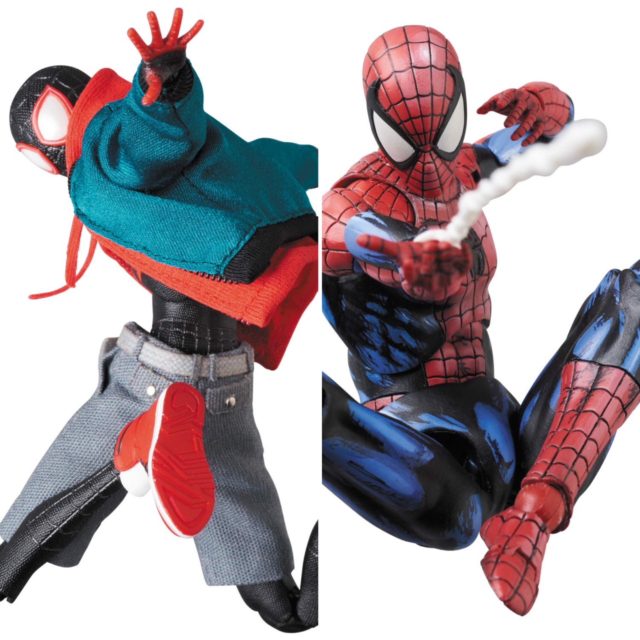 The MAFEX Comic Spider-Man and Into the Spider-Verse Miles Morales figures are now up for order at BBTS in the US, and are scheduled to be released in Q2 2020. For those who want to import from overseas themselves, the usual suspects like AmiAmi have POs open now (although cancellations are not permitted through AmiAmi).
Are these premium import Spider-Man worth their premium price-tags, Marvel collectors? Do you think that this Comic Paint Ver. Spider-Man MAFEX is an improvement over the original release, or are you not impressed with this style? And is anyone option to upgrade their Marvel Legends Into the Spider-Verse Miles Morales Hasbro figure to this much nicer (but much more expensive) toy?
The post MAFEX Into the Spider-Verse Miles Morales & Comic Spider-Man Figures! appeared first on Marvel Toy News.