For whatever crazy reason, Bandai Tamashii didn't have enough faith in the SH Figuarts Infinity War Thor figure to mass release it. It was a limited web exclusive in Asia, and didn't get a domestic release at all. Consequently, that Thor Figuarts is hugely expensive and difficult for U.S. collectors to obtain now. But Medicom has wisely stepped up to bat to come to the rescue and fill the void with their own 6" scale import of the Avengers 3 God of Thunder: the MAFEX Thor Infinity War figure is now up for order!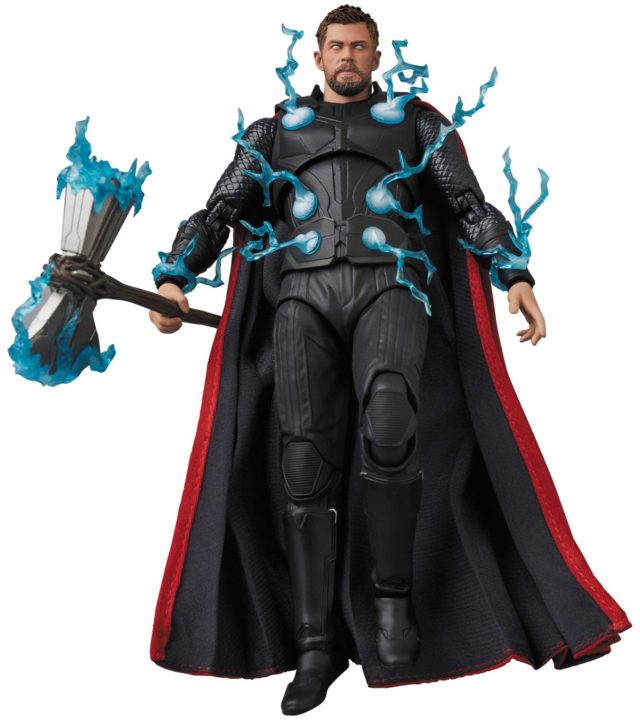 Of all the movies that Bandai Tamashii Nations could have decided a Thor action figure didn't need to be mass-released from, Avengers Infinity War was clearly NOT the correct choice. But despite the uproarious demand for the Infinity War Figuarts Thor figure, it was a web exclusive and won't be getting reissued anytime soon (and probably not ever).
Thankfully, Medicom Toy has noticed the pent-up frustrations of collectors, and are on the case with their own Infinity War Thor action figure—and man, what a figure it is!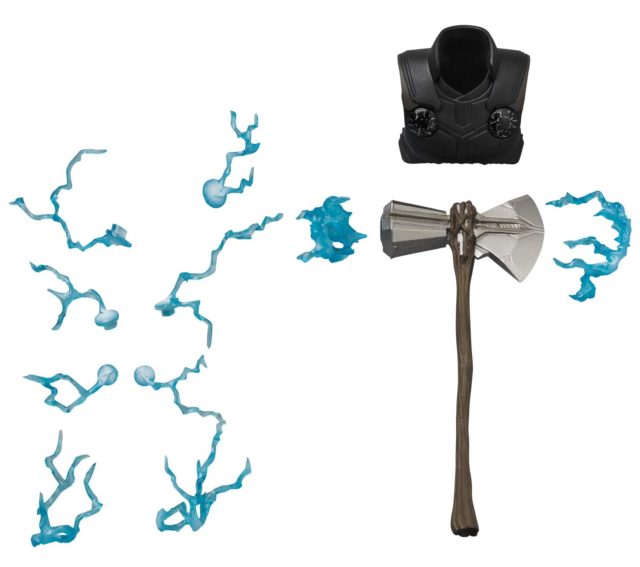 Medicom has really gone above and beyond with this MAFEX Thor figure, giving it every accessory you could ask for and details that blow every other non-Hot Toys Thor option out there out of the water.
Want Thor with or without his eyepatch or with the lightning-charged eyes? Boom! MAFEX Infinity War Thor has got all three options available as interchangeable heads, and they all look tremendous.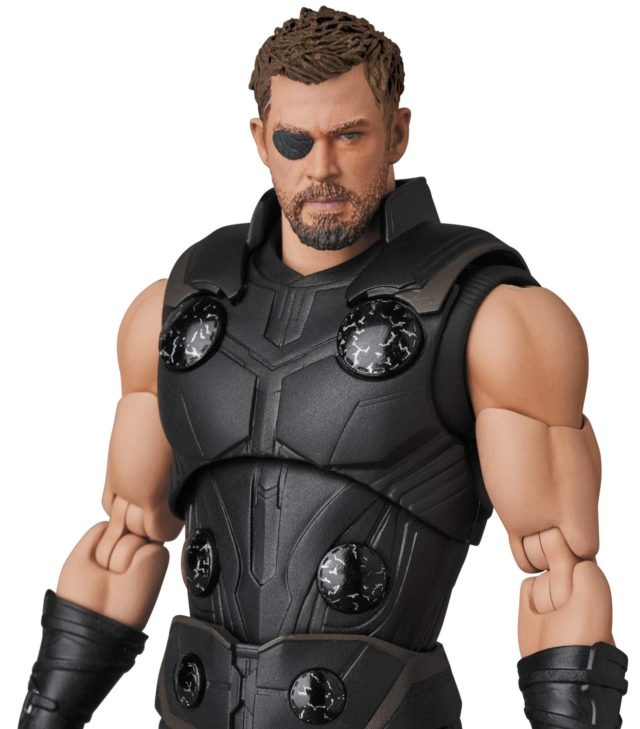 Want sleeved or sleeveless arms for the Odinson…? Yup—those are both here too!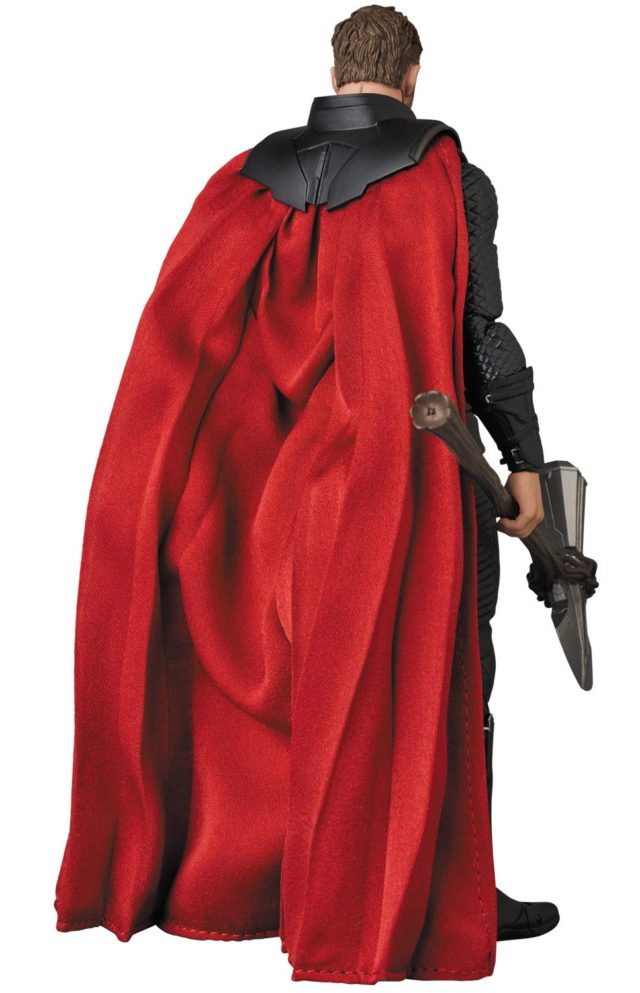 Fabric cape…? Present! (And looking good!)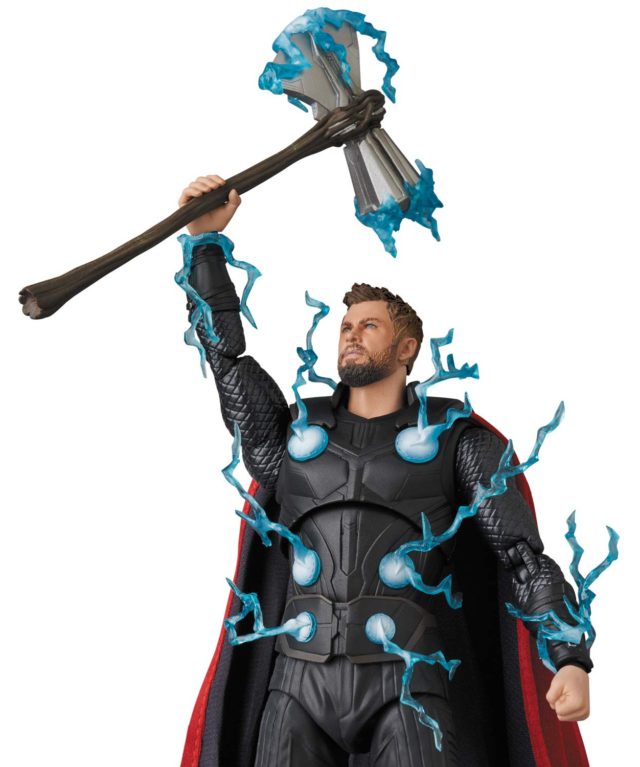 Even if what you're looking for is a swap-out torso with attachable electrical effects pieces, those are here too. Medicom Toy has gone all-out with this release to make it what's got to be considered the ultimate Infinity War Thor 6"'scale figure. Bravo, Medicom!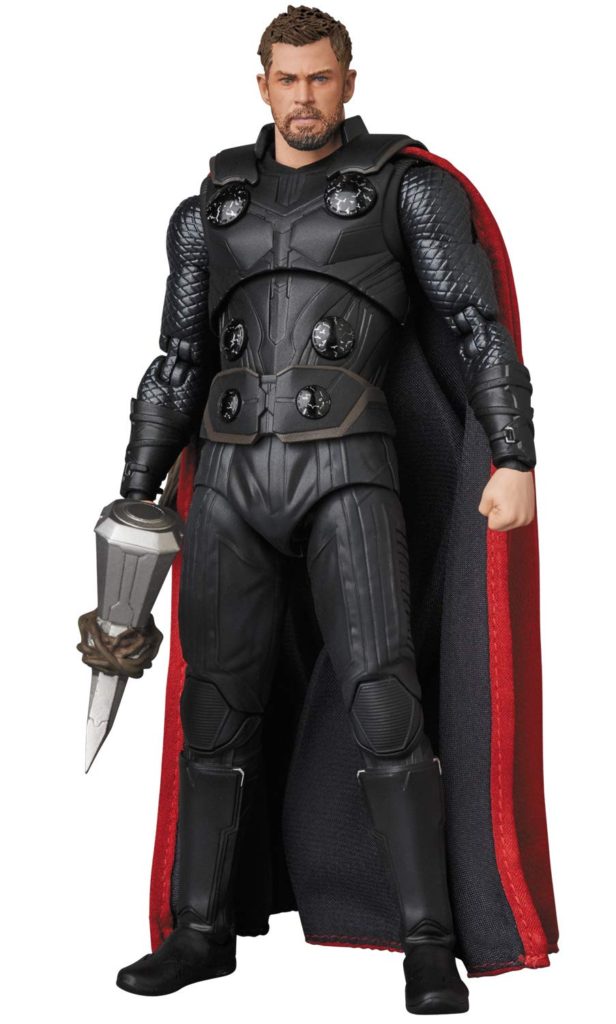 There is a dark cloud, of course, and it may be a deal breaker for many collectors: Medicom Toy doesn't have the license to distribute this MCU movie figure in the United States themselves, so stateside collectors will need to either import it directly or purchase it from a US importer.
Fan-favorite Japanese retailer AmiAmi has already sold out of their allotment of this figure, so it's looking like the retailer of choice for those still wanting it will be BBTS, who are able to compete with overseas sellers thanks to their no-penalty cancellations and cheap $4 shipping. Even so, this figure will end up costing just short of 100 bucks shipped—a hefty investment for those not used to import figure prices.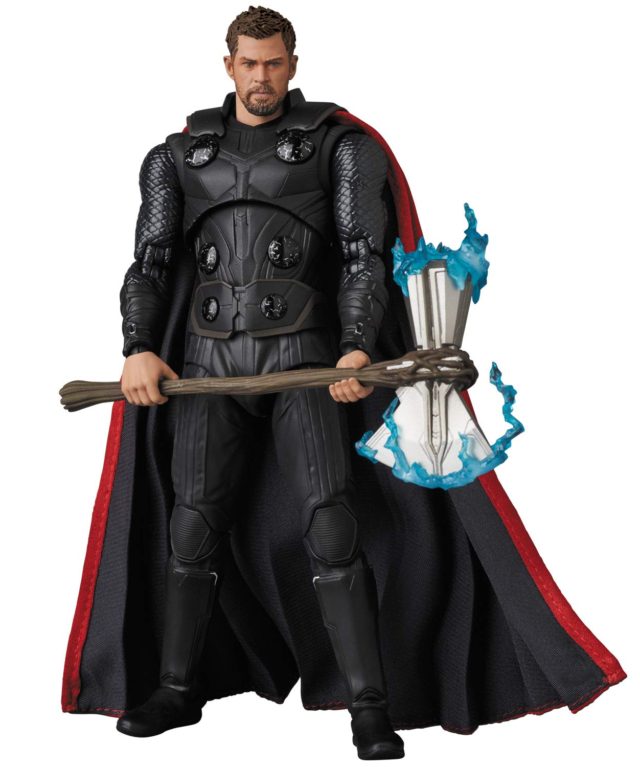 The MAFEX Infinity War Thor figure is now up for pre-order at BBTS, and is scheduled to be released this winter. If past trends follow true, this is likely to sell out well before it ships and inflate in price on the secondary market, so if this is your Odinson jam, you might want to reserve a no-deposit one of your own early on just to be safe.
What do you think of Medicom's 6.3" Thor MAFEX Avengers Infinity War figure, Marvel collectors? Is this action figure worth its lofty price-tag, and are you considering replacing your own default IW Thor in your collection with this iteration…?
The post MAFEX Avengers Infinity War Thor Figure Up for Order! appeared first on Marvel Toy News.