I got sidetracked over the course of the past week, so this latest figure preview is arriving a bit late. But hey, in this case, that seems pretty appropriate—because it's a preview of a figure that feels like it's being solicited fashionably late! While basically every other company took orders for their Avengers Infinity War figures way back in 2018, Medicom Toy is just now adding a new addition to their own lineup from the movie: the MAFEX Infinity War Captain America figure is now up for order! Is this fashionably late version of Cap still worth a look two years after the movie?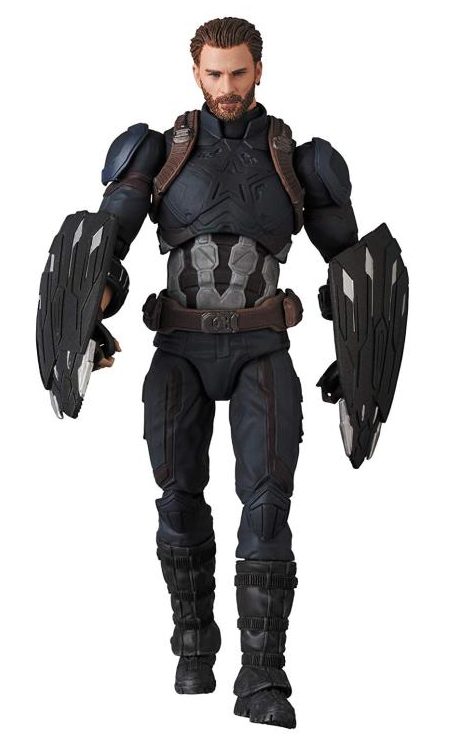 It was just about this time two years ago that Hasbro, Bandai and Diamond Select Toys we're beginning to show off their various 6"-7" figures of Captain America based off of Avengers Infinity War, so it actually felt a little bit surreal and out of left field when Medicom debuted and solicited this Avengers 3 Cap themselves earlier this month.
To my surprise, though, even though this figure may be arriving WAY late according to so many collectors' standards, I'm very impressed and think this may genuinely be the best version of IW Cap in this scale by a large margin.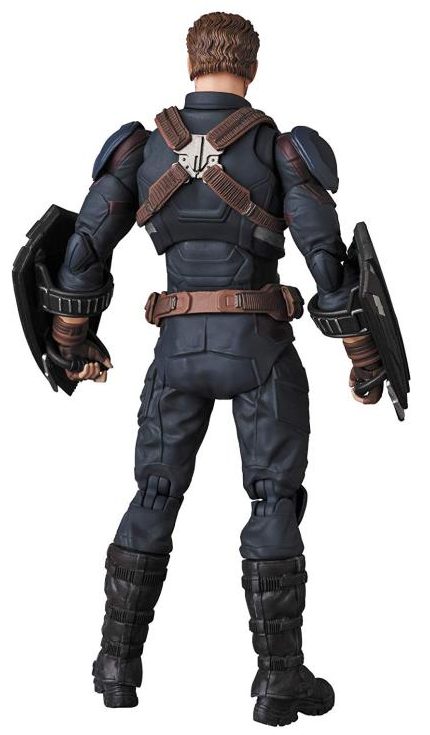 Hasbro may be improving year after year in general, but the Steve Rogers portrait only their 2018 Marvel Legends Captain America movie figure was frankly atrocious. In fact, I felt like Diamond Select Toys and Bandai Japan fell flat with their Marvel Select and SH Figuarts versions as well.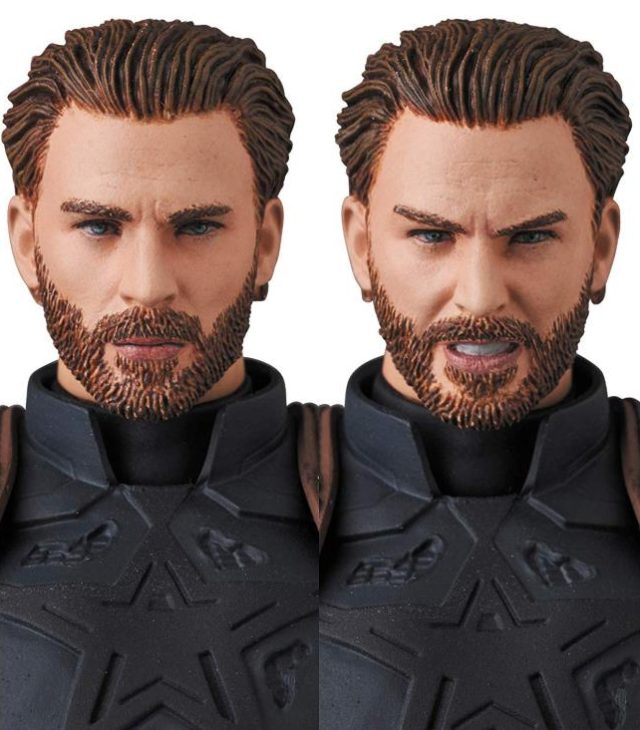 But this Medicom Captain America head…! Well. Even if the Chris Evans portrait isn't quite his spitting image, I think it's a solid representation in the 1:12 scale—especially compared to the horrible head sculpts we got from all the other companies who dig bearded Cap in this scale.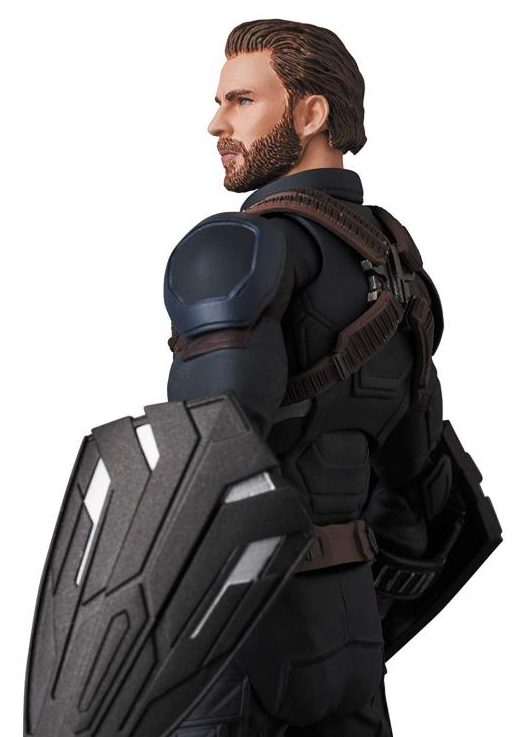 The accessories department is another area where Medicom Toy has won the war, as on top of the dual heads and various interchangeable hands, we get six more accessories: a pair of regular Wakandan shields, a pair of extended Wakandan shields, Proxima Midnight's staff and even Corvus Glaive's staff.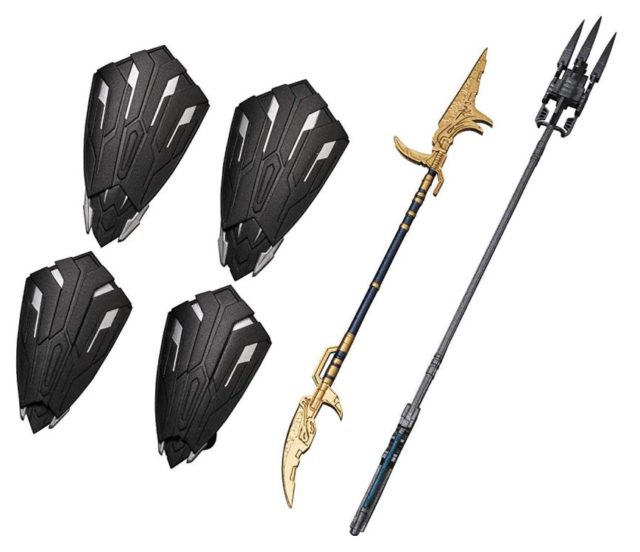 This assortment gives a ton of options for posing Steve, and given that he never wields his classic shield in Infinity War, I'm not really sure what else Medicom even could have given him. Great arsenal here that goes beyond even Hot Toys' efforts.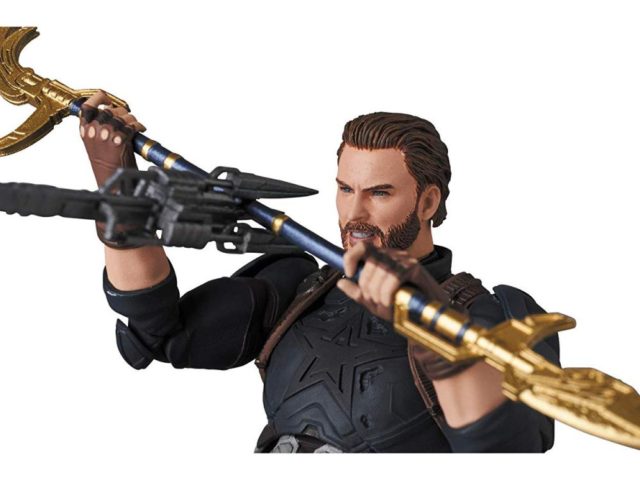 The only real downer to speak of with this action figure is the usual one for these import MAFEX figures: the price. I like this Cap a lot—but already owning the $200+ Hot Toys Movie Promo Edition, I just can't rationalize picking up a 6" version at 95 bucks. If you're a 1:12 scale purist, however, I think this is clearly the superior choice—just at a heavy cost.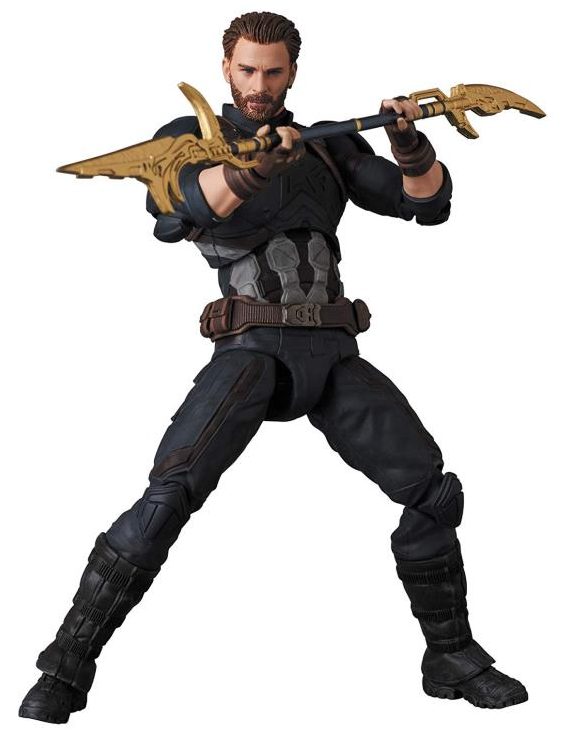 The MAFEX Captain America Infinity War figure is now up for pre-order, and is scheduled to be released in late 2020. Medicom doesn't have a license to distribute these figures in the United States, so it's either buy from an import store like BBTS or import directly from Asia yourself if you want this one.
What do you think, Marvel collectors? Despite its late arrival on the battlefield, has this IW Captain America won the battle to reign supreme over all the other ~6" figure versions of him from the film? Would you like to see Medicom expand their Avengers Infinity War offerings any further, or are you ready to move on?
The post MAFEX Avengers Infinity War Captain America Figure Up for Order! appeared first on Marvel Toy News.