I'm home after a hectic week in Chicago for Star Wars Celebration 2019, and there's a lot to catch up on from while I was away. There's plenty of Avengers Endgame goodness (what with the movie hitting next week and all), but first, let's take a look at some of the earliest packaged toys from the movie after Endgame: the LEGO Spider-Man Far From Home sets, which include minifigures of Mysterio, Hydro-Man, Nick Fury and even… Happy Hogan?!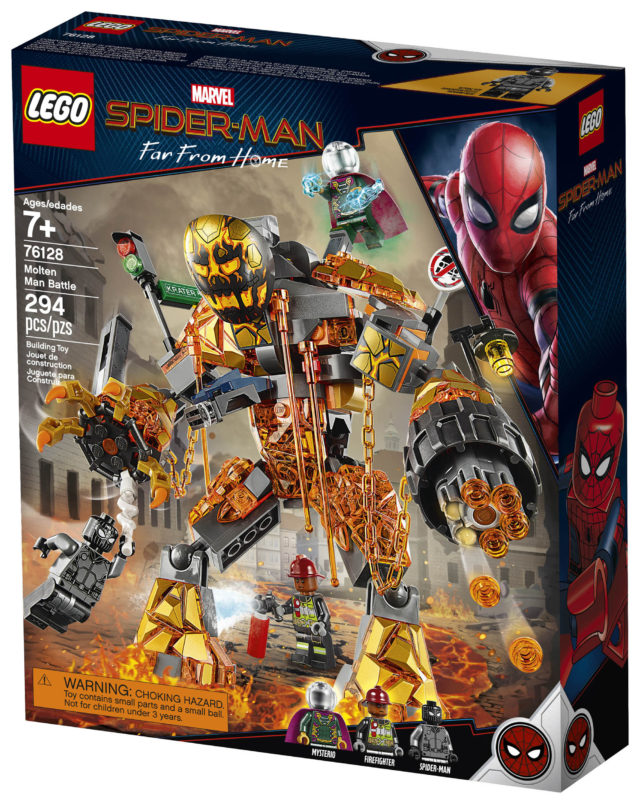 The Spider-Man: Far From Home movie is less than three months out from hitting theaters, so I'd expect to see the promotional focus shift ol' Spidey's way soon after Endgame's release next week.
There's three sets in the theme, with prices ranging from $30 to $70. Sadly, it does not appear we're getting a Ganke (sorry, "Ned") minifigure, but it looks like all of the other bases are going to be covered in minifig format…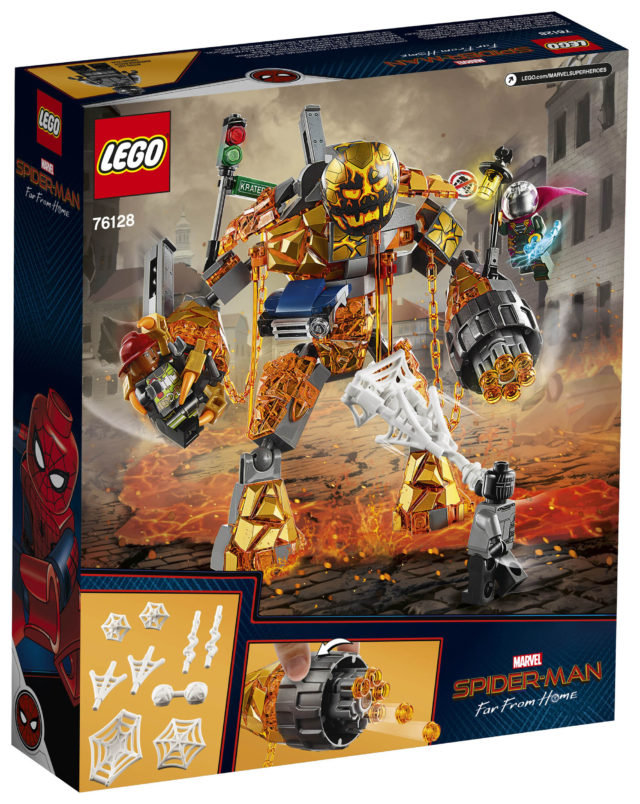 I'll look at the sets in order of least expensive to most, so we'll begin with the cheapest and most basic of the sets—but definitely still a compelling one—the 76128 LEGO Molten Man Battle, which is priced at $29.99 for 294 pieces. This set lands almost exactly at my ideal target price point of 10 cents per piece, so good job there, LEGO.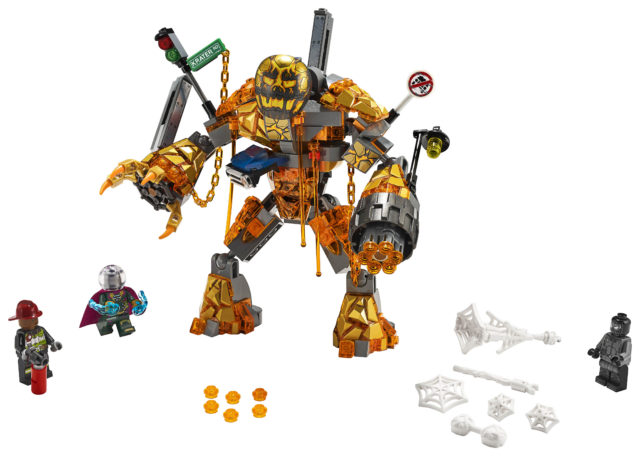 This set will feature a Mysterio minifigure, as well as exclusive firefighter and Stealth Suit Spider-Man minifigs. While the brick-built Molten Man makes up almost the entirety of this set and there's no real environment included to build, it's awesome to see that there are an outstanding six web effects for Spidey to battle with! Considering it wasn't that long ago that we had almost zero web effects accessories, it's pretty crazy to get a half-dozen in one set now!
The LEGO Molten Man figure looks like something straight out of the long-defunct Power Miners theme. I actually really dig the translucent rods "dripping" off of the 7" Molten Man's immense body, as well as the various pieces of debris like street signs and car bumpers stuck to his frame. With his monstrous face and lots of ball joints, this figure looks like it's going to be a TON of fun to build and play with.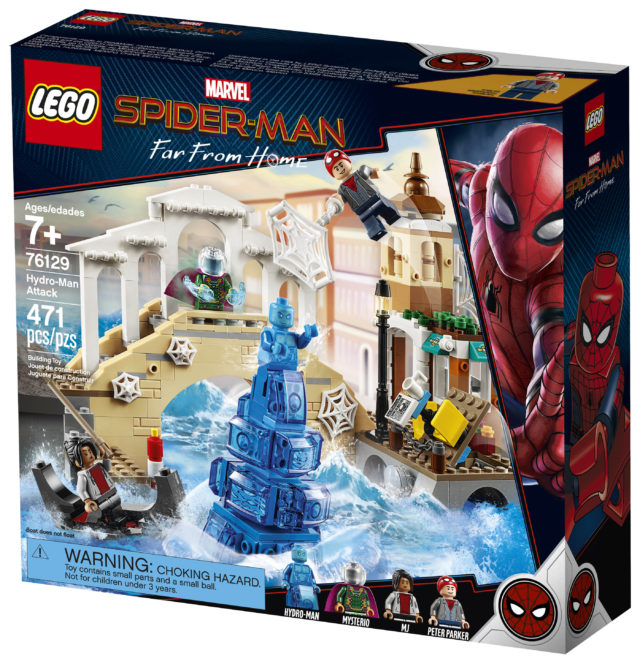 Next, we've got the $39.99 76129 LEGO Hydro-Man Attack set. LEGO 76129 includes 471 pieces for $39.99, which actually makes it a solid deal at less than 8.5 cents per brick—a price we don't see often anymore for major licensed sets! The set includes four minifigures, of which three are exclusives: exclusive MJ, Hydro-Man and Peter Parker (with Spidey mask half pulled-down on his head!), plus a non-exclusive Mysterio.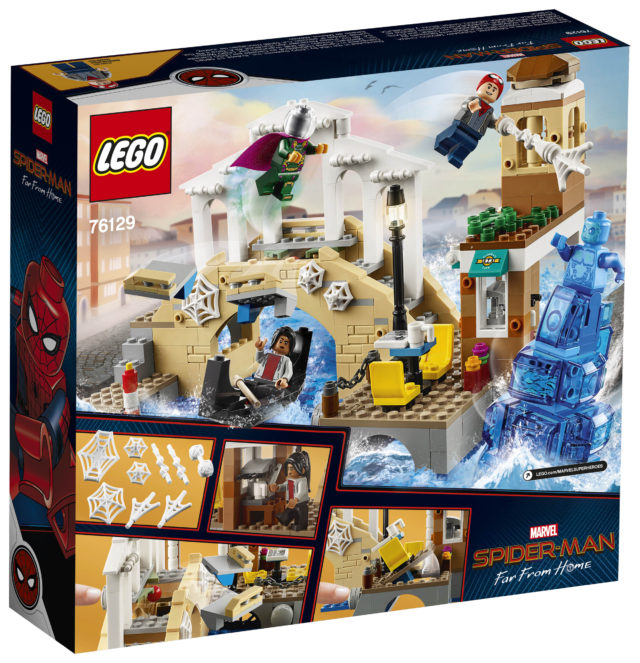 The Hydro-Man minifigure has a big brick-built "body"/base he can be attached to, which honestly looks more like a blue Christmas tree than anything else. But hey—it's hard to build a sentient water person out of bricks, you know?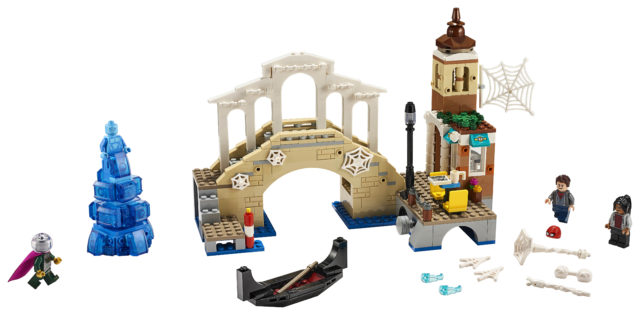 I actually really love the Little Venice environment that makes up the bulk of this set, with the bridge and gondola really making me smile. The bridge has an exploding function, but I think I'll be okay letting my little Peter and MJ figures enjoy a romantic moment there without blowing it up, personally.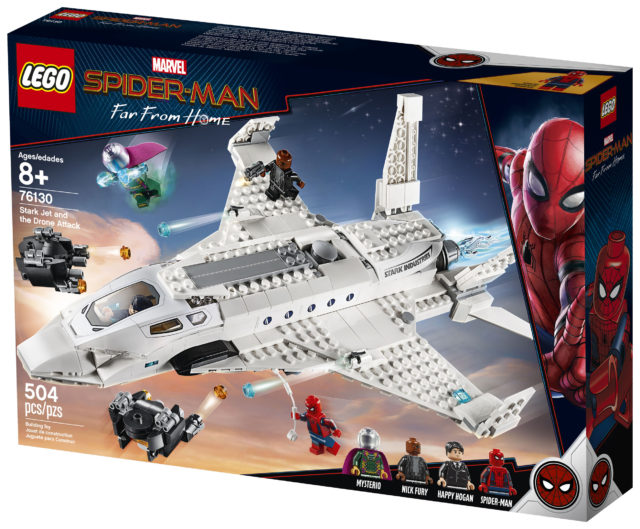 Finally, we've got the most expensive set in the Spider-Man Far From Home theme—and possibly the dullest, oddly enough: the 76130 LEGO Stark Jet and the Drone Attack, which retails for $69.99 for 504 pieces (an awful value of almost 14 cents per brick).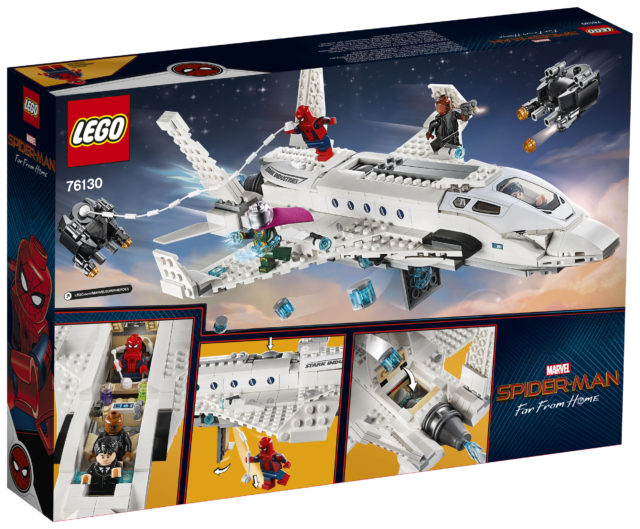 At that relatively astronomical price-point, this set is leaving me a little bit cold. The drones look incredibly basic and unmemorable, and the Stark Jet is basically just a facade with a couple seats inside and no true interior. Nothing about the vehicles here really impress me, sadly (although I suppose I could fall in love with the Stark Jet unexpectedly when I see the Far From Home movie).
The highlight of this set, like many past sets, is the minifigures. The Stark Jet and the Drone Attack 76130 includes four figures: the first-ever Happy Hogan (!!!), plus new for 2019 Nick Fury and Mysterio minifigs and the only red-and-blue clad Spider-Man across these sets. Interesting to see the most classic-looking Spidey only included with the most expensive set!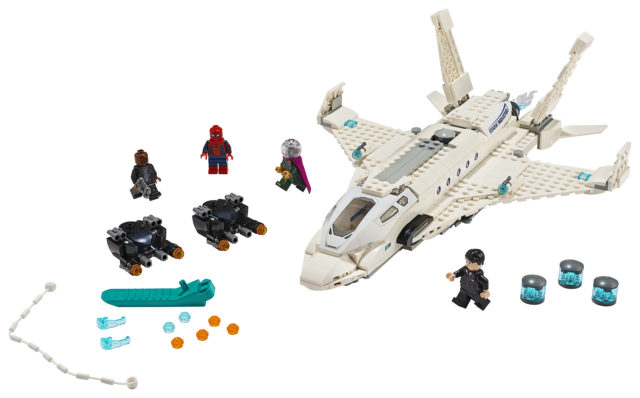 The LEGO Spider-Man Far From Home movie sets are expected to be released in May 2019, although no exact release date has been confirmed just yet. None of these three sets are retailer exclusives, so you should be able to snag them all via Amazon, Target, Walmart, or wherever your favorite LEGO Store may be.
What do you think of this trio of sets for the next Spider-Man movie, brick fans? Is there anything here that you can't wait to build, or will you be giving the Far From Home LEGO theme a wide pass when it hits stores next month?
The post LEGO Spider-Man Far From Home Sets Revealed & Hi-Res Photos! appeared first on Marvel Toy News.