2018 has been a bit of a quiet year for Kotobukiya, with zero new Marvel Bishoujo statues released and little buzz surrounding their ARTFX+ Infinity War and Avengers Series 2 1:10 PVC figures. But one item that exceeded expectations and got a lot of love was the 1:6 scale Webslinger Spider-Man ARTFX Statue. So much love, in fact, that it's getting a pretty magnificent (and huge!) companion piece next year: the 16.5" Kotobukiya Venom ARTFX Statue is now up for order!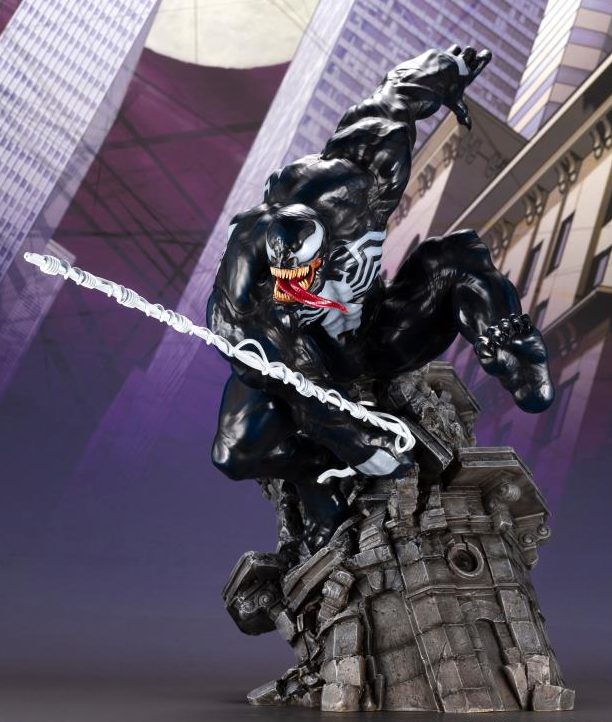 It's no big secret that Venom is a big deal right now. His solo movie turned out to be shockingly more successful than anyone was expecting, and Eddie Brock is experiencing one of the best comic book runs he's ever had in the comic books. Venom is hot stuff.
And when Spider-Man's most popular villain is at his most marketable, that's the ideal time for toy companies to strike! And strike Kotobukiya is, with the largest Venom statue that they've made in many years!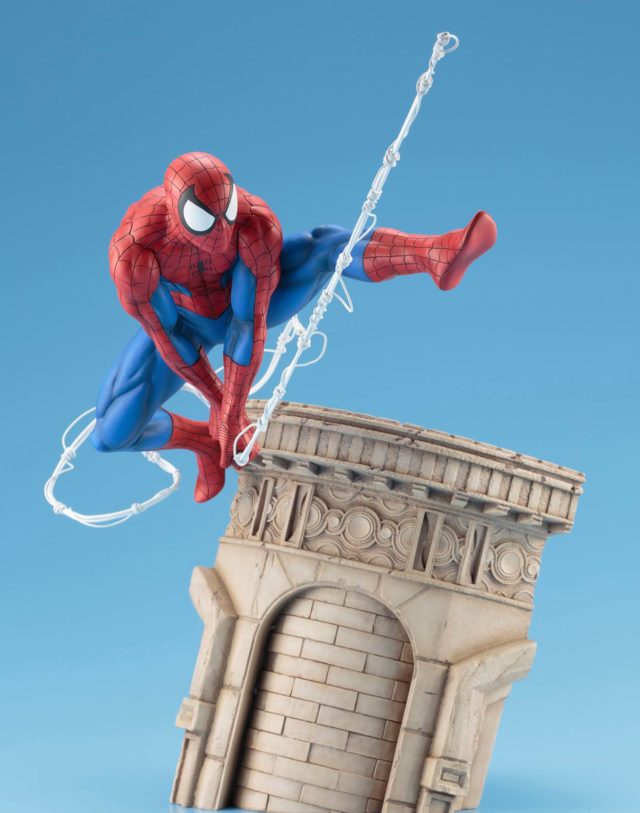 Earlier in 2018, Kotobukiya released a resin/PVC hybrid Web-Slinger Spider-Man statue where the New York City-themed base was cast in resin and the figure was made of PVC. This piece was a monumental hit for Koto that sold like wildfire and was virtually universally loved, so making a companion piece to it seems like a no-brainer. And making that companion Venom? Even more so!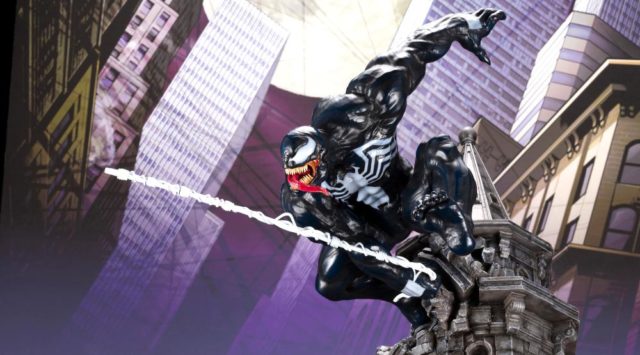 As much as many fans dig Flash Thompson Agent Venom (and even Gargan-Venom), classic Eddie Brock Venom is where the big bucks are, which is why Koto is giving us another classic version of the Lethal Protector for this piece.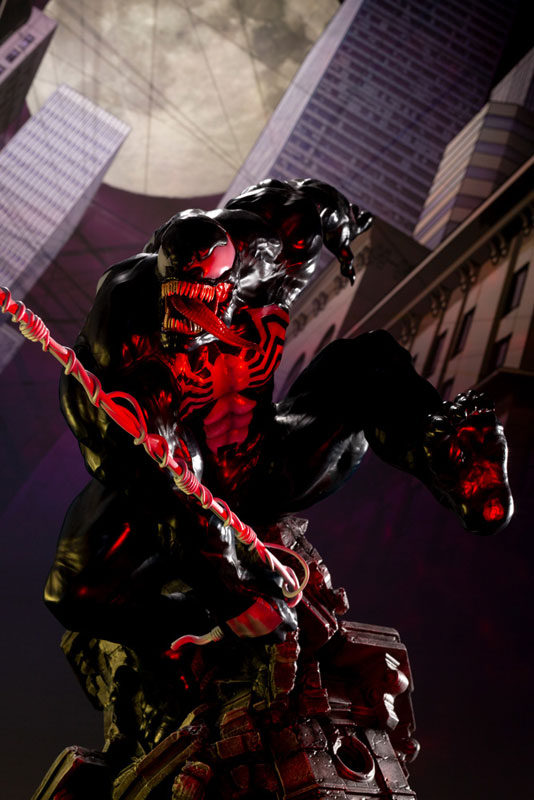 While we've had plenty of figures and statues of this version of the character lately, I like that Kotobukiya is giving us a pose we almost never see for Venom: Web-Swinging! It's something different from what we usually get, and I appreciate that!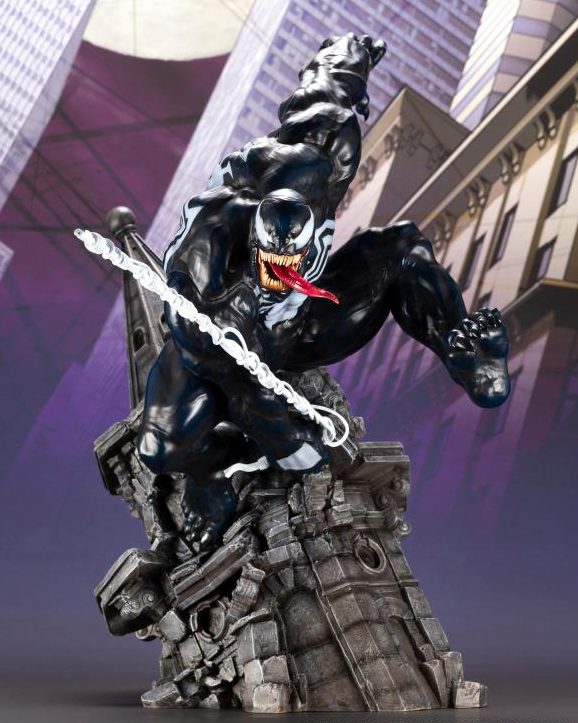 Because the actual figure is made of PVC, it has an aesthetic contrast against the resin base. In this case, I think that actually isn't a big problem, as the symbiote is a sort of slimy, glossy alien entity to begin with.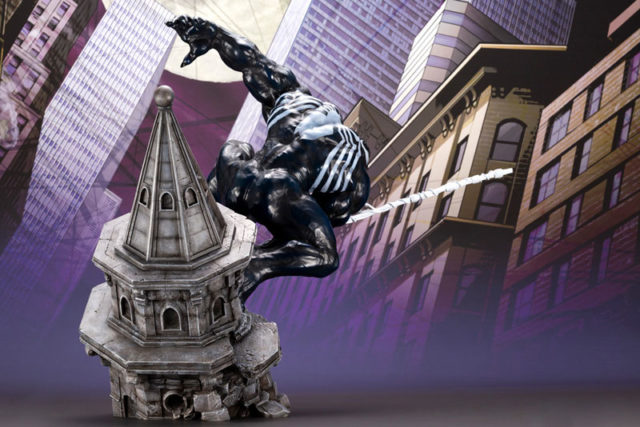 The musculature of this powerhouse looks dead-on, the sharp teeth and out-stretched tongue look intimidating… Koto has done some really impressive work for this statue. Those who have missed out on other recent Venom statues are going to have another shot at an excellent representation of the character with this release.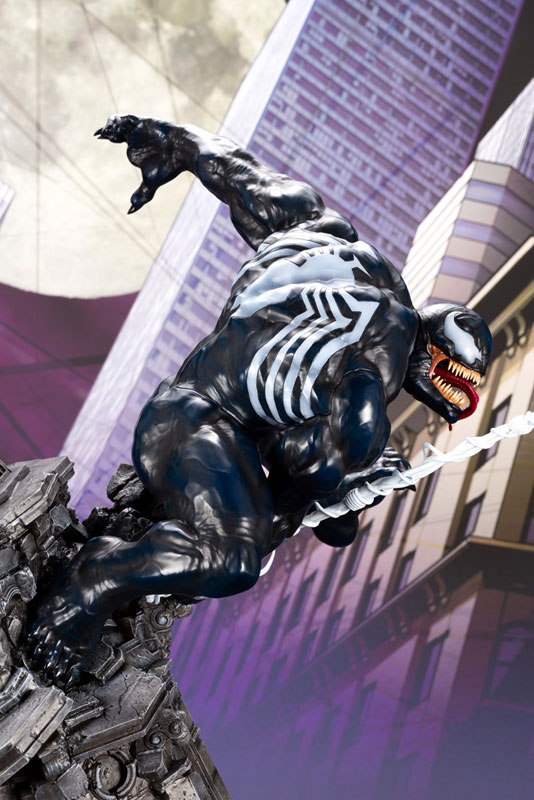 The one thing about this piece that I'm not wild about is the price. $250 MSRP is a lot of dough for a PVC statue—even one that's 1/6th scale and comes with a resin base. Back in the day, I paid $250 for Bowen Designs statues in this scale that were ALL resin, so paying that price today for a statue that's mostly PVC really stings.
Still, costs have gone up substantially in the last few years and the collecting world has changed, and 250 smackers isn't an outrageous price these days—it's just one that I don't feel good about paying when DST is producing even larger statues in all resin for almost half the cost.
The ARTFX Venom Kotobukiya Statue is now up for order (and $20 off at BBTS!), and is scheduled to be released in Summer 2019. Almost every Venom statue being put out these days by anyone is pre-selling out, so if you really like this one, you might want to put down a no-deposit reservation for it at BBTS or somewhere else.
What do you think about Koto's second hybrid-styled Spider-Man themed statue, Marvel collectors? Are you willing to drop 250 big ones on a statue that's half-PVC, and if not, would you have if it was all resin? Do you want to see this hybrid approach to statue continue, or do you prefer your pieces one way or the other?
The post Kotobukiya Venom ARTFX Statue Photos & Order Info! 16″! appeared first on Marvel Toy News.