Bowen Designs is a company that's been on my tongue a lot lately since we've seen a small resurgence of mini-busts this year and even a Sideshow Wolverine bust last week that's basically an updated version of the original Bowen version. And this week, the ante is being raised even higher, as we've got what's essentially an update of a whole Bowen Designs 1/6 Statue: the Kotobukiya Thanos on Throne Fine Arts Statue is now up for order! Is it a worthy upgrade to the one released almost a decade ago?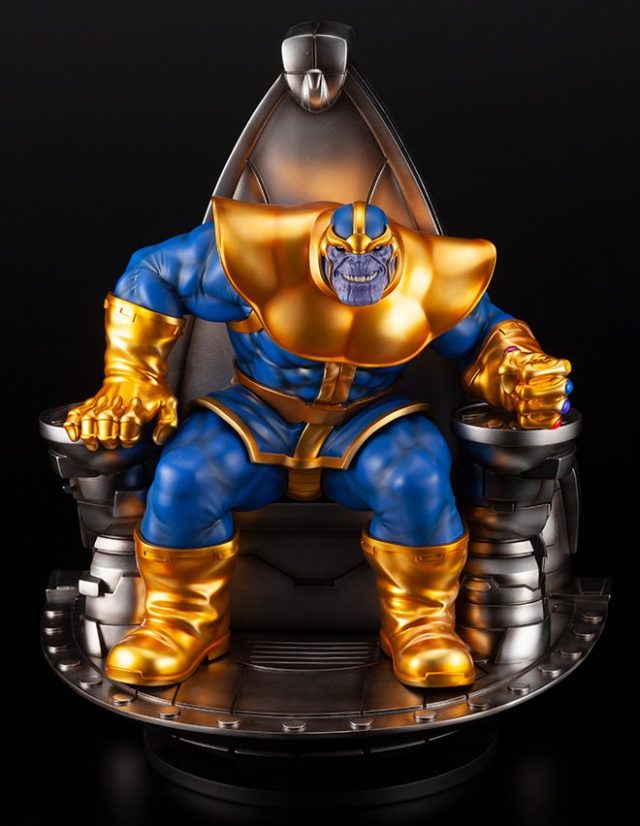 I love me some Marvel 1:6 scale statues, and I'm always delighted to see another one going up for sale. (I actually think the Statue market will be moving toward more smaller 1:6 statues increasingly over the next few years and away from gargantuan 1:4 and 1:3 statues, but that's a story for another day).
And hey, what can tug at my personal collecting heartstrings more than a spiritual successor to a classic statue by my childhood sweetheart (of a sort), Bowen Designs, right…?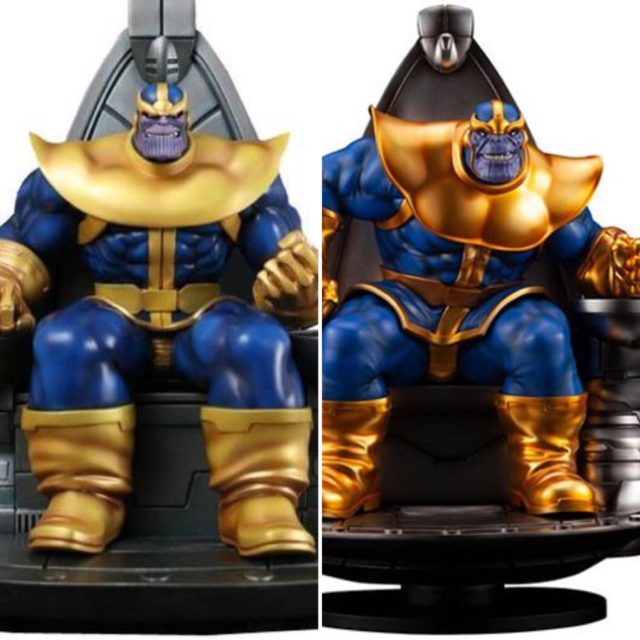 While statues of characters on thrones has become all the rage now, Bowen Designs was one of the first companies to release villains on thrones—and the very first to capture the Mad Titan in this manner. That particular sculpture has become very sought-after and difficult to obtain over the last few years, but worry not—this new Kotobukiya version feels almost eerily similar!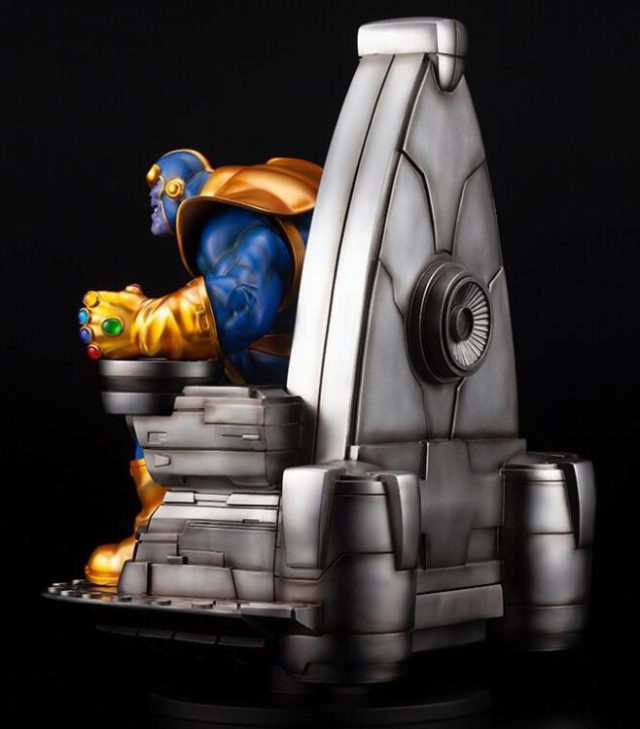 Once again, we have a 1/6 Thanos in classic comic book attire, sitting atop an enormous throne that's over 17" tall. This might be 1/6, but it's bigger and bulkier than many 1/4 statues out there!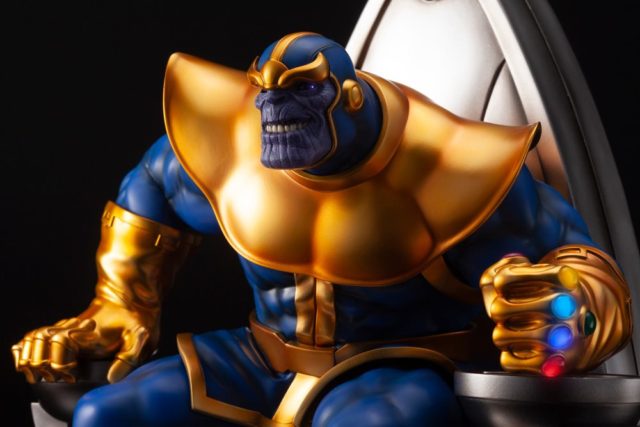 A little collector civil war has been brewing ever since Kotobukiya solicited this Thanos on Throne for pre-order, with a multitude of collectors complaining about the portrait on this statue and an equal number defending it.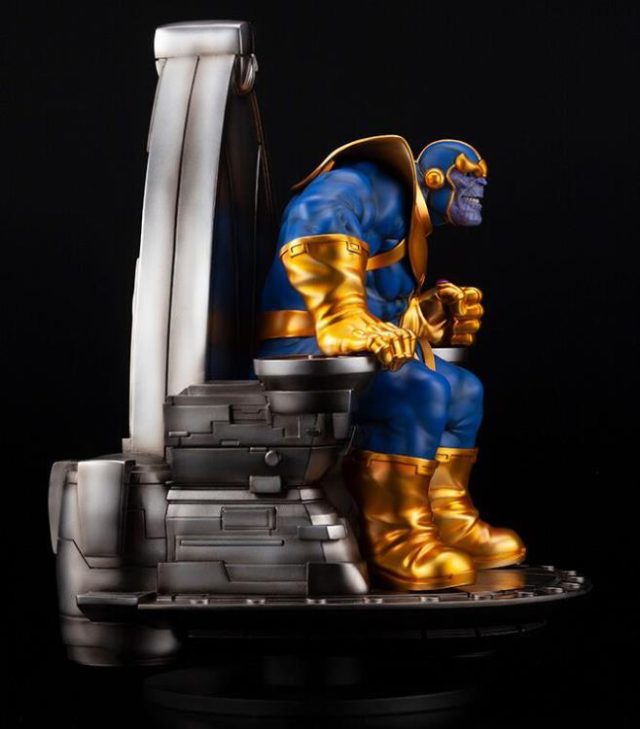 Here's the thing: I cannot fault Kotobukiya on this Thanos Head sculpt, as it is basically vintage Ron Lim artwork of the character come to life. The portrait may look silly or comical to some, but it is ridiculously accurate to some of the most beloved Thanos stories of all-time. This isn't going to be for everyone, but this -IS- a spectacularly authentic interpretation of the character.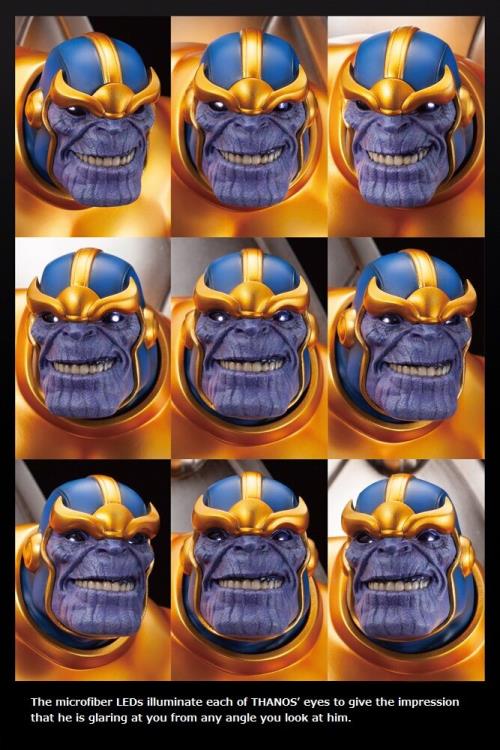 One other big difference between this Koto and the Bowen Designs iteration is the integration of LED lights in Thanos' eyes and the gems of the Infinity Gauntlet. This gives the head sculpt sort of spooky "follow-me eyes" that I'm really curious to see in person (hopefully at NYCC next month).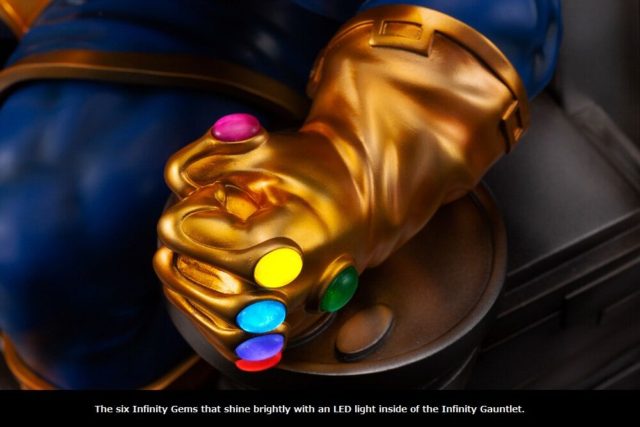 Prices have gone up on the Kotobukiya Fine Arts Statue line as a whole over the past few years, and Koto Thanos on Throne takes the MSRP to all-new heights: $480. For a 1:6 Statue, that's a price-tag that is really throwing many collectors for a loop!
That said, I'm not really surprised or scandalized by that number. The Bowen Designs version was $350 close to a decade ago, and we've seen an explosive growth in statue prices since. I'm not going to celebrate a nearly $500 1/6th statue or anything, but given the enormous size and bulk of this and the integrated electronics, I do understand the pricing at least.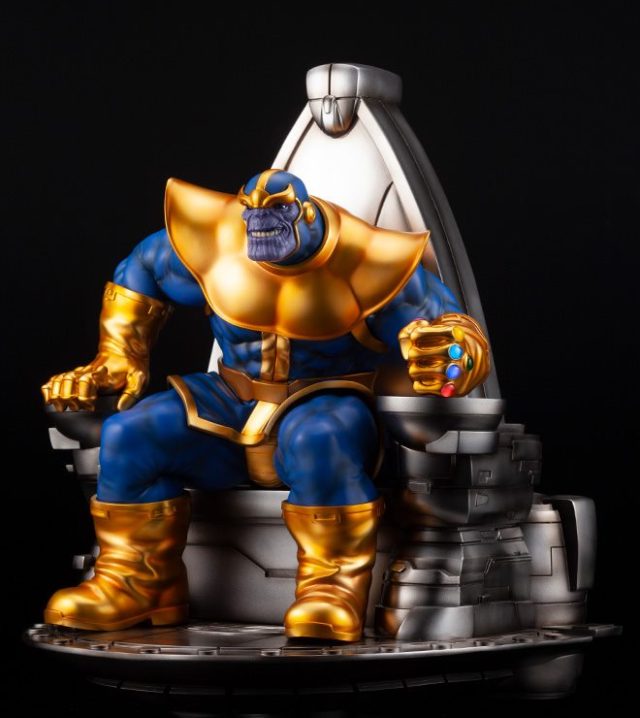 The Thanos on Throne Kotobukiya Fine Arts Statue is now up for order, and is scheduled to ship out in March/April 2020. I rarely have a problem getting Koto Fine Arts statues without pre-ordering, but if you know this is for you, might as well PO and get the free shipping and 30 bucks off, right?
Collectors seem to be very divided on this Thanos, with many loving the comic accuracy of the piece and many hating it. Where do you fall on that spectrum, and is this a piece you can imagine adding to your own collection next year?
The post Kotobukiya Thanos on Throne Statue Photos & Order Info! appeared first on Marvel Toy News.