Kotobukiya has dramatically slowed down their output of Marvel collectibles over the last year and change, and news on their Marvel ARTFX Premier and Bishoujo lines has trickled to almost nothing. But an area where Koto is still going strong carrying the mighty Marvel banner is their 1/6 Marvel Fine Art statue line, with several big-name characters arriving over the next half-year. And this week, they've added another to the list: the Kotobukiya Iron Man Fine Art statue is now available for pre-order! How does this Iron Man look as a standalone statue, and also with the Thor and Captain America companion pieces?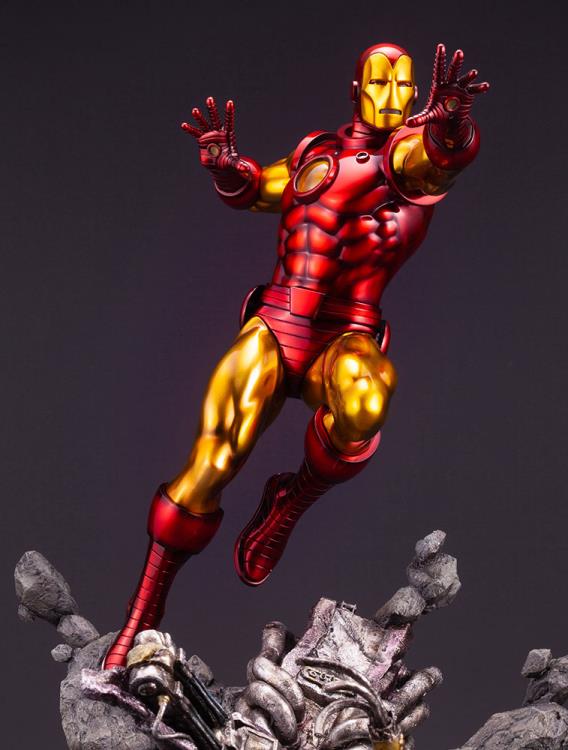 I am personally not a fan of PVC statues, although I understand the place and necessity for them in the collectibles marketplace. As such, I am not largely broken up that the Marvel ARTFX Premier series is seemingly on its last legs, as it means that Kotobukiya has more time now to concentrate on the resin statues that I favor.
Last October, Koto announced a new trio of comic book version Avengers Fine Art statues—Captain America, Thor and Iron Man—that would combine to form one whole diorama. Cap went up for sale then, with the Mighty Thor Fine Art statue following 5 months later in March 2021. Luckily, we didn't have to wait as long for Kotobukiya to solicit the final piece in the set, as Fine Art Iron Man launched for orders this week.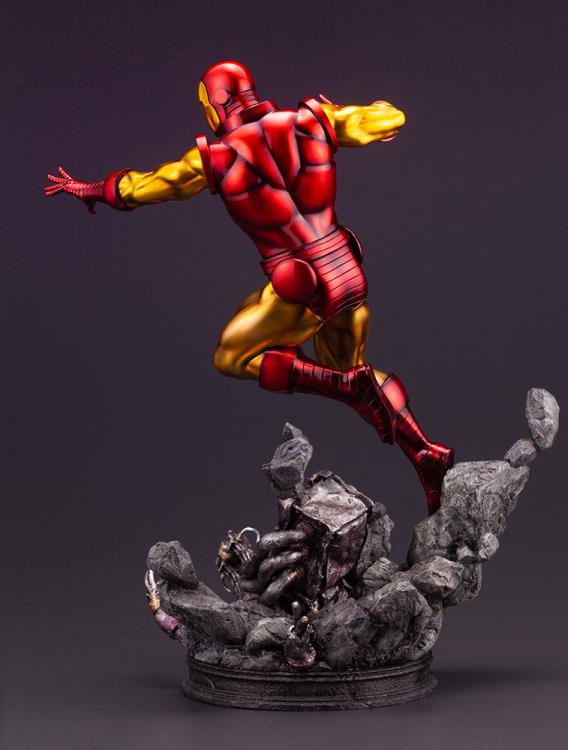 At 16.5" tall and in an action pose, the 1/6 Iron Man resin statue is a very fair value in the contemporary statue marketplace at $329, despite being priced marginally higher than longtime fans may remember from Koto's past offerings. The cost of statues has gone up greatly industry-wide, and at this point, $329 is genuinely a lower price than you would pay for a statue of this size from almost any other company producing Marvel collectibles (that isn't Diamond Select Toys).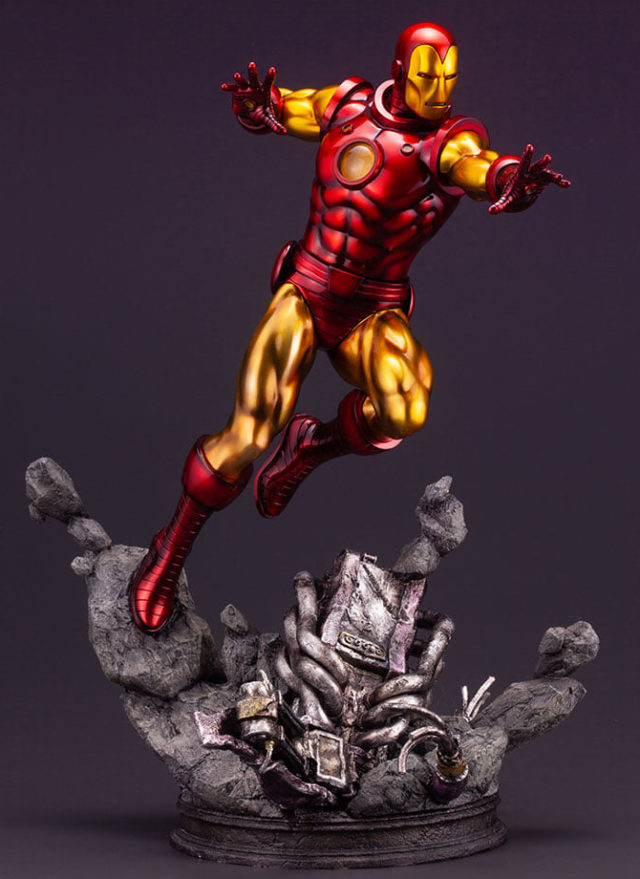 Kotobukiya is referring to this as their recent Marvel resin statues as their Fine Art "Renewal" series, in which all of the pieces have been designed in dynamic poses fit for battle scenes.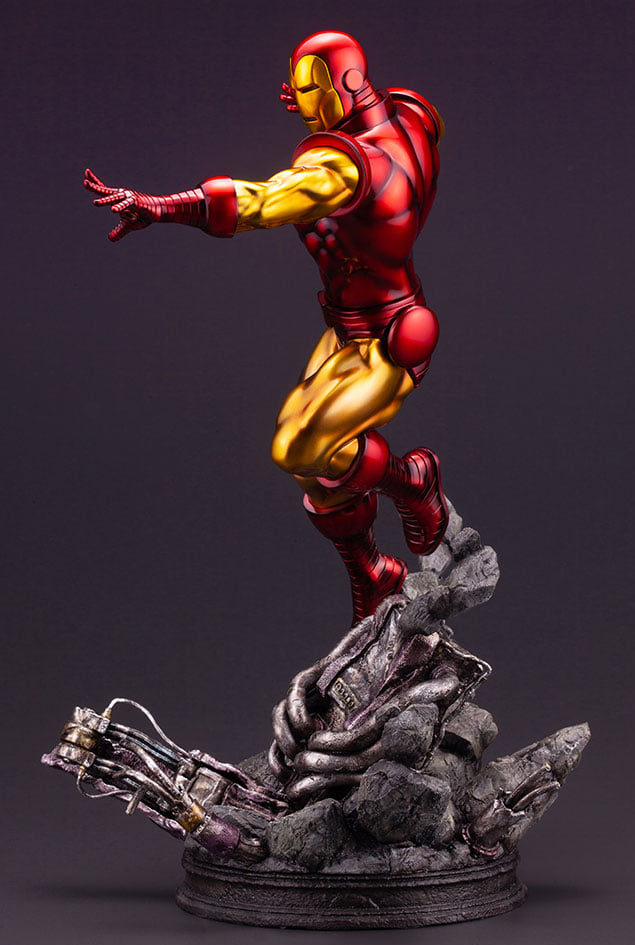 The first thing that struck me upon seeing this Iron Man Kotobukiya statue was how reminiscent the pose was of ones that Iron Studios has designed for their 1/4 and 1/10 Iron Man movie statues. It's rare to see classic comic-inspired Iron Man statues in action poses, but this is eerily similar to the poses Iron Studios employs for their movie Iron Man statues.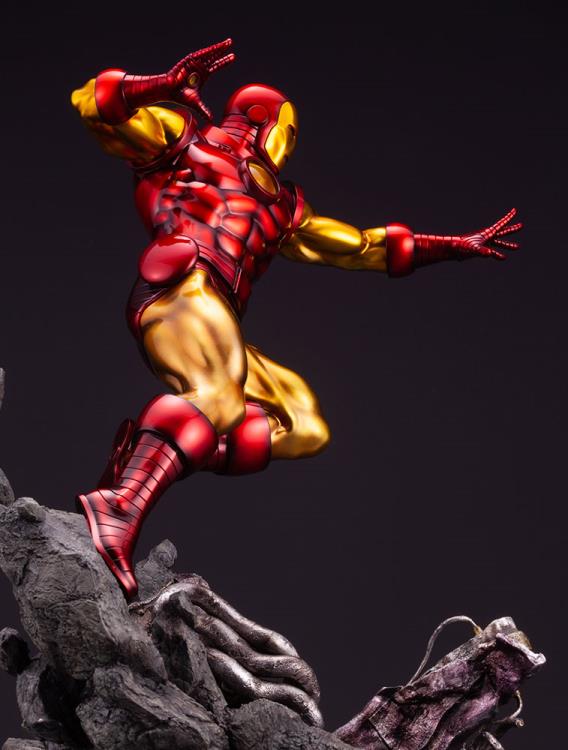 However, the pose ends up looking clumsily-executed to me. Depending on what angle you're looking at this statue from, it legitimately feels like Iron Man is falling over from some angles. With no repulsor coming out of his boots and one foot awkwardly angled on the base, it does not look at all to me like Iron Man is confidently striding forward to attack.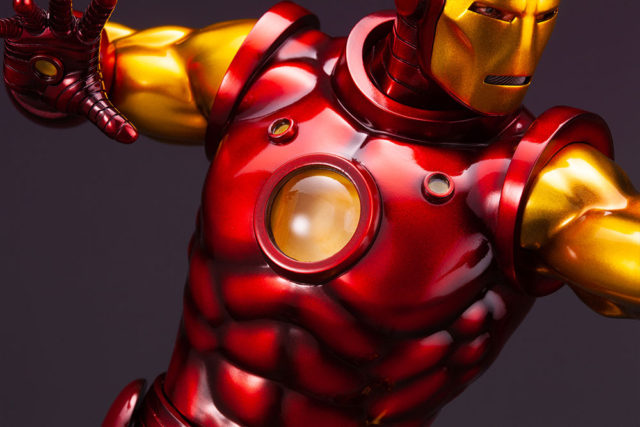 Pose aside, the work here by Kotobukiya has been competently done. The red and gold metallic paints look appropriately shiny and suitable for metal armor, and the black paint shading surrounding the armor's detailing and musculature is a high point of the deco.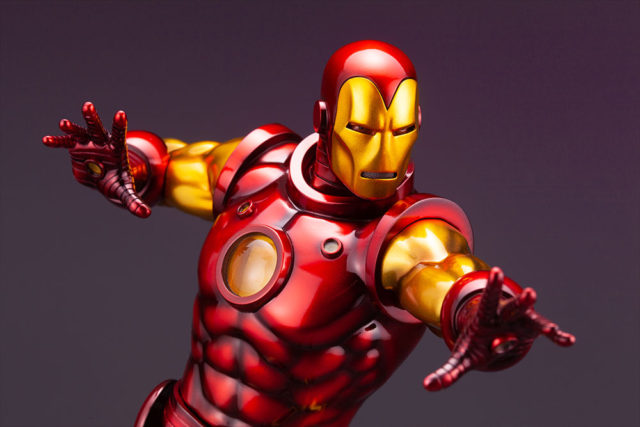 A detail I especially like on this figure is that you can actually see Tony Stark's eyes through the slits in the helmet's eye holes. In most instances, comic book Iron Man statues just have black slits in their helmets instead of actually human eyes. So seeing so much of Tony's eyes there inside of the mask definitely is a notable detail that really gives this piece its own flavor.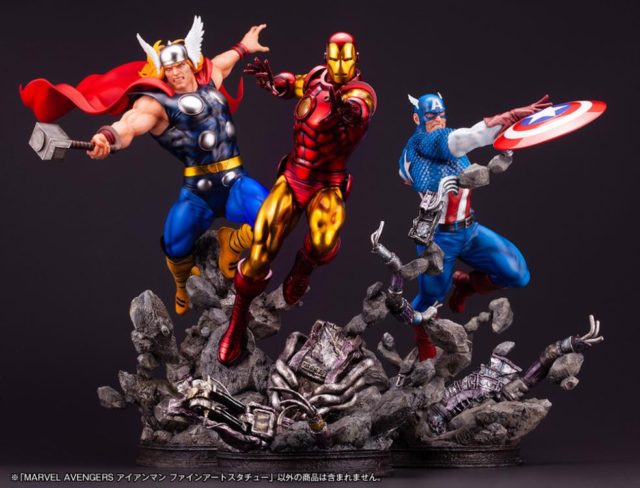 As a combined diorama-like set of statues, I think that these 3 pieces as a whole look greater than the sum of their parts. Each of these three Avengers statues has weaknesses as a solo act, but when you create the entire scene, it makes up for a lot of the shortcomings of the individual pieces. The bases makes a lot more sense in this fashion when merged together, and the Big 3 core Avengers look more impressive attacking in tandem.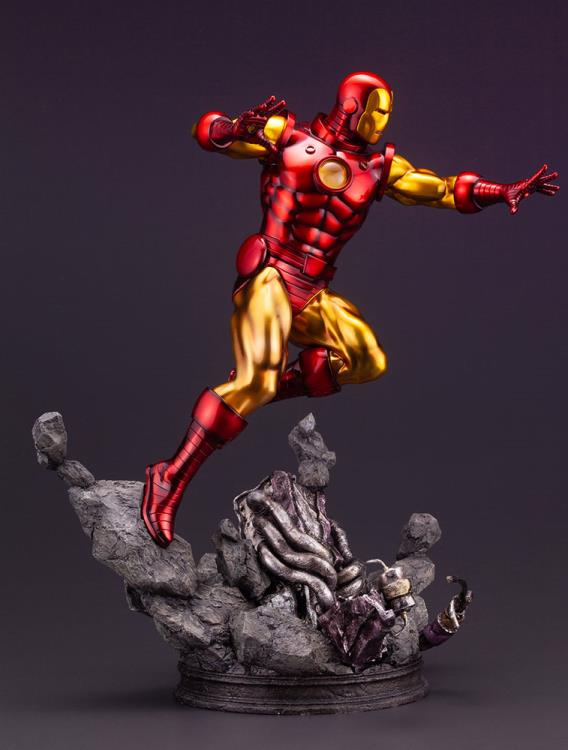 However, even as one combined piece, there are some design flaws that bother me. Primarily, I don't like how Iron Man is clearly veering off to his left, despite being in the middle of the diorama. Having the central figure at an odd angle makes the diorama as a whole look off-balance.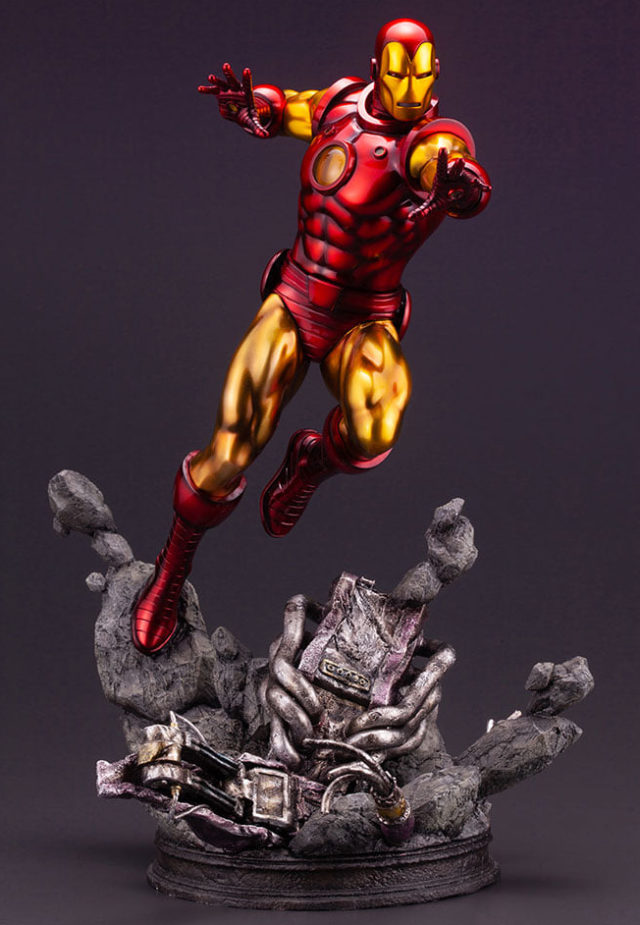 Estimated to arrive in February 2022, the Avengers Fine Art Iron Man statue is now available for order. The Captain America in this series surprisingly sold out via many specialty retailers during pre-orders, so Kotobukiya has a potential hit on their hands with this series. Be sure to reserve an Iron Man early from this set if you're certain that you're going to want one, as it seems likely it will also sell out prior to arriving if this series' popularity keeps up.
What are your impressions of this Iron Man resin statue? Is my evaluation of Koto's handiwork too harsh, and are you contemplating snatching this piece for your own collection?
your own collection?
The post Kotobukiya Iron Man Fine Art Statue Up for Order! (Marvel Comics Avengers) appeared first on Marvel Toy News.