Over the weekend, I was gushing about how downright amazing I thought the Iron Studios Infinity War Thanos 1:10 scale Statue was. Little did I know that just a few days later, Koto would be surprising us all with a last-minute Mad Titan reveal of their own: the Kotobukiya Infinity War Thanos ARTFX+ Statue is now up for order! How does it stack up to the competition's statues? Let's have a look…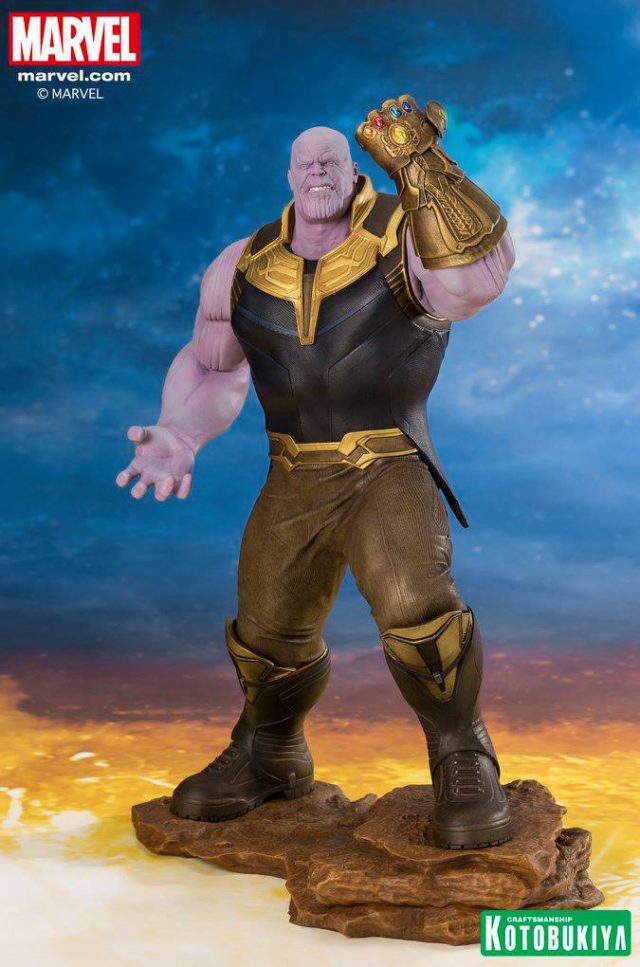 In my old ages, I sometimes forget things. And one of those things was that Kotobukiya sometimes will release 1/10th scale ARTFX+ statues from the Marvel Cinematic Universe movies (in addition to their 1:6 ARTFX statues). So when I saw Koto solicit an ARTFX+ Avengers Infinity War movie statue this week, I was well and truly stunned.
Kotobukiya previously released ARTFX+ Rocket & Groot from the first Guardians of the Galaxy movie, Hulkbuster Iron Man and Hulk from Avengers Age of Ultron, and Captain America and Iron Man from Civil War. And now, for Infinity War, it's villain time: the first ARTFX+ Thanos Statue!
Believe it or not, this is the very first time Kotobukiya has released a statue of the movie version of any MCU villain (alas, poor Malekith). But with Thanos being the MCU villain to end all MCU villains, there's no more suitable character to receive that honor than the Mad Titan himself.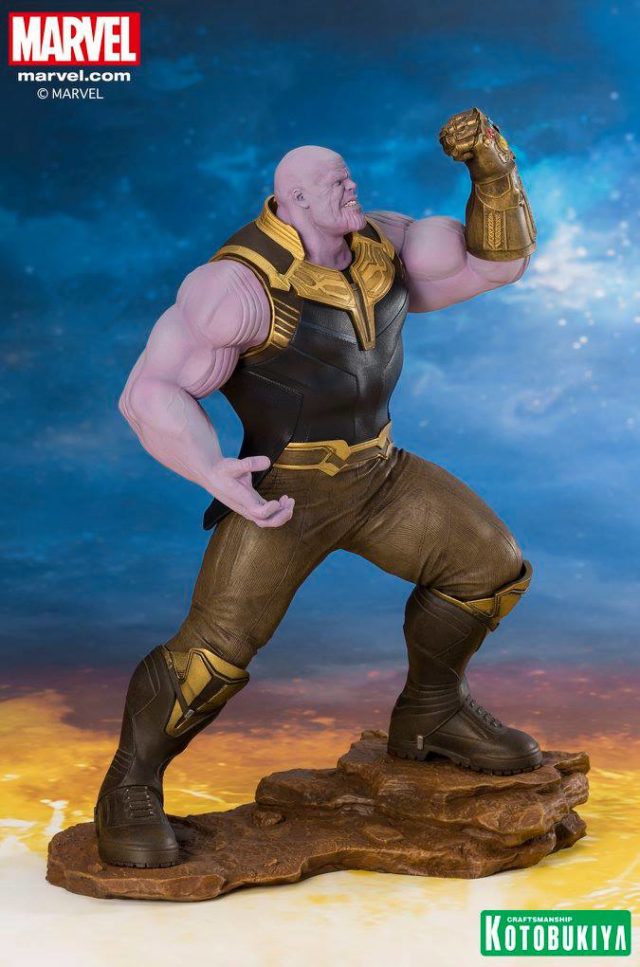 Koto's Thanos PVC statue will stand just over 11" tall upon a rocky terrain base. The base itself is pretty dull, but I'll always prefer an environmental base like this one to the plain black rectangles that often come with ARTFX+ statues.
Size-wise—11" is pretty huge for a 1/10th scale statue. Assuming Thanos is a bit of 9 feet tall in the movie, though, then that height is accurate.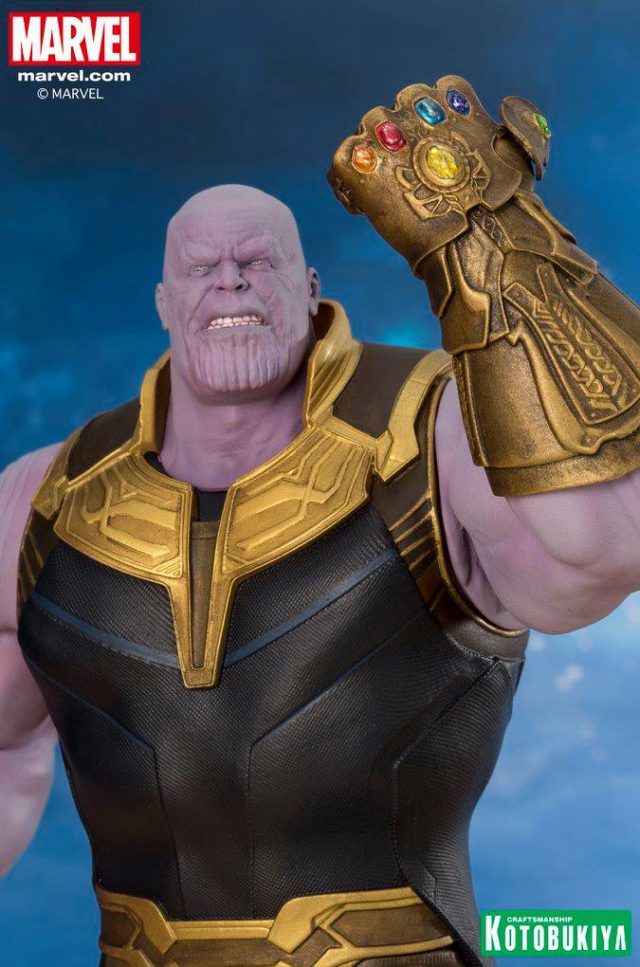 As far as the design and sculpting of the actual statues goes, it's… "not bad". The highlight is the Infinity Gauntlet, which looks outstanding. Meanwhile, Thanos' squinty-looking tiny eyes are the low point for me. They look very strange in these photos.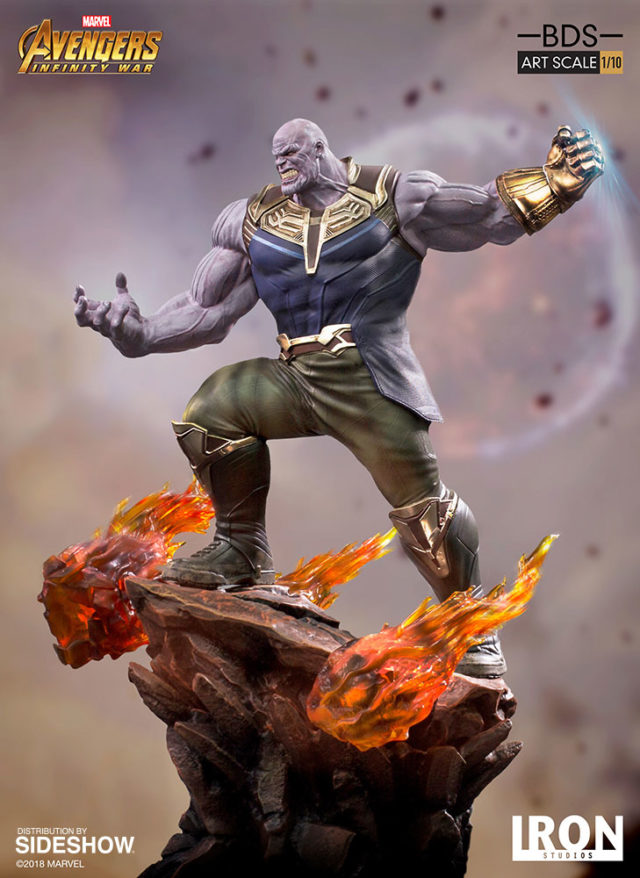 Comparing this to other Thanos movie statues… the resin Iron Studios Thanos annihilates this PVC, unfortunately (in my opinion). I feel like the sculpting details just aren't as sharp or plentiful here as in the Iron Studios one, and it's making it tough for me personally to get excited about this version.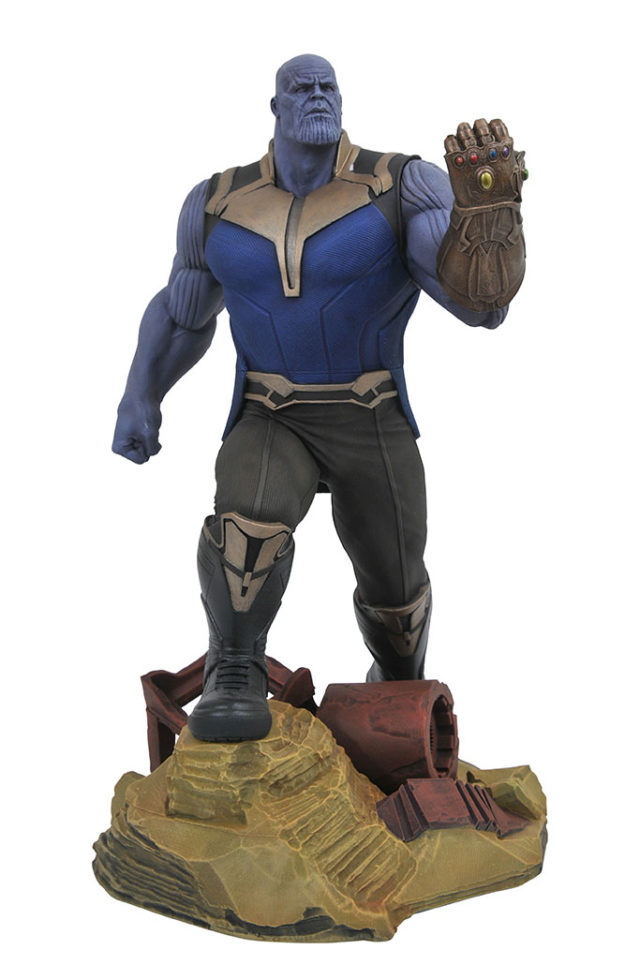 It also doesn't help that Diamond Select Toys has their own 9" Marvel Gallery Thanos PVC statue coming out for less than half the price of this one, and with a pose that I like more. Koto will almost assuredly have better paint deco, but if it's a question of $100 vs. $40, I might be willing to deal with paint that's not quite as well-done.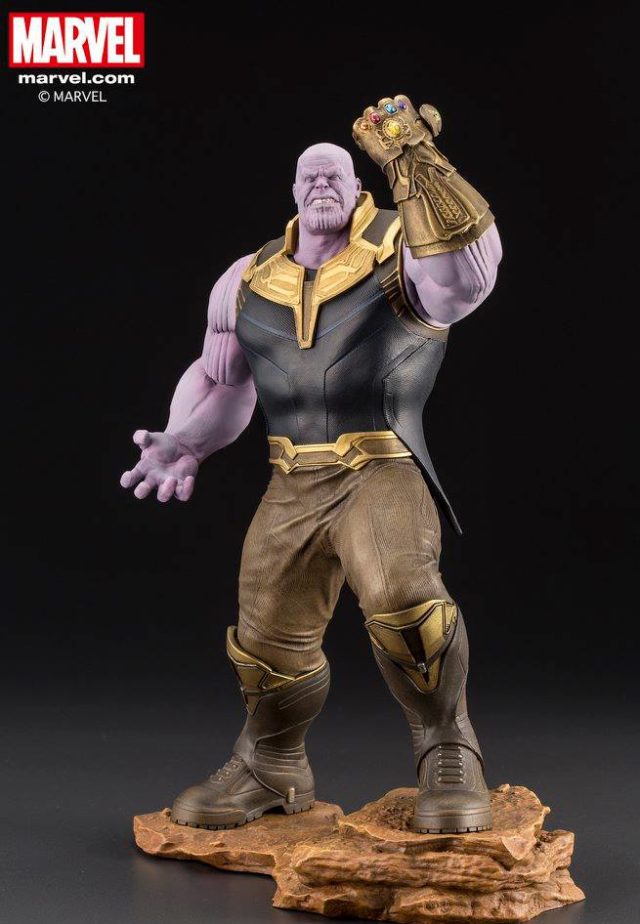 The Avengers Infinity War Thanos Kotobukiya ARTFX+ Statue is now up for order, and is scheduled to be released in November 2018. EE has the best deal around with their free shipping and $10 off pre-order discount. Kotobukiya usually adheres to their schedule like clockwork, so if you're wanting this as a holiday gift for someone (or yourself), it's a pretty fair lock that this will arrive with plenty of time.
Alright, Thanos fans, let's hear it! With so many Thanos statues on the market right now, how do you think this Thanos ARTFX+ Statue stacks up and which one is your favorite? Will you be picking up any Thanos statues yourself this year?
The post Kotobukiya Infinity War Thanos ARTFX+ Statue Up for Order! appeared first on Marvel Toy News.