Last week I discussed half of Iron Studios' latest round of 1:10 scale X-Men Battle Diorama Series statues by looking at a quartet of new pieces including Sabretooth, Pyro, Colossus and Omega Red. But IS has gone all-in on the X-Men, and there's still another trifecta of heavy-hitter headliners to preview: the Iron Studios Jean Grey, Emma Frost and Bishop BDS statues are all up for order now! Does IS continue their hot streak with more definitive versions of iconic X-Men team members…?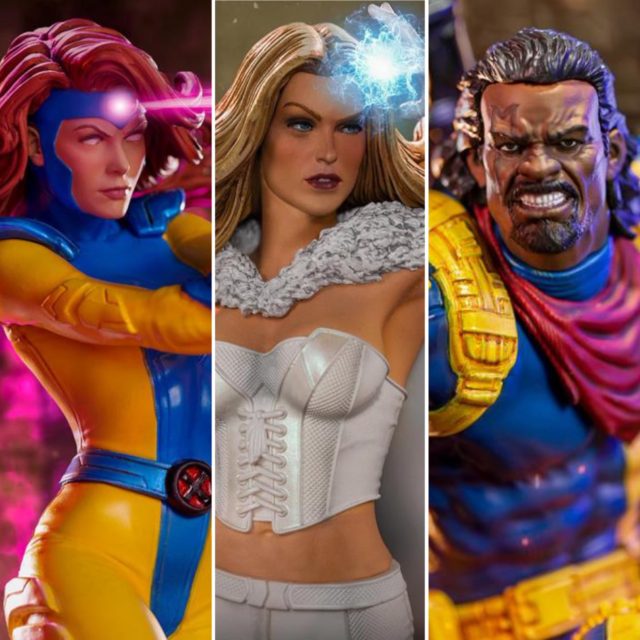 If it's possible to have too much of a good thing, I think Iron Studios might be approaching that point now. Their X-Men line is becoming insanely expansive, and anyone planning on being a completist with it is likely $5000+ deep in pre-orders at this point. This is not a series for the weak of heart, that's for sure!
Not only is Iron Studios releasing versions of most of the various X-Men characters both with and without giant Sentinel statue dioramas, but there's also a variety of "standalone" pieces that aren't available with Sentinels at all. The latest seven releases discussed last weekend and today are all part of the "complementary standalone" range, and will run collectors who want them all about 1300 bucks. Yipes.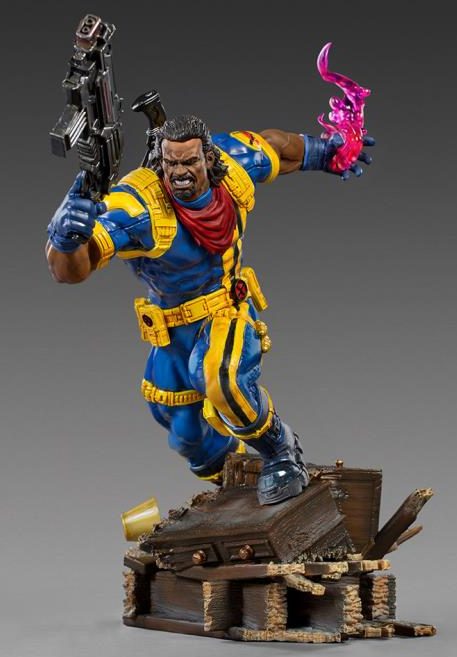 That said, I am hard-pressed to say that I think any of these new releases are "easy passes" for fans of the characters. Iron Studios Bishop, for example, is the first resin version of the character since the Bowen Designs statue released over half a decade ago.
Bishop is posed dynamically, running forward with a BFG clutched in his right hand and his left hand forming up energy for a blast. I think the design here is really nice, although I'd prefer if his left hand was in more of a fist for gathering an energy blast. A nice piece overall of a character I wouldn't want a comprehensive X-Men display to be without.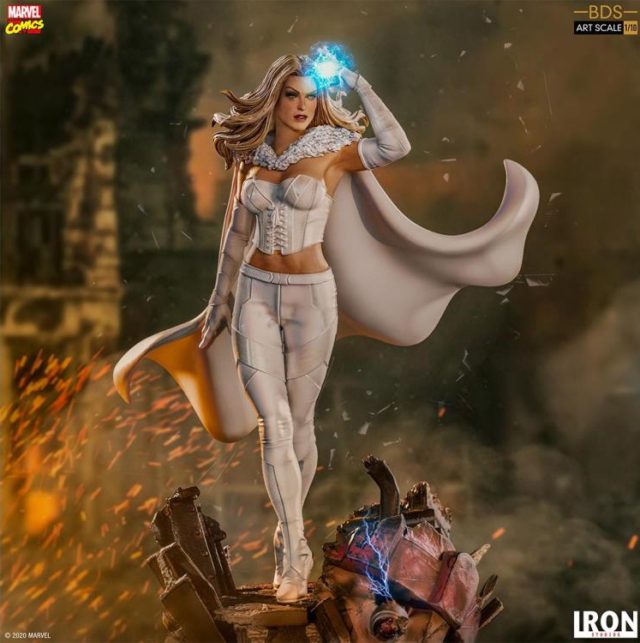 White Queen Emma Frost is another 1/10 scale victory for Iron Studios, as I think they have frankly topped the much larger 1/4 efforts of XM Studios and Sideshow Collectibles as far as the body sculpt, pose and costume go.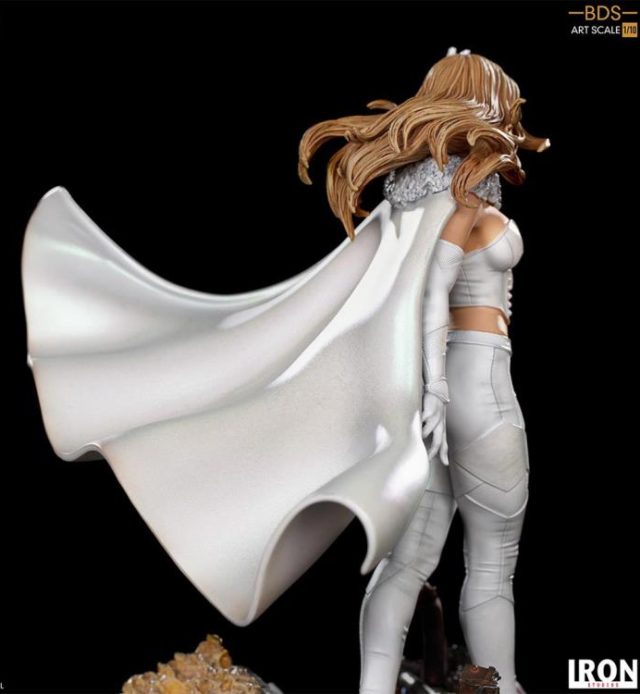 The face sculpt I'm not 100% sold on just yet. It's very difficult to nail a portrait in the tiny 1:10 scale, and I really want to see Iron Studios Emma Frost in person before I pass judgment on the head. And I will see her in person—because this is another must-have if you're collecting this X-Men statue line.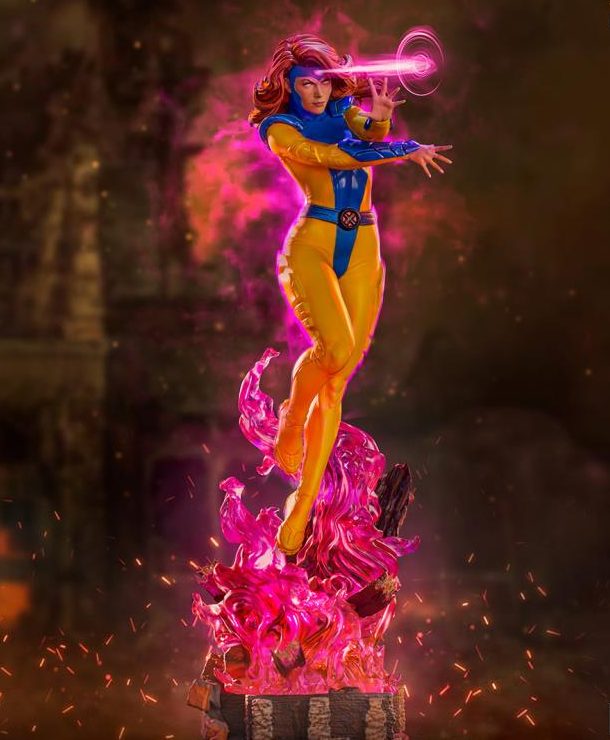 Finally, we have what I expect to be the last member of the X-Men that Iron Studios adds to this lineup (unless they get the go-ahead to do a Nightcrawler): Jean Grey.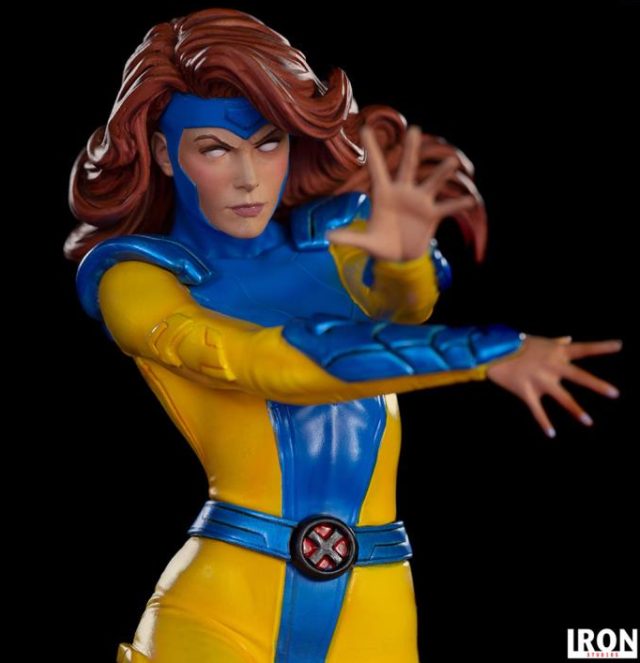 I am very satisfied with my 1/4 Sideshow Jean Grey Premium Format Figure that I got earlier this year, but it wouldn't make sense to me to not nab this keystone X-Men members in the 1:10 scale as well. The pose she's in is powerful, and I'm impressed to see the way her hands are positioned for manipulating objects with psychic energy.
The Iron Studios Jean Grey, Bishop and Emma Frost statues are all up for order now and due out in 2021. Overall, I am a huge fan of this whole X-Men Iron Studios series, and I only regret that it's all coming out within about a one-year span, meaning that it will be near-impossible for many collectors to afford. Gorgeous stuf that I wish IS had spread out a little bit more.
How are you enjoying this onslaught (no pun intended) of resin X-Men figures from Iron Studios, Marvel collectors? Is the sheer quantity of these in the pipeline putting a stranglehold on your wallet and ability to collect the line, or are there still characters you hope to see added on before the end of the series (Silver Samurai and Blob are the only announced characters still not shown)?
The post Iron Studios X-Men Jean Grey Emma Frost & Bishop Statues Photos & Order Info! appeared first on Marvel Toy News.