Iron Studios is one who company that the casual collector awareness of grew explosively for in 2018, largely due to their enormously popular (and expansive!) line of reasonably-priced resin Avengers Infinity War statues. But to close out the year, the banner piece they've solicited isn't movie-based—it's classic comic book fan all the way: the Iron Studios Hobgoblin Statue is now up for order! Between this and the DST statue, Hobgoblin fans are gonna have quite a choice to make in 2019…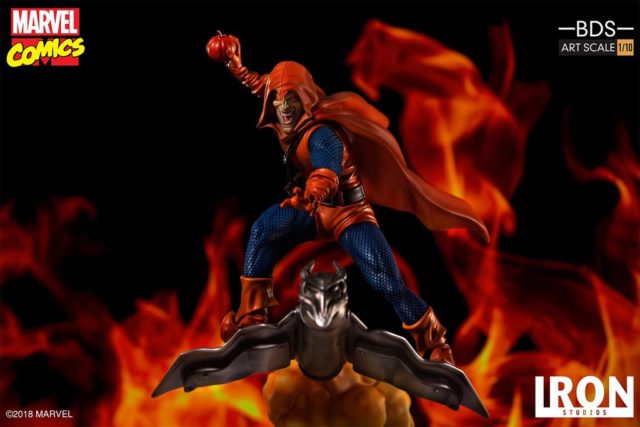 For several years, Iron Studios flew a little bit under the radar of general Marvel collectors. But with the massive success of their Avengers Infinity War Battle Diorama Series in 2018, there's little question that awareness of the company in collector consciousness grew exponentially this year.
But while they've made their name with most collectors primarily via MCU movie statues, they also have a long-running line of comic book statues. And the next entry in the line will be a Spider-Man villain that we don't see getting the high-end spotlight all that often: the Hobgoblin!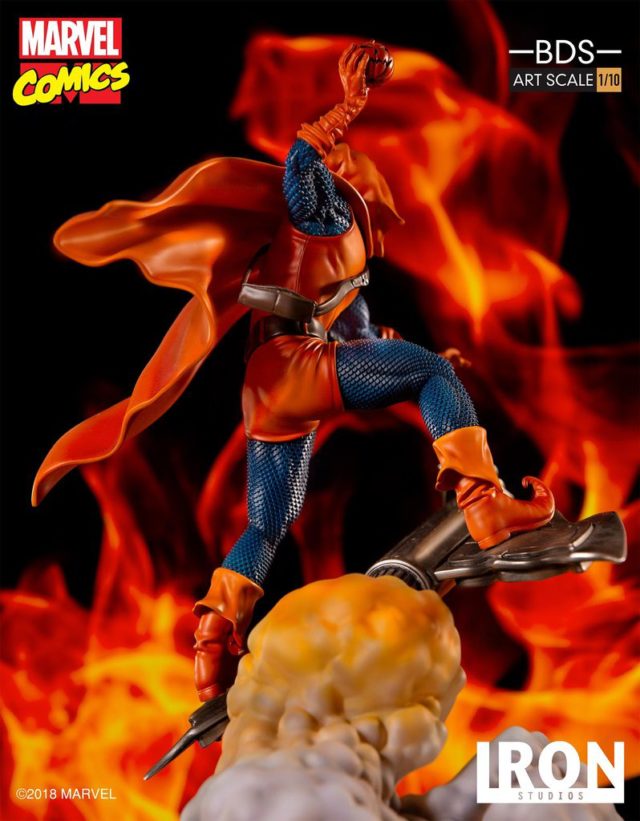 If you've got an "iconic" Hobgoblin image in your head, it's probably that of Ned Leeds perched on his Goblin Glider, with clouds of gray smoke billowing behind and a pumpkin bomb clutched in Hobby's hand. THIS is that quintessential Hobgoblin. And priced at $125, this is also a 12" piece that almost every major fan of the character will be able to afford.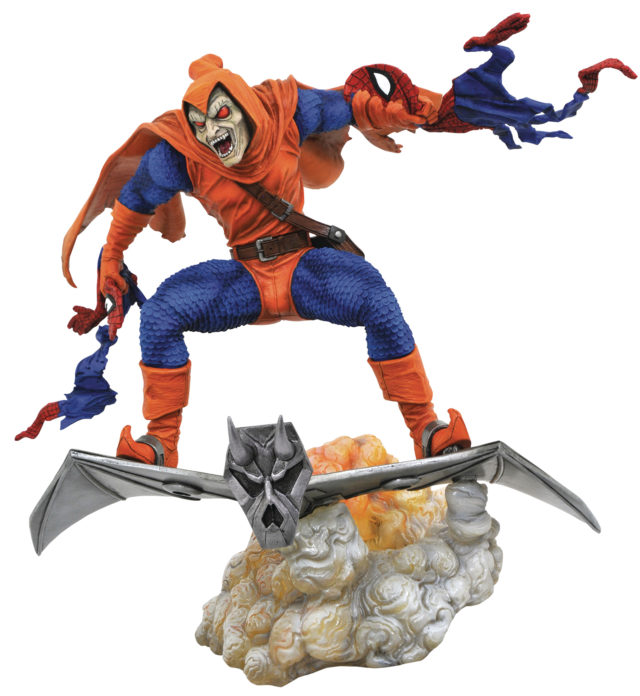 Now, by coincidence, Diamond Select Toys also happens to have a classic Hobgoblin resin statue in the works for 2019. With two major companies making Hobgoblins, what's a guy to do: which is the better representation of the character and the better piece overall?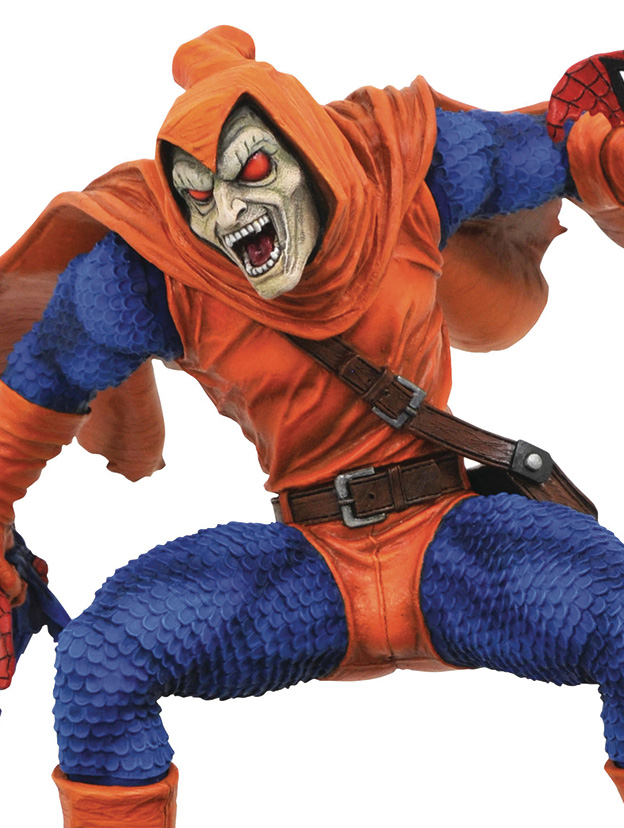 Ordinarily I feel like it's easy to choose one statue of a character over another, but this is a case where I'm legitimately torn. The DST Hobgoblin Premier Collection Statue will be much bigger (1:6 scale) and have a lot more shelf presence, and priced at $135 shipped only costs a hair more than the Iron Studios version.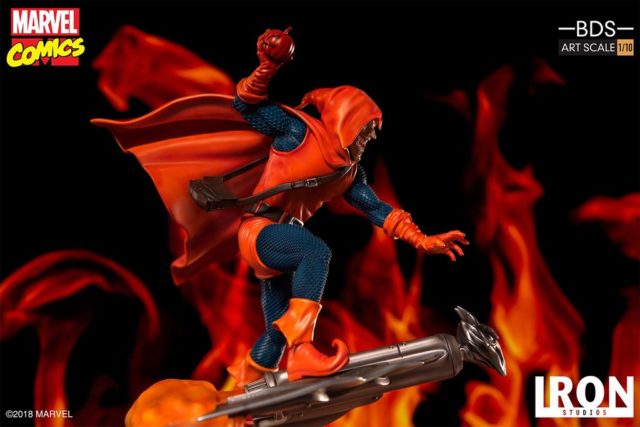 Meanwhile, the IS Hobgoblin BDS figure will take up a lot less shelf space (1:10 scale), cost slightly less ($125 MSRP), probably feature somewhat better paint deco, and isn't based off a specific cover image in the way DST's is. In this instance, I think both pieces are basically equivocally good, and I'm really not sure which is the one for me.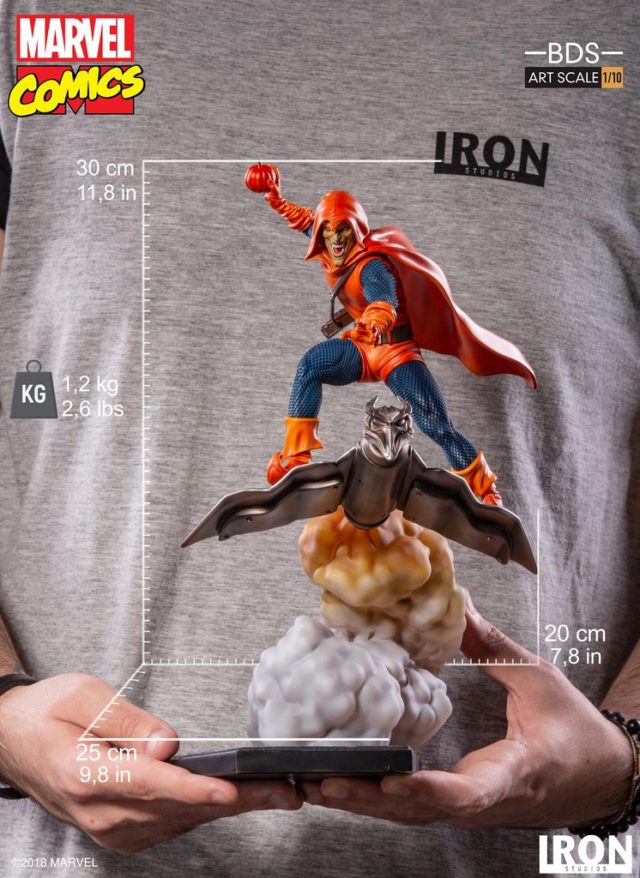 One demographic where Iron Studios has an advantage over almost every other resin statue company is collectors with limited space. Whereas almost all resin statues out there are 1:4 scale (or even larger) these days, Iron Studios pieces have a much smaller footprint with their 1:10 scale.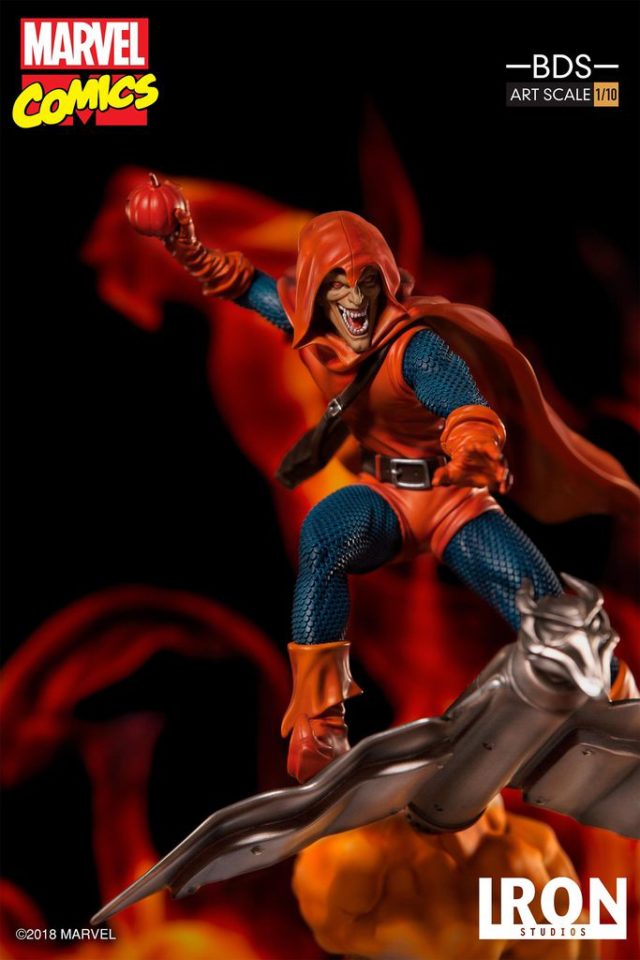 This allows their BDS (Battle Diorama Series) pieces to be priced at a small fraction of most other companies' offerings, and be accessible to those without massive amounts of free space to display their collectibles in.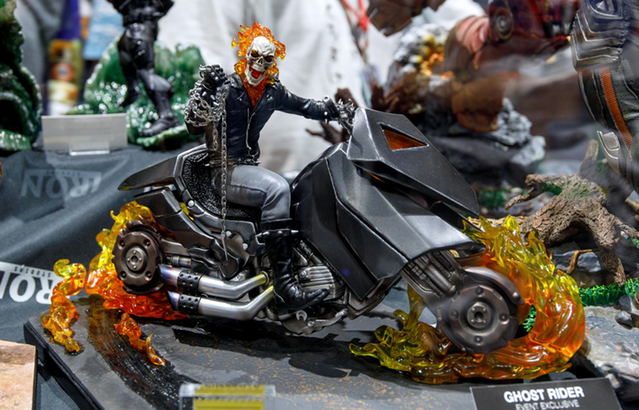 The 1/10th scale also facilitates making pieces that would be logistically difficult for other companies to make, and financially (and spatially) difficult for collectors to buy. Pieces such as the Summer Convention Exclusive Ghost Rider on Motorcycle statue that's expected to be a Sideshow Collectibles exclusive around half a year from now!
I've had my eye on that Ghost Rider since the moment it was revealed, and with this Hobby seemingly intended as a companion piece for that statue, my interest in this BDS Hobgoblin is definitely a lot higher than it otherwise would be.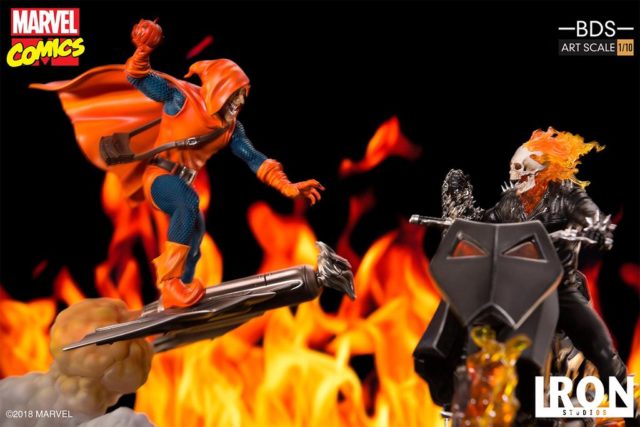 The Marvel Battle Diorama Series Hobgoblin Iron Studios Statue is now up for order, and is expected to ship out in summer 2019. Personally, I'm struggling a bit myself as to whether I want this Hobgoblin or the Marvel Premier Collection version, as I think both bring something different to the character and are also the best statues of the character ever made. Ultimately, I think I may opt for this one just because it'll pair so well with that freaking amazing Ghost Rider that's coming up in the summer.
Which major Hobgoblin statue coming in 2019 do you think reigns supreme, Marvel collectors? Are you planning on picking up the Iron Studios Hobgoblin BDS Statue, the Diamond Select Toys Hobgoblin… or are neither of these goblins up your villainous alley?
The post Iron Studios Hobgoblin Statue Photos & Order Info! Battle Diorama Series appeared first on Marvel Toy News.