Traditionally, MCU statues have lingered for a little while before selling out. But if there's ever been a Marvel movie statue destined to sell out like lightning, this is it: the Iron Studios Avengers Endgame Captain America 1/4 statue with Mjolnir is now up for order! If this doesn't sell out within a few hours, I will be truly shocked! Who's in for what may end up being the most hyped MCU statue ever?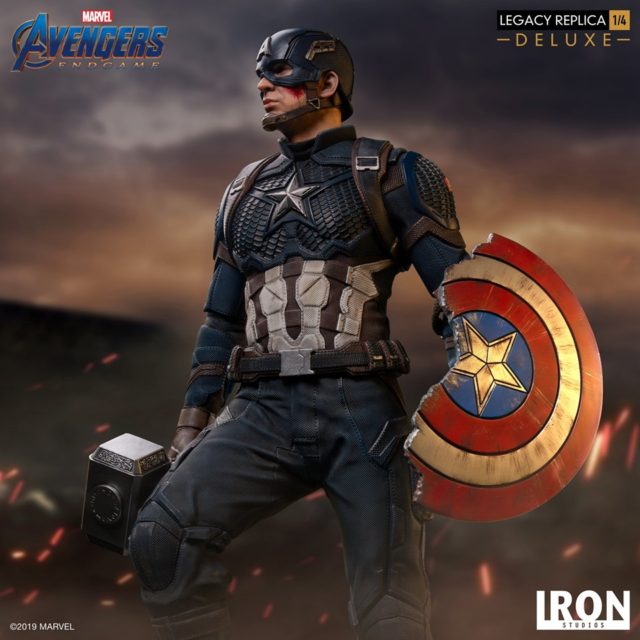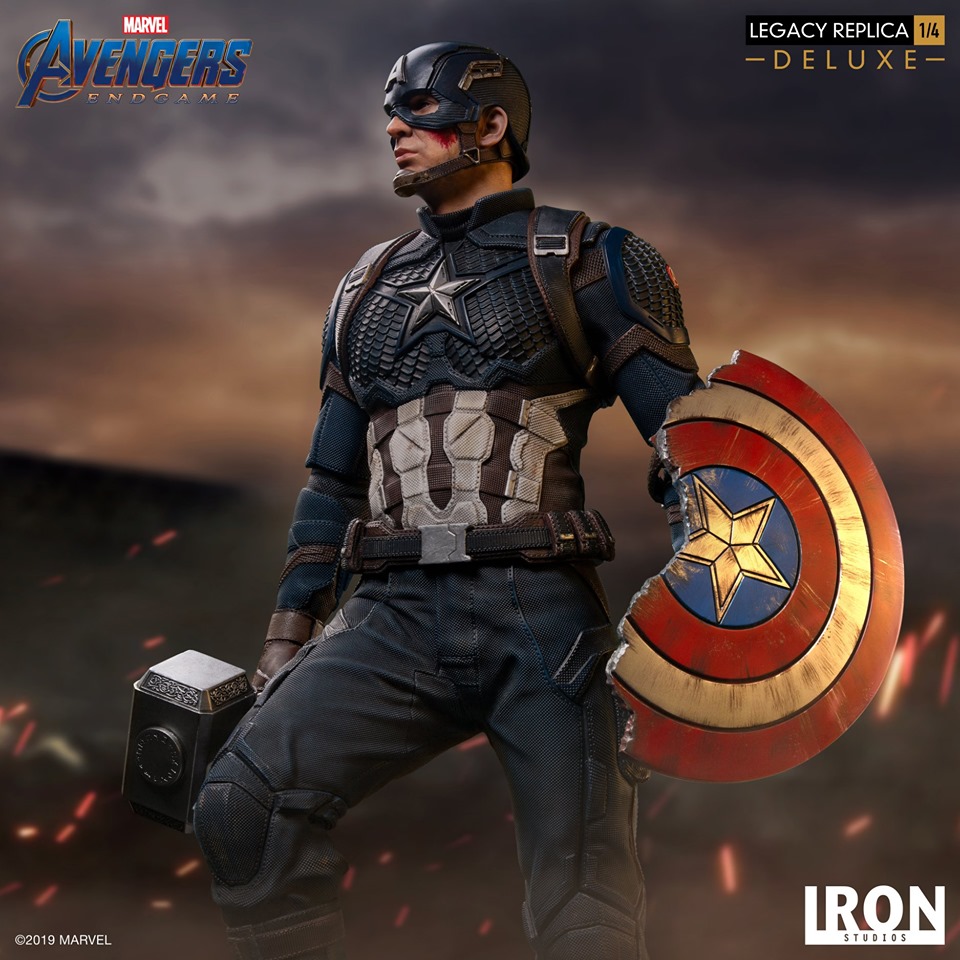 When Iron Studios debuted their Legacy Replicas Endgame Captain America quarter-scale statue while the spoiler ban was still in effect, I wasn't entirely sold on what I saw: Cap just sort of standing around in a museum pose. But oddly enough, once that spoiler embargo ended and we saw Cap posed in all his glory with Mjolnir and the broken shield, this piece went from "Meh" to "Must Have"!
I don't like to throw around words like "grail" lightly, but for Marvel Studios fans, this is unquestionably a grail in the making. Simply awesome.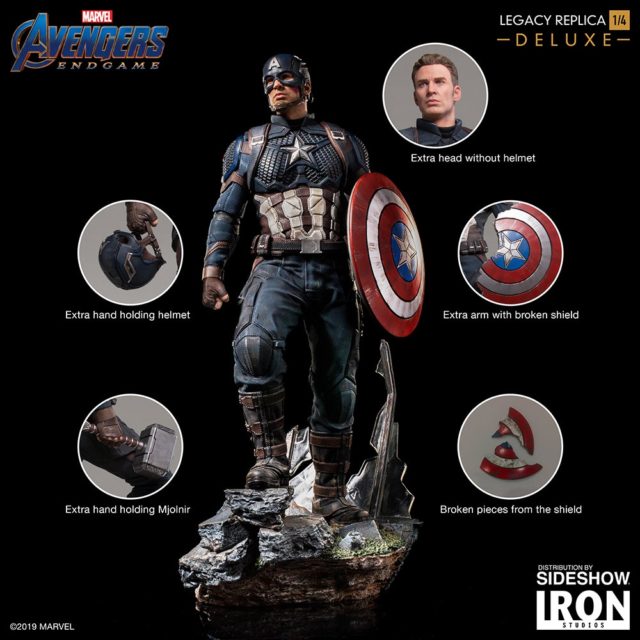 The 23″ tall, 16.5 pound Deluxe Captain America statue includes the following accessories:
Extra head without helmet
Extra hand holding Mjolnir
Extra hand holding helmet
Extra arm holding broken shield
Pieces from the broken shield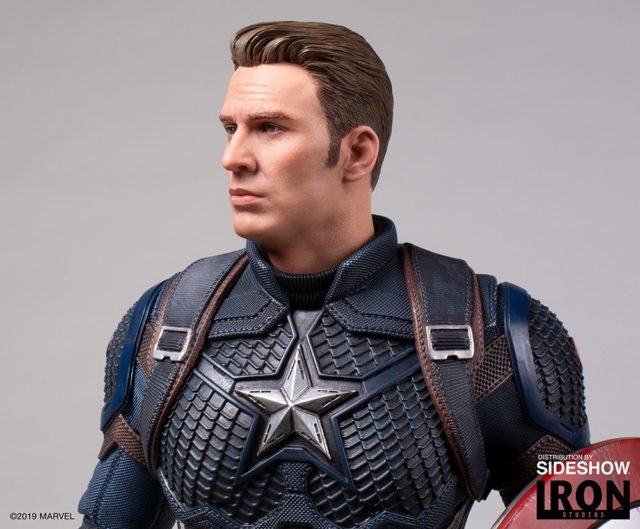 The Chris Evans likeness looks wonderful from some angles and less wonderful from others, but Iron Studios already had my dollars when I saw how gorgeous this statue looks with the mask on. If the Chris Evans Steve Rogers portrait looks better in production, that'll just be a bonus in my eyes.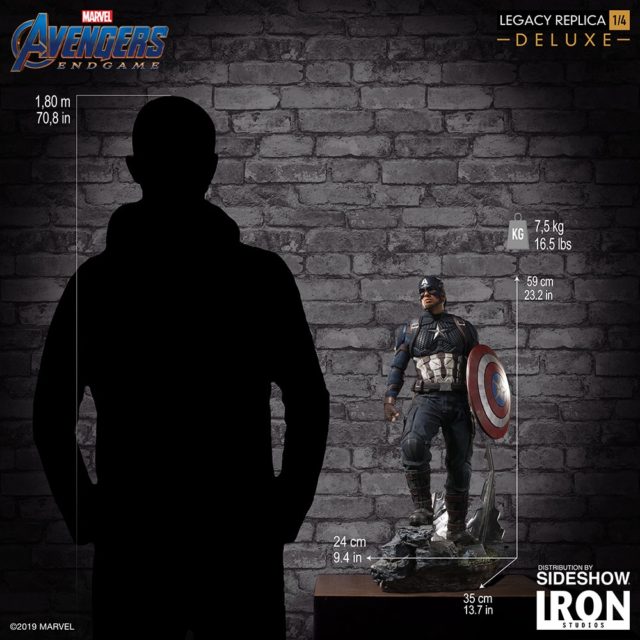 The Iron Studios Age of Ultron Captain America 1:4 statue sells for $900-$1000 these days when you're lucky enough to find one for sale at all, and I think that this is a legit contender to unseat that piece as the most sought-after movie Captain America statue ever released.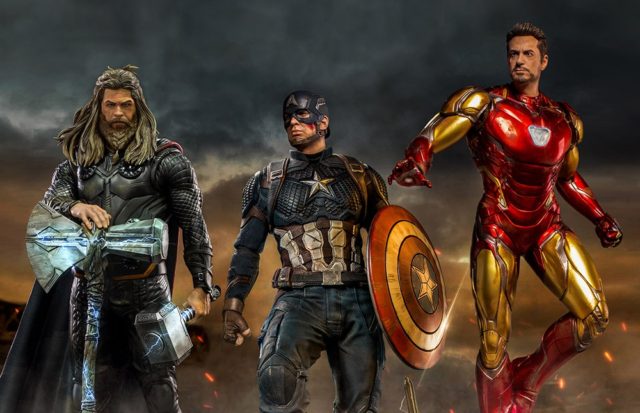 I know that many collectors are going to recoil at the $800 MSRP on this piece, but in this instance, I think it's warranted. Iron Studios keeps their statues to a small run size, and the quality is always, always there. I'm never "excited" to drop close to a grand on a statue, but this is a case where I'm excited for the pre-order in spite of the cost.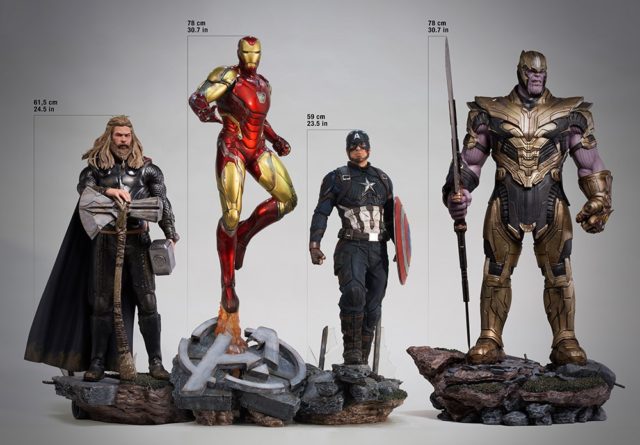 In addition to this Captain America, Iron Studios will be releasing three other Endgame 1/4 statues: Thanos, Iron Man and (their first-ever 1:4) Thor. Thanos looks a little stiff for my tastes, but I love the crap out of that Thor. That's going to be a Day One purchase for me, no questions asked. Notice how the bases for Thor, Iron Man and Captain America also are designed to be displayed lined up to create a mini-terrain of the destroyed Avengers HQ. Love it!
The 1/4 Avengers Endgame Iron Studios Captain America Legacy Replicas Deluxe statue is now up for order, and is scheduled to ship in early 2020. Iron Studios themselves acknowledged in their social media posts that the pre-order for this piece isn't going to be open for very long, and with Avengers movie hype at an all-time high, I absolutely see this selling out in record time.
What do you think of this Captain America statue, Marvel collectors? Is this magnificent piece worthy of its lofty price-point, or are you flabbergasted and totally taken aback by the 800 buck price-tag?
The post Iron Studios Avengers Endgame Captain America 1/4 Statue Up for PO! appeared first on Marvel Toy News.