Hot Toys announces a new 1/6th scale figure series called The Origins Collection, which takes inspiration from the pages of classic Marvel Comics. The first superhero to receive the "Origins" treatment will be Iron Man.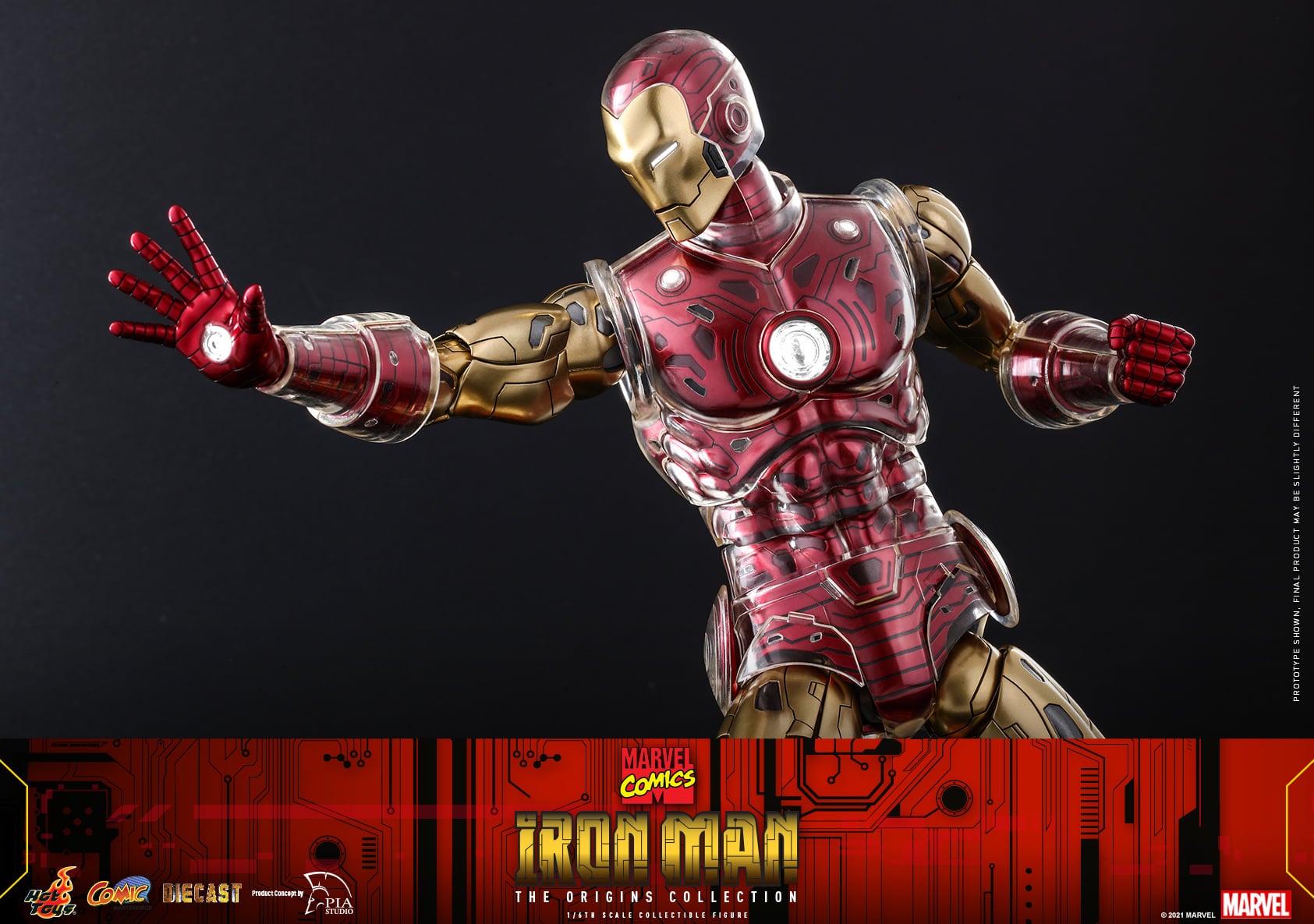 The highly detailed figure features a newly crafted helmet head with LED-light up function; intricately designed armor and structure illustrating its mechanical detail; carefully painted in red and gold coloring with a metallic appearance; crystal clear armor parts, interchangeable mask and armor parts for different styles of display; LED light-up functions scattered throughout the upper body, Arc Reactor on chest and palms; multiple pairs of interchangeable hands for iconic poses.
The Deluxe Version (CMS08D38) includes a signature Iron Man suitcase with articulated function, also an elaborated diorama figure base with LED light up function, allowing fans to explore Tony Stark's high-tech workshop straight from the comic pages, includes articulated gantry arms, extra armor parts, and holographic screen accessories.
Release date: Approximately Q3 – Q4, 2022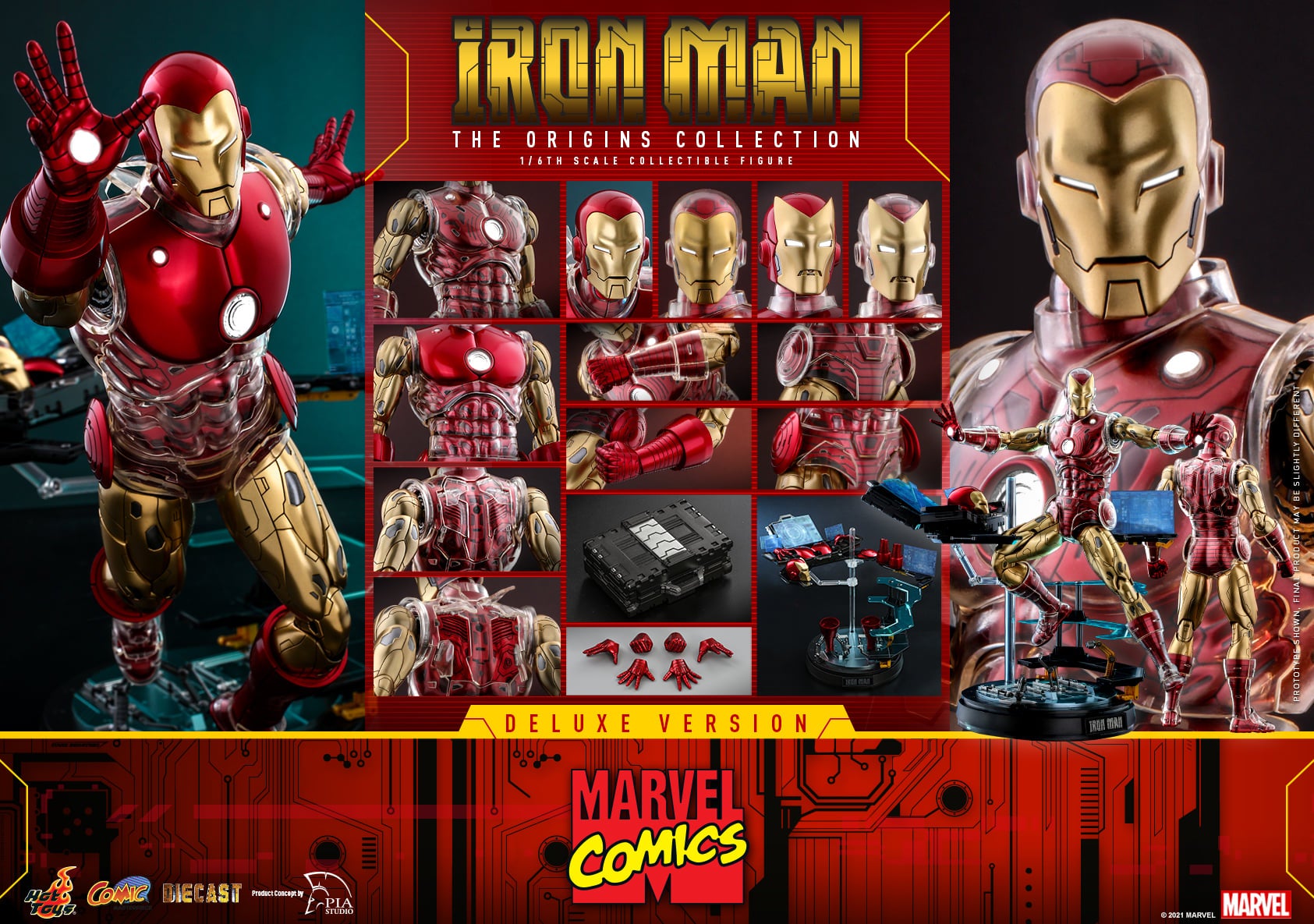 Hot Toys Marvel Comics – 1/6th scale Iron Man Collectible Figure [The Origins Collection] ~ Comics Masterpiece Series Diecast ~
– Authentic and detailed likeness of Iron Man in Marvel Comics
– One (1) newly crafted helmeted head with LED light-up function (white light, battery operated)
– One (1) additional interchangeable mask
– Approximately 33cm tall
– Over 30 points of articulations
– Contains diecast material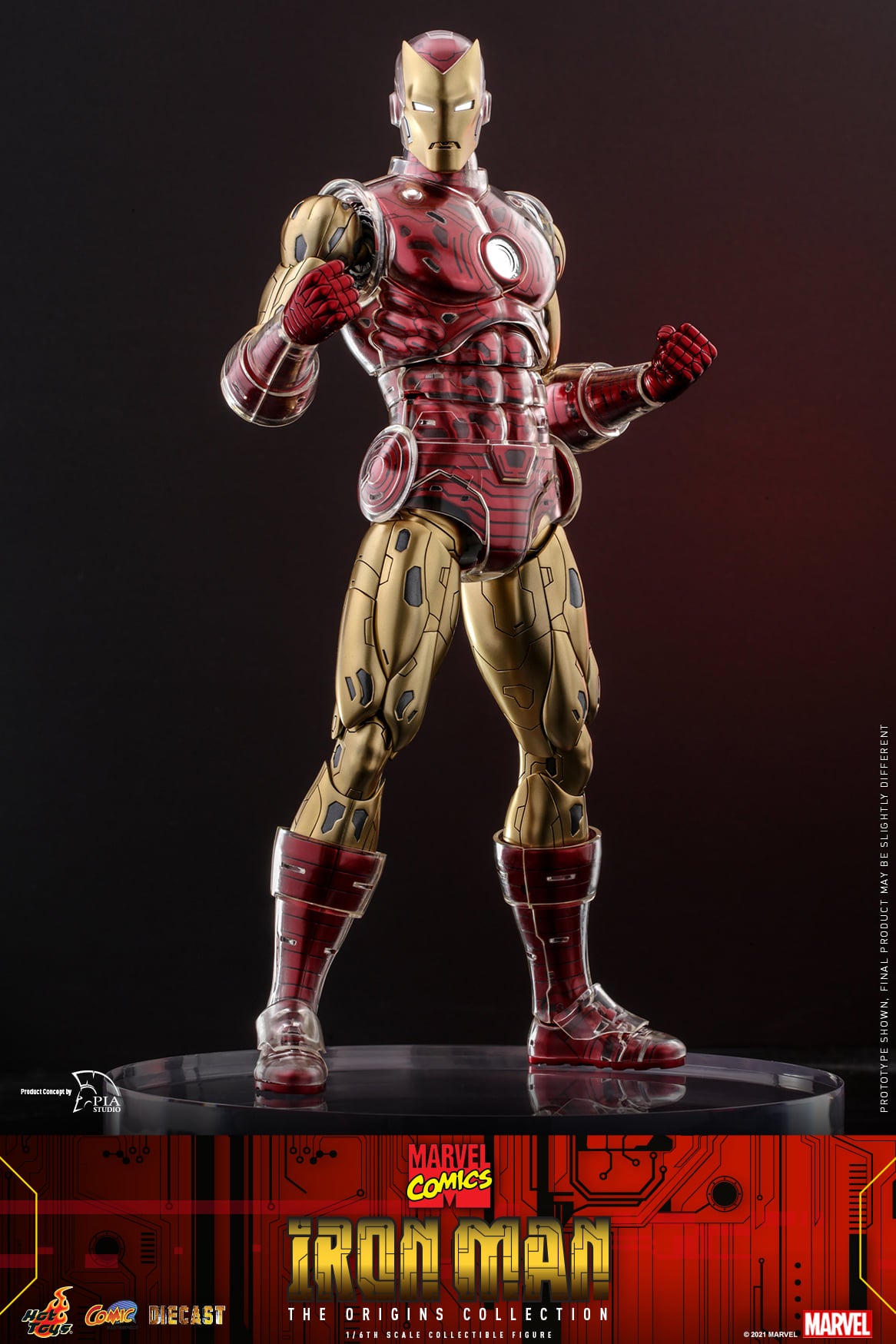 Special features on armor:
– Metallic red and gold colored painting on the sleek and streamline Iron Man armor design
– LED light-up design on the eyes, chest and arc reactor, palms (white light, battery operated)
– Crystal clear armor parts for helmet, upper chest to waist, arms, calves, and foot
– Classic metallic red colored interchangeable armors including:
· One (1) set of helmet armors
· One (1) pair of chest armors
· One (1) pair of forearm armors
· One (1) pair of calf armors
· One (1) pair of countermeasure dispensers
– Three (3) pairs of interchangeable hands including:
– One (1) pair of fists
– One (1) pair of hands with articulated fingers and light-up repulsors (white light, battery operated)
– One (1) pair of battle hands with light-up repulsor (white light, battery operated)
– Articulated air flaps at back of the armor
– Enhanced joint design on legs to allow flexible movement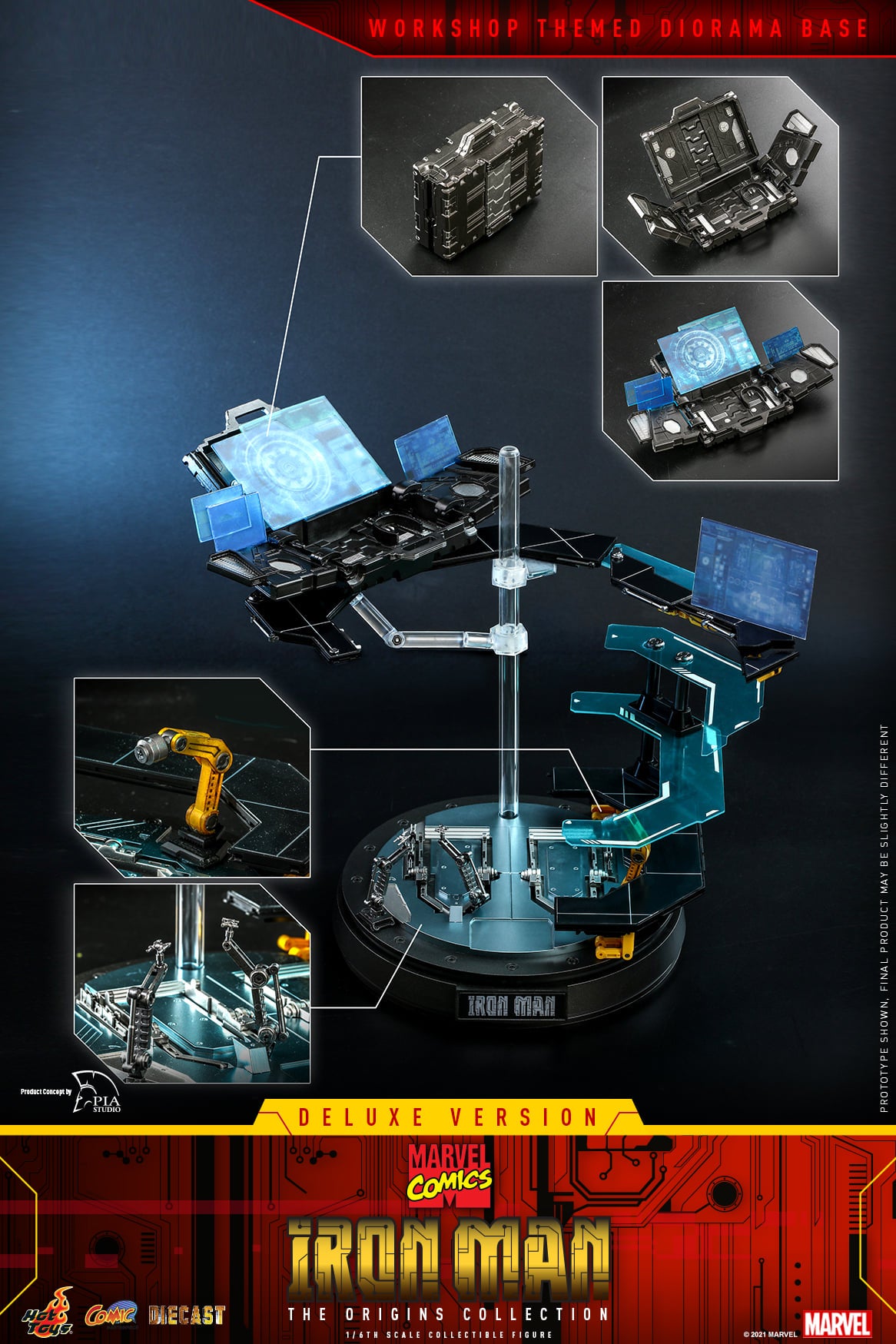 Accessories: *** Exclusive to Deluxe Version
– One (1) Iron Man suitcase (with articulated function)***
– One (1) holographic screen accessory***
– A Specially designed workshop themed diorama figure stand features LED light up function, including elements of gantry arms with articulated function, and extra armor assembling parts***
Artists:
– 3D designed by Pia Sylphid
– Product Concept by Pia Studio
*Prototype shown, final product may be slightly different
**Battery included for collectible figure, button cells are required.
***Product details could be subjected to change without further notice.
[See image gallery at www.figures.com]
---