WandaVision wrapped up on Disney+ at the beginning of March 2021, and Hot Toys was primed and ready to roll soon afterwards with pre-orders for their new WandaVision Vision and Scarlet Witch sixth scale figures. It seemed like that pair might be all we were getting from the hit MCU series when we didn't hear anything else for four more months, but Hot Toys hit fans with a one-two punch last week when they not only showed off an improved Scarlet Witch portrait, but also debuted and put a White Vision sixth scale figure up for order as well!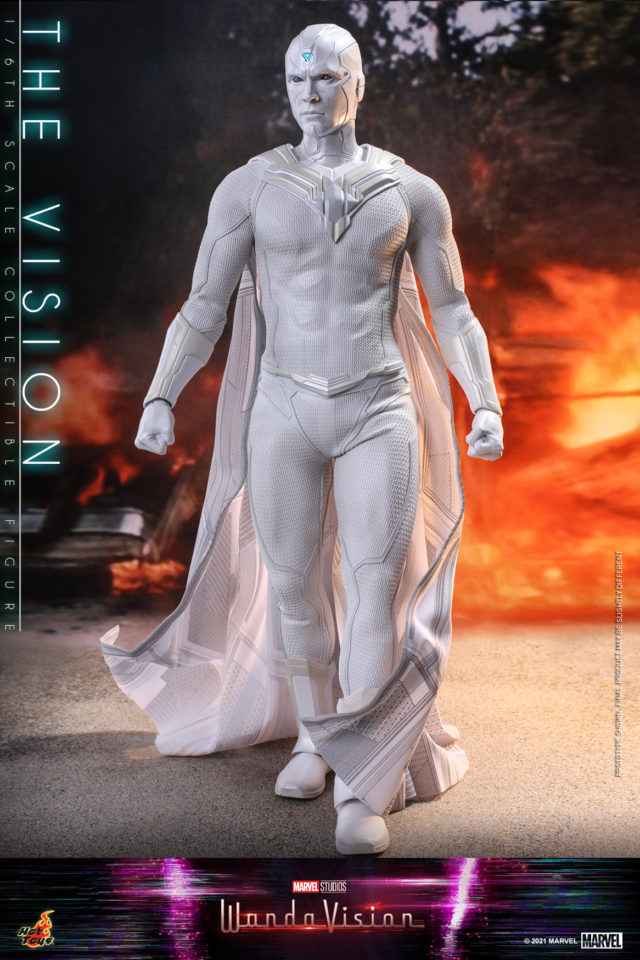 Earlier today I discussed the Neon Tech Iron Man Infinity War and Cyborg Spider-Man figures that Hot Toys has announced for their Toy Fair 2021 exclusives, but that's not their only recent Marvel updates. Rounding out the announcements with some news from last week, we've also got a solicitation for a Hot Toys WandaVision White Vision figure, arriving fashionably late after the WandaVision Scarlet Witch and (normal) Vision figure solicitations.
It's my opinion that most collectors prefer the green and pink Vision to the white iteration that showed up toward the end of WandaVision, so Hot Toys may end up wishing that they could have swapped the sequence these were opened up for pre-orders, as I think this white Vision 1/6 would have fared better sales-wise before the other one was was available.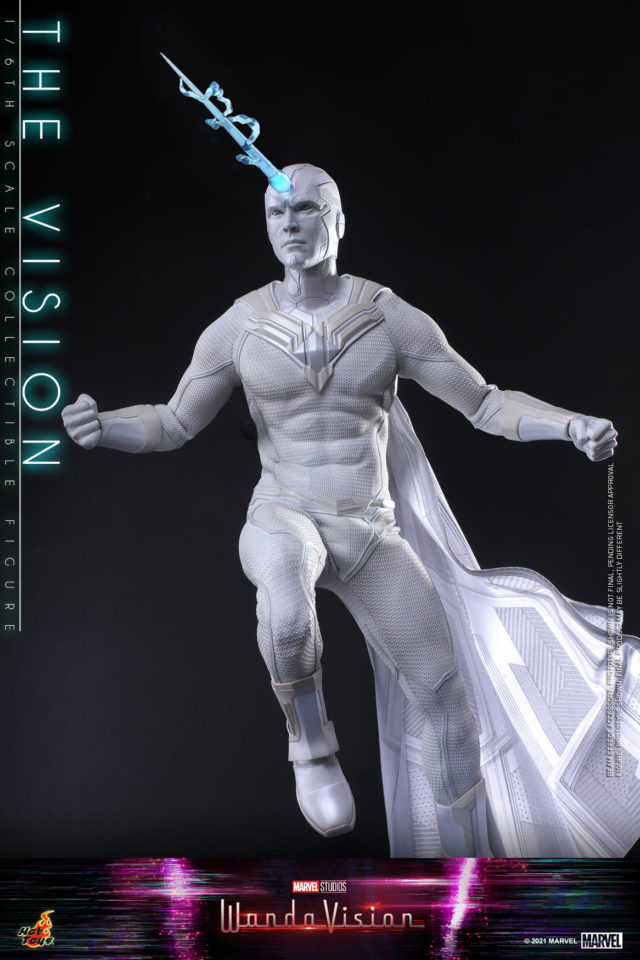 That said, I think this figure will still sell just fine for itself, as it comes with an energy beam effects piece for Vision's forehead that a lot of fans were requesting for the regular WandaVision release (and didn't get), and is also a significant departure in appearance from how The Vision looked in the MCU Phase II and Phase III movies, rather than just a minor costume change that's easier for collectors to skip.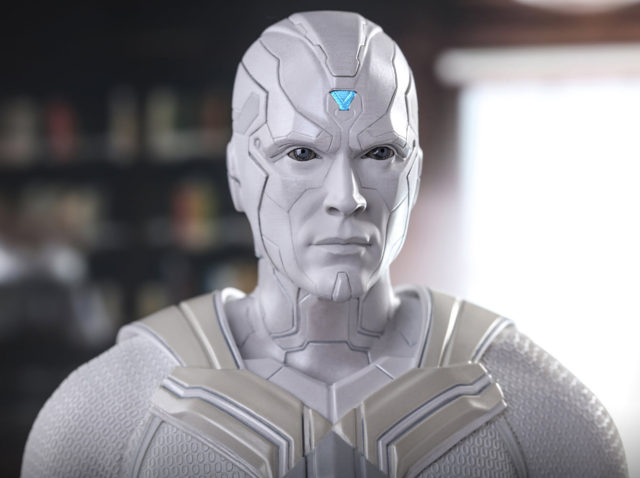 Additionally, it's a pretty neat detail that Hot Toys thought to give this figure interchangeable eyes to match how they looked both before and after white Vision acquired the original Vision's memories. This is the sort of character version we will likely only ever get one crack at owning a sixth scale figure of, so that's a crucial and smart element for Hot Toys to cover.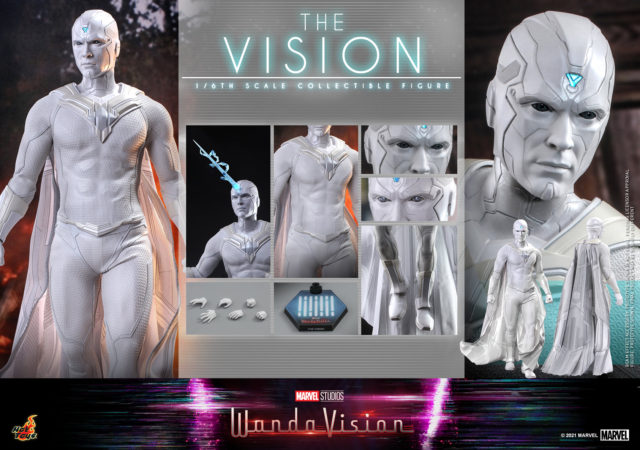 In addition to the interchangeable eyes and the forehead beam effect accessory, we also get some alternate hands a flight stand for this figure. And that's it. But honestly, there's not much from the show that it really would have made any sense to include, so this loadout is just fine with me if it helps to keep the price down (rather than inflating the price by inserting needless extras just for the sake of it).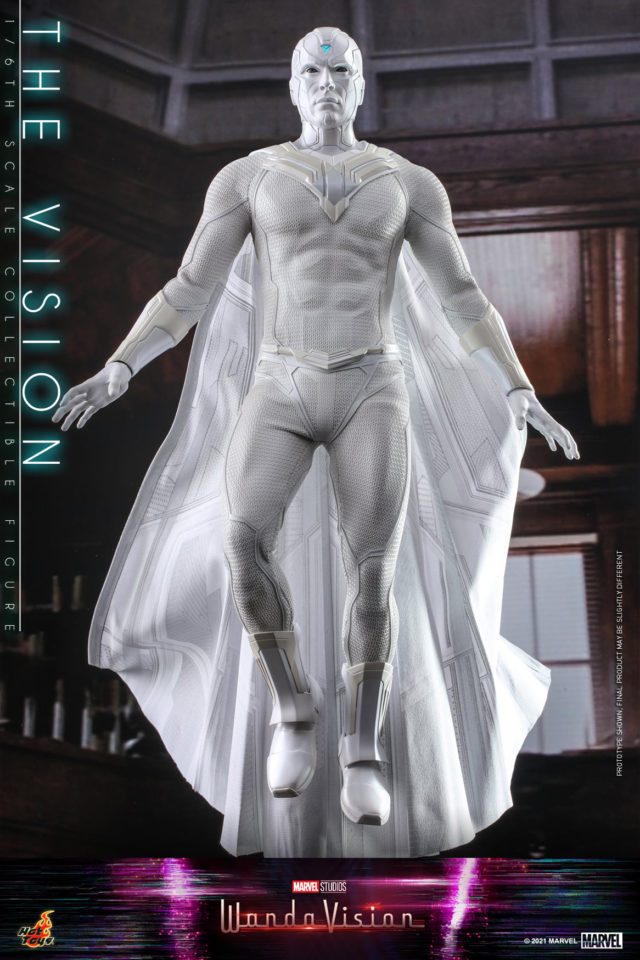 The all-white appearance of this figure is very striking and will definitely set it apart from almost anything else in your Hot Toys collection (unless you happen to own that rad Sub-Zero Iron Man armor), although the crotch area does look a bit "diaper"-esque to me in soft goods form. The white gradient paint on Vision's head is gorgeous work, though.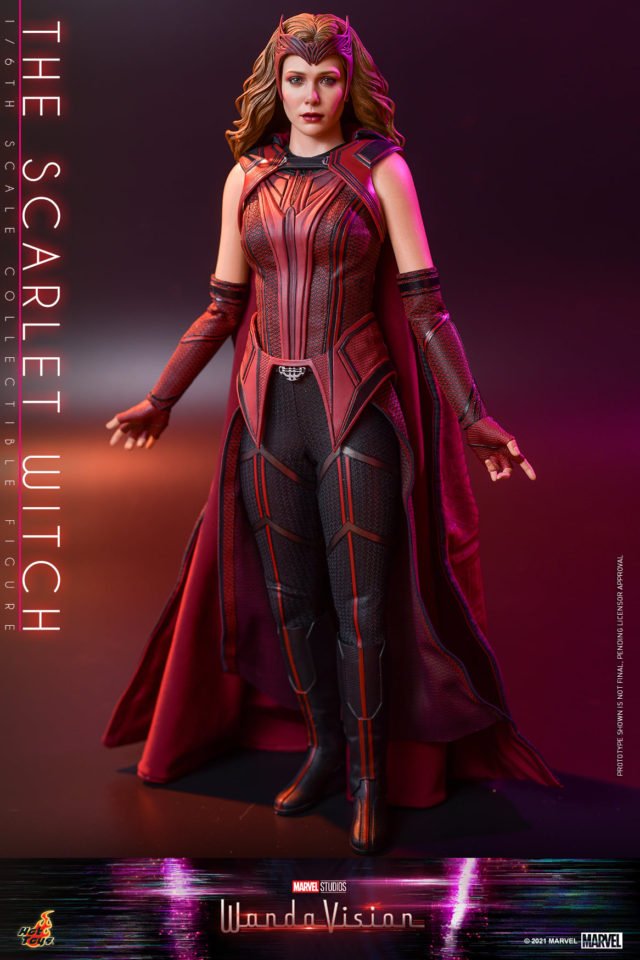 In addition to premiering this new version of The Vision this week, Hot Toys also surprised everyone the same day by debuting a new and improved head sculpt for their WandaVision Scarlet Witch figure itself! Many companies don't take fan feedback into account for various reasons, but Hot Toys has listened and improved products on many occasions thanks to outcry from their fans, and this is one such instance.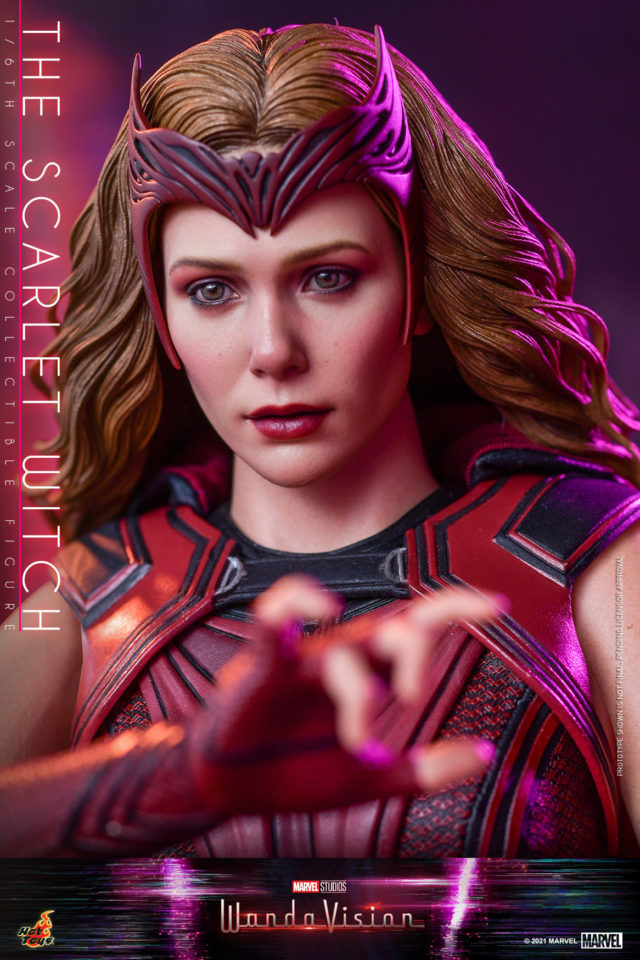 I thought the previously-shown Wanda Maximoff portrait was acceptable, but there's no denying that the Elizabeth Olsen likeness here is a much stronger one. This is one beautifully sculpted and painted head sculpt, and I think Hot Toys has likely earned themselves some extra sales by putting in this extra effort. Lovely stuff.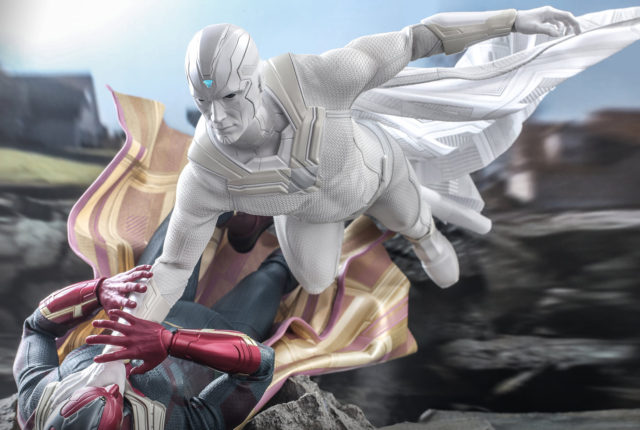 All three of the Hot Toys WandaVision figures are currently up for order on Sideshow Collectibles' website, with the trio due for release in Q2/Q3 2022. We've seen a fair number of Hot Toys one sixth figures released earlier than expected recently, so it would certainly be nice if these ended up being among them. I own all three of their previous Scarlet Witch figures from the movies, and I'm keen to welcome a fourth Elizabeth Olsen into my home!
Are any of these 1/6 figures from WandaVision bound for your home, Marvel collectors, or did the Disney+ show fail to leave enough of an impression on you to earn your big bucks? And would you want to see a Hot Toys Agatha Harkness to round out the major cast members, or are you fully satisfied with just the trio they've launched to-date?
The post Hot Toys WandaVision White Vision Sixth Scale Figure & Updated Scarlet Witch Head! appeared first on Marvel Toy News.