Hot Toys fulfilled the expectations of most collectors at SDCC 2019 last week by premiering more figures from Avengers Infinity War and Endgame, filling a few gaps in the Guardians of the Galaxy lineup and even giving us a few new Spider-Man PS4 costumes. But they also debuted something off-the-walls crazy at the show no one saw coming: the Hot Toys VENOMPOOL figure is now up for pre-order! (And yes, this is a Venom/Deadpool mash-up. Seriously!)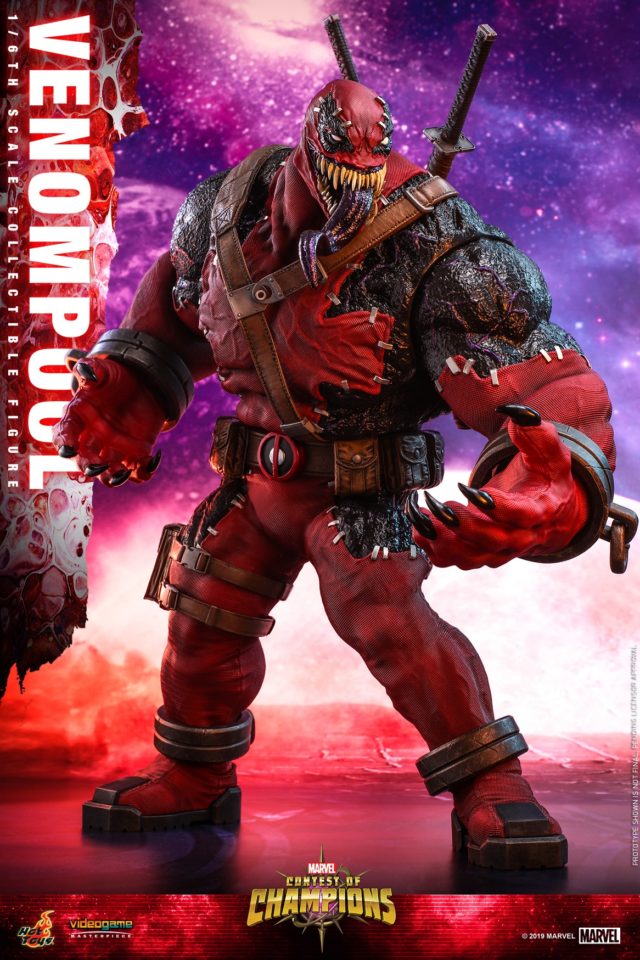 When Hot Toys stunned collectors with the GamerVerse Contest of Champions Punisher War Machine figure earlier this year, most people just chalked that up as a one-off, creative reuse of the existing topping for that die-cast War Machine armor. No one really postulated we might see any other wacky stuff from the Marvel Contest of Champions game.
So when the first low-res leaked photos of the show floor at Comic Con sprung up last week, collectors' jaws were suitably dropped on the floor when what's got to be one of the most nuts Hot Toys figures ever was first spotted at the convention!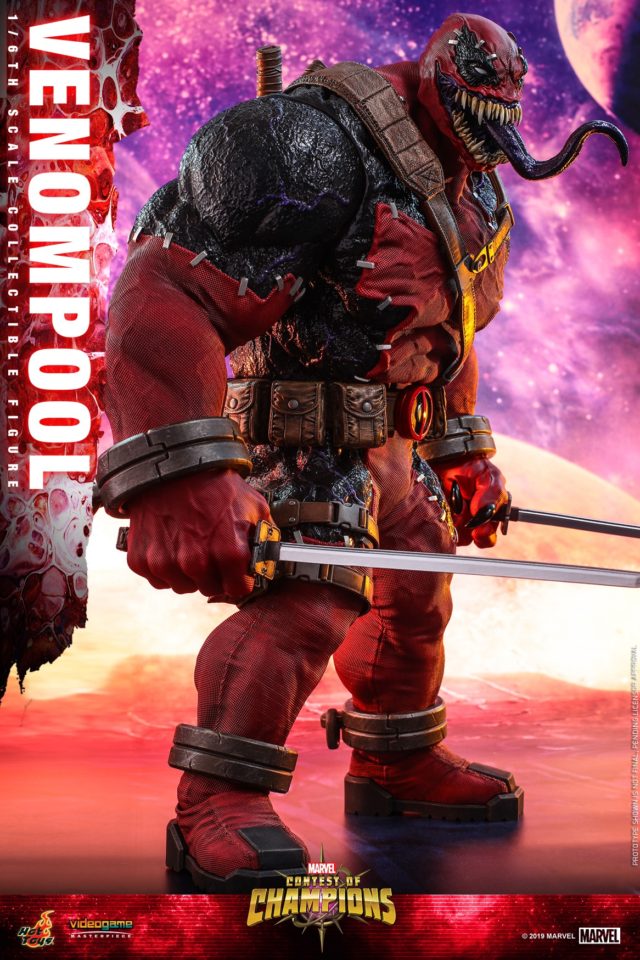 Based on the popular Contest of Champions mobile game, what we have here is a 14" fully-sculpted action figure of Deadpool merged with the Venom symbiote, all buffed out and looking like the Hulk! Whodathunkit?!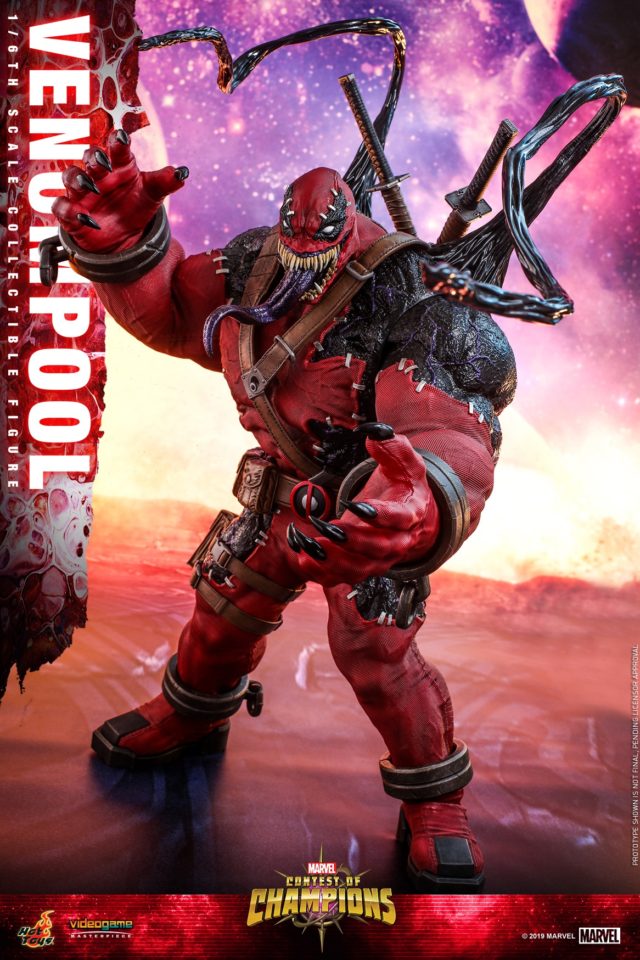 While some peeps thought maybe Hot Toys had just brought this as a prototype to San Diego Comic Con to gauge if there was any interest in it, they actually had their official photos all prepped and ready to launch for this figure's pre-order reservations opening this week. For better or worse, 1/6 Venompool is a go!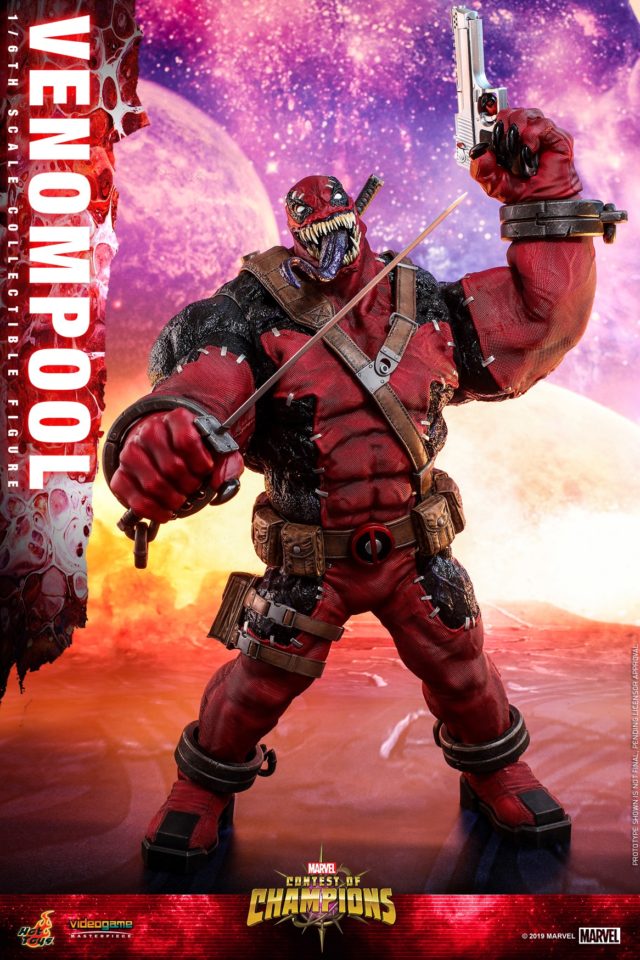 I've got mixed feelings about this Venom Deadpool action figure. I like that Hot Toys is doing something different—and this is certainly unique—and it's nice to get something truly unanticipated in sixth scale form from time to time.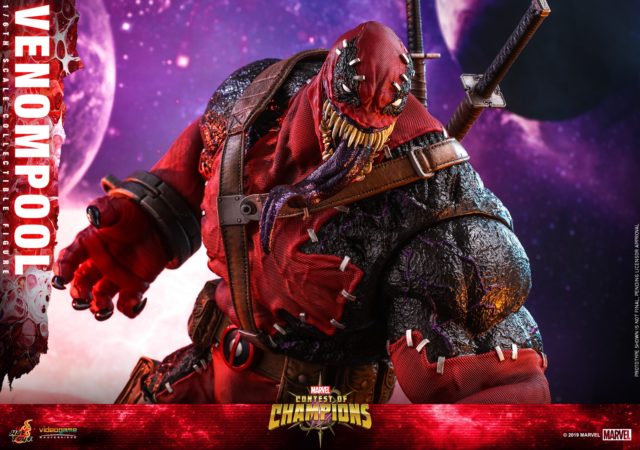 But on the other hand, a lot of design and engineering resources are going into an extremely niche item here, while we're still missing figures for beloved MCU characters like the entire Black Order, Vulture, Mysterio, Valkyrie and more. Definitely a frustration for Marvel Studios fans, which is the primary customer base for HT these days.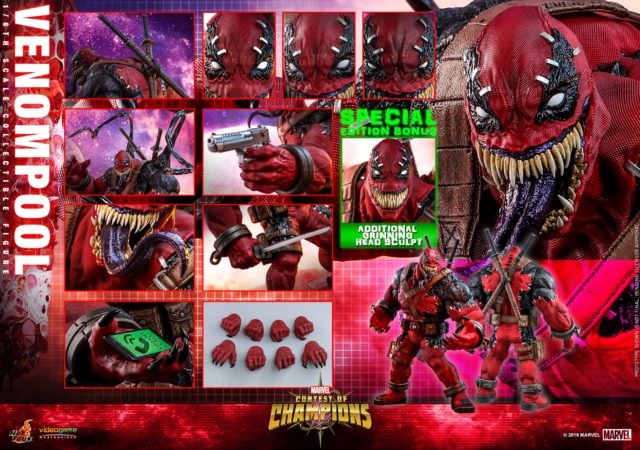 As a toy in and if its own right, this Venompool figure looks pretty gnarly (though some are calling him ugly). He's got plenty of accessories and interchangeable parts to mix things up, including a pistol, katanas, removable tendrils, interchangeable tongues and eyes, extra hands and more.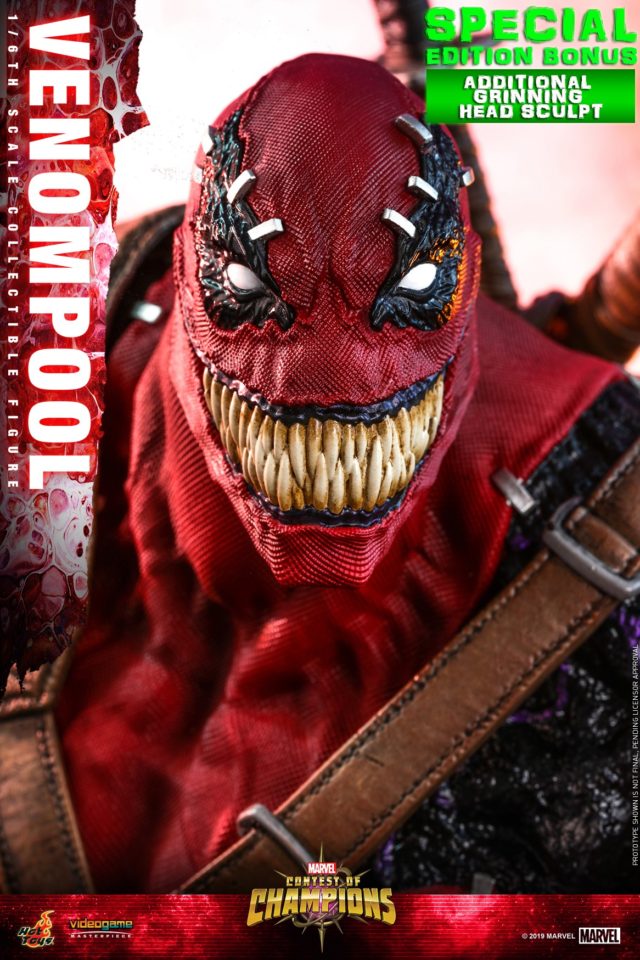 A Special Edition Exclusive Venompool grinning head will also be available exclusively through Sideshow Collectibles in the United States. It's a neat enough head, and I imagine that those who want this action figure will want the bonus head as well.
This absolutely isn't the kind of item that Marvel collectors are going to be united in their love of, but I think it'll be a fun conversation piece for gamers and people that dig the look of this very creative iteration of Deadpool.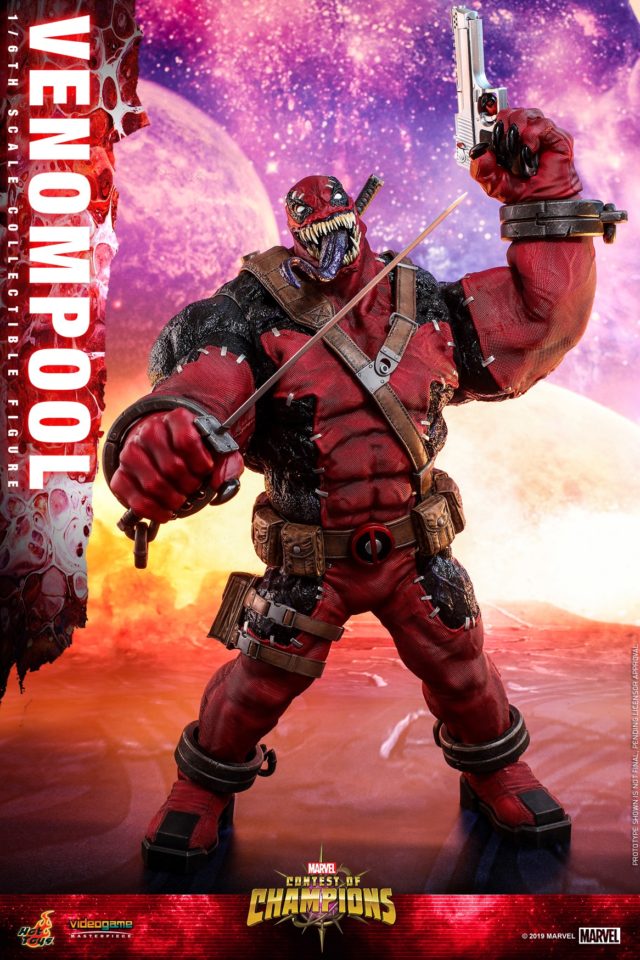 The Hot Toys Venompool sixth scale figure is now up for order, and is expected to be released in Q3 2020. This is a bit pricey, so interested parties might want to start on a payment plan, but I wouldn't worry too much about locking this one in early otherwise. I have a tough time believing that something this niche will sell out all that fast.
What do you think, Marvel collectors? Is this Contest of Champions Deadpool Venom mash-up a welcome surprise, or do you think Hot Toys jumped the shark a tad with this selection? Are there any other characters from Contest of Champions you'd like to see as sixth scale figures?
The post Hot Toys Venompool Figure Photos & Order Info! Venom Deadpool! appeared first on Marvel Toy News.