To celebrate their 600th Movie Masterpiece collectible, Hot Toys has announced a brand-new Iron Man 1/6 scale figure that draws inspiration from Tony Stark's iconic "suit up" scene in Iron Man 2.
This movie-accurate figure has an incredible likeness of Robert Downey Jr. as Tony Stark, and features a tailored racing suit, an LED light-up Arc Reactor, and numerous individual attachable Mark V armor elements.
A Deluxe Version of the figure is also available, featuring several additional accessories, including an ultra-detailed articulated and expanding Mark V suitcase!
Pre-Order the Tony Stark figure ($350), or the deluxe version ($405) today, via Sideshow.com.
Release date: Approximately Q3– Q4, 2022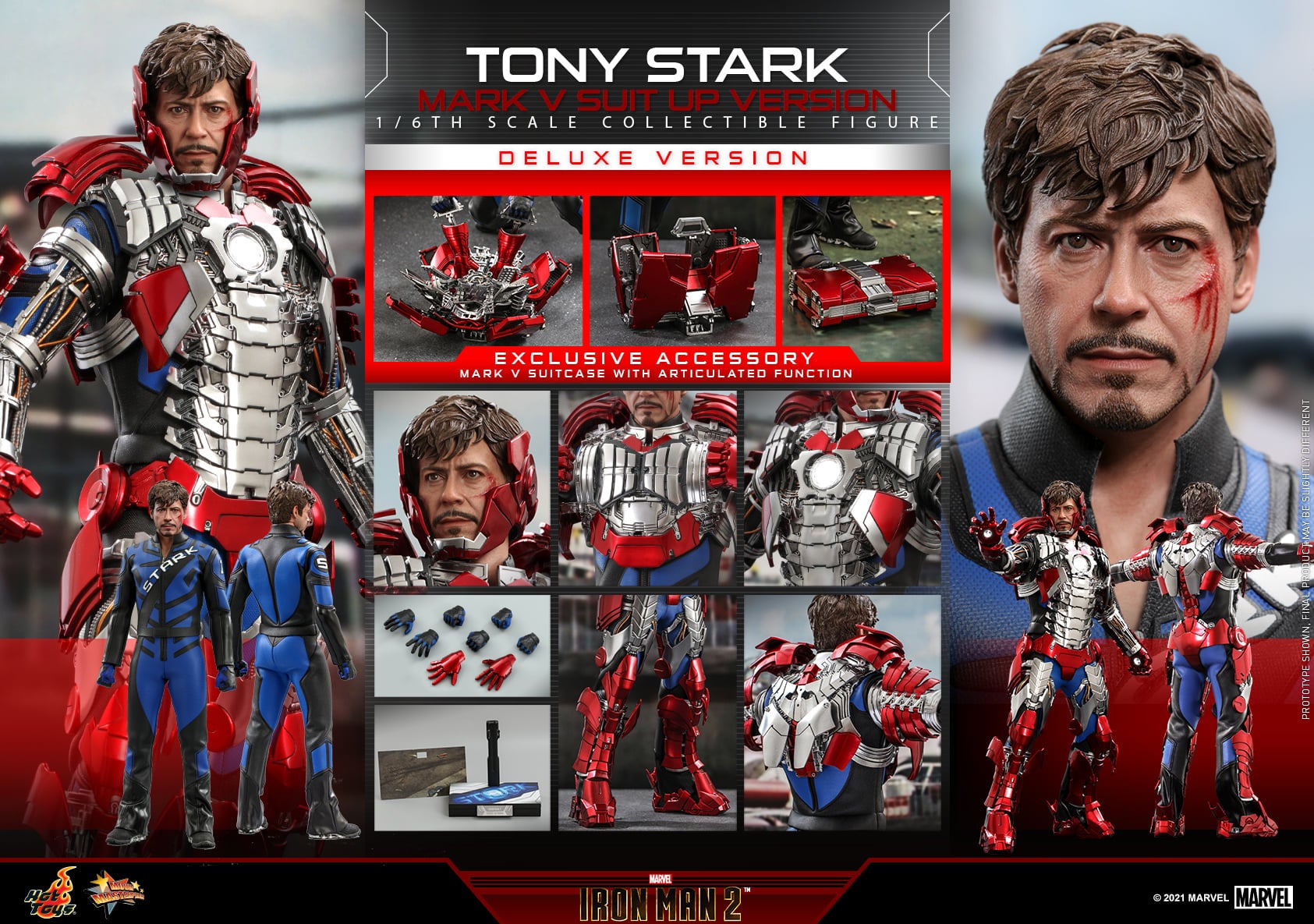 Hot Toys – [MMS599 & MMS600] – Iron Man 2 – 1/6th scale Tony Stark (Mark V Suit up Version) Collectible Figure
*** Exclusive to Deluxe Version
– Authentic and detailed likeness of Tony Stark wearing racing suit in Iron Man 2
– One (1) newly developed battle damaged head sculpt with authentic likeness of Robert Downey Jr. as Tony Stark
– Movie-accurate facial features with detailed beard, wrinkles and skin texture
– Brown color hair sculpture
– Newly developed body with over 30 points of articulations
– Approximately 31cm tall
– Special features on armor:
– LED-light up function on arc reactor on chest, and forearms (battery operated)
– Metallic red and silver colored painting on the sleek and streamline Iron Man armor design
– Attachable Iron Man Mark V armor parts including:
· One (1) set of helmet
· One (1) pair of forearm armors
· One (1) set of waist armor
· One (1) pair of thigh armors
· One (1) pair of foot armors
– Attachable Iron Man Mark V armor parts with articulated function to simulate the suiting up process including:
· One (1) set of articulated chest armor
· One (1) set of articulated back armor
· One (1) pair of articulated shoulder armors
· One (1) pair of articulated upper arm armors
· One (1) pair of articulated calf armors
· One (1) pair of hands with articulated fingers and light-up repulsors (battery operated)
– Additional Iron Man Mark V armor parts for interchangeable display style on chest, waist, back, and forearms
– Three (3) pairs of interchangeable gloved hands including:
– One (1) pair of fists
– One (1) pair of suitcase holding hands
– One (1) pair of relax hands
Costume:
– One (1) blue and black racing suit
– One (1) pair of black shoes
Accessories:
– One (1) metallic red and silver colored painting Mark V suitcase (with articulated function)***
– One (1) set of armor assembling parts (attachable to suitcase)***
– One (1) themed figure base with movie logo, character name plate and graphic card
*Prototype shown, final product may be slightly different
**Battery included for collectible figure. Button cells are required
***Product details are subject to change without further notice
Iron Man 2 – 1/6th scale Tony Stark (Mark V Suit up Version) Collectible Figure
[See image gallery at www.figures.com]
Iron Man 2 – 1/6th scale Tony Stark (Mark V Suit up Version) Collectible Figure (Deluxe Version)
[See image gallery at www.figures.com]
---