Luke Skywalker was a Tatooine farmboy who rose from humble beginnings to become one of the greatest Jedi the galaxy has ever known. Star Wars fans around the world were extremely thrilled to see his surprise appearance on Moff Gideon's ship and take down platoons of Dark Troopers to find Grogu.
Today, Hot Toys is excited to present a brand new 1/6th scale Luke Skywalker collectible figure based on his appearance in The Mandalorian as part of their premium DX Star Wars series.
The highly-accurate Luke Skywalker collectible figure features a meticulously developed new head sculpt with an astonishing likeness, skillfully tailored Jedi outfit and cloak, a lightsaber with LED light-up function, a display base and themed backdrop!
Furthermore, Grogu with articulated head and arms is specially featured along with Luke!
A Special Edition available only in select markets will specially include a hologram figure of Moff Gideon's light cruiser and holoprojector as bonus accessories.
Additionally, a Deluxe Version will be exclusively offered which will include a battle-damaged Dark Trooper bust with LED light-up function to reenact the memorable moment when Luke crushed it by using the Force!
Release date: Approximately Q4, 2022 – Q1, 2023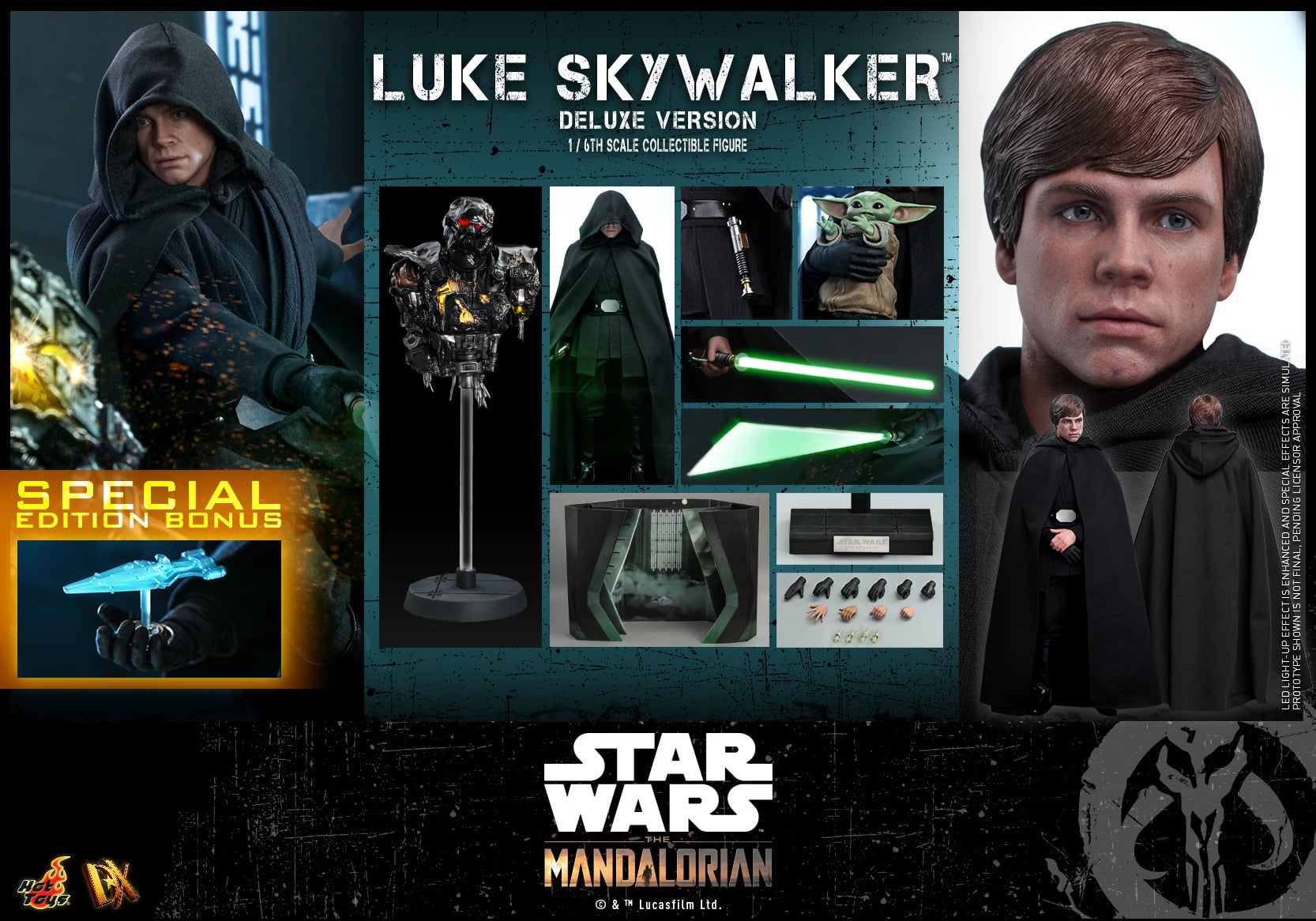 Hot Toys – [DX23] – Star Wars: The Mandalorian – 1/6th scale Luke Skywalker (Deluxe Version) Collectible Figure
*** Exclusive to Deluxe Version
– Authentic and detailed likeness of Mark Hamill as Luke Skywalker in Star Wars: The Mandalorian
– Newly developed head sculpt with separate rolling eyeballs features
– Highly-accurate facial expression with detailed skin texture
– Newly developed brown hair sculpture with magnetic features
– Body with over 30 points of articulations
– Approximately 28 cm tall
– Ten (10) pieces of interchangeable hands including:
– One (1) pair of fists
– One (1) pair of hands for holding lightsaber
– Three (3) pairs of gesture hands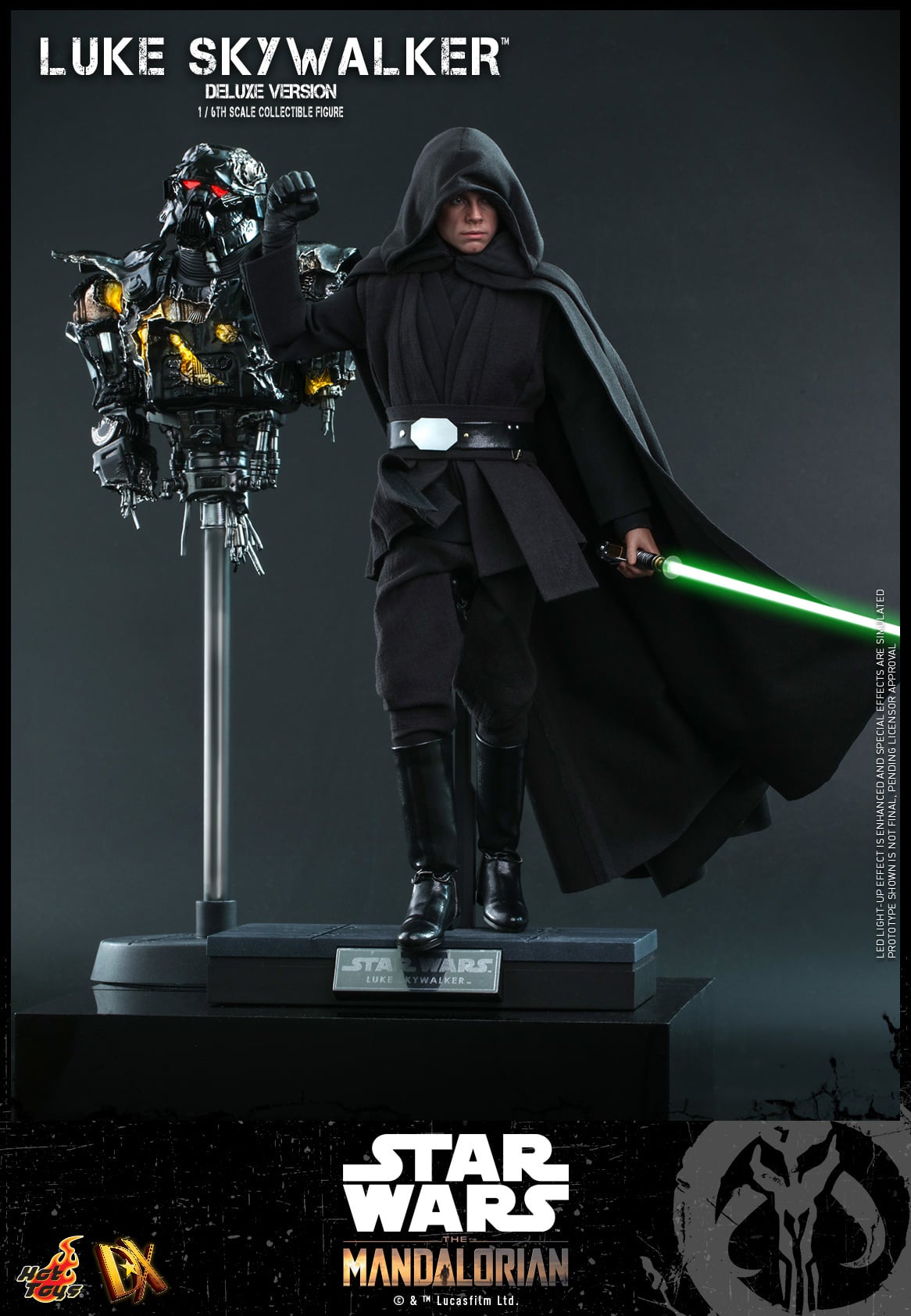 Costume:
– One (1) black colored Jedi cloak
– One (1) black colored long sleeve suit
– One (1) black colored tunic
– One (1) under belt
– One (1) black colored belt
– One (1) pair of black colored arm wraps
– One (1) pair of black colored pants
– One (1) pair of black colored boots
Weapons:
– One (1) LED-lighted green lightsaber (white light, battery operated)
– One (1) green lightsaber blade in motion (attachable to the hilt)
– One (1) lightsaber hilt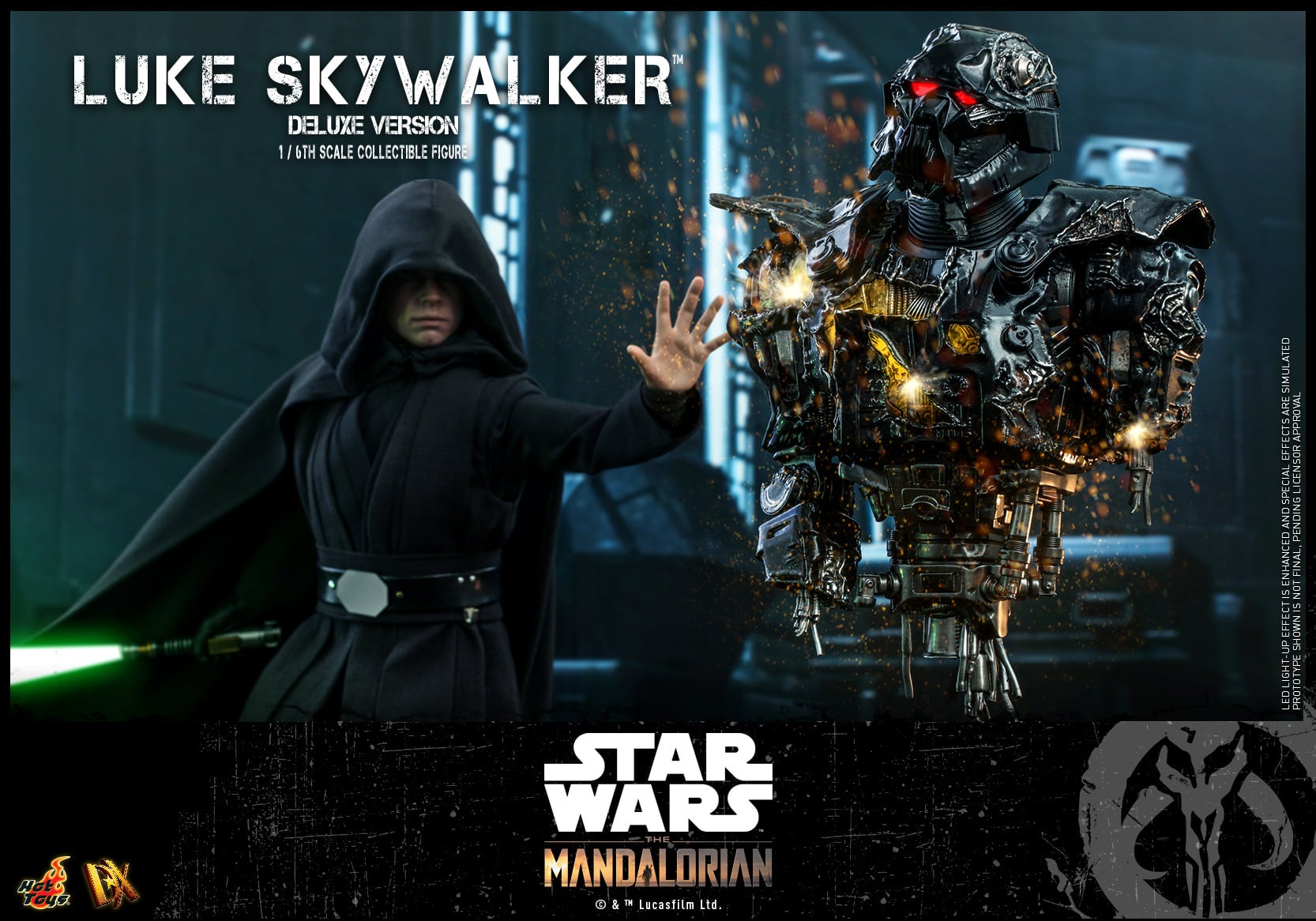 Accessories:
– ***One (1) battle damaged Dark Trooper bust with LED light-up function (3 lighting modes; battery operated)
– One (1) 1/6th scale Grogu collectible figure (Approximately 6cm tall; with articulated function)
– Two (2) pairs of interchangeable hands for Grogu (Includes force-using hands and relax hands)
– One (1) themed backdrop
– Specially designed figure stand with Star Wars logo and character nameplate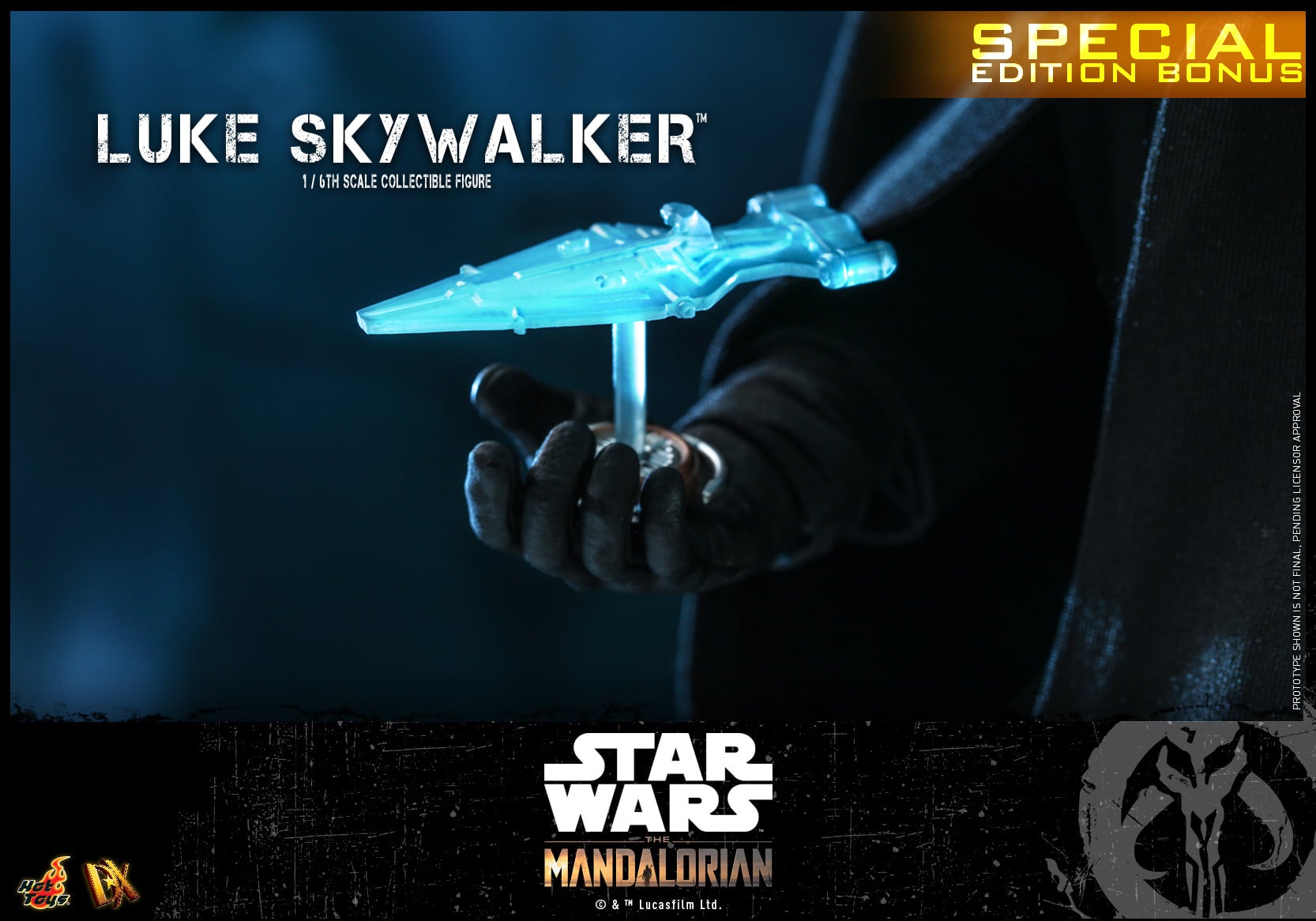 Exclusive Bonus Accessories for Special Edition:
– One (1) Moff Gideon's light cruiser hologram
– One (1) holoprojector
*Prototype shown is not final. Pending licensor approval.
**Battery included for collectible figure, button cells are required
***Power required for LED light up function in Dark Trooper bust
****Product details could be subjected to change without further notice
[See image gallery at www.figures.com]
---