Hot Toys Marvel Movie Promo Figures have been some of the most limited and sought-after 1/6 figures in the the Movie Masterpiece Series, so it goes without saying that Hot Toys would want to release one of their best-selling variants for the biggest Marvel movie ever. And this time, they've even been nice enough to give us a heads-up comparison to the regular version: the EXCLUSIVE Hot Toys Infinity War Captain America Movie Promo figure should be up for order this afternoon!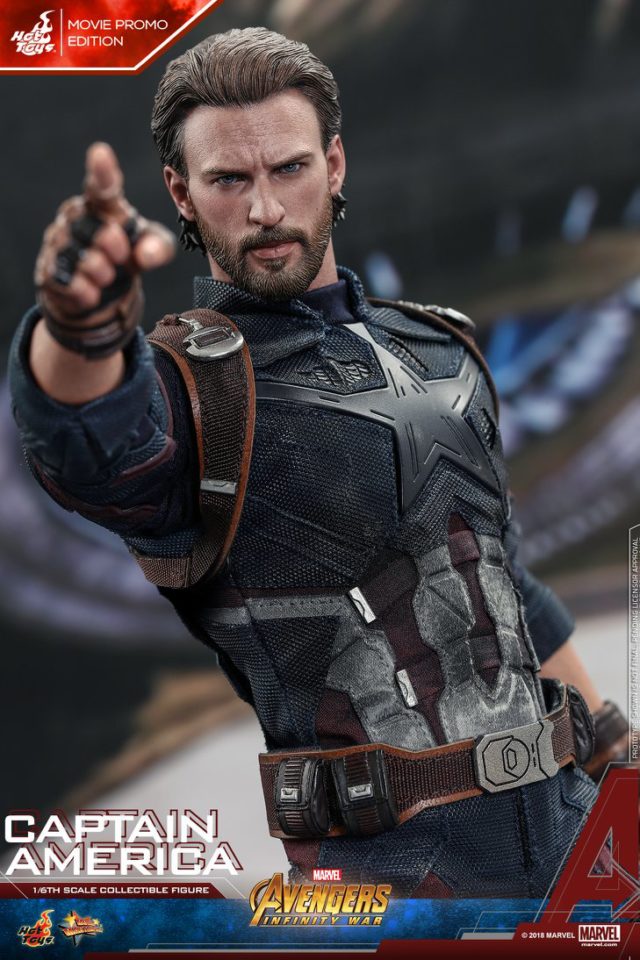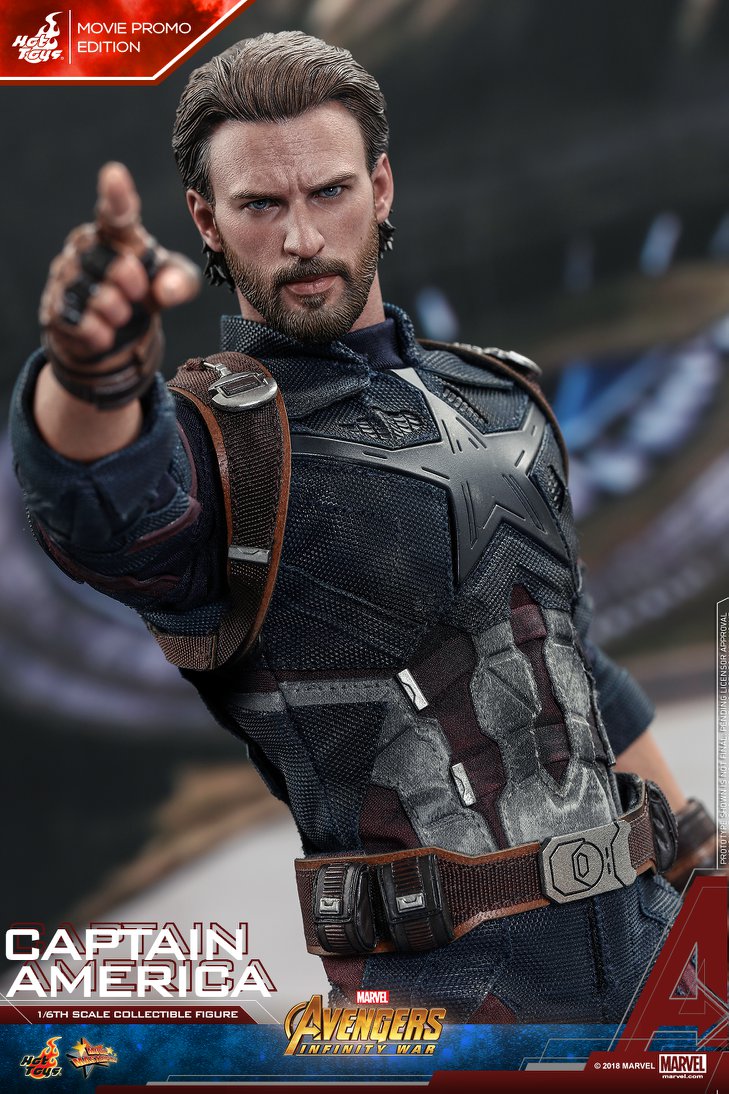 From the New Avengers Scarlet Witch to Battling Captain America and Battle-Damaged Mark VII, Hot Toys has given us some really cool Marvel Movie Promo sixth scale figures over the years.
But for Avengers Infinity War, we're getting something a bit more, well… mysterious! The Infinity War Captain America Movie Promo figure will include a bonus diorama base and another exclusive item that's, well… a mystery!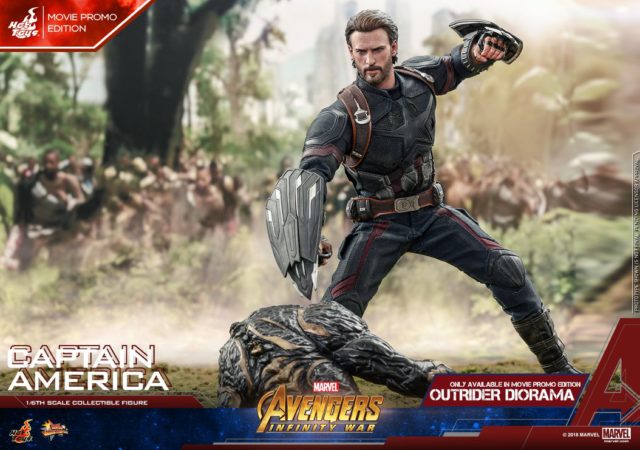 First up, there's an Exclusive Fallen Outrider Diorama piece. Basically, this is a dead/downed Outrider alien that can add some ambiance to your figure display. There's an interchangeable rocky ground graphic card that can be attached to the normal figure base as well.
I like that Hot Toys has developed an all-new base add-on for the Movie Promo Edition this time out (as opposed to the reused base Battling Captain America got), and I think the idea of having a fallen Outrider on the base is pretty cool.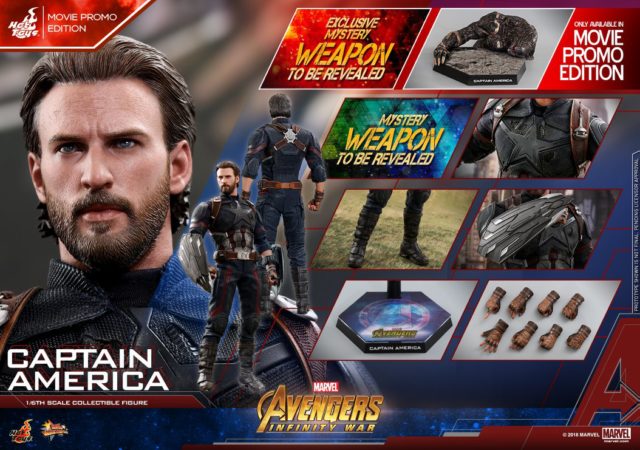 The other addition to the Infinity War Hot Toys Movie Promo Captain America is far more intriguing, though—because we don't know what it is! In addition to the mystery weapon that will also be coming with the regular release of IW Captain America, the Movie Promo Cap will also come with a second mystery weapon.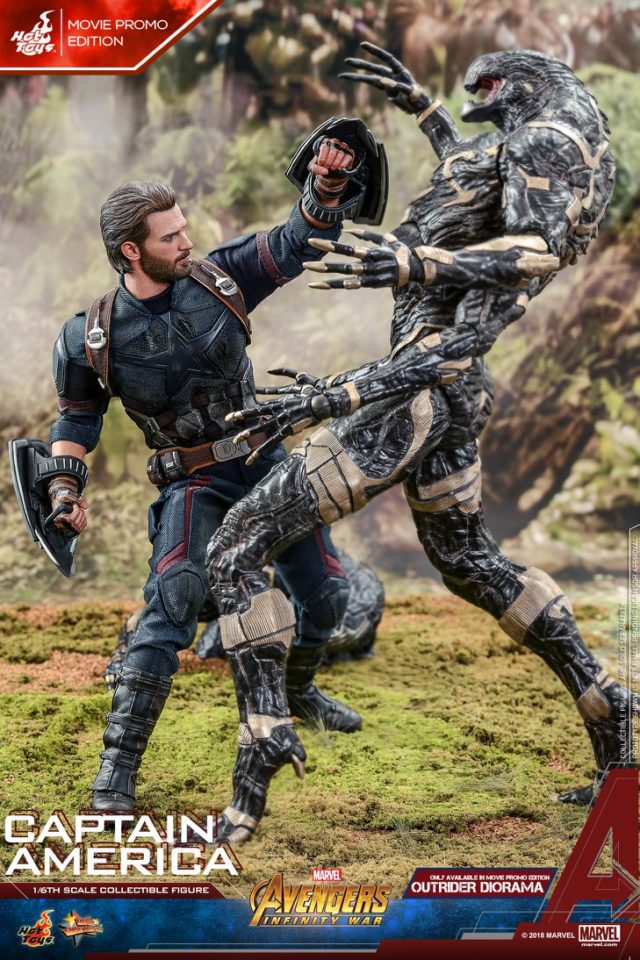 I actively go out of my way to avoid spoilers, so I don't have a clue what either of the mystery weapons would be. Could Cap get his iconic shield back in the movie? A new plasma shield like in the comics? Or something else altogether? I don't know—but I do know I'm getting this Infinity War Captain America Movie Promo figure so I don't end up kicking myself for missing something crucial later.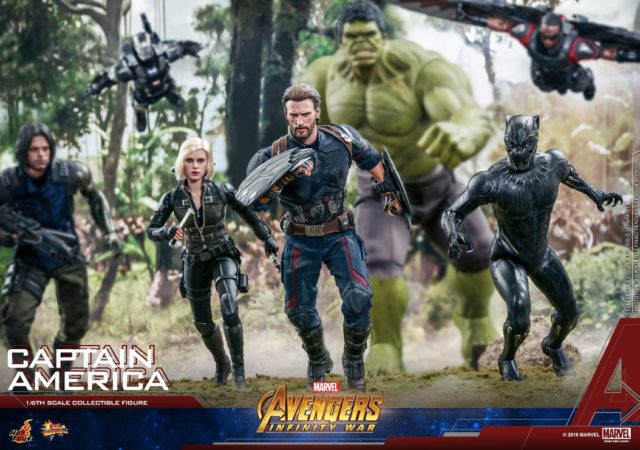 While that's my discussion of the two bonus items included with this 1/6 Captain America Infinity War Movie Promo figure, I should probably talk about the figure itself.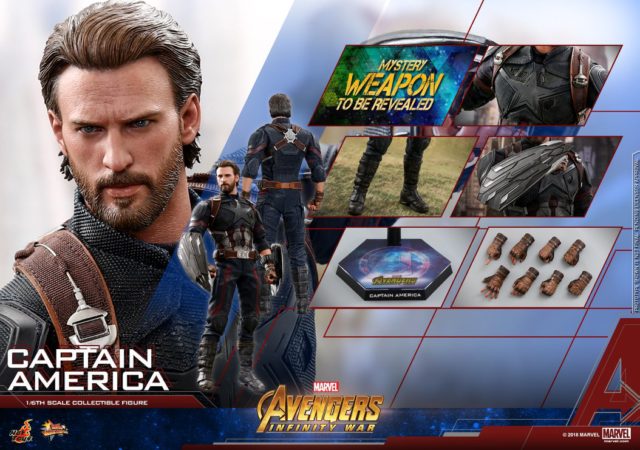 The underlying Captain America figure is identical between the regular and Movie Promo variant this time out, so there's no need to buy two this time out unless you really have to have everything.The proportions on Cap this time are obviously slimmer and an improvement over the Civil War Cap MMS, as good as that versions was.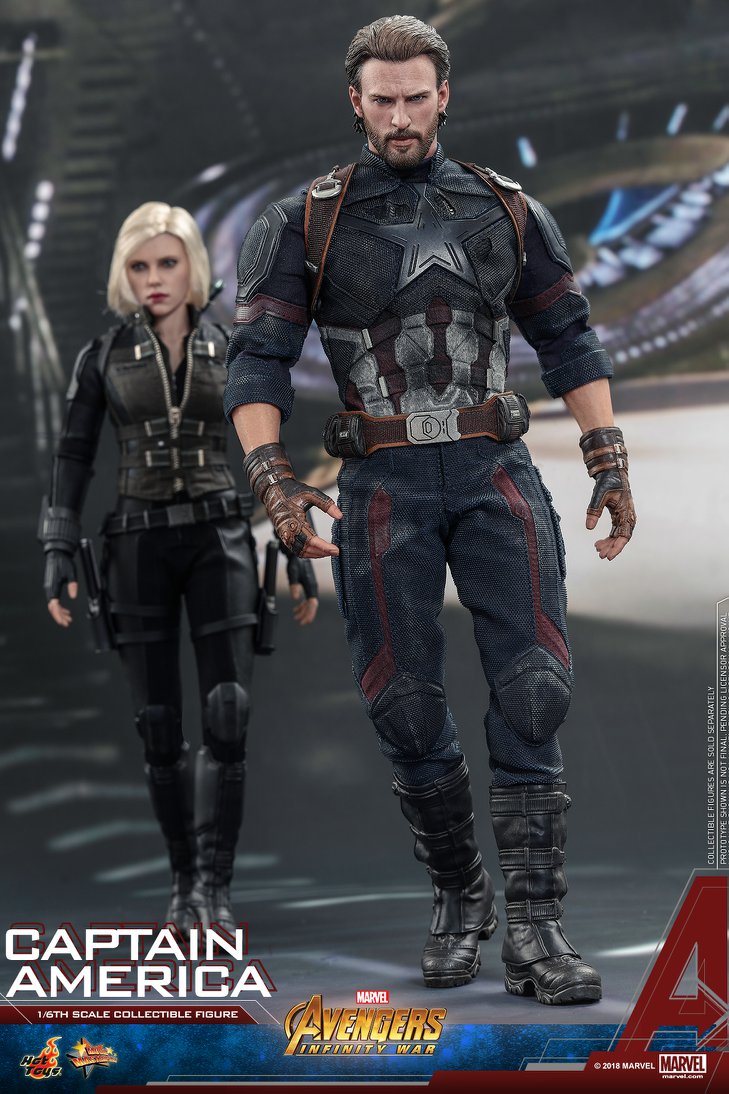 Hot Toys has done their fair share of Cap figures over the years, but I think they've brought the tailoring on the costume to a whole new level with this Avengers Infinity War Captain America sixth scale figure. The stitch-work here looks unbelievably good, and I like the darkened star on Cap's chest more than I ever thought I would.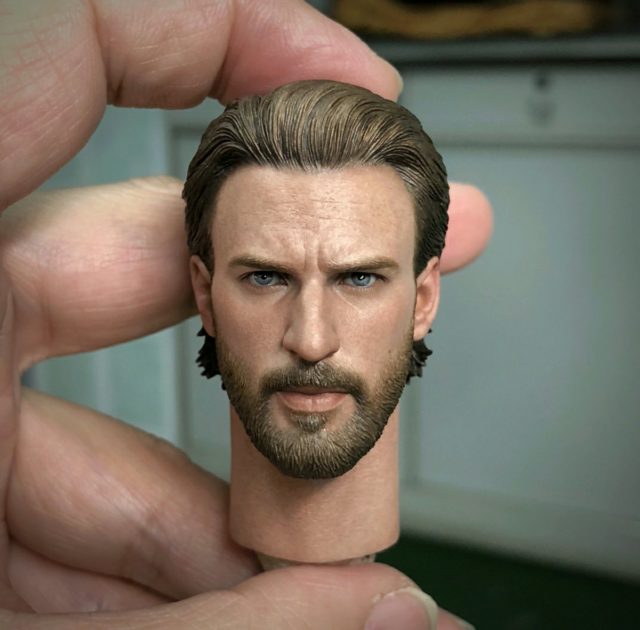 I've seen some people say that the portrait on this figure looks more like Sheriff Rick Grimes than Chris Evans. Now, while there's no denying that Rick and Cap are both kickass bearded white men with slick hair, to me, saying there's no resemblance to Chris Evans here is crazy talk.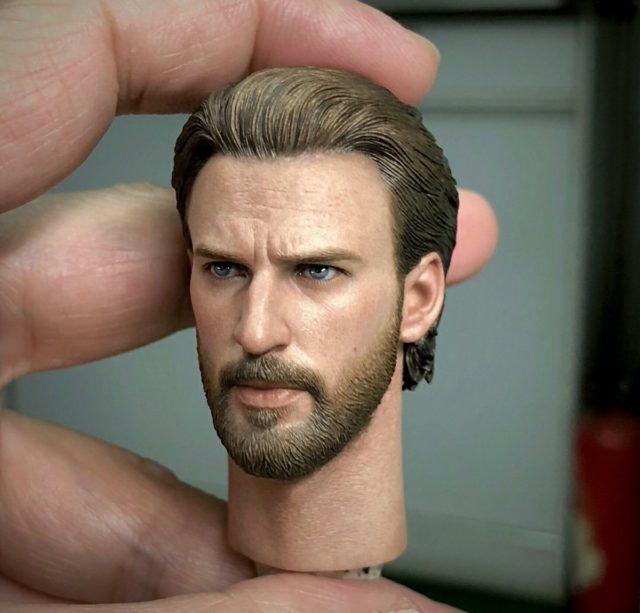 In my eyes, there's no denying the Chris Evans likeness in the new Cap sculpt—especially after looking at the additional close-ups of the head that Hot Toys painter JC Hong posted. This head sculpt is right on the money in my eyes.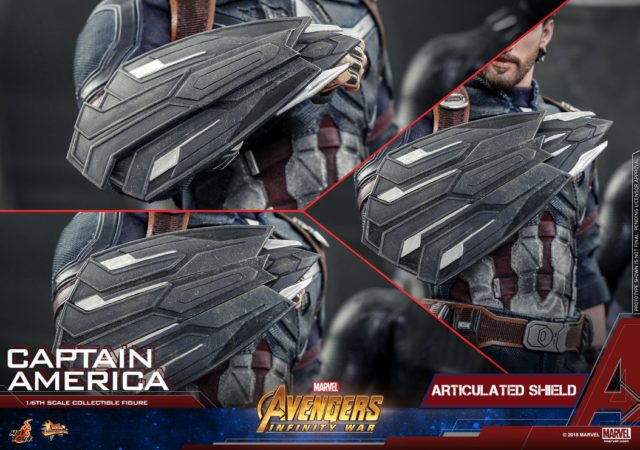 While we don't know what the one mystery weapon that the regular version of IW Captain America will come with is, we two know that he'll come with two awesome black Wakandan shields. The shields are actually articulated so you can get them set up however you prefer.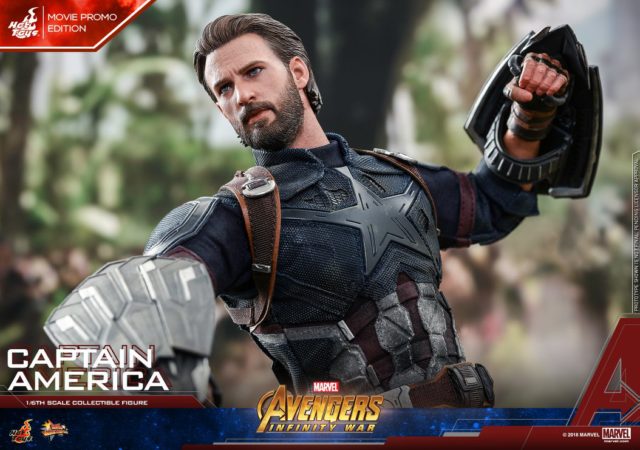 As usual, this sixth scale Cap figure will stand just over 12" tall and feature 30 points of articulation. I'm not the sort to repose my Hot Toys MMS Figures very often, but I like having the options open for when I do.
Both versions of Captain America will also include the usual hexagonal movie display base and eight interchangeable gloved hands. This seems a bit bare-bones accessory-wise, but I have high hopes those two mystery weapons are going to be must-haves.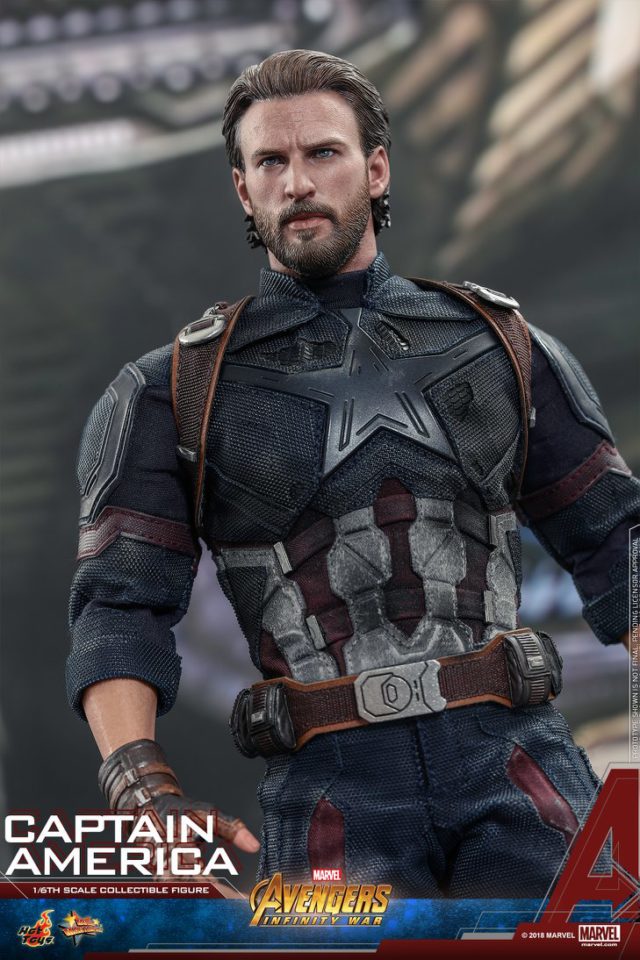 The Hot Toys Movie Promo Captain America Infinity War 1/6 figure is expected to go up for order this afternoon, with an anticipated release date in Q1 2019. As anyone who's been collecting Hot Toys Marvel figures for a while likely already knows, the Infinity War Movie Promo Cap will almost certainly sell out within 6-12 hours of going up for sale. If you think you might want this one, you're gonna want to jump on it ASAP.
What do you think of the latest (and perhaps final?) Chris Evans Captain America Hot Toys figure, Marvel collectors? How do you like the Chris Evans portrait, and what do you think the two mystery weapons could be? Is the Movie Promo Exclusive Cap bound for your collection?
The post Hot Toys MOVIE PROMO Infinity War Captain America Figure! appeared first on Marvel Toy News.