If there's one thing you can count on with Marvel Hot Toys sixth scale figures, it's that popular versions of main characters will almost without fail get exorbitantly expensive on the aftermarket once they're sold out. Such was the case with the Homecoming Homemade Suit Spider-Man, which exploded to more than double its original price on the aftermarket this year. But HT has heard the cries of fans loud and clear: a reissue Hot Toys Homemade Suit Spider-Man Figure with new Mysterio Drone and other cool accessories is now up for order!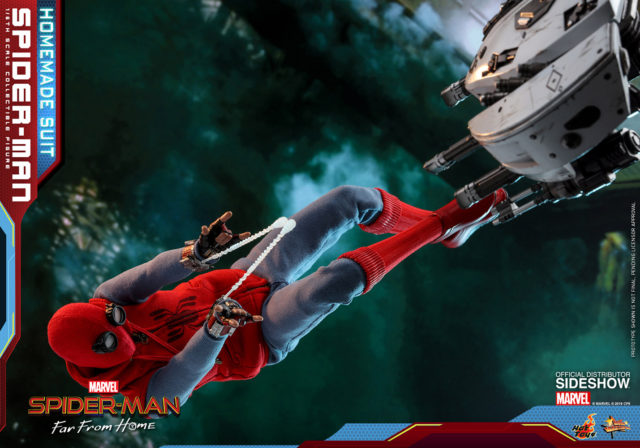 Literally the split-second that I saw the Homemade Suit costume appear in the illusionary portion of the Spider-Man Far From Home movie, I was 100% certain we'd see Hot Toys cashing in and reissuing that figure as part of their selections for the new movie.
After all, all three other costumes Tom Holland wears in the film are part of the line, so how could the hotly-demanded version from Homecoming and selling for $500+ on the aftermarket not get a new release as well, right?
Well, just call me a clairvoyant, because HT finally fully revealed and put their re-released Spider-Man in Homemade Costume up for sale today! What's different, and is he worth buying again…?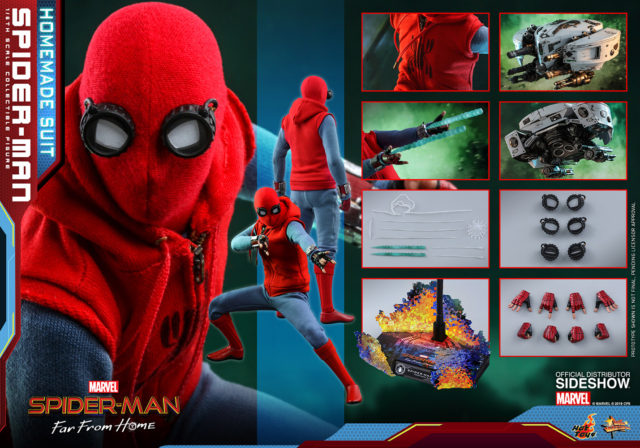 Unfortunately for folks like me who bought the first Homemade costume Spidey 1/6 figure, Hot Toys has added several new extras to this that makes it a downright must-have for those who loved the Far From Home movie!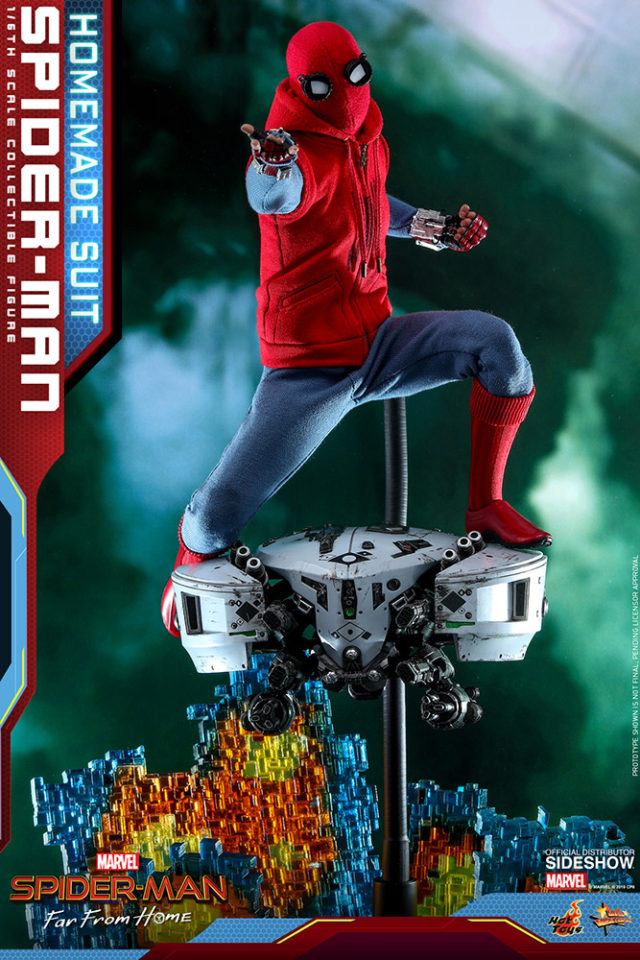 Not only do we get an all-new flying Mysterio drone that can be combined with the base, but we also get a "pixelated illusion" figure stand and even some new web effects for Spidey! I seriously dig those colored translucent pixel effects on the base, and the highly-detailed drone is a must-have given how significant they are in the movie. I want!!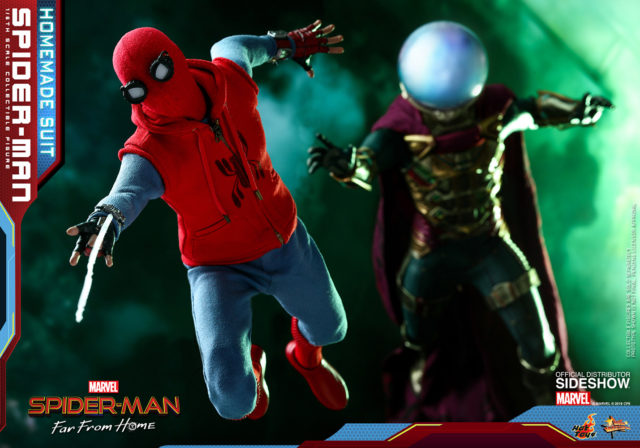 And while he's (obviously) not included here, these official photos give us our first look at the Hot Toys Mysterio figure! Obviously he's just sort of blurry in the background, but what I can see of Quentin Beck there is looking pretty slick. Mysterio is a villain fans have been asking for since we saw the very first images of him in the movie, so bring him on!!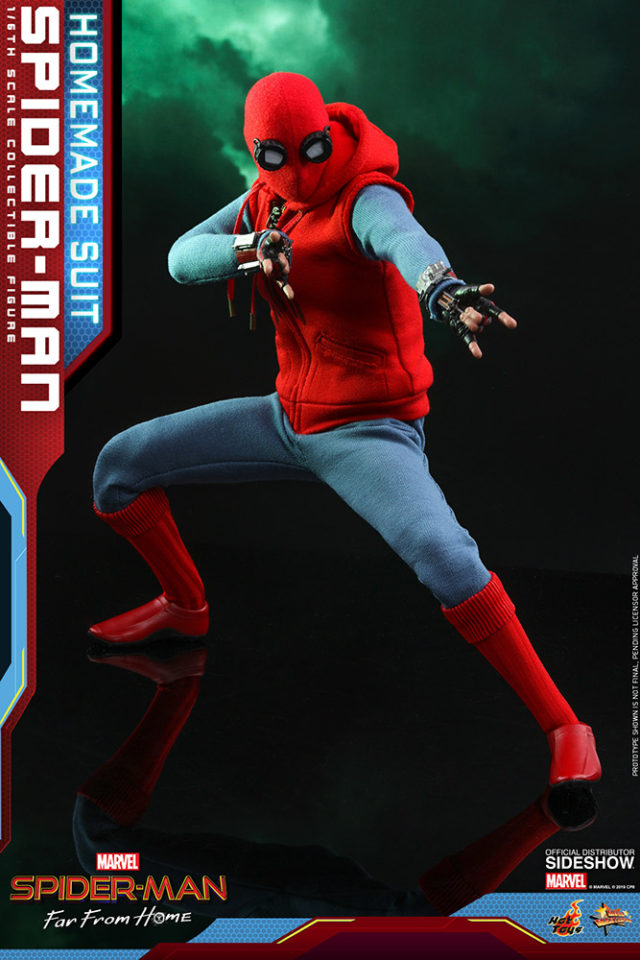 The only real downsides to this reissue are that the price has gone up about 40 bucks from the first edition and the battle-damaged Tom Holland portrait has been removed (likely since that head isn't consistent with the appearance of this costume in the movie).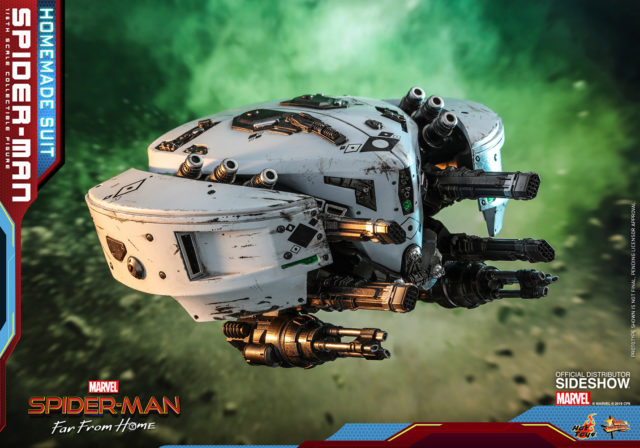 Losing that Peter Parker head really sucks, but not nearly as much as paying $500+ on the aftermarket for the original edition of this, in my opinion. I think most collectors will be satisfied with this version and the cool new pack-ins we get for 270 bucks, Tom Holland portrait or no.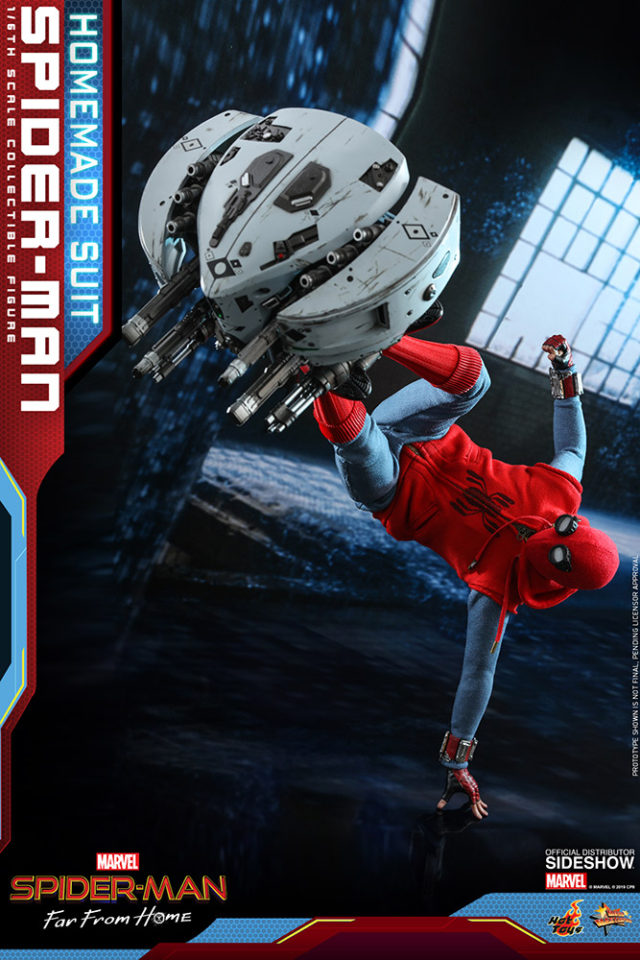 The Hot Toys Far From Home Homemade Suit Spider-Man figure is now up for order, and is scheduled for release in Q4 2020. Since this is basically just a re-release, I'd like to think that's a conservative date and we'll actually see this ship out much more expediently than that. The recent Tech Suit and Scarlet Spider releases both sold out like lightning, so you might want to consider reserving one of these now if you want it (especially since there's no deposit required!).
How do you feel about what's basically a reissue with some kickass new accessories, Marvel collectors? Anyone else have the original version of this Spidey figure and wish they held out for this one? And anyone hold out on the original release but change your mind after Far From Home?
The post Hot Toys Homemade Suit Spider-Man Reissue w/ Mysterio Drone! appeared first on Marvel Toy News.