Of the things I never thought I'd be saying in my life, "the Comic Con at Home EXCLUSIVE Hot Toys Stan Lee Intergalactic Barber sixth scale figure is now up for order!" is definitely on the list. But hey–this has been an unexpected year as a whole, and now here we are! Last year's Guardians of the Galaxy Spacesuit Stan Lee Hot Toys figure was a mega-hit that sold like wildfire, so it stands to reason we'd see Hot Toys cash in on Stan in convention season once more! Is the Hot Toys Thor Ragnarok Stan Lee figure worth snagging for your collection?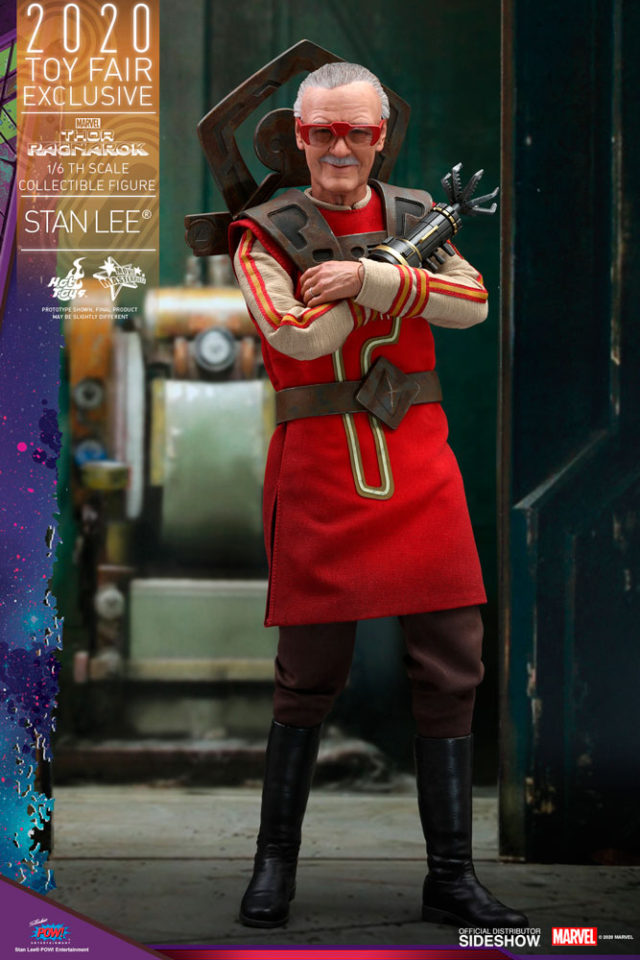 Someday, when the great list of "Weird Hot Toys 1/6 Figures Ever Made" comes out, I don't think that there's much doubt we'll be seeing today's exclusive release in the upper echelon of the list.
In 2017's "Thor Ragnarok" movie (I cannot believe it's already almost been three years), Stan Lee appears as The Grandmaster's intergalactic barber on Sakaar. Thor's awesome short hair that he appears with in Avengers Infinity War and Avengers Endgame…? Yup–that's the work of none other than cosmic barber Stan the Man himself! EXCELSIOR!!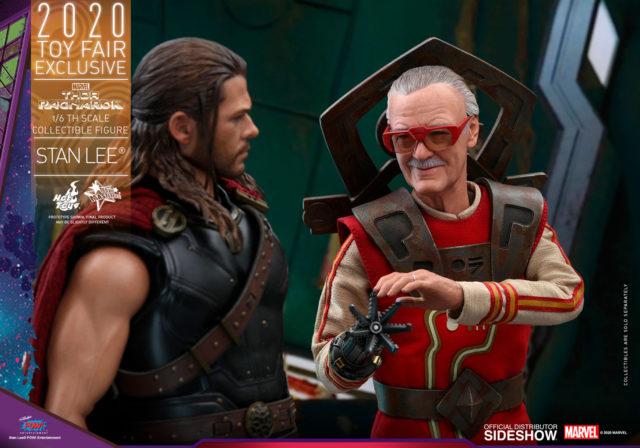 To celebrate this truly crazy cameo appearance by Stan in Ragnarok, Hot Toys has chosen this particular cameo as the basis for one of this year's four 2020 Toy Fair/SDCC/Comic Con at Home exclusives. If you bet money on this being one of this year's exclusives, I hope you're enjoying your riches now!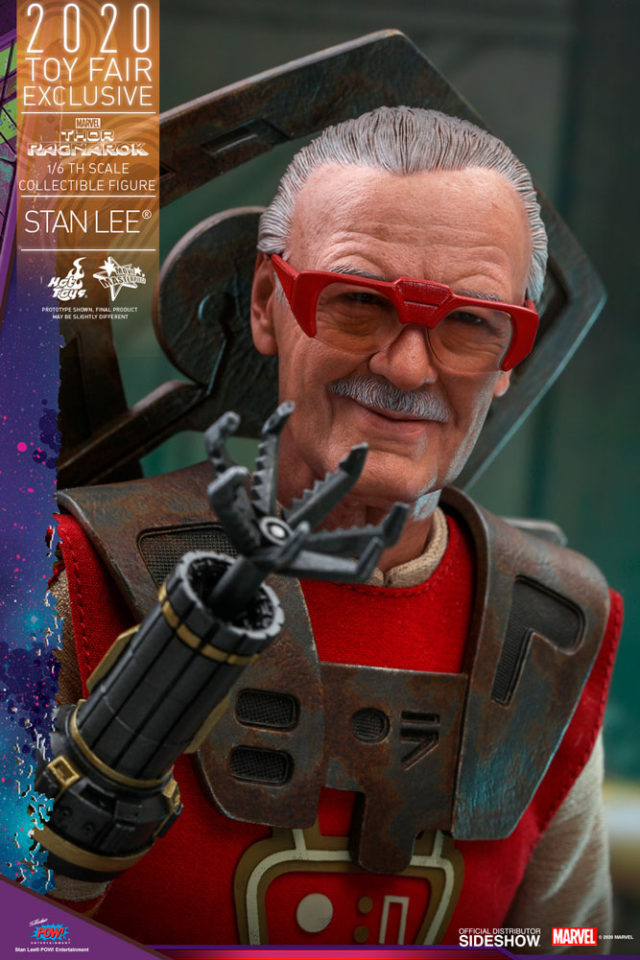 Although the preexisting portrait that Hot Toys already made for Stan was a remarkable likeness, they're tooled up an all-new head for with new cosmic red-framed glasses for this year's exclusive release.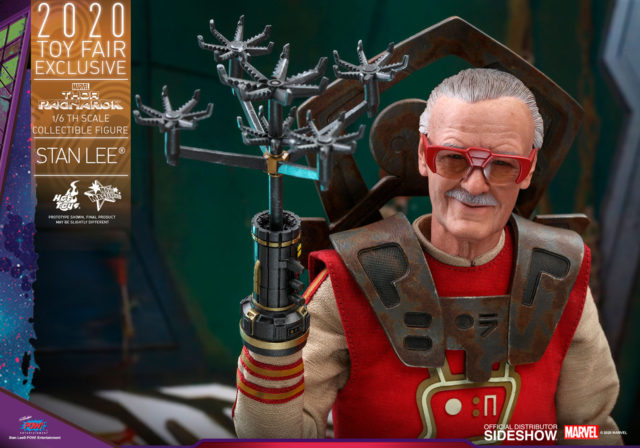 The defining characteristic of this design–the trimming apparatus with interchangeable whirling blades–also looks rockin'. This isn't a character I ever thought I needed a toy of, but I can't deny that is a fun–and certainly unique–release.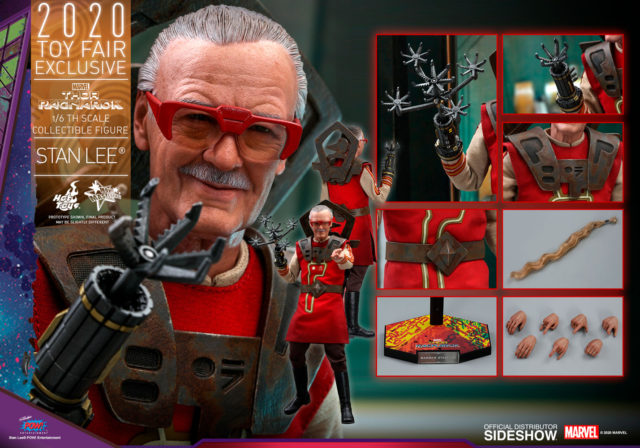 Accessories-wise, we don't get a ton–but there's also not a ton of accessories that would make sense for this particular release. And the accessories that we do get–well, they are totally awesome. The psychedelic figure display stand base is one of my favorite stands that HT has ever done, and the "real" fabric hair that's included is plain hilarious. The interchangeable hands pretty much seals the deal with everything we could ask for. Love it.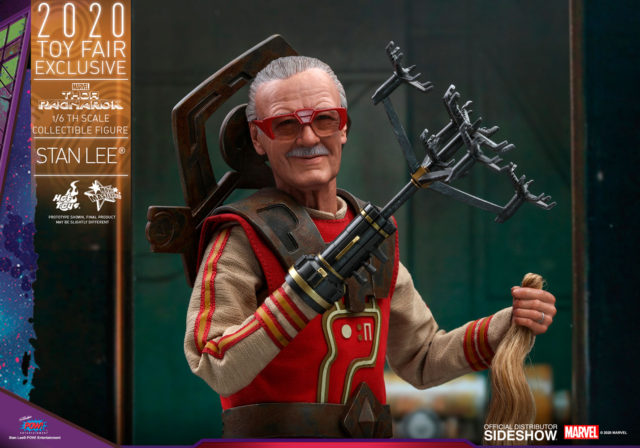 The Exclusive Hot Toys Ragnarok Stan Lee sixth scale figure is now up for order, and is scheduled to ship out in fall 2020. High-end items of Stan the Man are in hot demand and always seem to sell out fast and increase in value on the aftermarket, and I don't see any reason to expect this one will behave differently. I sold a few of my Ragnarok Hot Toys to save space and deeply regret it, so I don't think I'll be making that mistake again by skipping this Intergalactic Barber Stan Lee figure.
Any thoughts on the second MCU movie cameo Stan Lee figure, Marvel collectors? Anyone pass on the Spacesuit version last year but plan to pick up this barber iteration? Do you want to see these cameo figures become a "thing" that Hot Toys adds to the series of every year, or are two of these Stans enough for you?
The post Hot Toys EXCLUSIVE Stan Lee Ragnarok Barber Sixth Scale Figure Up for Order! appeared first on Marvel Toy News.