You want it—you got it! While the overall response to the Hot Toys Avengers Endgame Captain America figure that's now up for order has been positive, there were still a few things fans were hoping for that weren't in the initial solicitation. Namely: a (spoileriffic) Mjolnir hammer and a broken Captain America shield… plus a new and more accurate Steve Rogers Chris Evans portrait. Well, Hot Toys has now released photos confirming they're three-for-three fulfilling those requests! Do these additions make this the definitive Captain America for you?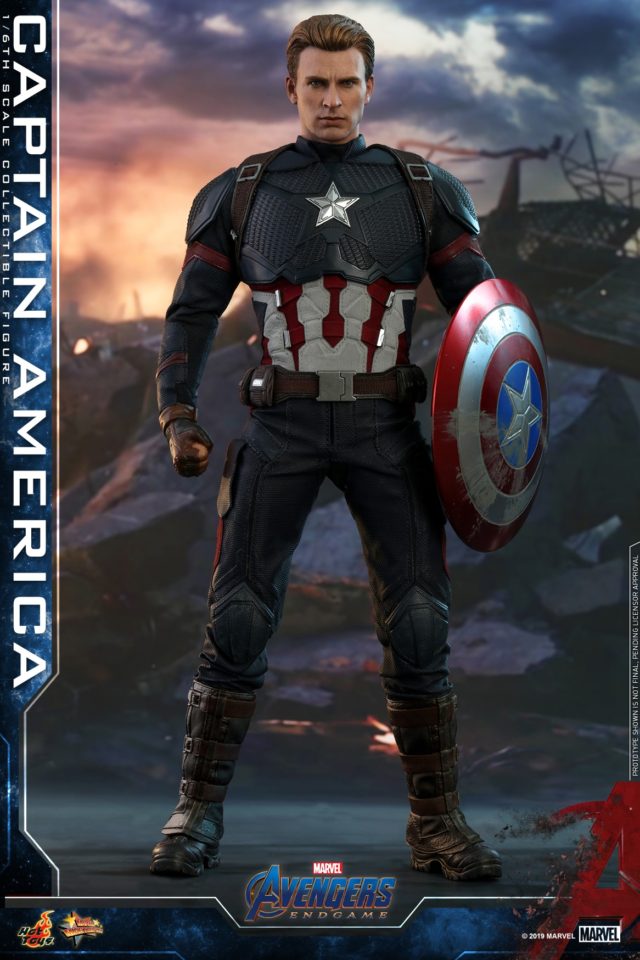 Hot Toys ordinarily doesn't hide multiple accessories when soliciting a figure for an upcoming MCU movie, so when the Captain America Endgame MMS figure was unveiled with TWO secret accessories to be revealed at a later date, we knew they must be something really juicy.
As soon as people saw Avengers Endgame, basically everyone guessed that the two mystery accessories MUST be a shattered Captain America shield and a Mjolnir hammer for the worthy Steve Rogers to wield. And now, to much delight but little surprise, Hot Toys has confirmed that those are in fact the secret accessories!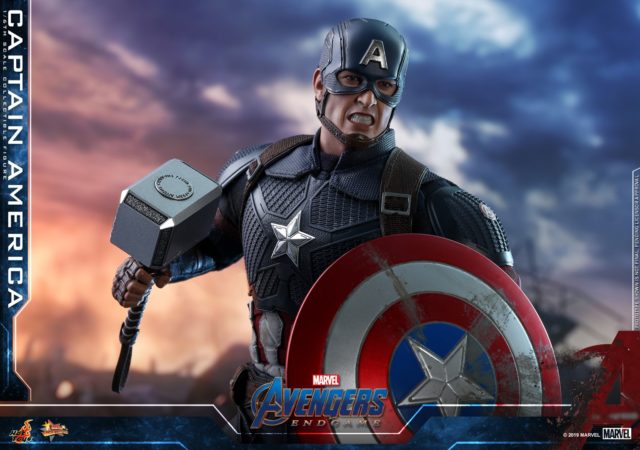 Although we've gotten a fair number of Mjolnir hammers with various Thor figures over the years (plus Vision), not everyone has an older Thor or Vision MMS to cannibalize the hammer from (or wants to do so), so this is definitely a worthy accessory to include (yes, that pun was intentional—I hate me too).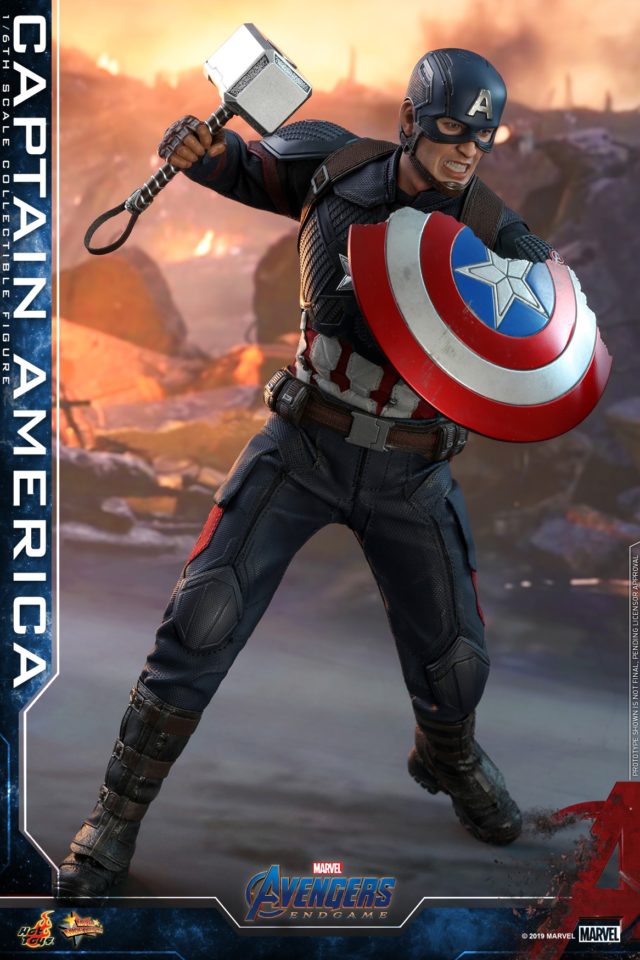 Meanwhile, the broken Captain America shield is a unique accessory that HT has never done before and likely will never do again. It's very scene-specific and I can foresee many collectors utilizing it in their Endgame displays. This is (of course) in addition to the non-destroyed shield, rather than instead of it, for anyone concerned Hot Toys would leave out a crucial item like that (they wouldn't).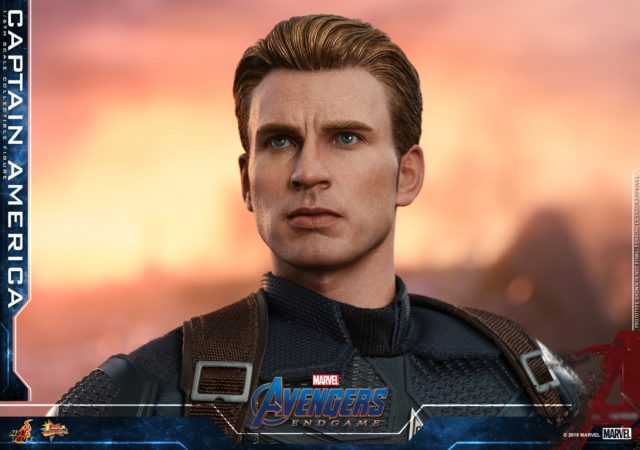 Finally, we've got the one accessory that not everyone was sure would happen: a new and improved Chris Evans likeness Steve Rogers head! While fans have been asking for a more authentic Chris Evans Portrait for years now, there was no guarantee we were ever going to actually get one.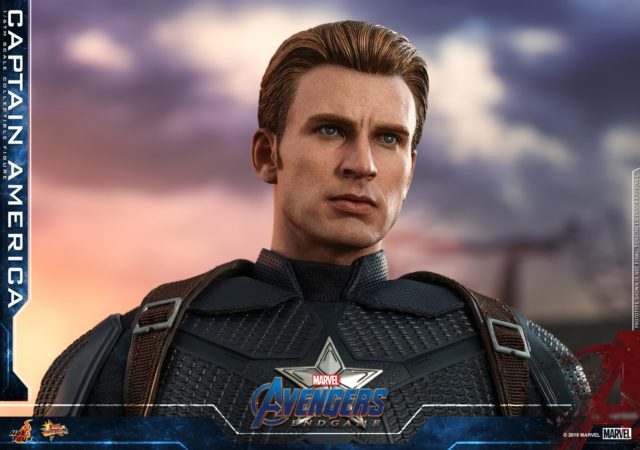 But just in time for what could be the final Hot Toys Captain America sixth scale figure, an incredible new Steve Rogers head is finally here! This portrait is just downright amazing, and is going to cost a fortune on the aftermarket from those who part out their 1:6 figures. Phenomenal work by Hot Toys.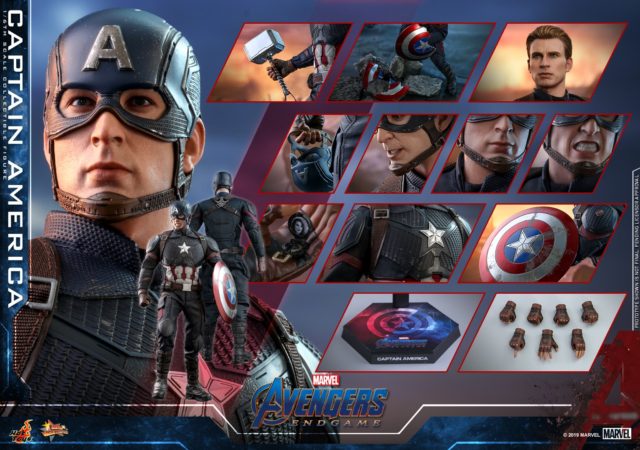 The Hot Toys Avengers Endgame Captain America figure is currently up for pre-order, and is scheduled to ship in spring 2020. BBTS has long since sold out (in fact, they sold their allotment in about an hour), but Sideshow Collectibles is still taking orders. While Iron Man almost always is the best-selling MCU MMS, I think he may face a legitimate sales challenge from this final Steve Rogers!
Have these additional accessories impacted your decision to purchase the Hot Toys Endgame Captain America at all, Marvel collectors? If this is the final 1/6 Cap that HT ever releases, will you be satisfied, or is there some aspect of this figure that you're not fully happy with?
The post Hot Toys Endgame Captain America: New Head! Mjolnir! Broken Shield! appeared first on Marvel Toy News.