2020 may have arrived, but news is slow this holiday week and the Marvel Legends 2020 figures are still just beginning to trickle into stores at a slow pace. But while most collectibles companies making Marvel merch have been quiet this week, Hot Toys managed to slip in one more Avengers Endgame movie 12" figure pre-order to coincide with the new decade's arrival: the MMS 563 Hot Toys 2012 Captain America Endgame figure is now up for order! Is this a worthwhile pickup for those who missed the original (or those who didn't but want an upgrade)?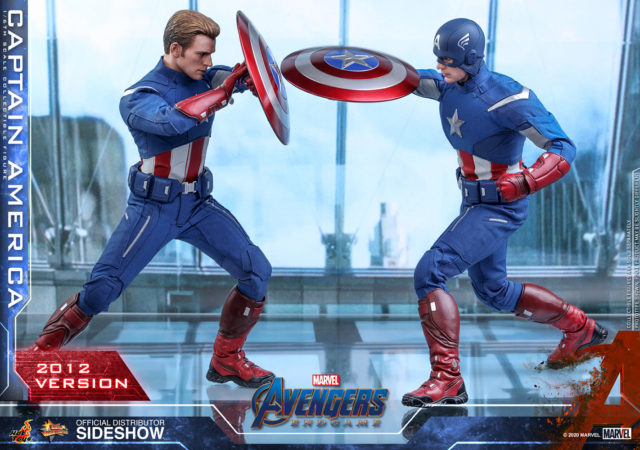 As soon Avengers Endgame hit theaters and the Time Heist fight between the "present" and 2012 versions of Captain America became common knowledge, I (and pretty much every other MCU collector out there) knew it was just a matter of time until we saw Hot Toys revisit that original Avengers movie Cap in sixth scale form. There was even a prototype of 2012 Cap shown at SDCC 2019 in July.
So imagine my surprise when Hot Toys officially announced the solicitation for this 1/6 figure on New Year's Eve—and immediately there was tons of backlash on message boards and social media regarding how Hot Toys was milking the market with a "reissue".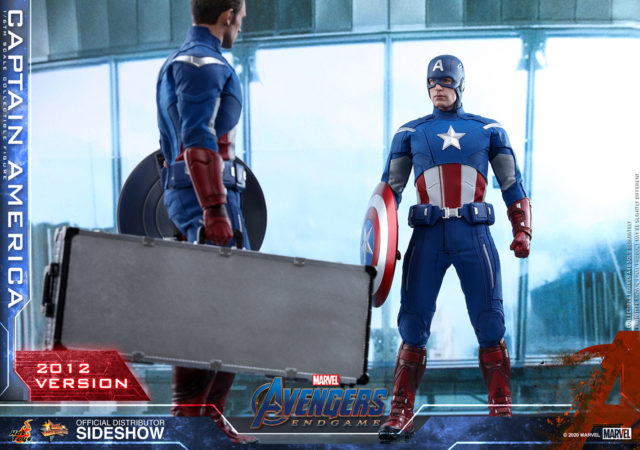 Honestly, this kind of controversy surrounding a release that seems totally reasonable to me was a real shocker. Two versions of Steve Rogers appear wearing this costume in the last movie Cap will (probably) ever be in—of course we were going to see Hot Toys release a new figure to coincide. Collectors didn't flip out about the Movie Promo Spider-Man earlier this year, so I'm not sure why a remake of a much older toy is an issue at all.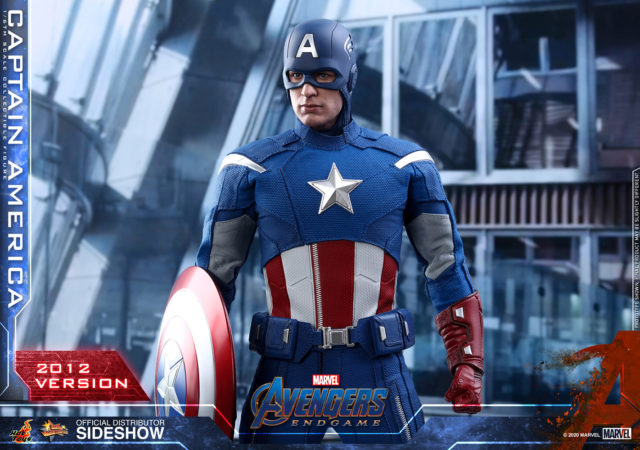 But to be totally clear, this is not just a reproduction of the original Hot Toys Avengers Captain America figure that released back in 2013. The materials for the costume have clearly changed and improved, and the heads and accessories are different from the old release.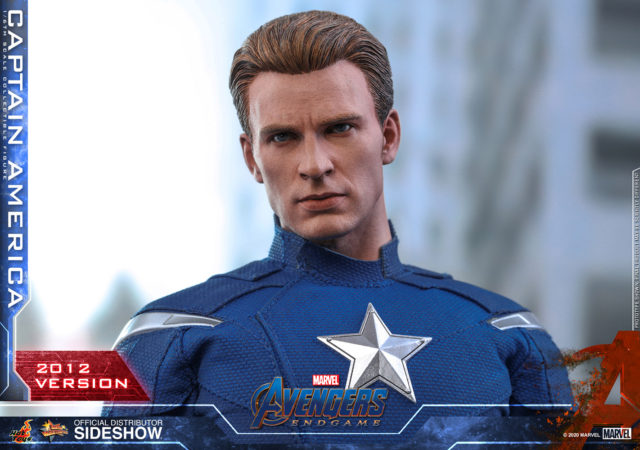 The unhelmeted head sculpt is the same Steve Rogers Chris Evans portrait that comes with the regular (Mjolnir-wielding) Captain America (as it should be), while the helmeted head is newly-developed for this figure. Both heads look outright excellent, and I appreciate that Hot Toys didn't stiff us by trying to include just a masked head.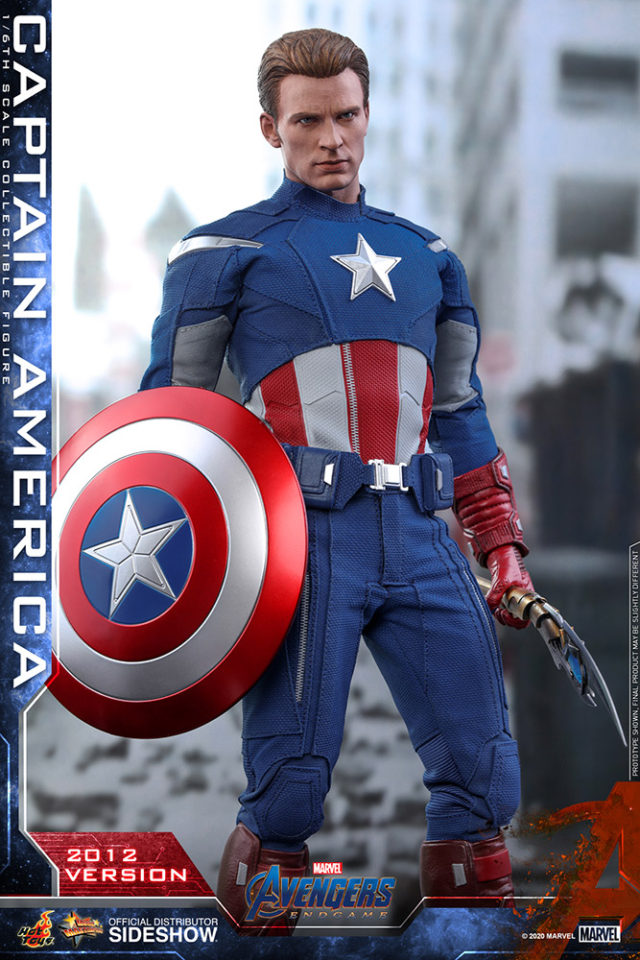 For those who wanted Loki's scepter but never got it half a decade ago plus, here ya go. It's relevant in Avengers Endgame and the scenes 2012 Captain America appears in, so getting the scepter again makes complete sense. And we even get the carrying case for the scepter!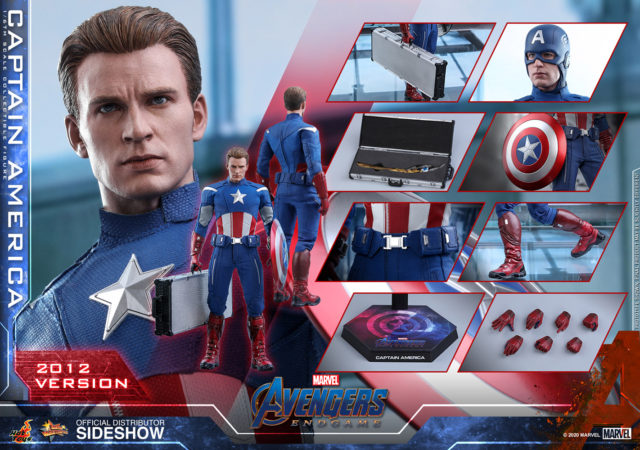 The ubiquitous figure stand, 7 alternate hands and Cap's shield (of course) also make an appearance to round out the accessories. These are all "expected" inclusions, but also necessary ones that fulfill their roles.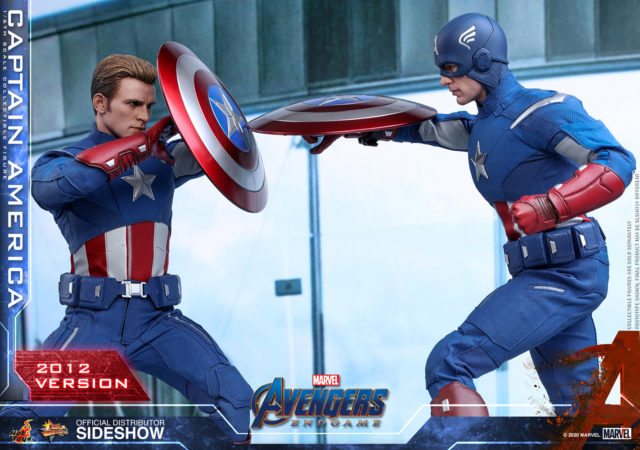 While a lot of folks complained about how "boxy" the body looked on the regular Hot Toys Endgame Captain America, this figure is free from any issues of that sort—the proportions look dead-on accurate. In fact, I would go to say that this whole release of MMS563 Captain America is essentially perfect.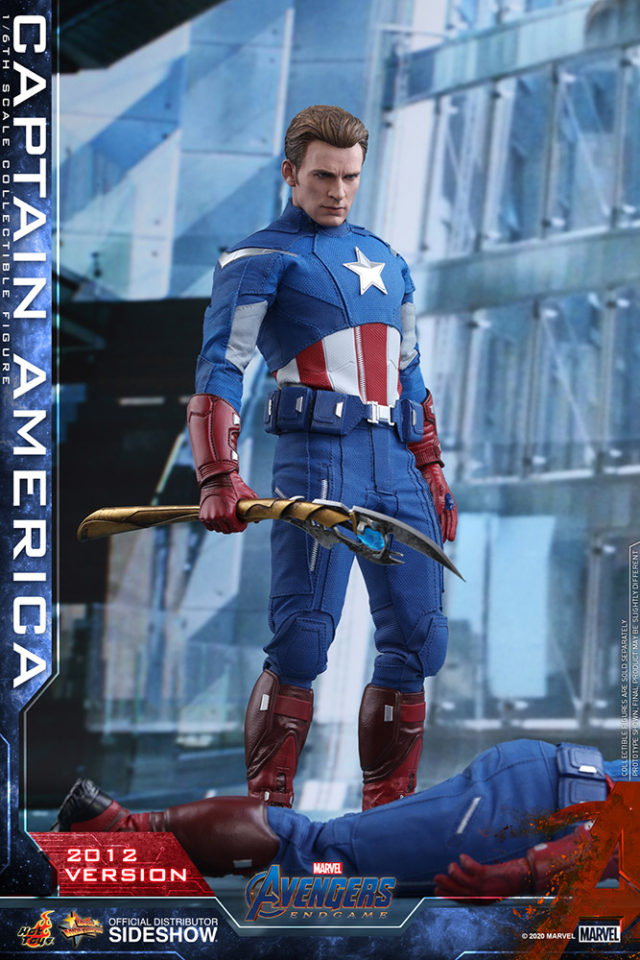 The Hot Toys Endgame Captain America 2012 figure is now up for order, and is expected to ship out in Spring 2021. The $259 MSRP seems fair given the two heads included. Classic Cap never goes out of style—and I wouldn't be surprised to see many collectors pick up two of this particular figure to recreate the battle from the movie—so this figure has "best seller" written all over it.
What do you think about Hot Toys revisiting and updating this classic Movie Masterpiece Series figure, Marvel collectors? Is this the kind of logical upgrade you approve of, or do you consider this 2012 Captain America figure to be a bit of a money-grab?
The post Hot Toys Endgame Captain America 2012 Figure Up for Order! MMS 563 appeared first on Marvel Toy News.