Hot Toys is holding their 2021 Summer Showcase this week, and just in time for the event, they decided to reveal not one, not two, not three, not four, but five new Hot Toys Marvel sixth scale figures! Perhaps the three most intriguing figures from these reveals are ones that represent the MCU's past, present and future: the new Hot Toys Die-Cast Iron Man Mark I, Black Widow (Special Edition) and Black & Gold Suit Spider-Man are now up for order! Let's take a look at the latest Movie Masterpiece Series 1/6 masterpieces…
With zero new Marvel movies released in 2019 and the first Disney+ series not beginning until early this year, last year was among the quietest in history for Marvel Hot Toys collectors. But Hot Toys is starting to get back into the groove now and is intent on making up for last time, as they demonstrated by bringing an all-new quintet of unexpected Marvel MMS figures to this year's Hot Toys Summer Showcase 2021 event!
We'll split these into two articles so they can each receive a proper amount of attention and diligence, covering the three figures that are actually from MCU movies in this article, and the two that, well… aren't… in the other one.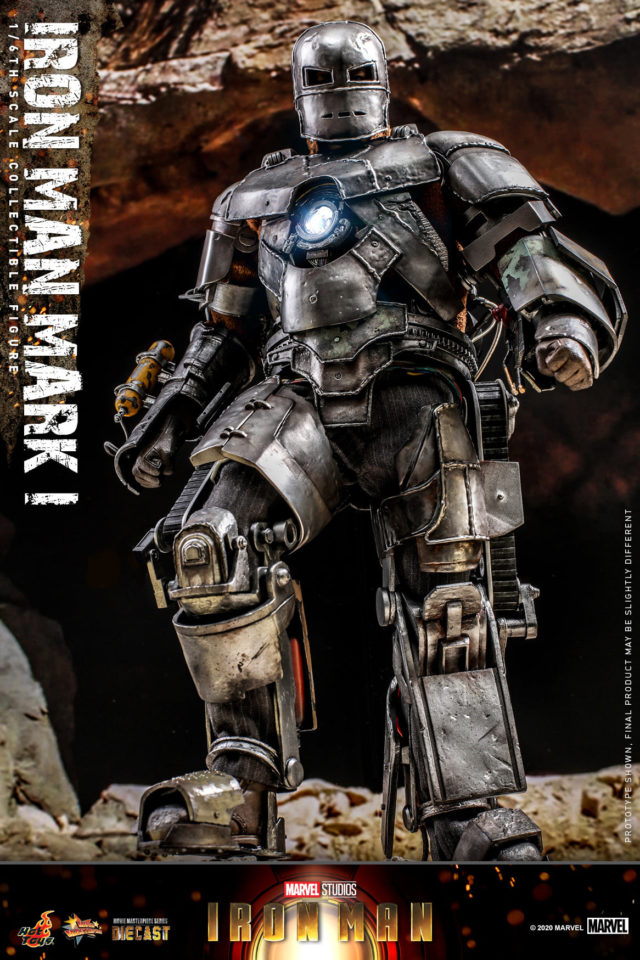 First up, we have one of the most requested upgrades of a sort left remaining from past MMS releases: the long-awaited die-cast version of the Iron Man Mark I armor permutation! As the Mark I has not been available in quite a few years, and many fans weren't happy with the size/scale of previous releases, there's been ample demand for years to see a new die-cast version created.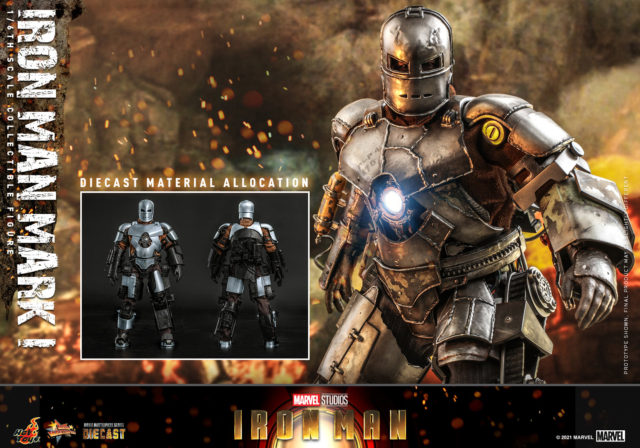 And, well… here it is—but it's still drawing some disappointment and criticism from many collectors. Rather than being an "all new" version of the armor like many fans had hoped for, this appears to be more of a slightly upgraded version of the previously-released Hot Toys Mark 1 2.0 figure, but with some die-cast parts replacing plastic ones now (such as the chest plate, helmet and some other plated areas).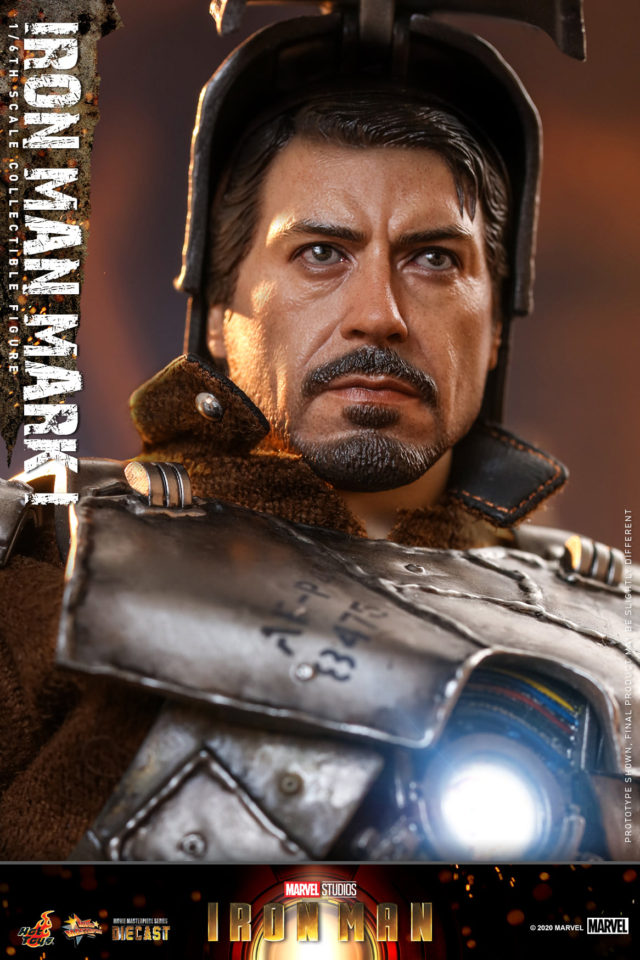 At over double the cost of the prior release of this armor (a whopping $455 MSRP) and still at a height of 11.8" tall, there's definitely been a lot of controversy surrounding this Iron Man Mark I Hot Toys' figure's reveal.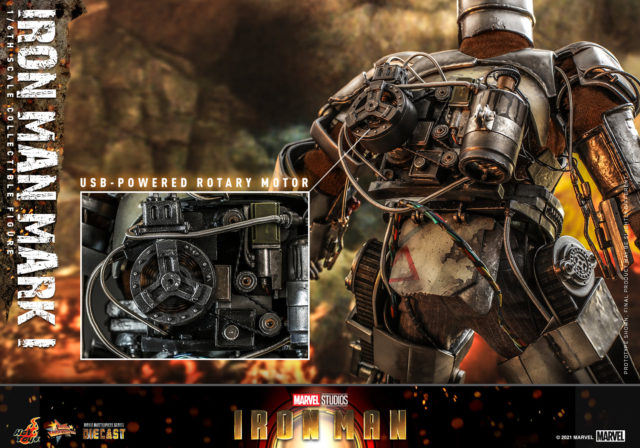 I personally think it's good to get older iconic designs back onto the market for new collectors to keep collecting accessible, but even I have to express disappointment that this guy will remain shorter than every other Iron Man MMS in the land, whether he has a neat-o USB-powered rotary motor or not.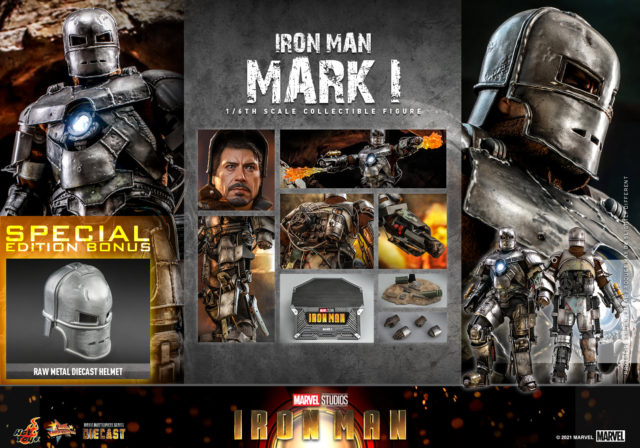 Sideshow has an exclusive Special Edition release of this Mark I Iron Man figure that comes with a raw metal die-cast helmet as a bonus. It's nothing I would jump for joy over, but as a free extra accessory, it's fine enough.
In addition, both the standard and exclusive versions of the figure come with a rather huge diorama base (possibly to help masquerade its diminutive size), a cool flamethrower effects piece and more. The figure itself still looks real good and it's nice to see the few updates to the 2.0 from years ago, but the short height and tall retail price are definitely downers.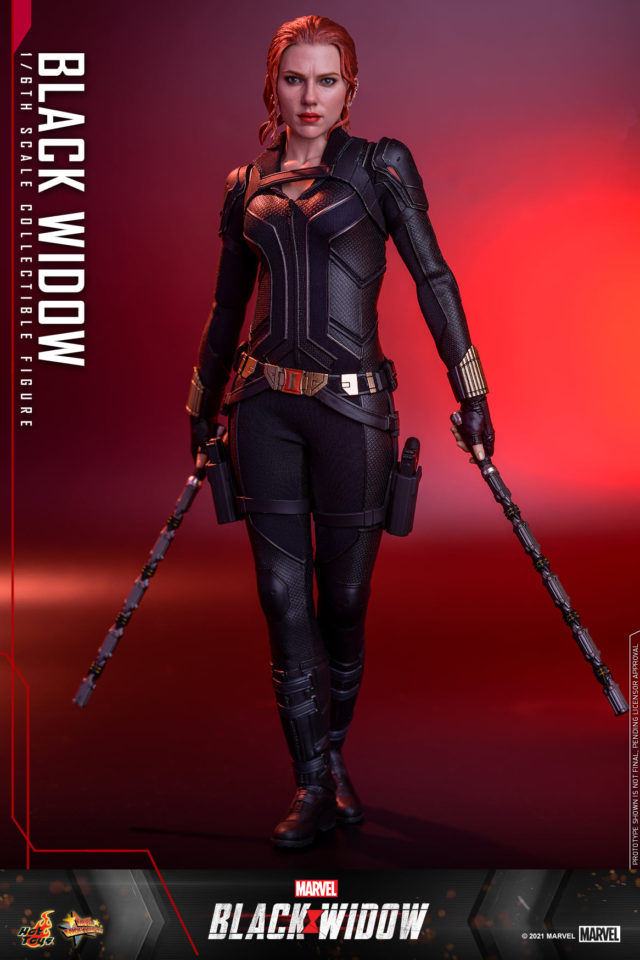 Moving on from the past to the present, we've got a Natasha Romanoff figure from the Black Widow movie that dropped last week—this time, in black costume!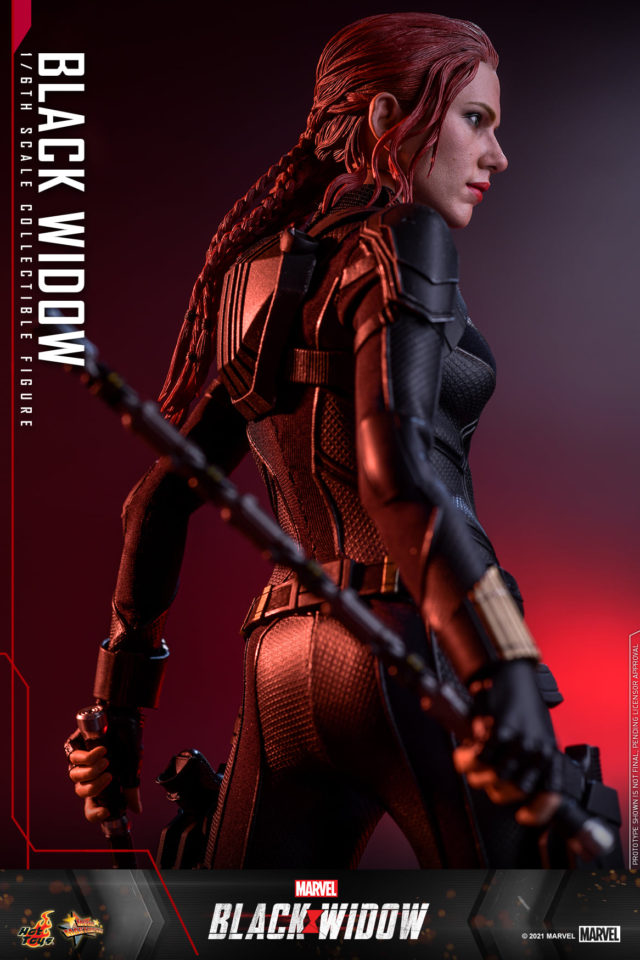 While the white costume Black Widow is the belle of the merchandising ball for the movie due to being so different color-wise from all the previously released MCU merch of the character, there really was never much of a question as to whether or not Hot Toys would do one more Nat in her black costume from her solo movie as well.
I am of a couple minds about this 1/6 figure, personally. On the one hand, I absolutely love this particular black costume, and to me it's the closest any of Natasha's movie costumes have looked to their comic book counterparts. That's almost enough to sell me on needing yet another Hot Toys Black Widow in my collection.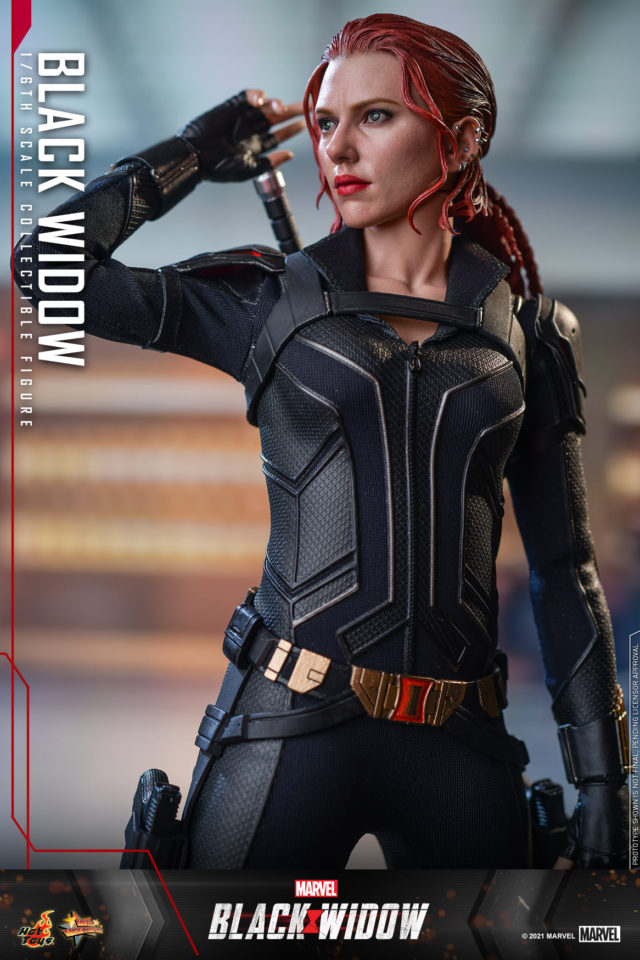 On the other hand, I was honestly a bit shocked when I first saw the official photos of this figure, because the hair is not what I was expecting at all. Hot Toys has done some fantastic-looking plastic hair recently for their female figures (I outright detest rooted hair), but this hair looks bizarre right now. The color looks too saturated red, and the hair strands have a plastic spaghetti look to them from some angles.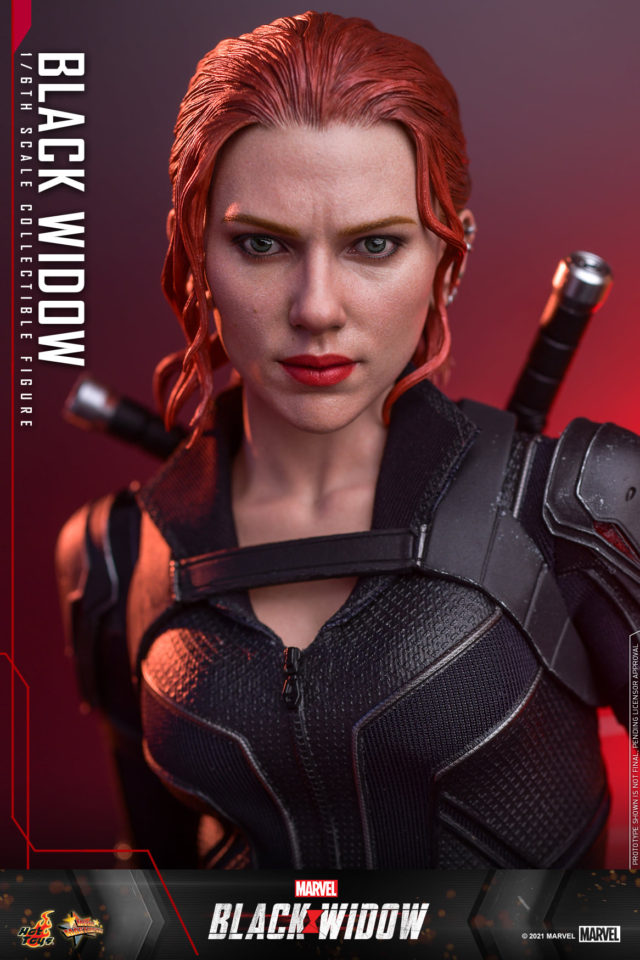 I really, truly want to love this figure, and I think the Scarlett Johansson portrait itself here is excellent, but it's hard for me to get past the look of the hair. I'm really hoping we see Hot Toys do a bit more work on the hair and show us some updated photos in a few months, as they recently did for WandaVision Scarlet Witch's portrait.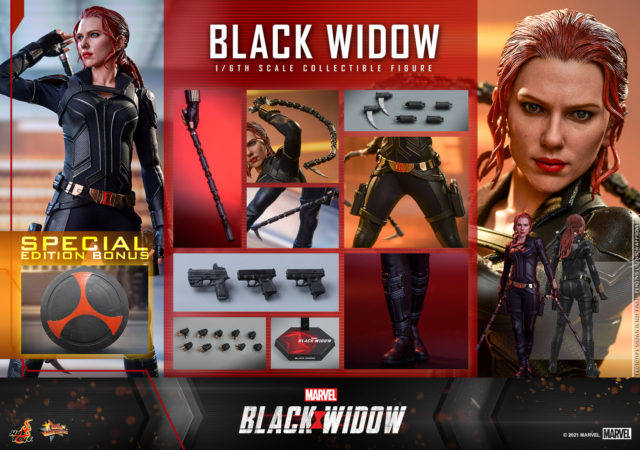 Accessories-size, we get pistols, standard batons, articulated batons with interchangeable tips (very neat), interchangeable hands and of course the obligatory figure stand. Sideshow again has their own Special Edition as an exclusive, which comes with a Taskmaster shield as a bonus for some reason (weird since Taskmaster is already up for order as well and guaranteed to come out).
And looking to the future, we've got what is for now just being called the Hot Toys Black & Gold Suit Spider-Man. I'm sure that we'll get a real name for this costume as we approach the Spider-Man No Way Home movie hitting theaters, but for now "Black & Gold Suit" is the name that merchandisers have to make do with.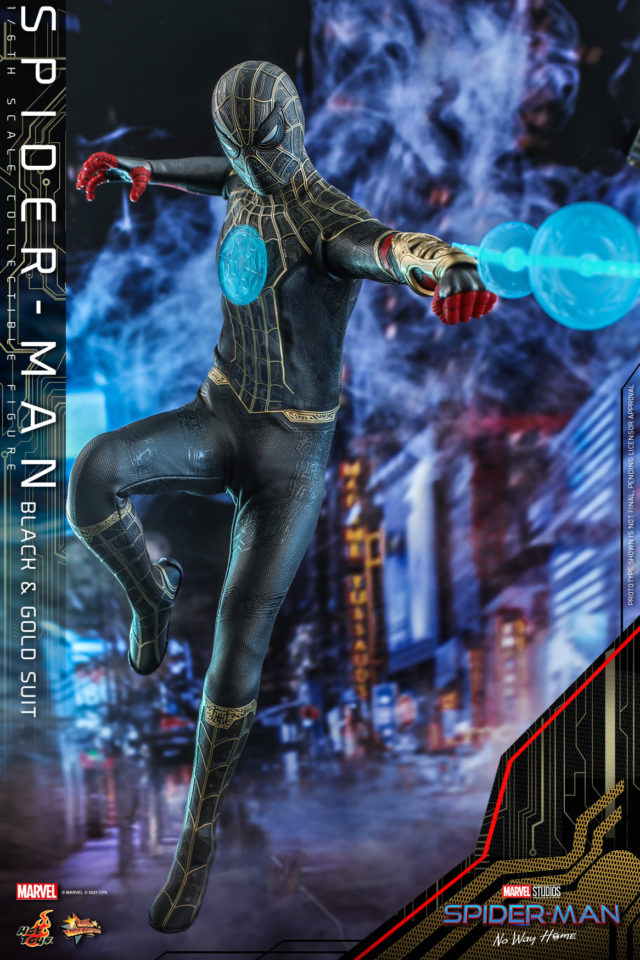 Lackluster name or no, this is one of those figures where I saw it and I was immediately like "What the hell". I actually don't mind the Killmonger-like black and gold portions of the costume all that much, but the red accents look rather hideous to me.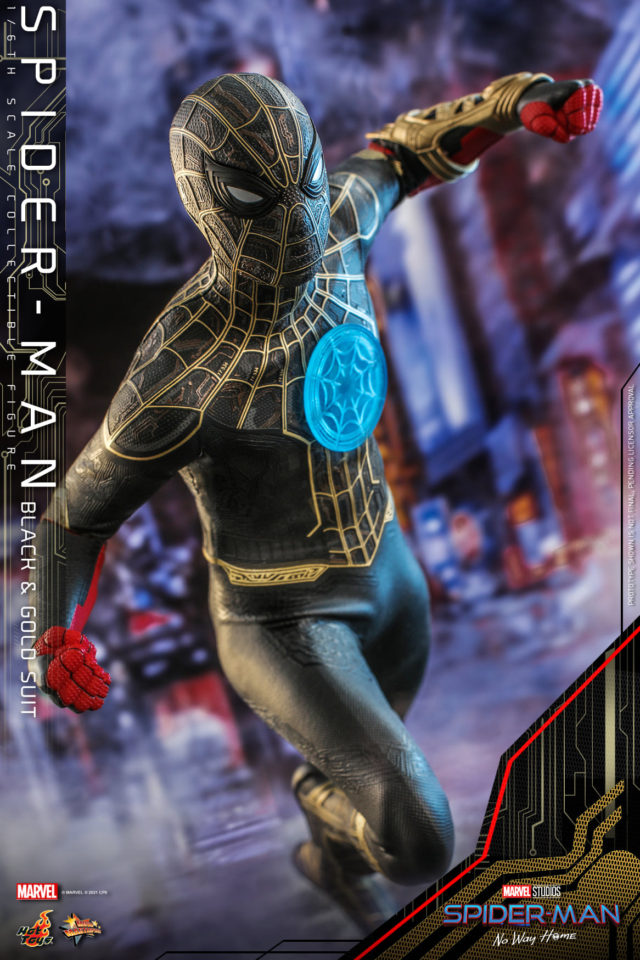 I really need to see this Spidey in the movie before I'm ready to commit to a sixth scale version of it (especially after I ended up cancelling my Stealth Suit "Nightmonkey" MMS after seeing Far From Home). The design for this costume is weird as Hell, but if it's cool and memorable enough in the movie, I think it can win over a lot of fans (and hopeless toy addicts like me).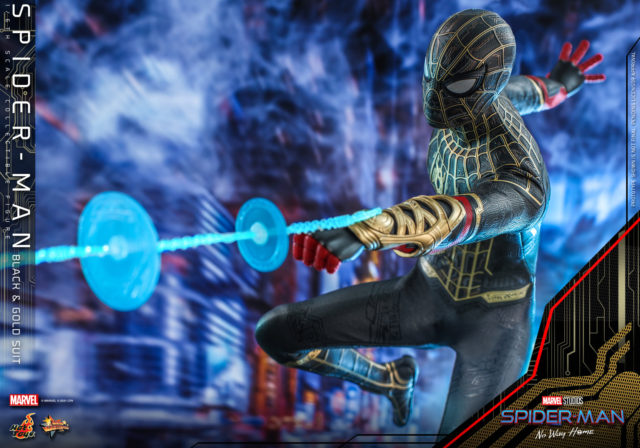 As we've seen with some of the other early merch from Spider-Man No Way Home, this is another costume that has what appear to be integrated sorcery elements to it. The "mystic" spider web effects pieces definitely feel bizarre right now, but I am willing to let them win me over in the movie if they can.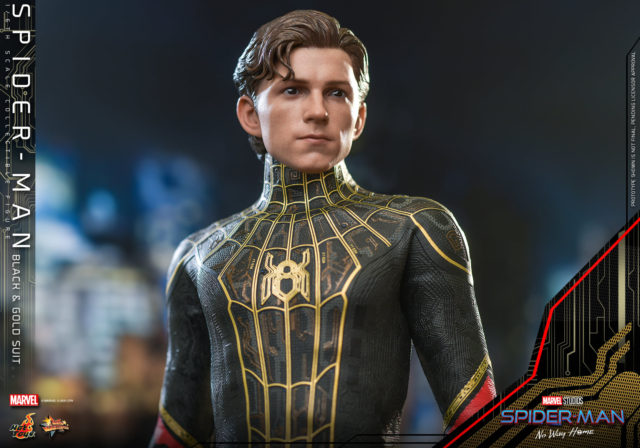 Hot Toys does swell Tom Holland portraits, and this figure comes with another one. The interchangeable eyes to switch up Spidey's expressions are appreciated as usual, as are the web shooting effects and ubiquitous display stand. As a toy, this looks awesome—I just need to really see this in a movie before I plunk down a deposit on it. Definitely the oddest MCU Spidey costume to date.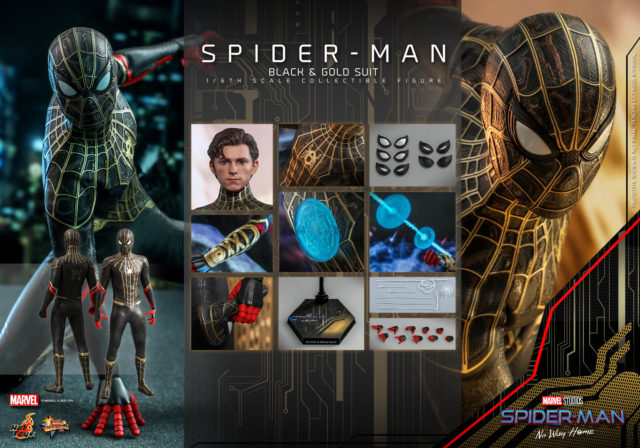 These three new Marvel MMS Hot Toys figures are all up for pre-order now on the Sideshow Collectibles website, with release dates ranging from Q1 2022 to Q2 2023 (yowza—quite a wait for that Iron Man!). None of these are limited, so I would imagine fans who are on the fence and considering any of these will have a fair number of months to make a decision rather than being rushed.
What do you think of this trio of new Hot Toys 1/6 figures, Marvel collectors? Are these versions of Iron Man, Black Widow and/or Spider-Man you can visualize on your shelf? How do you feel about the drawbacks of each figure, and do you think they outweigh the positives in this instance?
The post Hot Toys DIE-CAST Iron Man Mark I, Black Widow & Black/Gold Spider-Man 1/6 Figures! appeared first on Marvel Toy News.