You know that old saying that "the sequel is never as good as the first"? Well, it doesn't look as if that's going to be the case for Deadpool 2—but far more importantly, it doesn't look like it's going to be the case for Hot Toys' second crack at Deadpool! While there have only been minor changes to the costume both in the movie and for the figure, Hot Toys has found a way to upgrade this MMS and make it superior to the original: the 1/6 Hot Toys Deadpool 2 figure is now up for order!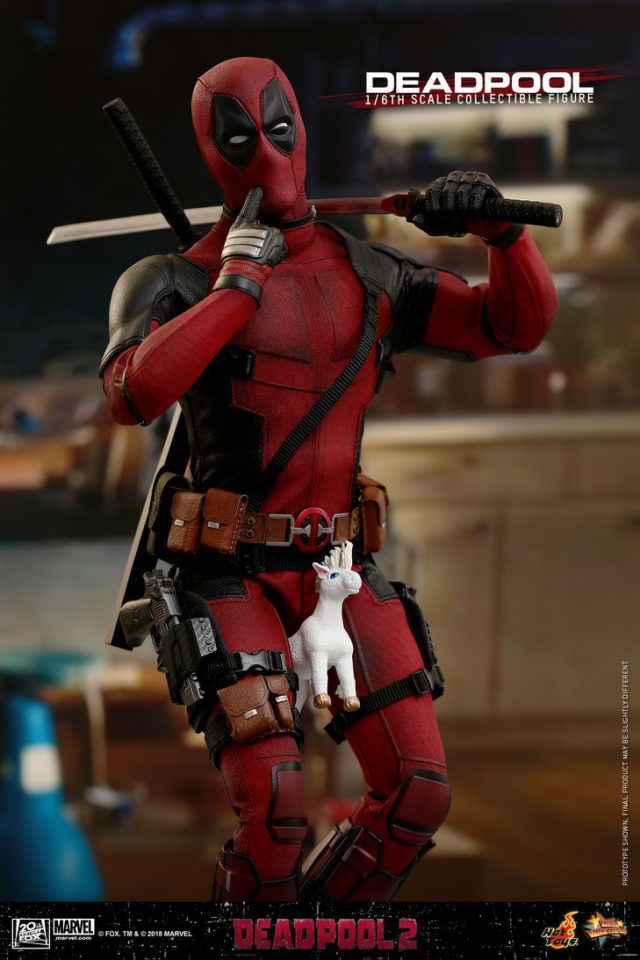 Unlike the Marvel Cinematic Universe—where almost every character gets a new costume for each movie they appear in—Wade Wilson looks to be sporting near-identical Deadpool duds in his sequel that hits theaters this week.
But have no fear—Hot Toys isn't calling it quits and skipping out on releasing a second Deadpool Movie Masterpiece Series figure. Nor are they just reissuing the old version in new packaging. Instead, we're getting an all-new and improved Deadpool with a multitude of cool accessories!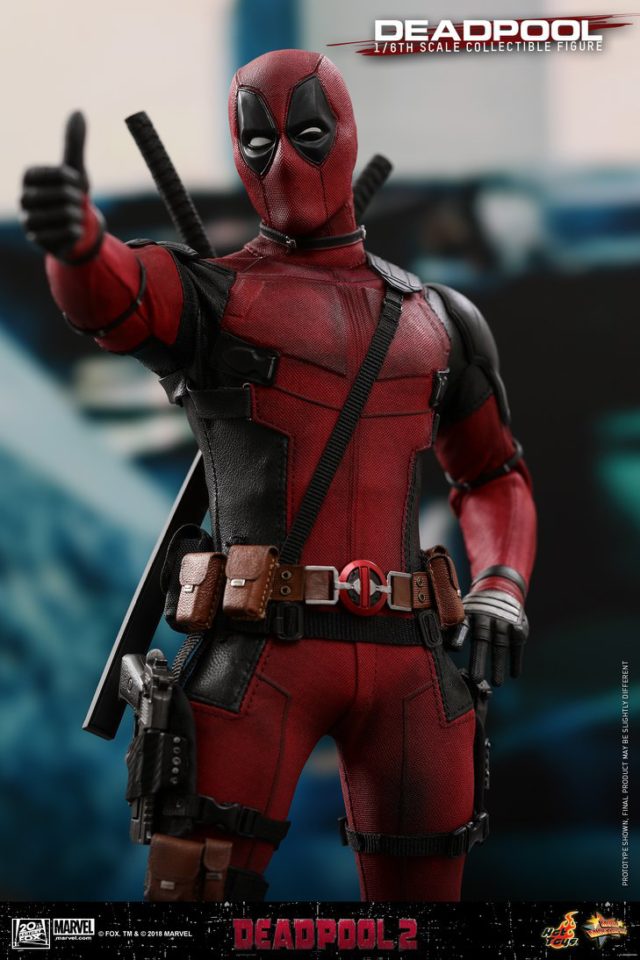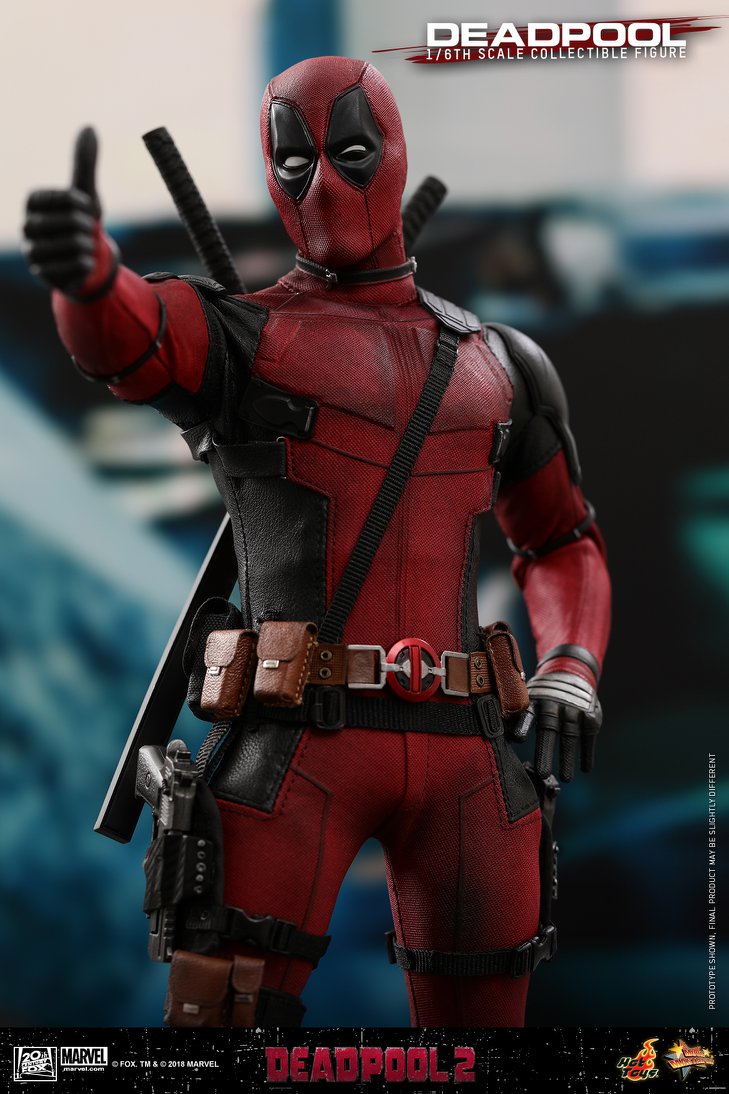 At a quick glance, it would be easy to look at this new Deadpool MMS and say: "But that looks just like the last version!" Upon closer examination and comparison, however, the differences between the two are pretty clear.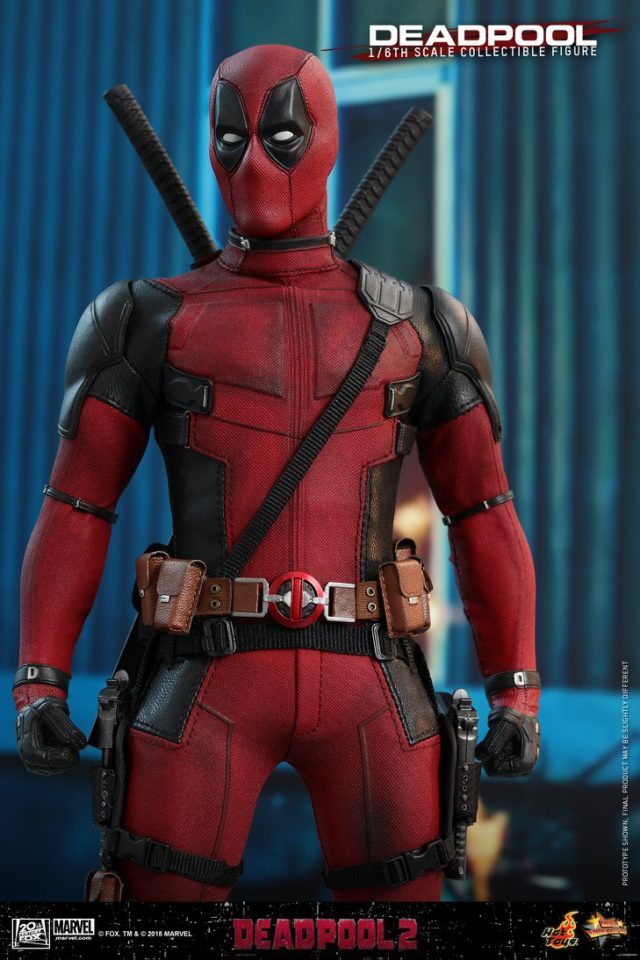 The proportions have been redone this time out, and now Wade's head finally looks like a perfect match for his body. This was one of the few flaws to the original Hot Toys Deadpool 1:6 figure, so I'm glad to see they've mastered the proportions the second time out.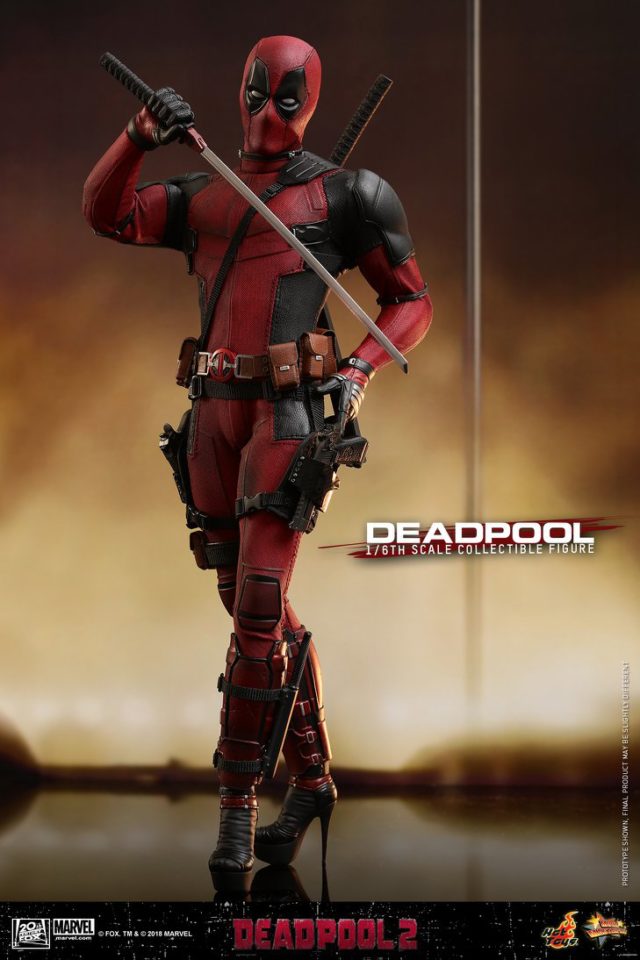 In addition, you can see in the photos that Deadpool's costume is made of a different material this time—more like the Spider-Man Homecoming figure and less like the leathery costume on the first DP.
You can see from the official photos that the new costume's material looks less stiff and allows for better flexibility and dynamic poses—something pretty crucial for the ninja-like Wade Wilson.
And the accessories—oh, the accessories! Hot Toys is gifting us with some really cool stuff this time out, with the most fun ones being a unicorn doll and an X-Men jersey he can wear.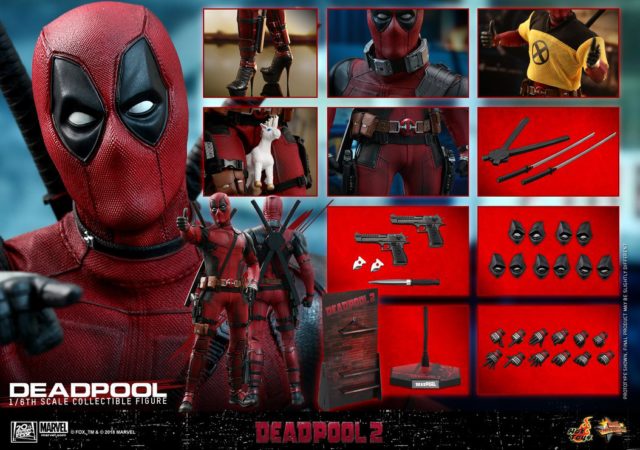 You also get a dagger, two shurikens, two pistols, two metal katanas, twelve interchangeable hands, five pairs of interchangeable eyes, a katana sheath, and… a pair of high heels that I can only assume will be a "blink-and-you-missed-it" gag in the Deadpool 2 movie.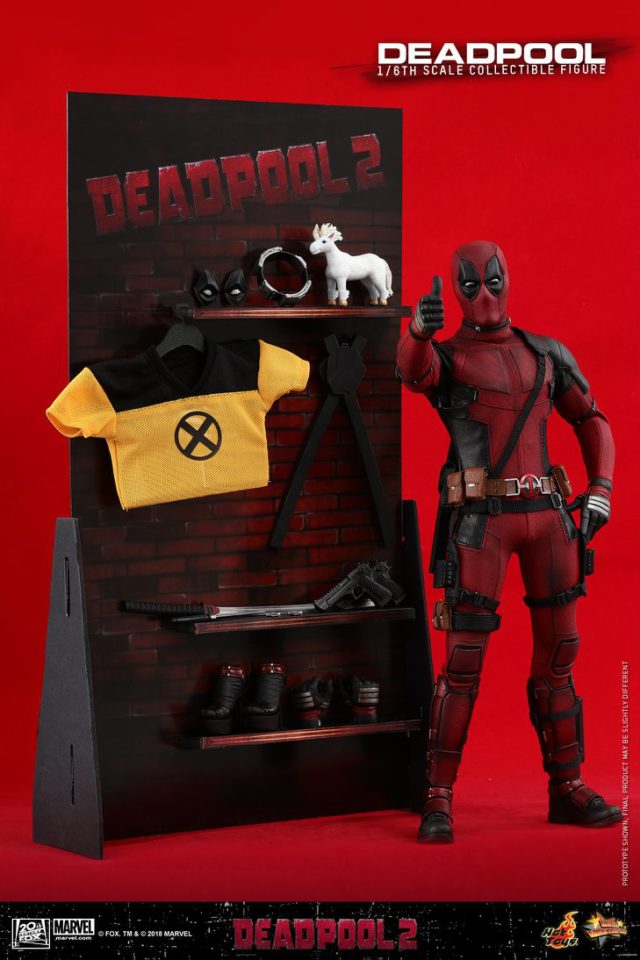 Along with his dynamic figure stand (with posing pole for aerial poses), Hot Toys is also including a pretty neat diorama backdrop with "shelves" to place all your extra accessories on! I'm not gonna lie—I wish we got this sort of backdrop with every Hot Toys figure in order to more easily store weapons and accessories.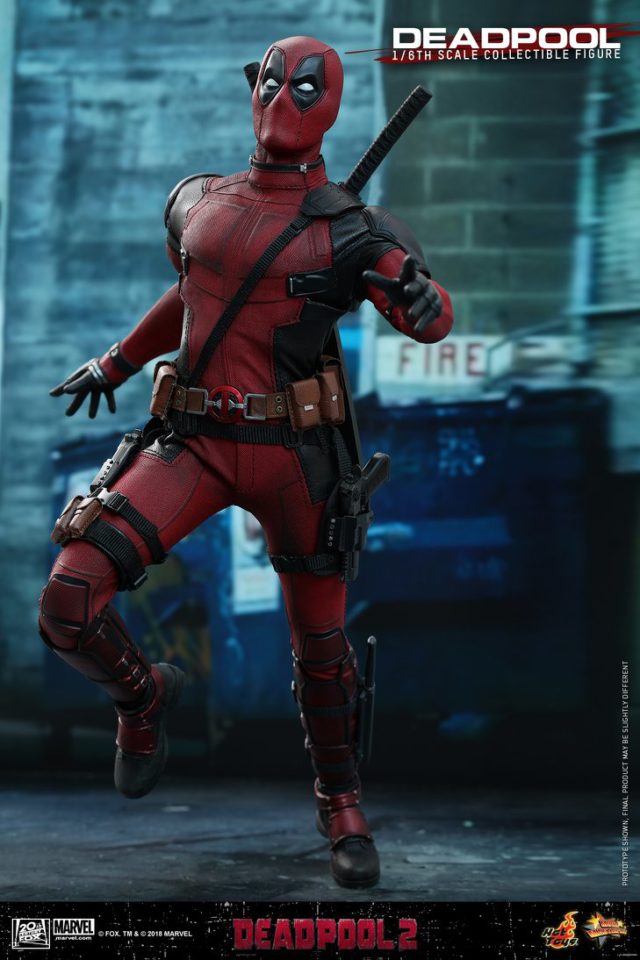 Just about the only thing you'd probably expect that we're not getting is an unmasked Deadpool Ryan Reynolds portrait Wade Wilson head. I sort of doubt that this is a licensing issue—I think it's more likely that the head just didn't cost out and Hot Toys chose to omit developing and including it.
I guess it's not impossible that HT will release a 1/6 Wade Wilson civilian figure down the road, but I genuinely don't see this series going any further than this one figure (although I would love a Hot Toys Cable).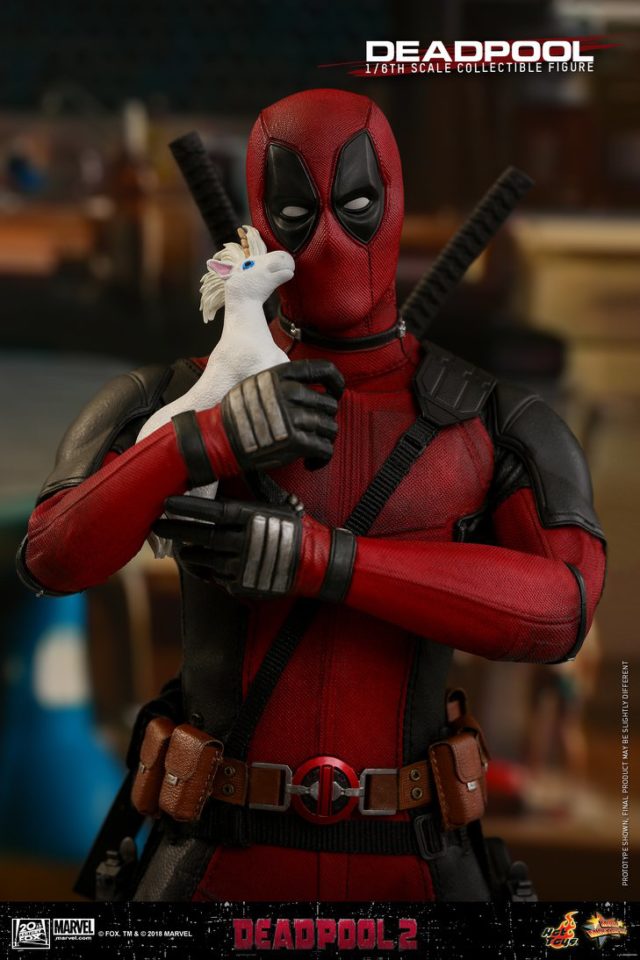 The Hot Toys Deadpool 2 sixth scale figure is now up for order, and is scheduled to arrive at the very end of 2018 (or start of 2019). Given that the original version of DP is long sold out and there's plenty of built-up demand for this new iteration, this ought to be one of Hot Toys' best-sellers of the year.
Is the second time the charm as far as 12" Deadpool Hot Toys figures go, Marvel collectors? For those of you who bought the original version—are you planning to upgrade? And for those who passed on it—does this new version win you over?
The post Hot Toys Deadpool 2 Figure Up for Order! Photos & Order Info! appeared first on Marvel Toy News.