It's been a lengthy wait of over half a year since the most recent addition to the MCU, but a new entry will be arriving in theaters exactly one month from today: Captain Marvel! We've had toys from the movie from Hasbro, Funko and DST since last month, and now it's time for the most high-end figure company in the world to show their hand: the Hot Toys Captain Marvel sixth scale figure goes up for order today! And Hot Toys clearly knows what we like: there's a Deluxe Version with a 1/6 Goose the Cat on the way as well!
Carol Danvers has never been on my list of favorite characters, but I'm keeping an open mind and trying to prep myself to really fall in love with the character for the first time when her movie hits next month.
But regardless of whether I end up joining the Carol Corps, one thing is for sure: I'm going to need a Captain Marvel Hot Toys figure for my 1/6 movie Avengers lineup, no questions asked. So when HT finally fully revealed their Captain Marvel MMS figure, they had my complete attention. And in my opinion, they've got another winner on their hands with this Carol.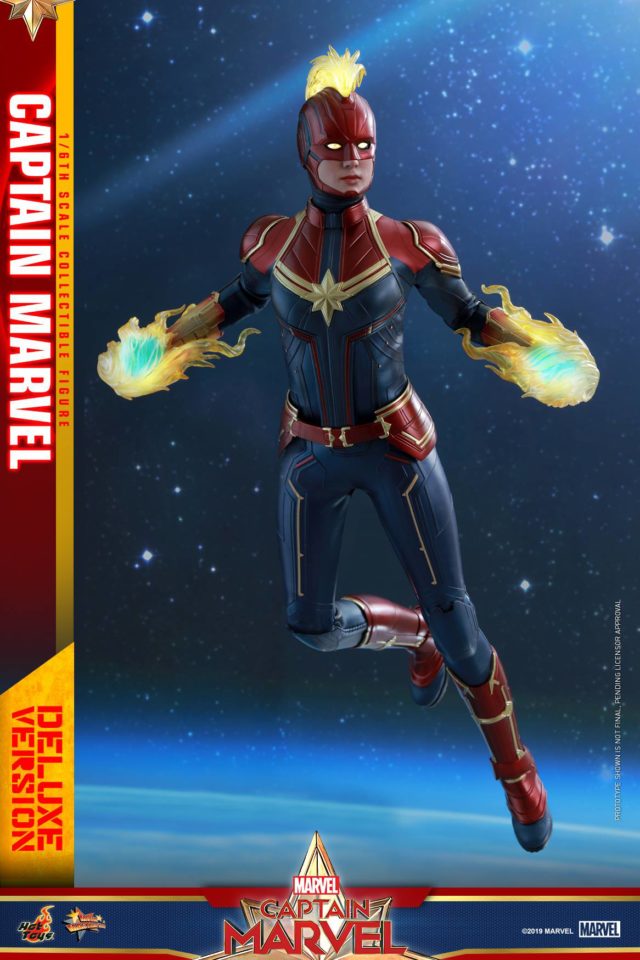 As you might expect, the first Captain Marvel Movie Masterpiece Series figure has Carol suited up in her iconic red and blue costume. I think there's little to no doubt that HT will do the green Starforce costume later on (perhaps as a Summer Convention Exclusive), but this was for sure the right choice for their first release of the character.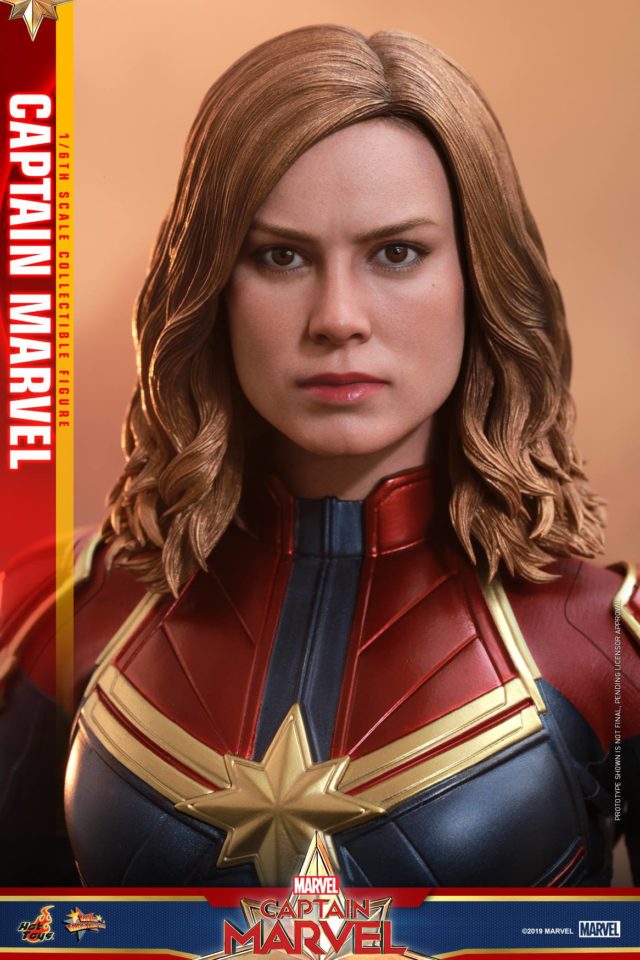 The likeness of Brie Larson on the portrait is outstanding, in my opinion. I've seen some folks criticize the likeness already today, but many more saying they love it. Looking at straight-on comparisons of the toy and actual photos of Brie Larson, I think Hot Toys has this likeness spot-on. Also, the golden paint on the hair works and works great.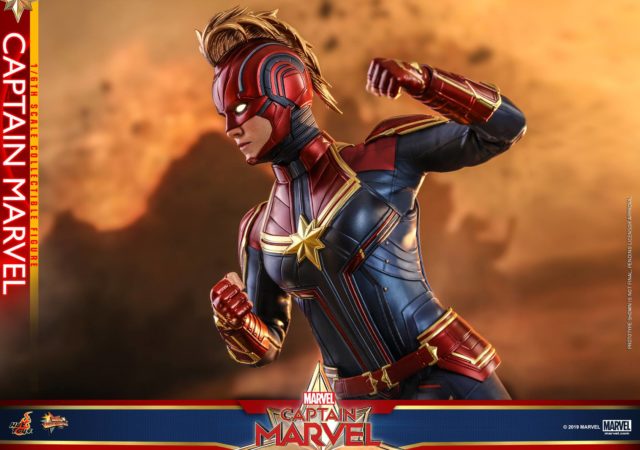 In addition to the unmasked Carol Danvers head, we're also getting a masked head with this release (as we should expect from a $200+ sixth scale figure).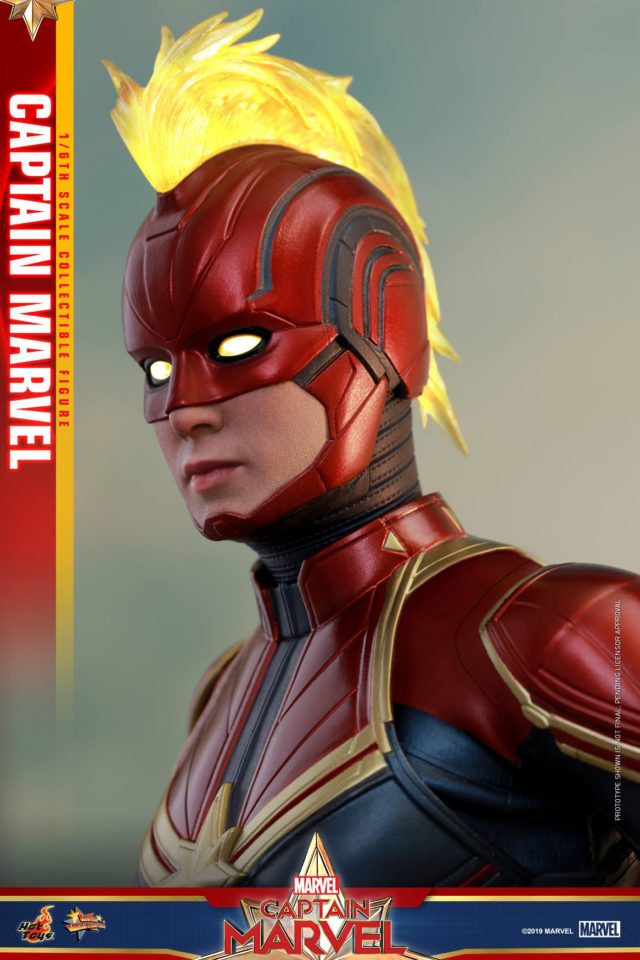 The masked head looks excellent, and comes with two interchangeable mohawks: one "normal" mohawk of sculpted hair, and one "powered up" energy mohawk made of translucent yellow plastic. I always thought the mohawk look for Captain Marvel looked kind of dopey, but with the energy effects hair it looks awesome. Love it.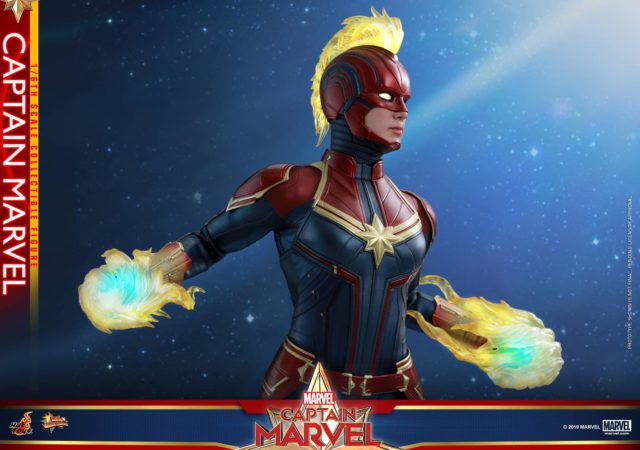 Captain Marvel's costume appears to be made of the same metallic-looking material as the recently released 1/6 Iron Spider figure—so if you liked this material there, you'll like it here. I'm of the opinion that Carol Danvers doesn't require the type of extreme poses that Spider-Man does, so I think the soft goods are actually going to work better here.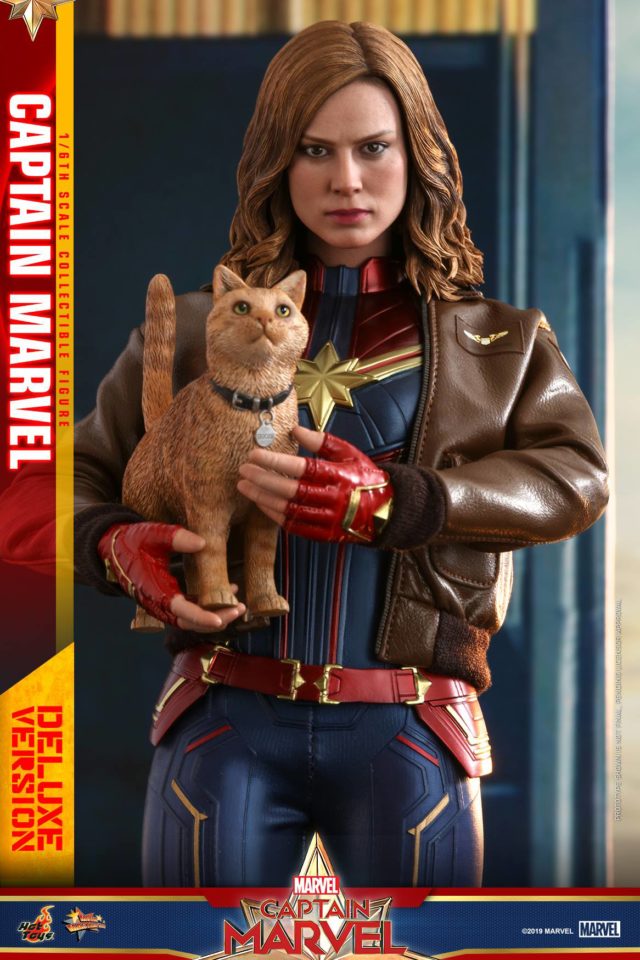 Hot Toys has two versions of this figure lined up: a regular version and a slightly more expensive Deluxe Version. That said, the extras included with the Deluxe Version make it such that I don't see many collectors opting for the "lesser" edition.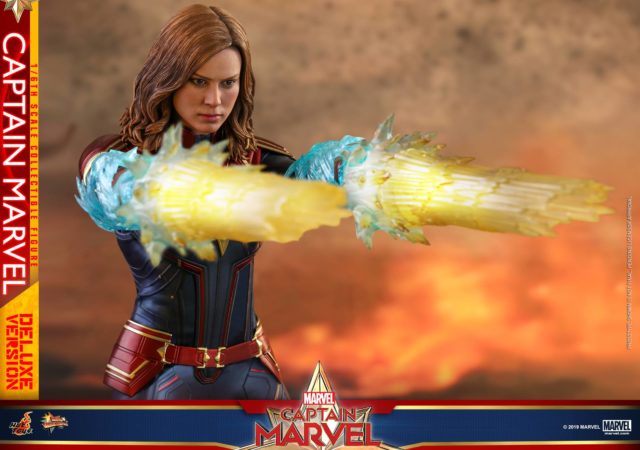 With the deluxe version, you get an extra pair of gradient energy effects pieces, Carol's very cool bomber jacket, and what may ultimately be the most popular Marvel MMS accessory Hot Toys ever offers: Goose the Cat.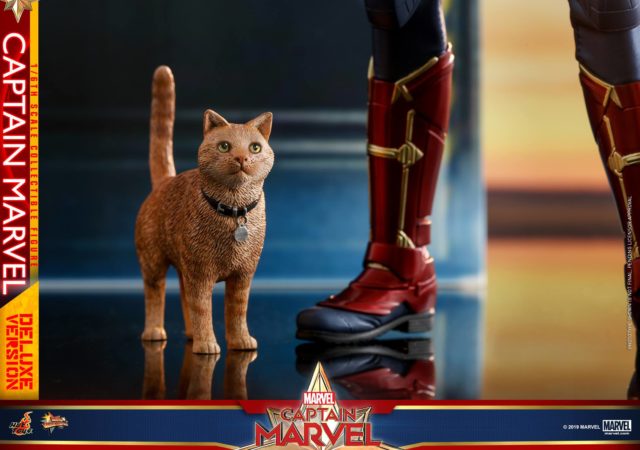 Goose looks insanely realistic and detailed, and is the spitting image of the "cat" as we've seen him in the trailers for the film. Considering I've seen collectors buying $20 Hasbro figures of Carol just to get a tiny Goose figure with a fraction of the detail of this one, Hot Toys is going to have no problem at all getting collectors to fork out a few extra bucks for this veritable feline masterpiece.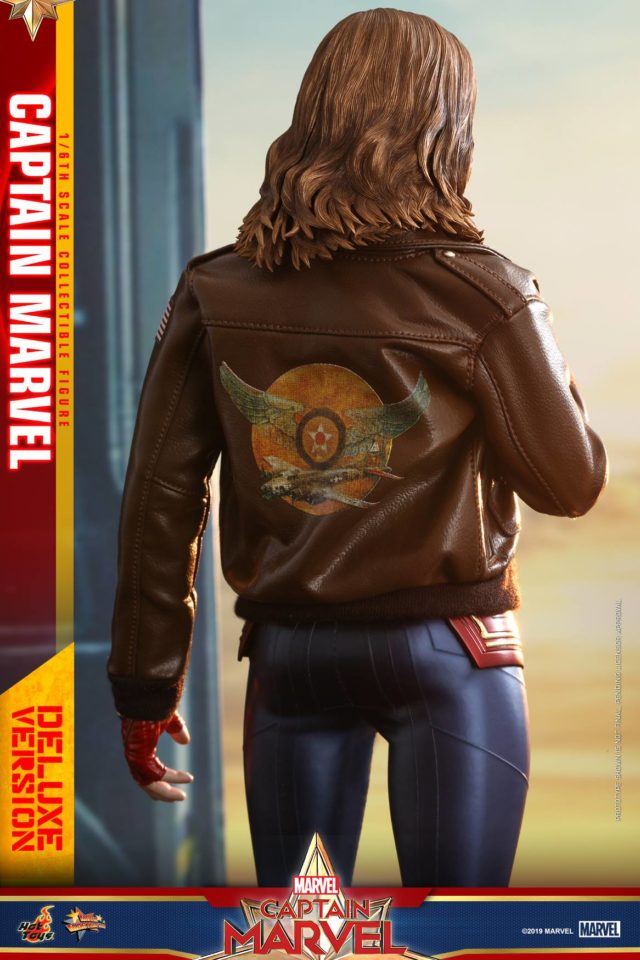 Until we see how significantly it appears in the movie and in what scenes, I'm ambivalent toward Carol's bomber jacket. Even so, Hot Toys has done a beautiful job on the jacket, so if I do decide I want to display Carol with it—at least I know that it looks good.
And as far as the additional "blasting" energy effects that the deluxe Captain Marvel Hot Toys figure comes with, well—I'm a self-admitted effects piece maniac, so the more the merrier when it comes to these cosmic effects.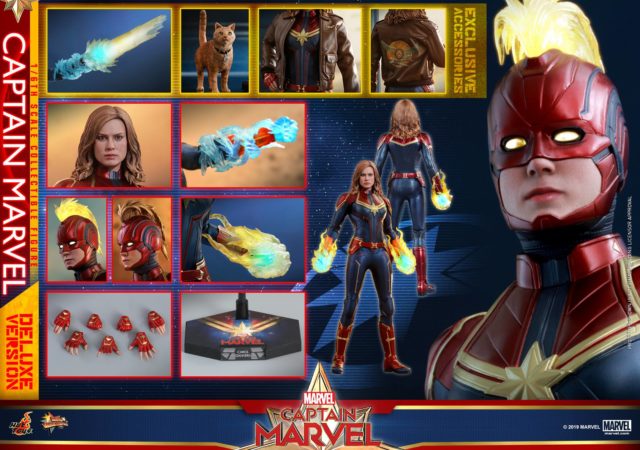 The Hot Toys Captain Marvel Deluxe 1/6 Figure goes up for order today, and is scheduled to be released in late 2019. Estimated price is ~$220 for the regular version and ~$240 for the deluxe edition with Goose. Given that this is the first sixth scale figure of this character ever—and she's going to be a major addition to the MCU—I foresee this being a huge and fast seller for HT as long as audiences don't end up hating Carol in the movies (which all evidence suggests they will not).
Now that she's been revealed in all her glory, how do you like this Carol Danvers Hot Toys figure? Is this a Day One pre-order for you, and if so, are you going in for the regular version or the deluxe with Goose?
The post Hot Toys Captain Marvel & Goose the Cat Figures Photos & Order Info! appeared first on Marvel Toy News.