Happy Avengers Endgame Day! Fans aren't the only ones rejoicing that the movie has finally arrived, as we can expect merchandisers to roll out a steady stream of new toys for the movie over the next few weeks. And Hot Toys has saved two of their most-anticipated updated characters to launch today: the Hot Toys Endgame Captain America and Black Widow 1:6 figures will be up for order around 3PM EST this afternoon! Is it worth tossing your old versions in a box in favor of these new ones?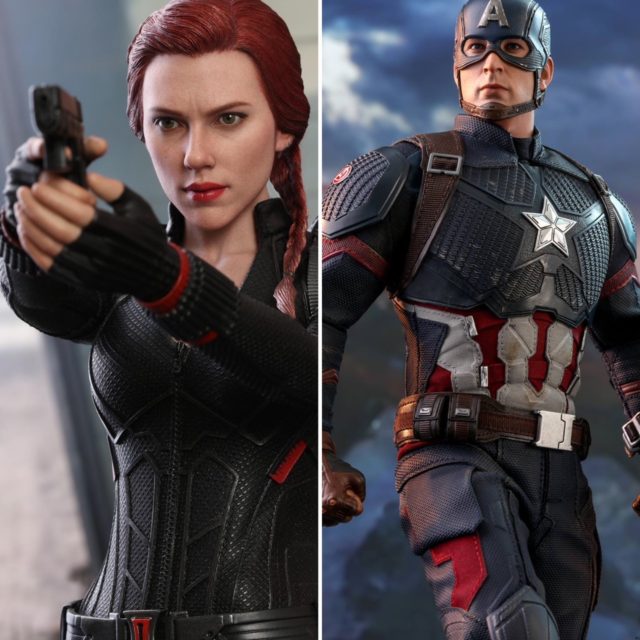 Collectors have been asking for years for Hot Toys to make a Black Widow MMS 1/6 figure without rooted hair, as many people just can't stand their dolls looking like, well… dolls.
Hot Toys has released Black Widow after Black Widow with Barbie hair regardless, but with Scarlet Johansson's short hair and braid in Avengers Endgame, they're finally ready to give us fully sculpted hair (and braid). Hallelujah!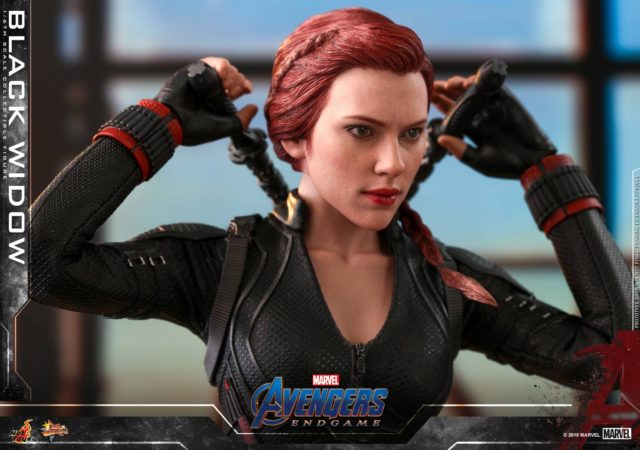 How's the head sculpt look? Frankly: marvelous. The Scarlet Johansson likeness is killer, and while it took me a second to adjust to the sculpted plastic hair, I'm now totally sold on it. I don't know if this tops the (now outrageously expensive) Civil War Widow, but it's certainly in the upper echelon of 1/6 Black Widow figures.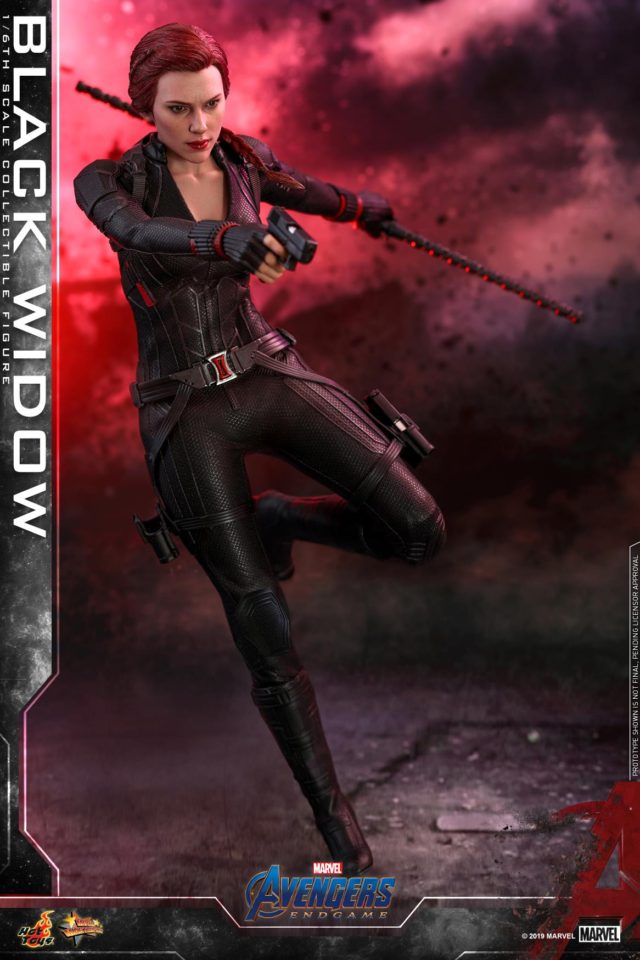 The rubber-looking costume on Black Widow is also a bit of a switch, and I initially was turned off by it, but the more I look, the more it grows on me. I think (hope) that once we've all seen the movie, the costume and hair will look 100% natural and authentic to all of us picky collectors.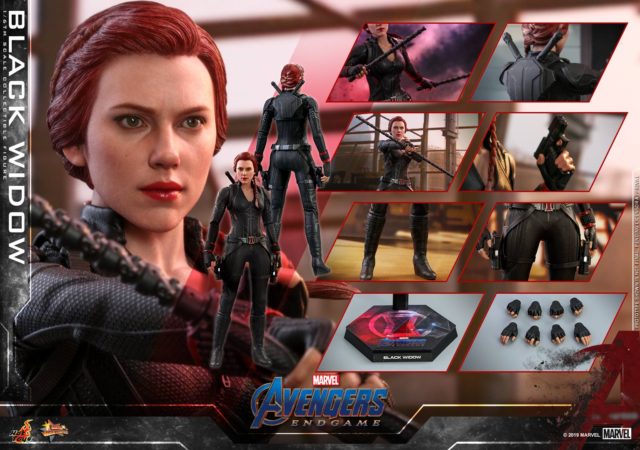 Accessory-wise, Widow is a tad light. We'll be getting a long and two short batons, two pistols, eight interchangeable hands and the obligatory logo figure stand display base. These are the only accessories most folks would display with Widow, so if it keeps her price low, I'm on board for this modest assortment of accessories.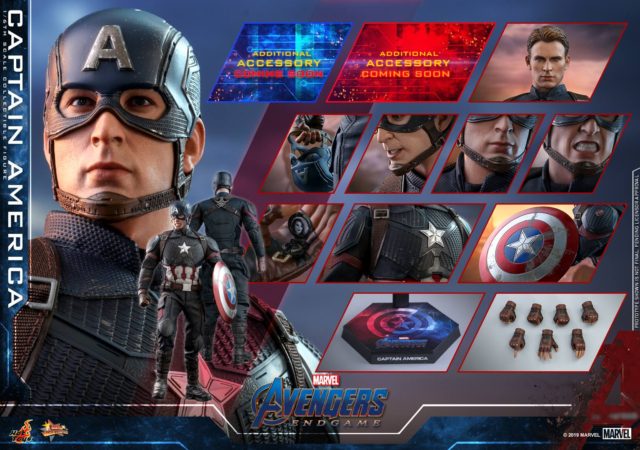 And speaking of accessories (that's my subtle segue)—the Endgame Captain America Hot Toys figure will be coming with two mystery accessories that are yet to be revealed! These are presumably going to be spoiler-iffic accessories, so let's keep guesses as to what they may be out of the comments for a few days.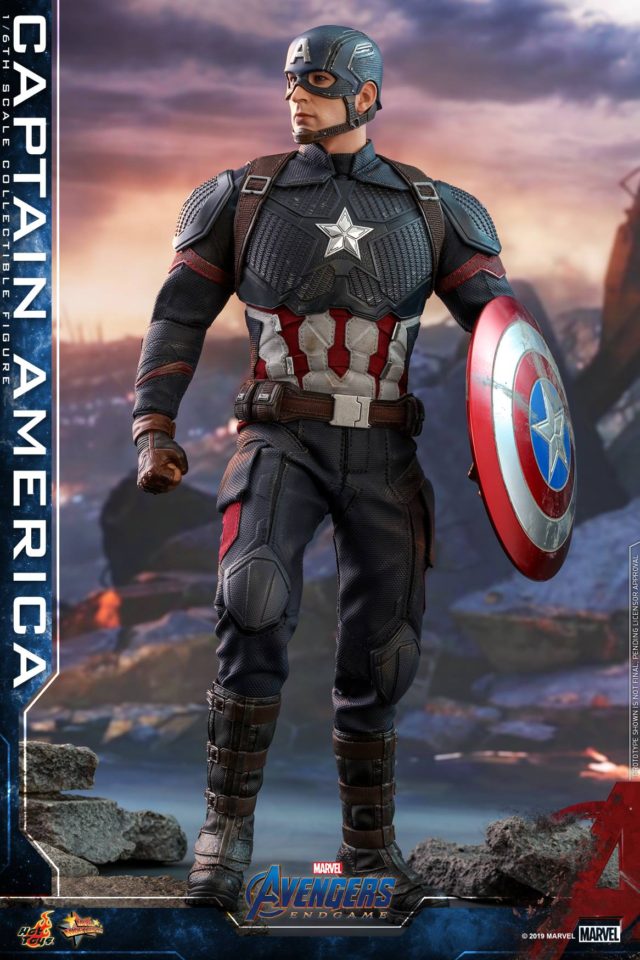 As for the Avengers Endgame Hot Toys Captain America figure itself: it looks (mostly) rockin'. As with Black Widow, I'm not sure it reaches the height of the hotly-demanded Civil War iteration, but I think it's an excellent alternative for those who don't have big bucks to spend on an inflated cost old version.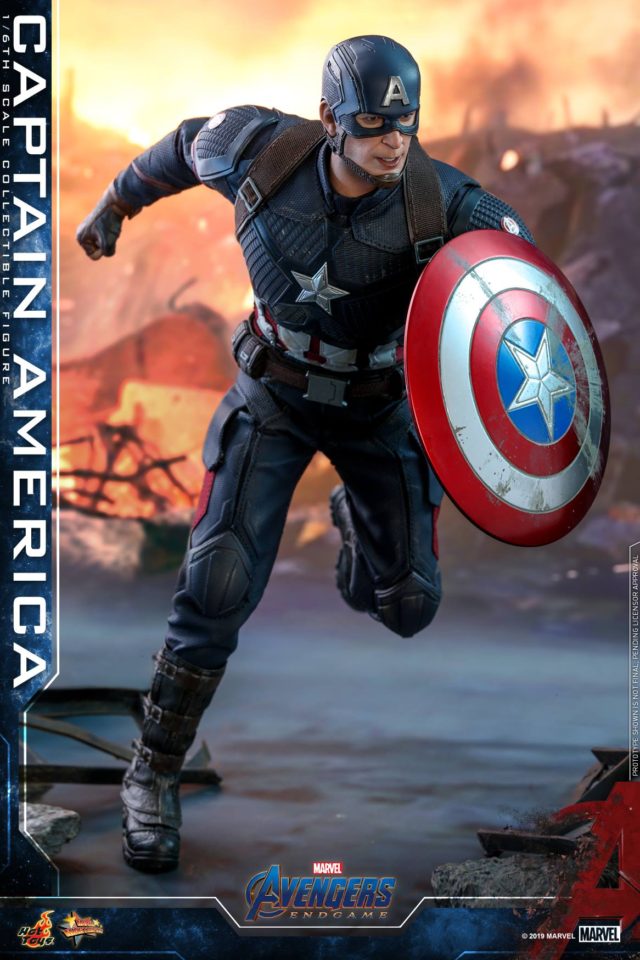 While Hot Toys has delivered a "skinny" Captain America in the past, that's not going to be an issue with this version—the muscular body used for this MMS is positively jacked! This is a Captain America who's ready to kick some ass, rather than one that needs to kick it at the gym.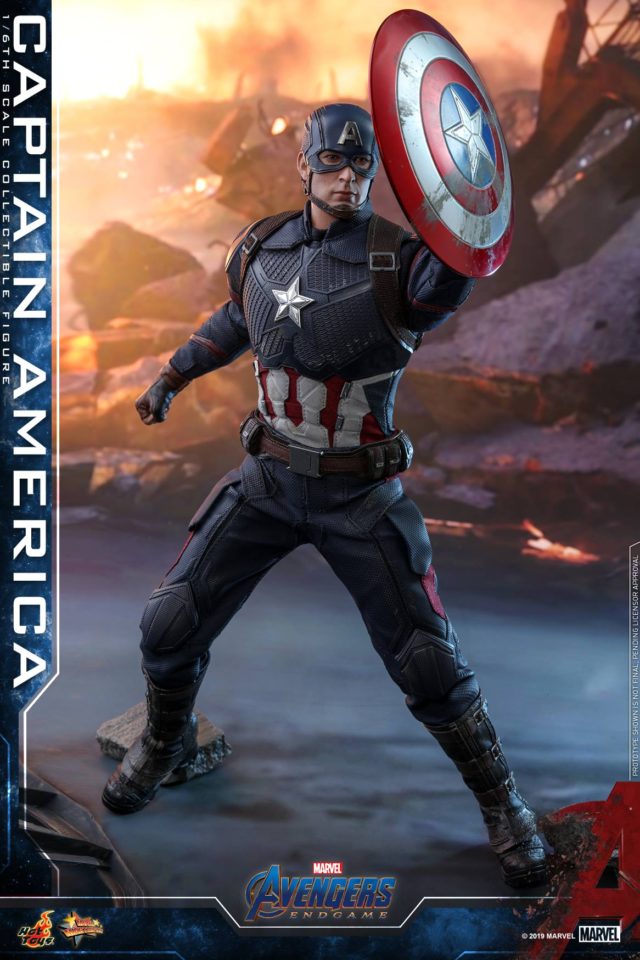 Hot Toys is going back to their bag of tricks with this figure to give us three head sculpts in one (sort of), utilizing swappable lower faces so that masked Cap can have any one of three facial expressions. This feature actually worked far better than I expected when previously implemented, and it looks slick here as well. Nice work.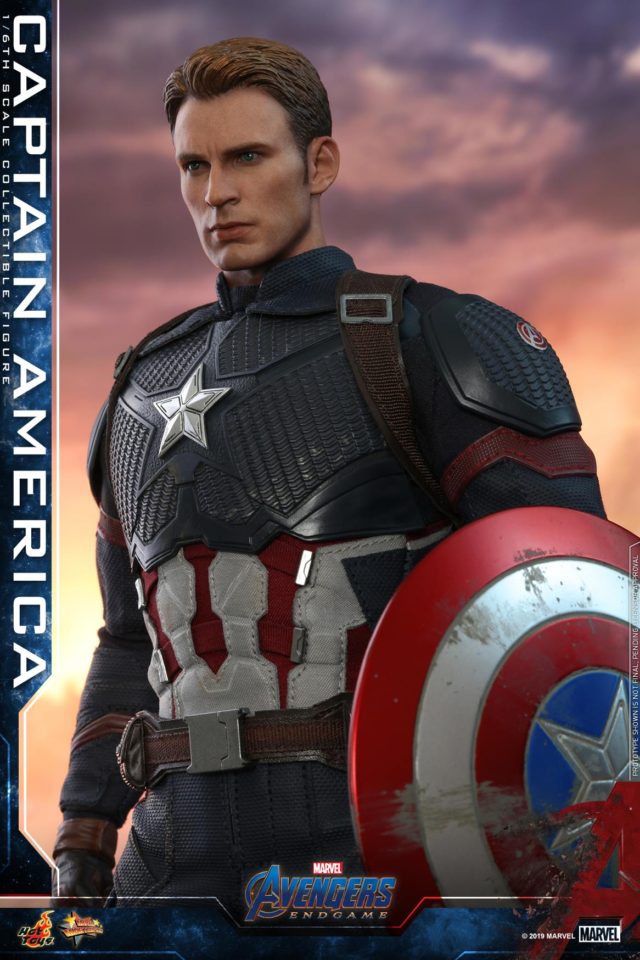 The unmasked Chris Evans portrait, however, I'm a bit less enamored with. The head looks disproportionate to me in the official photos, and while it blows away anything any other company has dead with a Chris Evans likeness, it's not quite there for me. This is one Cap I'll likely be displaying with the mask on.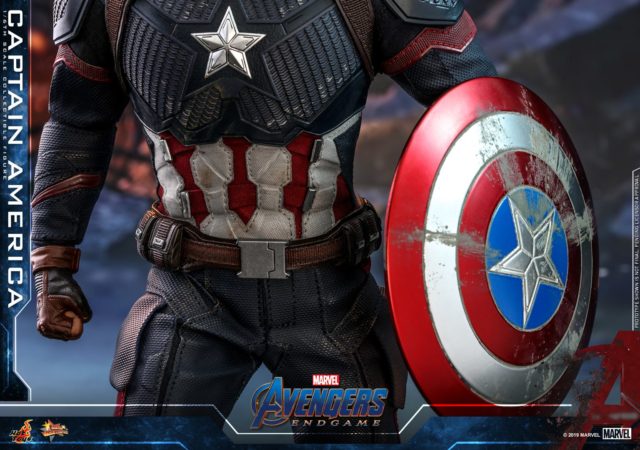 We don't know all of the pack-ins that will come alongside Cap just yet, but we do know that along with the prerequisite stand and interchangeable hands, we'll be getting a weathered shield, a removed helmet, the unmasked head and a compass with Peggy Carter's photo inside.
I'm really surprised and a little saddened that no "clean" shield is included with this figure, as I know a lot of fans were hoping (and expecting) one would be packed-in. That doesn't seem like an accessory that would be hidden as a secret, but maybe Hot Toys has something else up their sleeve…?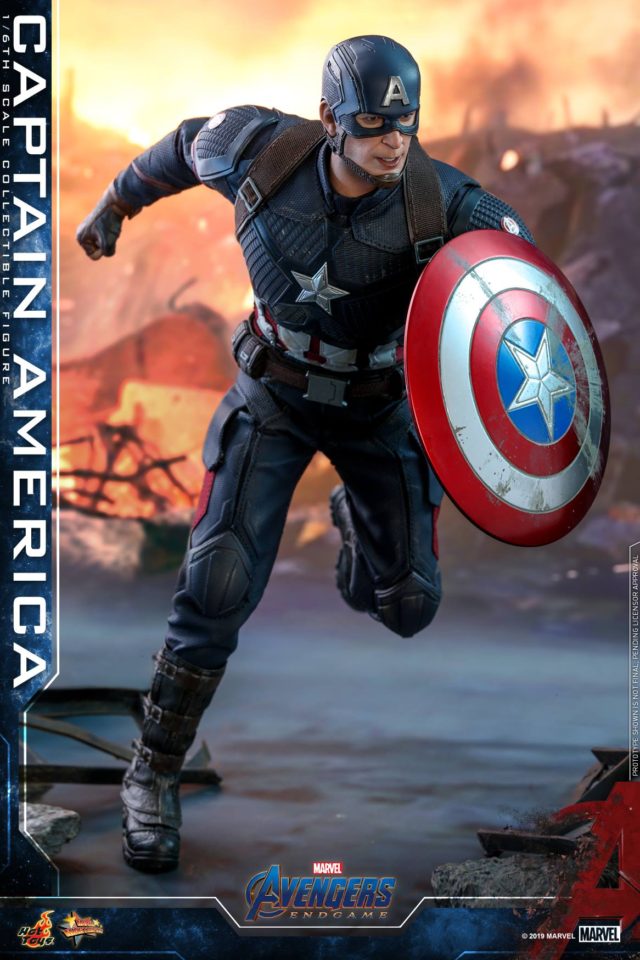 The Hot Toys Endgame Black Widow and Captain America figures go up for order this afternoon, and are scheduled to be released in Q2/Q3 2020. These seem like rather basic figures, and I wonder if we won't see those dates shift forward once production gets started up—I would definitely like having these key characters in my Avengers Endgame movie display sooner than later.
What are your thoughts on Hot Toys' latest takes on Captain America and Black Widow, Marvel collectors? How would you rank these new versions against their past iterations, and will you be placing an order for either (or both!) of these Movie Masterpiece Series figures for your own collection?
The post Hot Toys Avengers Endgame Captain America & Black Widow Figures! appeared first on Marvel Toy News.