Now that the embargo on Avengers Endgame toys has lifted, the dam has burst and info on the merch for the movie is flooding in! While there's ample news on offerings from smaller-scale lines like Marvel Legends, LEGO, Marvel Gallery and SH Figuarts, high-end collectors haven't been forgotten! The first of what's sure to be many MMS figures from the movie were revealed over the weekend, and the Hot Toys Endgame Thanos and Iron Man Mark 85 figures are now up for order!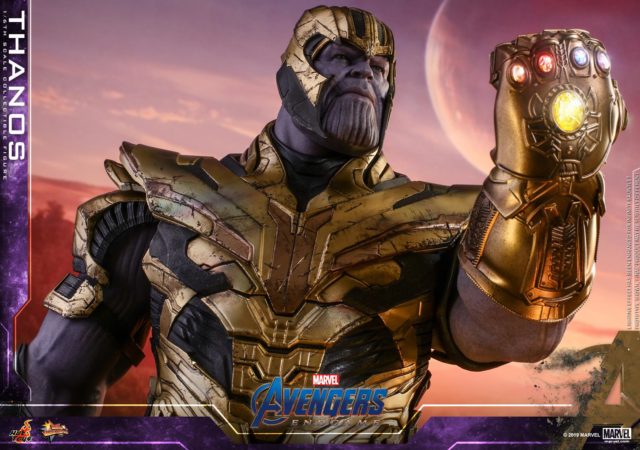 While there's been a very obvious drought in new MCU Hot Toys figures being revealed up until now in 2019, longtime Movie Masterpiece Series (MMS) collectors have known all along that this was just the calm before the Endgame storm.
And now that they're finally allowed to begin revealing their Avengers 4 goods, Hot Toys is ready to start off by rolling out the two biggest surefire hits from the movie: Armored Thanos and the die-cast Mark 85 Iron Man!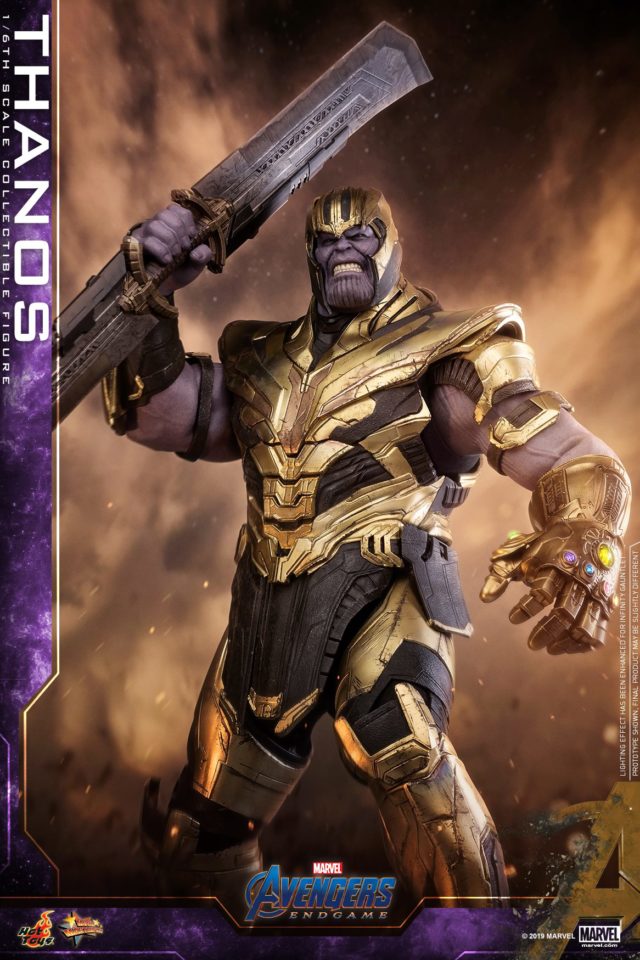 Fans have been demanding a sixth scale Thanos in armor ever since the first Infinity War photos appeared of him in armor, so there was never any doubt that there was money on the table just waiting for Hot Toys to snatch it up for this version of the character.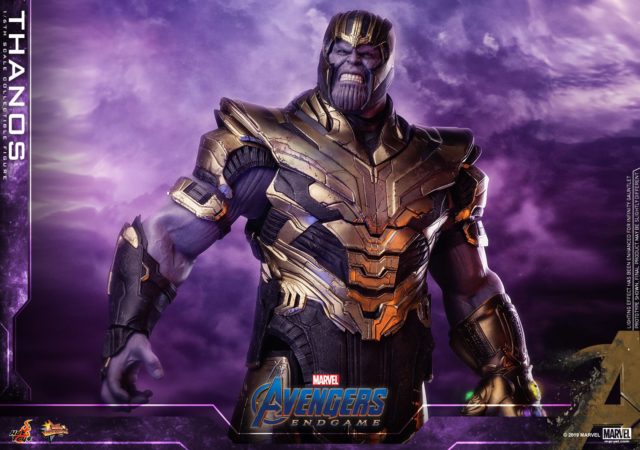 As you might expect given Hot Toys' track record (and prices), this Endgame Thanos MMS figure is downright staggeringly beautiful. Frankly, this sixth scale figure looks better and more realistic than a lot of movie statues that are out there. It's a stunner, no doubt about it.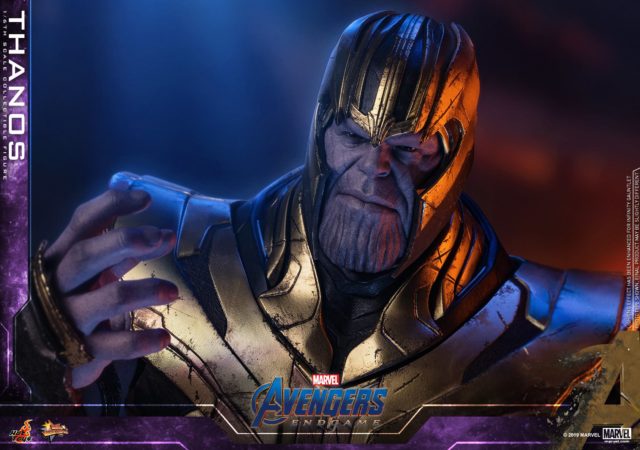 We get both a stoic head for the Mad Titan and also an angry, teeth-gritted head, and both of them look spectacularly authentic. Depending on how you want to pose/display the figure, you can't go wrong with either of these portraits.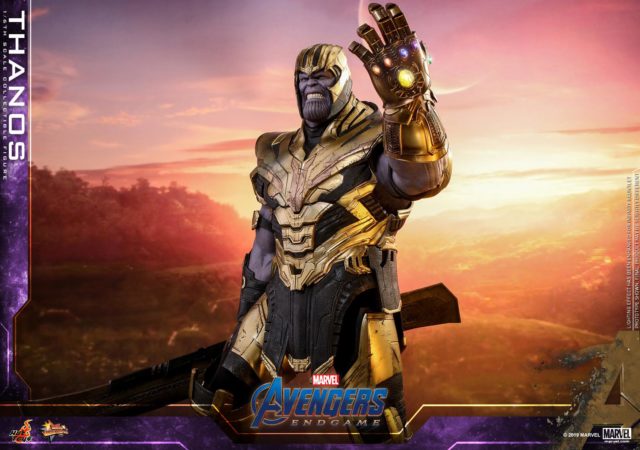 I've heard a lot of people say they're cancelling their Avengers Infinity War Thanos 1/6 figure in his "workout" clothes now that an armored version has been revealed, but I think the costume difference between these two iterations is stark enough to make owning both worthwhile in this instance. After all, it wasn't in armor that Thanos had his now-legendary battles in Infinity War.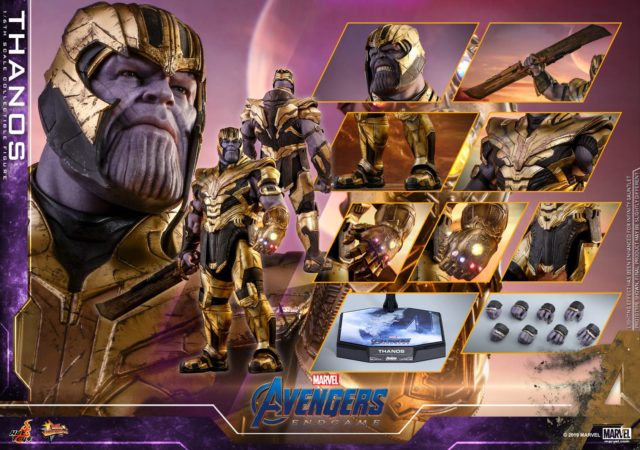 Want a giant double-bladed sword? It's here. LED light-up Infinity Gauntlet with interchangeable hands? Present and accounted for. Removable helmet? That's here too! Everything that you'd want for the ultimate Armored Thanos sixth scale figure (based on what we know about the movie) is included. Superb stuff and an instant pre-order for me.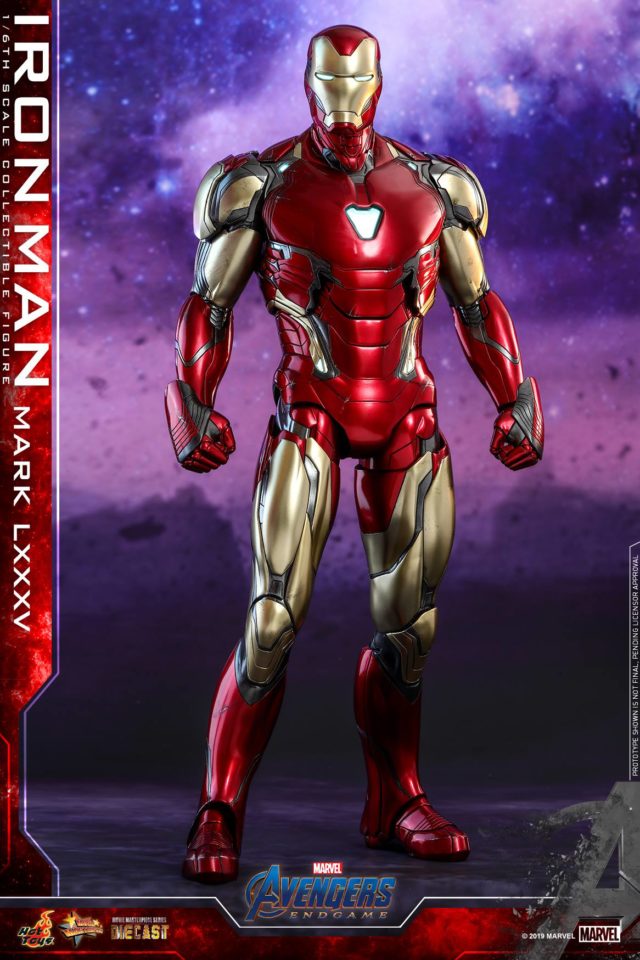 What's a little bit of a tougher sell to me is yet another die-cast Iron Man armor permutation. At this point, I honest to god have no idea how many Iron Man MMS figures I own or how many I'm missing. Is there enough different about this latest version that I feel like I need to own it…?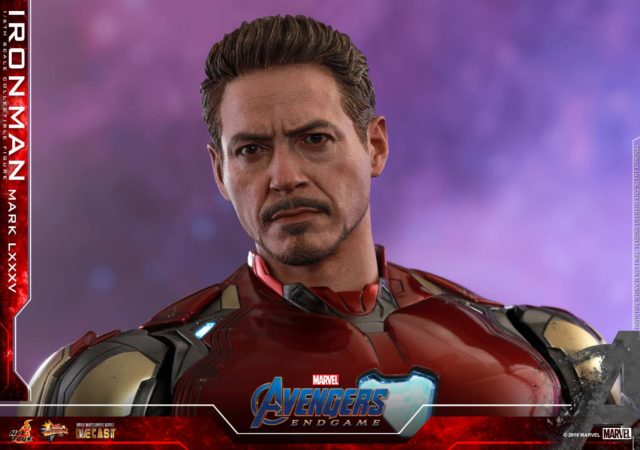 Well… yes and no. What makes me feel like I need to buy the Hot Toys Iron Man LXXXV figure is the fact that this will likely be the final canonical Iron Man armor in the MCU. Not owning the "last" armor permutation after purchasing so many in the past just feels sort of, well… wrong.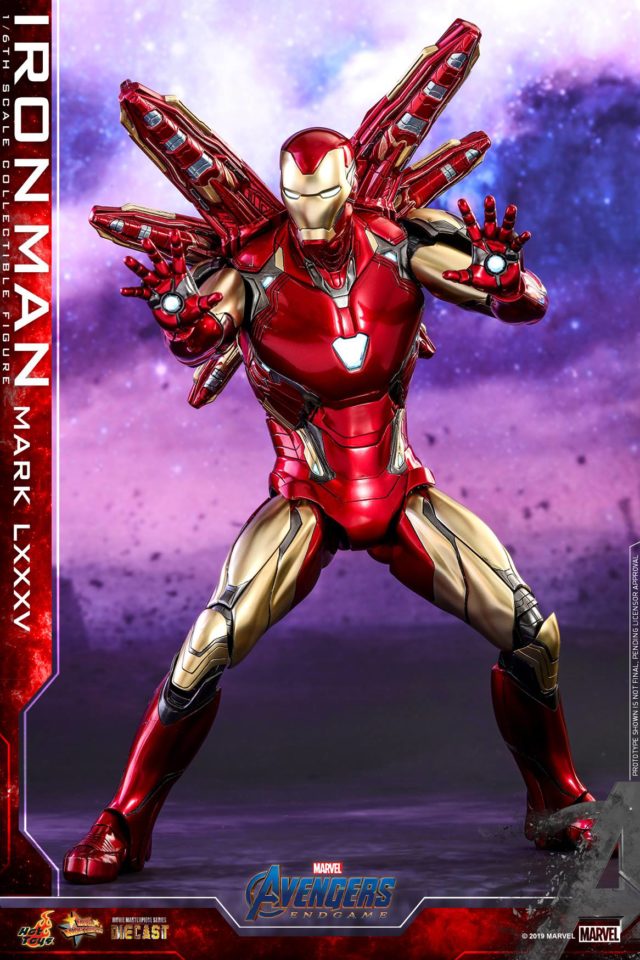 The die-cast Mark 85 Iron Man figure itself doesn't look especially different from the base Mark 50 figure that's just now starting to ship out, as it's mostly a repaint with what look like only a few minor tweaks to the armor itself. There's more gold this time out, but for the most part, the core figure here isn't much different from what we've seen before.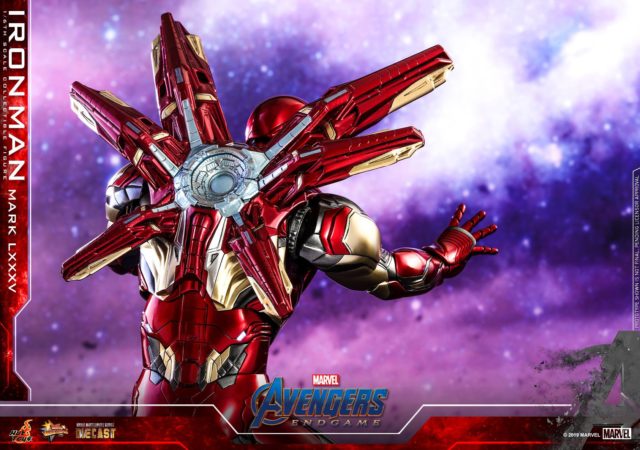 The most obvious changes from the previous release are the two new head sculpts (one helmeted head and one unmasked Tony Stark Robert Downey Jr. portrait) and the "Nano Lightning Refocuser" that attaches to the back of the armor. The backpack and new heads look nice, but I'm not sure they're exciting enough to claim sales from those who own a bunch of MMS Iron Man armors already.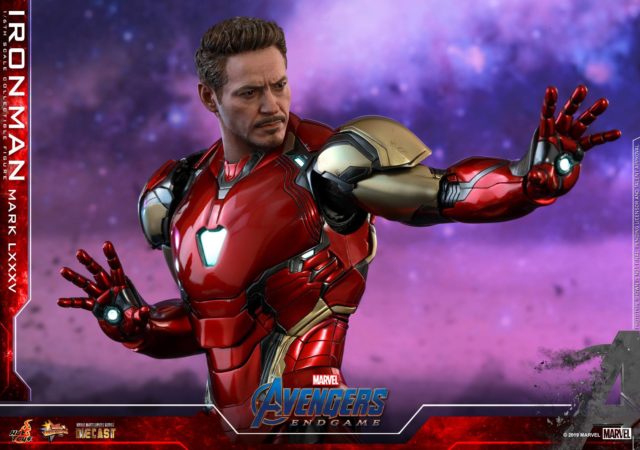 Luckily, it's definitely worth noting is that there are "additional accessories coming soon". Either there are weapons for this armor too spoiler-filled to show off or Hot Toys isn't ready with them just yet, but either way, it's nice to know that there's more bonuses on the way to enhance this figure.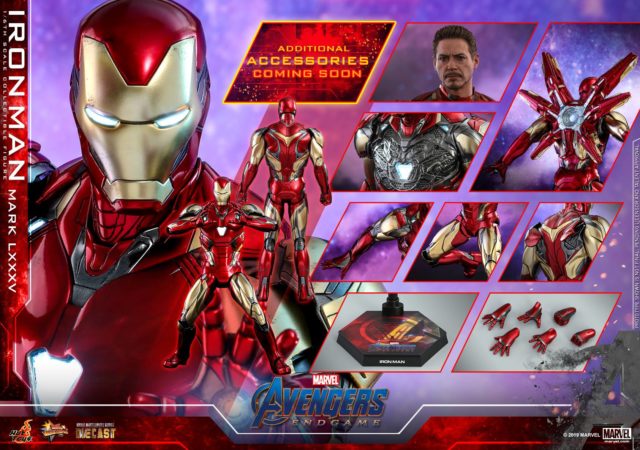 The Iron Man Mark 85 and Armored Thanos Hot Toys figures are now up for order, and are scheduled to ship in 2020. With these likely to be the "final" movie versions of both these iconic characters, I don't think there's much doubt that these will be among the best-selling Marvel Hot Toys this year—and perhaps ever.
Has Hot Toys impressed you enough to sell you new versions of Thanos and Iron Man, Marvel MMS collectors? What characters are you hoping to see announced next for the Hot Toys Endgame series, and which characters would be a big pass for you?
The post Hot Toys Avengers Endgame Armored Thanos & Iron Mark 45 Figures! appeared first on Marvel Toy News.