For the first time in almost five months, there was no Marvel Studios movie in the Top 10 films at the box office over the weekend. The streak… is over. But not to fear—! Marvel Studios is set to retake their crown with Ant-Man and the Wasp hits theaters this week! And to celebrate the arrival of a sequel many folks would've probably bet against ever happening, Hot Toys has got the goods for sixth scale collectors: brand-new Hot Toys Wasp and Ant-Man figures are now up for order!
I'll admit that I was not the biggest fan of the 2015 Ant-Man movie. I've seen the movie a grand total of twice, and can remember exactly one quote from it ("Baskin Robbins always finds out").
So you might think that I'd be lukewarm regarding this week's Ant-Man and the Wasp movie and the various toys being released to coincide with the launch.
But defying logic, I've found myself psyched both for this movie and the merch surrounding it! I'll be reviewing the new 6" Marvel Legends Wasp and Ant-Man figures later this week, but today I'll be looking at something twice as big and a lot more high-end: the Hot Toys Ant-Man and Wasp Movie Masterpiece Series (MMS) sixth scale figures!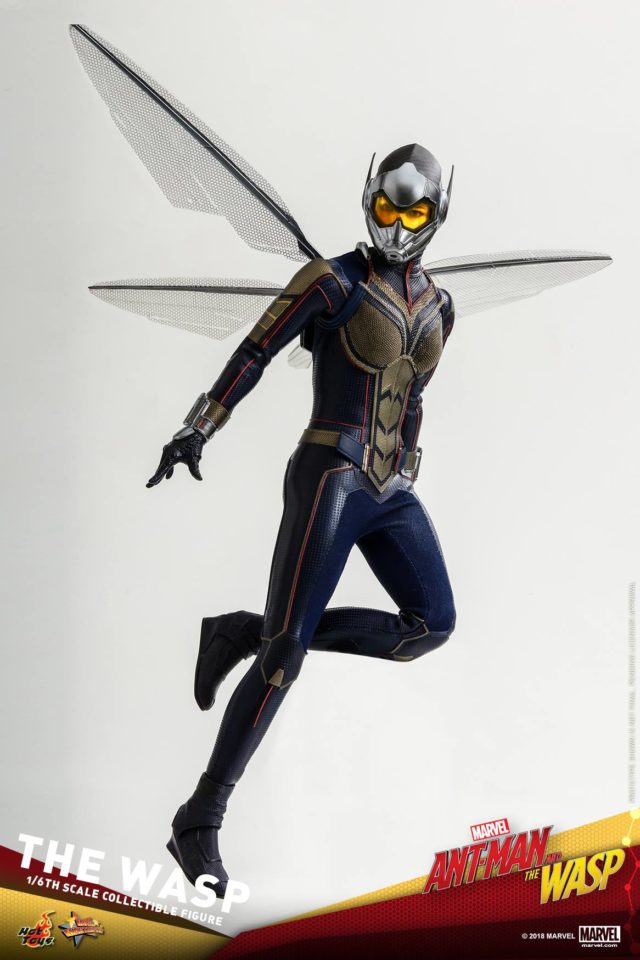 Since we're already on our third 12" figure of Scott Lang Ant-Man himself, let's look at the figure likely to outsell him massively: the first-ever Hot Toys Wasp figure. Some collectors doubted we'd actually get a Wasp MMS at all, but I never thought there was any chance of the first Marvel Studios titular female character not getting the Hot Toys treatment. As expected, she was finally revealed and went up for sale just a few days before the movie. How's she look?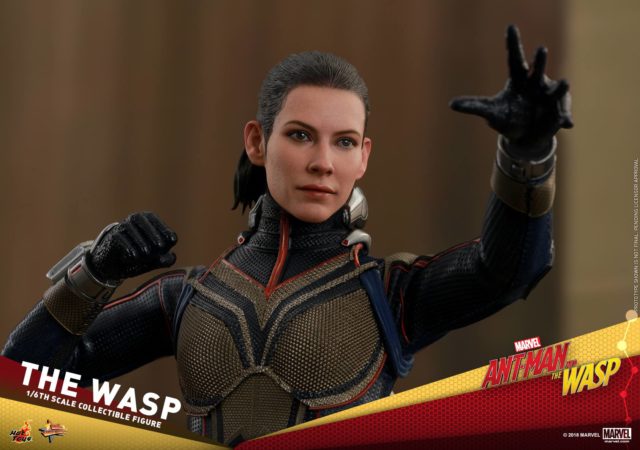 No doubt about it, the Wasp Hot Toys Figure is a stunner. It's not impossible that this is the only time HT will ever tackle this character, so I'm glad they're doing her right.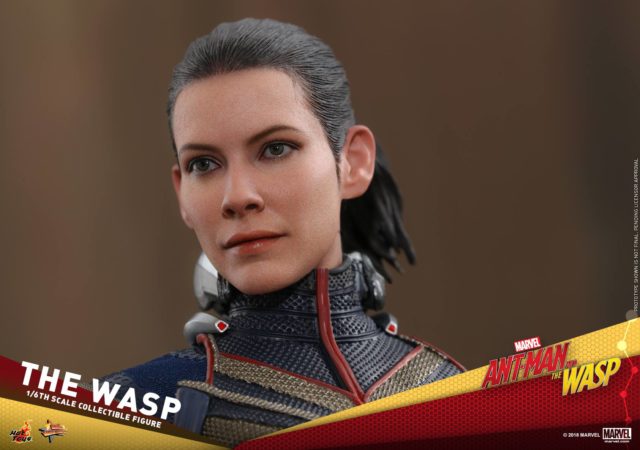 While it took them a few tries to get the likenesses right for Robert Downey Jr., Chris Hemsworth and more, Hot Toys has perfectly captured the Evangeline Lilly portrait in their first attempt. Just look at that beautiful face! Phew!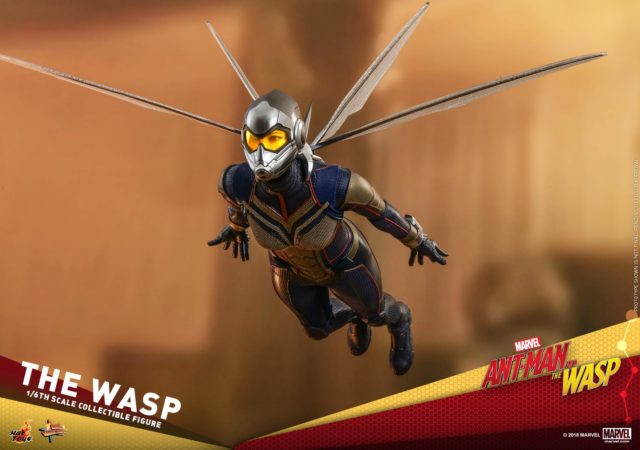 As pretty as the unmasked head is, the helmeted Hope Van Dyne Head is even cooler. Thanks to the integrated LED light-ups features, the helmet looks almost uncannily cool with the lights on and Hope's face peering out from inside! This might be the best use of electronics on a non-Iron Man Hot Toys figure ever!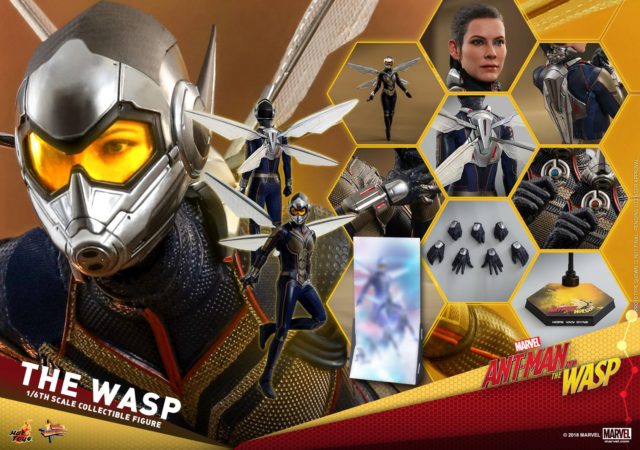 On the accessories front, Wasp comes with two discs, a pair of "standby" wings, various interchangeable hands, a display base with flight stand and backdrop, a 2.9 cm miniature Wasp figurine and a pair of articulated wings for flying poses. That's a pretty expansive bounty of accessories!
$251 is a slightly higher price than I was expecting for Wasp—and a couple bucks more than Ant-Man—but seeing as how she's got a newly-developed body, a flight stand and the more complicated costume (with wings!), I'm okay with the price on this. I'd be more elated for 15 bucks less, but $250-ish is fine. Beautiful figure—no complaints from me.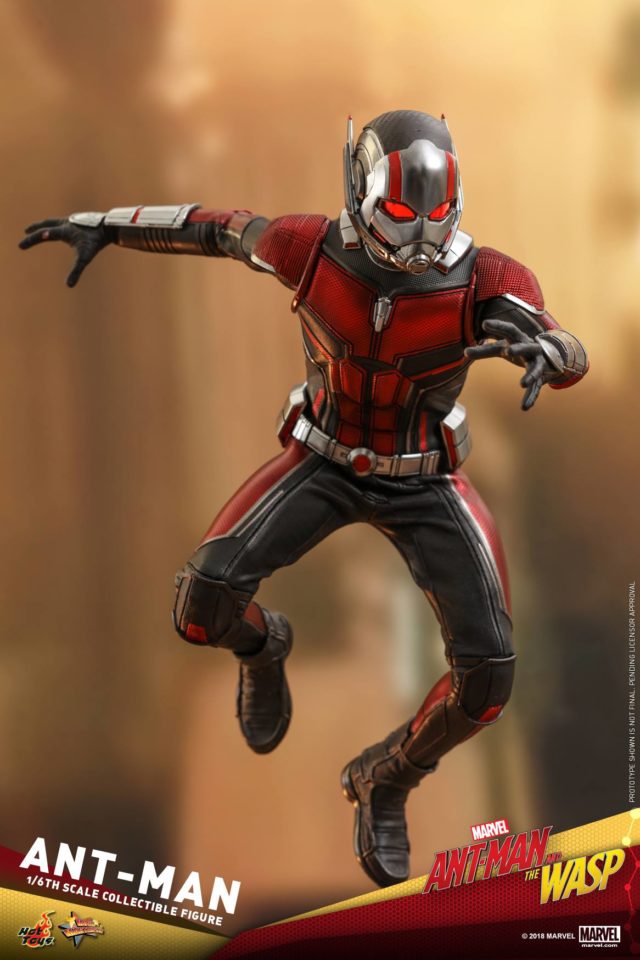 Then we come to Hot Toys Ant-Man #3. While the original Ant-Man MMS was a sleeper hit that quickly became a tough grab, fans and collectors were a lot less receptive to the character's Civil War Version, which has remaining one of the most unpopular figures from that series.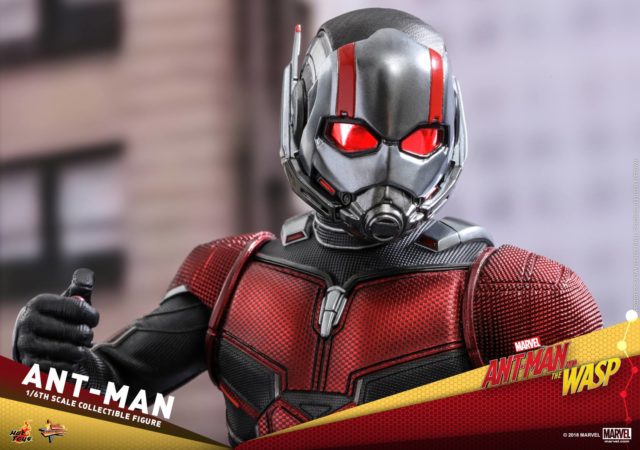 But the Ant-Man and the Wasp iteration of the character looks like a return to the "glory days" of the first costume, so I imagine many collectors who missed the first version of the character and didn't like the second will be happy to finally snag this one.
The colors on this version pop far more than those of the Civil War Version, and I like the more intricate costume design (including the groovy "hidden ant"–reminds me of the Hidden Mickeys at Disneyland!).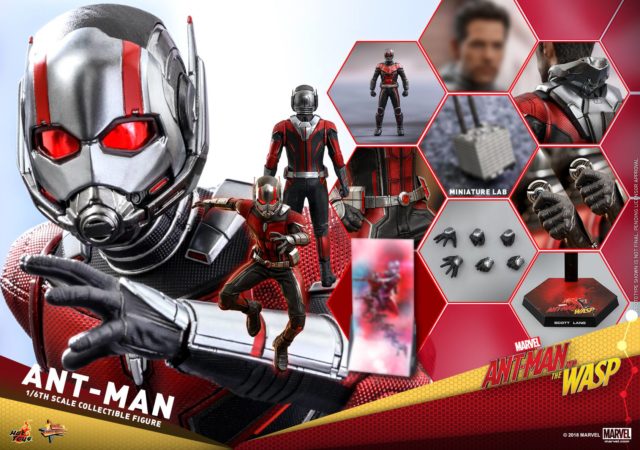 This figure doesn't come with quite as many goodies as the Wasp, but what you'd expect is all present: interchangeable helmeted and unhelmeted heads, interchangeable hands, shrunken lab, opened helmet accessory, 2.7 cm miniature Ant-Man figurine, discs and figure display stand with backdrop.
We obviously can't see the Paul Rudd likeness for this (meaning it likely hasn't been approved yet), but the other big strike against this figure for me is the price: just 8 bucks cheaper than Wasp, but for a far more basic figure. I think Hot Toys should have aimed for around $229 instead of $243 to really appeal to on-the-fence buyers.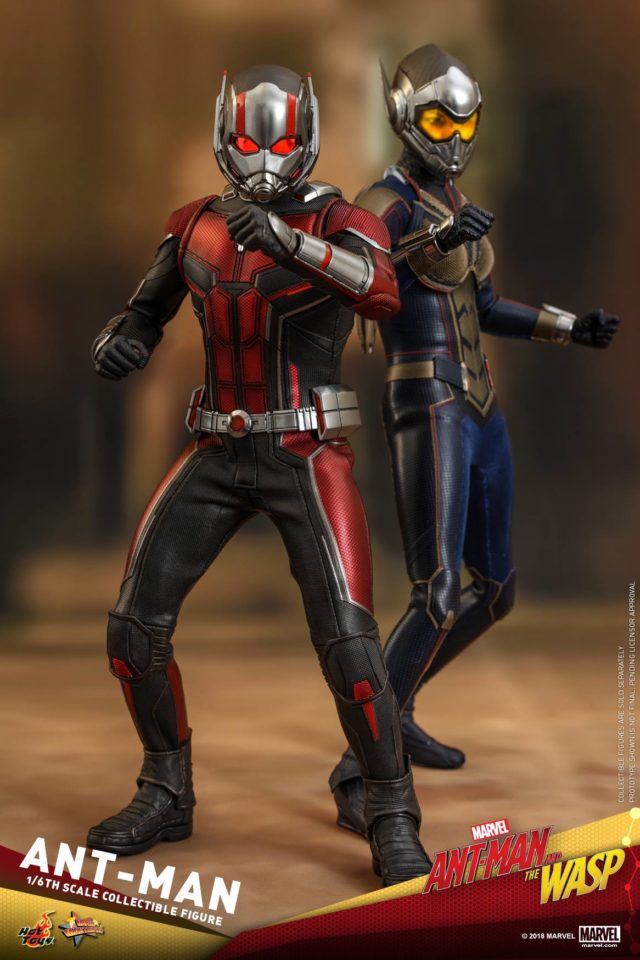 The Hot Toys Ant-Man and the Wasp movie figures are now up for order, and are scheduled to be released in fall 2019. That is a long wait for these figures, and I'm really hoping these will be fast-tracked somehow so we're not waiting quite so long. That's a much longer wait time than you'd normally expect for two regular-sized, non-Iron Man MMS Figures.
It may be one of the weaker-grossing Marvel movies to hit the box office in years, but I think Hot Toys has produced two top-notch high-quality figures of the titular characters. What say you, Marvel collectors? Are these Ant-Man and the Wasp figures bound for YOUR collection…?
The post Hot Toys Ant-Man and the Wasp Figures Up for Order! appeared first on Marvel Toy News.