From the upcoming film Alita: Battle Angel, Hot Toys presents the 1/6th scale Alita Collectible Figure!
A live-action adaptation of the popular anime, Alita: Battle Angel follows an amnesiac cyborg, Alita, who finds herself awakens in a future world that she does not recognize. She comes to rely on a compassionate doctor and her street-smart friend, struggles to survive the treacherous journey across the Iron City, and discovers her extraordinary past. In the adventure of love, hope and empowerment, everything is new to Alita, every experience a first.
Crafted based on the appearance of Alita in the movie, the collectible figure features a newly developed head sculpt with separate rolling eyeballs, her highly detailed body which displays the complicated mechanical design, beautifully tailored outfit with fine textures, a blade, a heart attachable to the body and multiple interchangeable hands and feet to match with the cyborg body. Along with the figure, it also comes with an elaborated diorama figure stand inspired by the battle scenes.
Release date: Approximately Q4, 2019 – Q1, 2020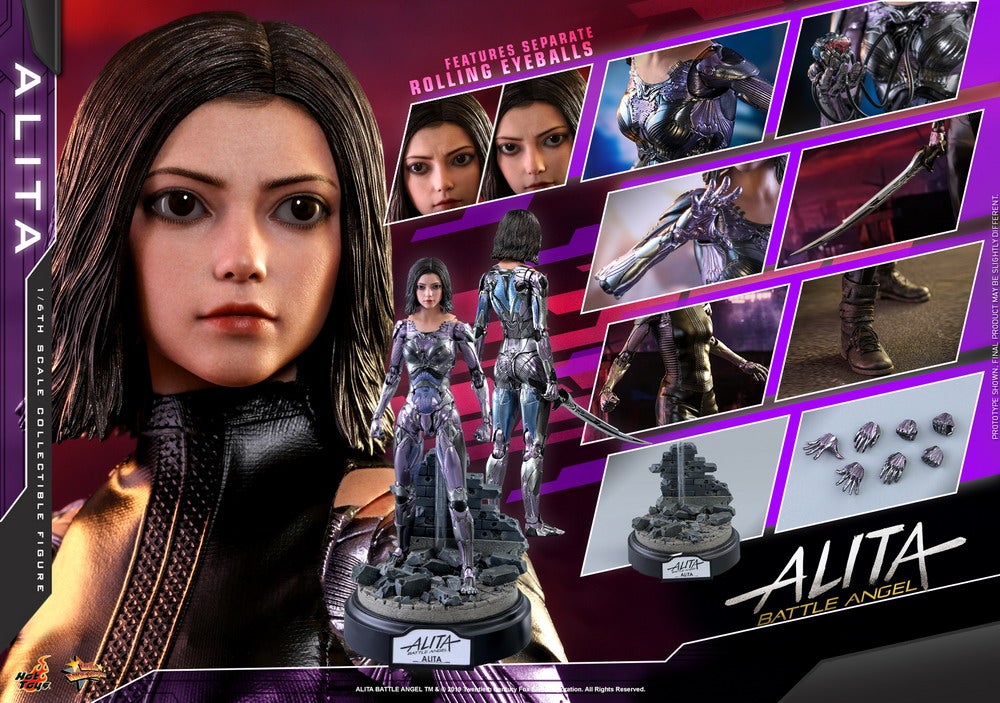 Hot Toys – MMS520 – Alita: Battle Angel – 1/6th scale Alita Collectible Figure
– A newly developed head sculpt with authentic and detailed likeness of Alita in Alita: Battle Angel equipped with separate rolling eyeballs features
– Movie-accurate facial expression and make-up
– Dark brown color medium-length hair sculpture (with magnetic feature)
– Multiple shades of metallic purple and black, mixed with silver-colored painting on the mechanical body design
– Newly developed body with over 30 points of articulation
– Approximately 27 cm tall
– Seven (7) pieces of mechanical interchangeable hands including:
– One (1) pair of fists
– One (1) pair of relaxed hands
– One (1) pair of gesturing hands
– One (1) right hand for holding blade
– One (1) pair of interchangeable feet with mechanical details
– Enhanced articulations allowing highly flexible movement
Costume:
– One (1) specially tailored black-colored leather-like vest
– One (1) black-colored leather-like pants
– One (1) pair of interchangeable black-colored boots
Weapon:
– One (1) blade
Accessories:
– One (1) heart (attachable to body)
– A ruin city themed diorama figure stand with transparent pole, character nameplate and movie logo
Artists:
– Head Sculpted by So young Lee
– Head Painted by E-Lee & JC. Hong
– Head Art Directed by JC. Hong
** Prototype shown, final product may be slightly different
** Product details could be subjected to change without further notice
[See image gallery at www.figures.com]