Last fall, Hasbro threw diehard 90s Spider-Man fans a real treat with the reveal and subsequent release of their exclusive 6" Marvel Legends Cyborg Spider-Man, upgrading the fan-favorite 90s Toybiz figure. This summer, Hot Toys has upped the ante further, by announcing their own 1/6th scale Cyborg Spidey exclusive! And that's not all: an Infinity War Neon Tech 4.0 Iron Man will be the other Hot Toys 2021 Toy Fair Exclusive! Are either of these limited release figures must-haves for sixth scale collectors? Let's have a look…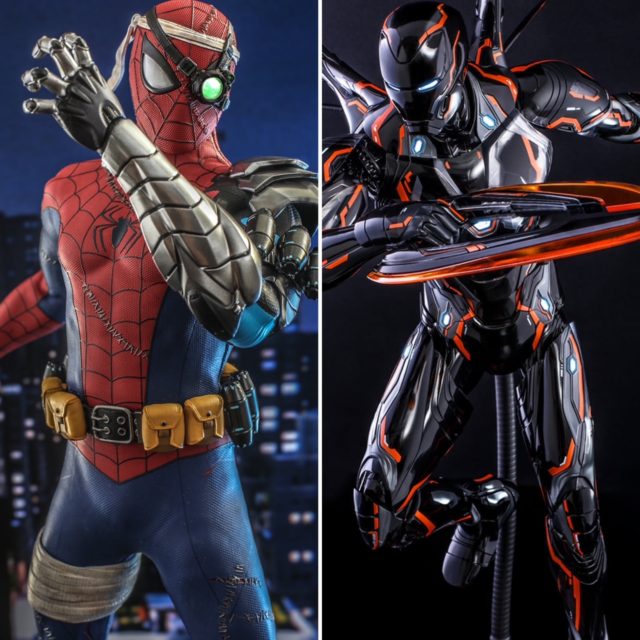 It's become a tradition that we usually get at least a pair of Marvel Hot Toys Summer Toy Fair Exclusives (their terminology for general summer convention exclusives, not related to the actual New York Toy Fair in any way), and despite the overall lack of cons this summer, Hot Toys is coming through again with a pair of variants that definitely are not aimed at the mainstream, but just may find their audience in limited exclusive form.
Given what characters Hot Toys has been focusing on for their variants over the last couple years, Hot Toys Neon Tech Infinity War Iron Man and Cyborg Spidey are not exactly shocking picks. But surprise factor isn't everything, especially when you make the best sixth scale figures in the world. Is this duo of exclusives up to snuff?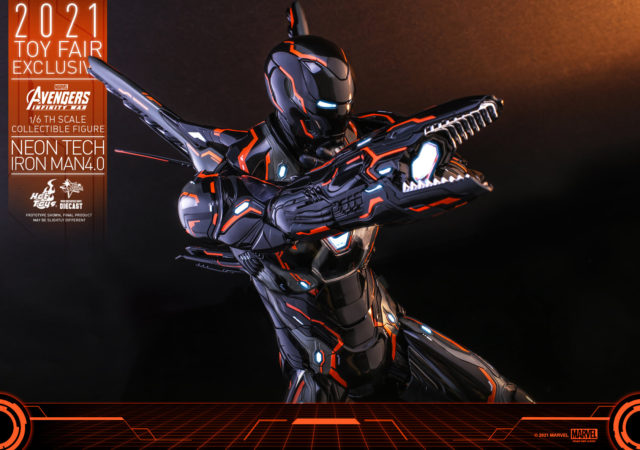 When I saw that a new Hot Toys Iron Man 1/6 figure had been revealed overnight, my heart leapt for about four seconds—and then dropped a little bit when I saw what it actually was. I've been building my Hot Toys House Party Protocol of Iron Man armors for close to a decade now, and I'm still holding out hope that we'll be blessed with the few remaining unique armors (as unlikely as that may be at this point).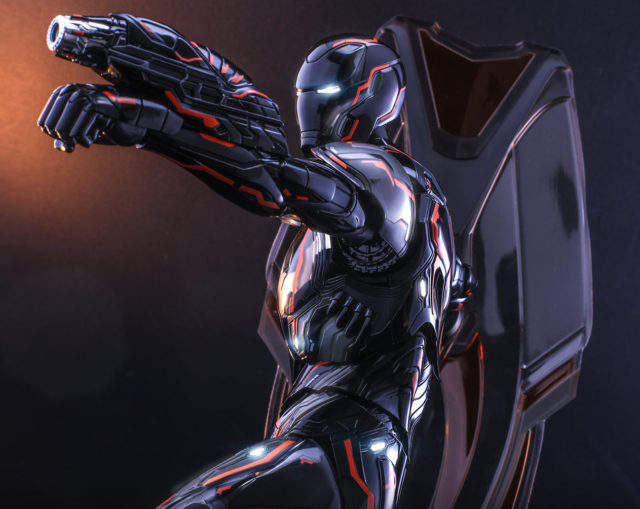 This black and orange Neon Tech Iron Man 4.0 is obviously not the Mark XXXVII Hammerhead armor permutation I was really pining away for, but it still took my brain a few moments to process that. Alas. Even so, the Avengers Infinity War Hot Toys Iron Man 4.0 figure is slick as hell (what with being based off of one of the coolest main armors from the MCU)—just not necessarily exciting to those who aren't into this line of Tron-styled repaints.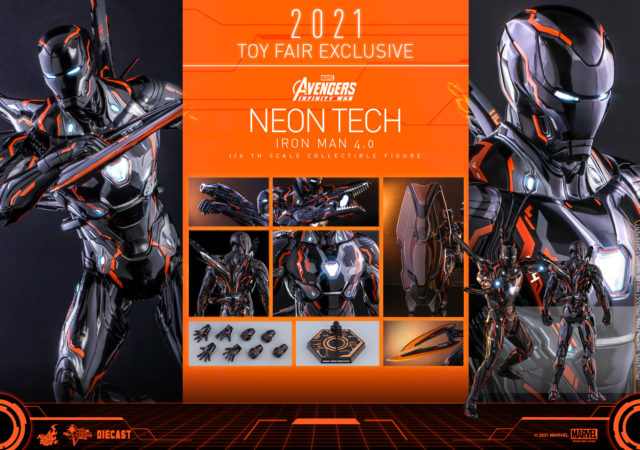 All of the basic add-ons from the release of the original 1/6 Mark L figure return here (in matching neon and black colors), including the Holo Shield, Energy Blade, Nano Boosters, Hand Cannon and even the light-up Nano Repulsor Cannon. These weapons gave tons of display possibilities to the movie-colored release of this figure, and they'll do the same here—just with more neon.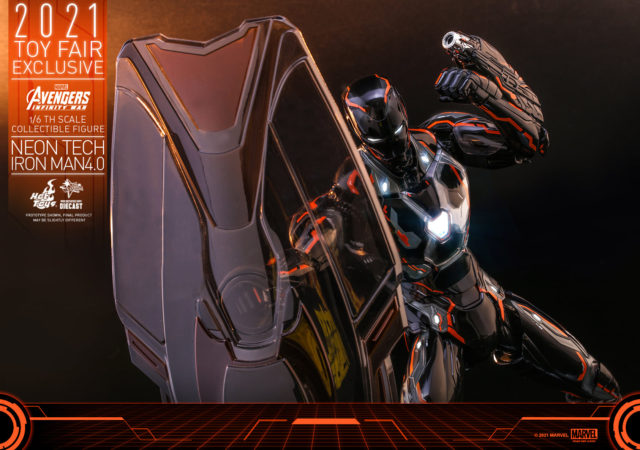 I'm genuinely a mite surprised to see Hot Toys going to this Neon Tech well again, as all of the releases after the original one have been slow sellers (in fact, the 2.0 and War Machine ones are literally still available on Sideshow right now with free shipping).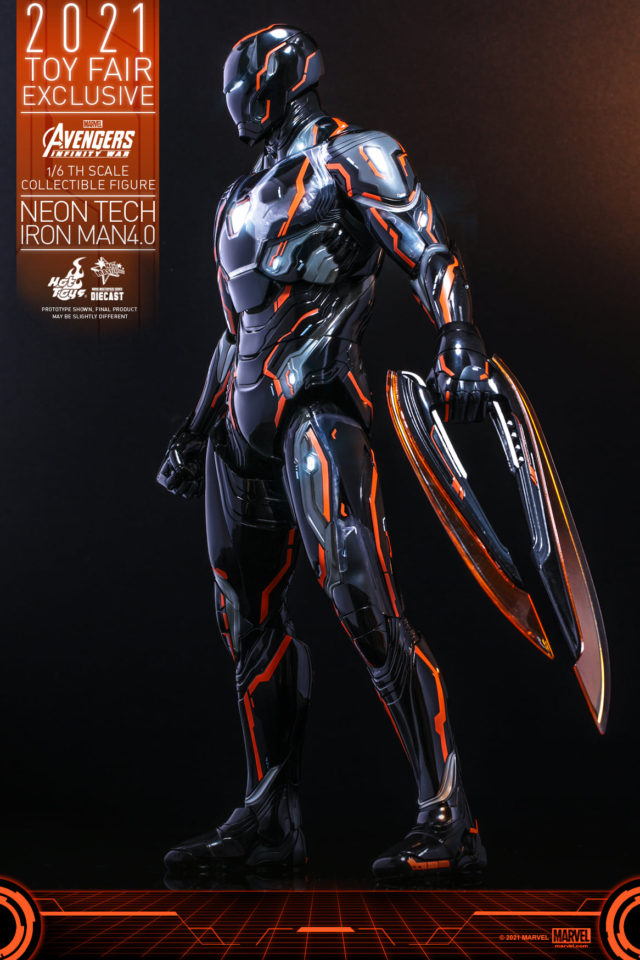 Still, Hot Toys clearly wants to get some reuse out of unique tooling for the MCU Iron Man armors, so these seem as good a repaint opportunity as any. I'm just not sure how well this will sell—even as a limited Toy Fair exclusive—when the awesome original Mark L itself in regular colors is also still available. That movie-colored one is priced just north of $400, and I anticipate this repainted colorway will be similarly priced.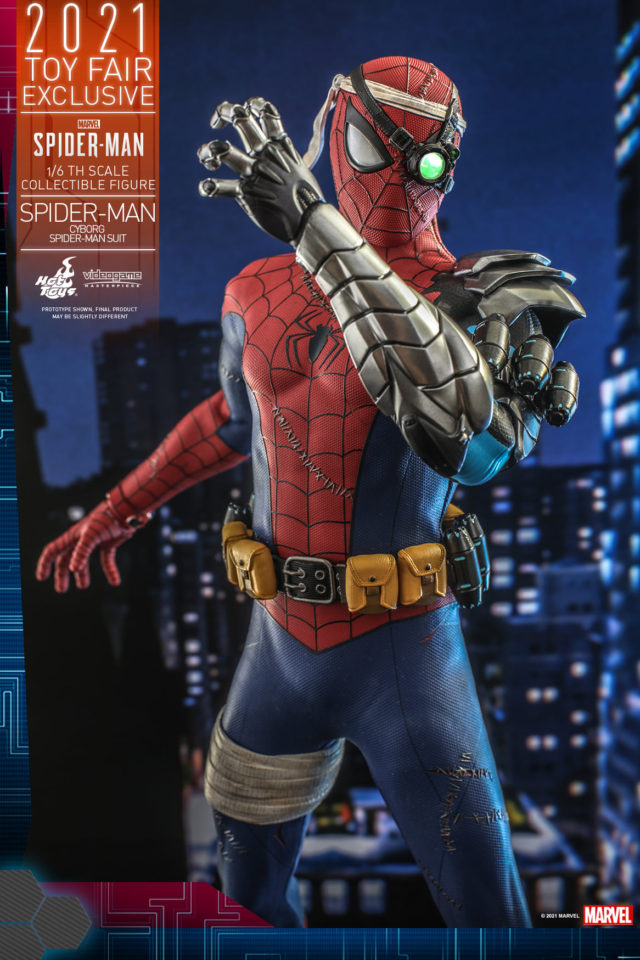 The other Toy Fair Exclusive is the Hot Toys Cyborg Spider-Man that I hyped up in the intro, and honestly the most excited I've been for a 1/6 Marvel figure that they've announced in a while. Unlike the aforementioned Iron Man Neon Tech 4.0 (which is a 100% repaint), this figure has a lot of all-new parts and is a wholly different from anything we've gotten before.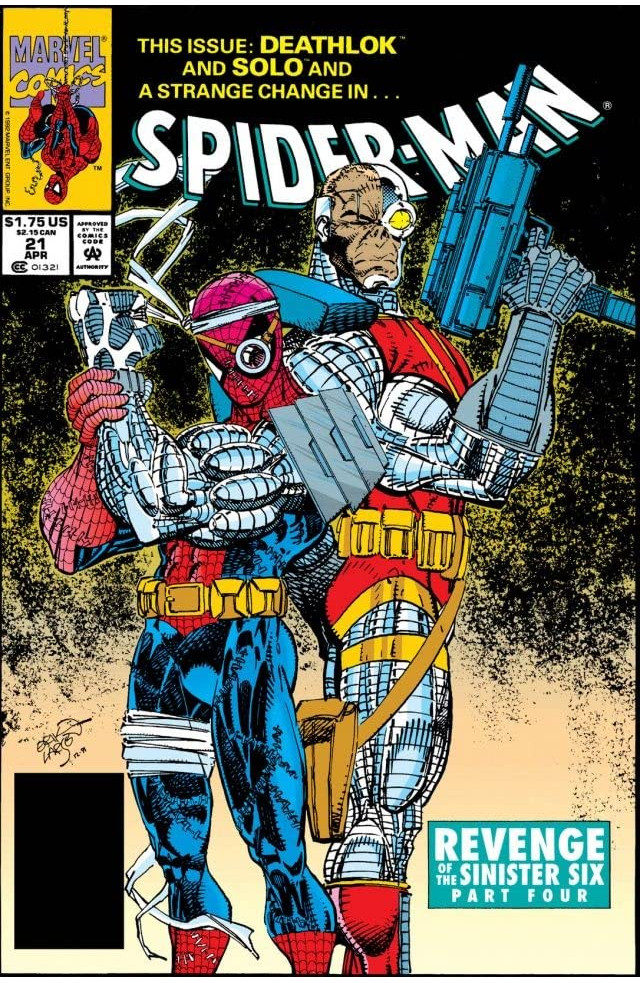 This 1:6 figure is based off the "Spider-Man Cyborg Suit" from the now-classic GamerVerse Spider-Man PS4 game, but it is very close in feel and appearance to a more detailed version of the 90s Toybiz 5" figure (which, in turn, was seen in the Animated Series and also the iconic cover of Spider-Man #21 in the 90s). This is clearly a niche design—which makes it perfect for a limited edition exclusive (unlike the ultra-popular 1/6 Scarlet Spider MMS that sold out instantly two years ago).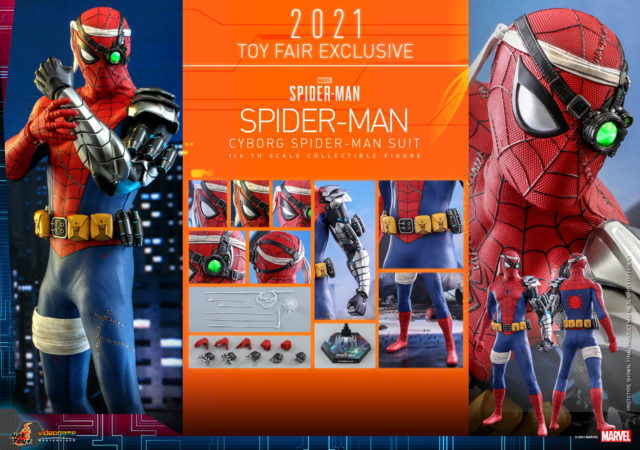 This was such a wacky and crazy idea for a Spidey iteration back when it was created (long before Spider-Verse was a thing), and its zaniness still puts a smile on my face today. The three defining characteristics of this costume are the cybernetic left arm (obviously), the bionic left eye and yellow utility belt—and Hot Toys has brought all three to life like never before for this MMS figure.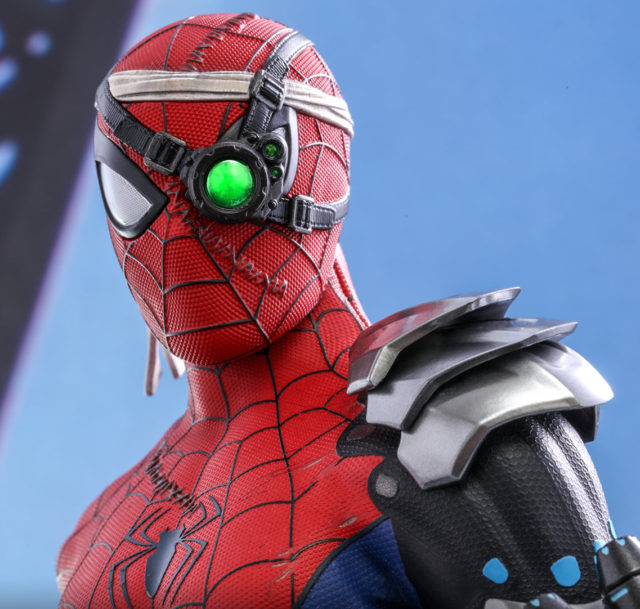 The left eye is particularly eye-grabbing with its green LED light-up function, and I appreciate that Hot Toys has still include interchangeable left eyes so that Spidey can change things up and have a higher level of customizable expressiveness.
The cybernetic arm looks absolutely cutting edge, and definitely contrasts the simplistic Spider-Man costume that it's integrated with. Hot Toys has ample experience with metallic paints from the gazillion Iron Man armor permutations they've produced over the years, so it's no surprise that this cyborg arm looks as good as it does on Spidey.
I dig that HT even thought to pose this Cyborg Spider-Man 1/6 figure in typical Iron Man Movie Masterpiece Series fashion, with the cyborg hand doing the ubiquitous punching the ground pose.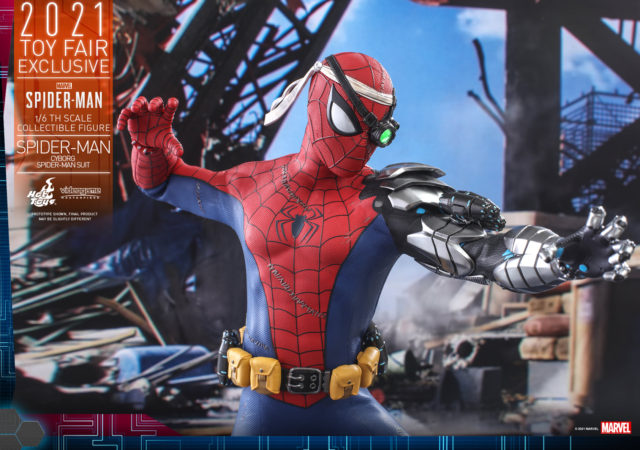 The utility belt, mended tears in the costume and wrap around Spidey's right leg are also hyper-detailed and look outstanding. Frankly, I don't think there's any question that this is going to be the best piece of merchandise of this costume that will ever be made. As much as I've cut back on my sixth scale purchases, this is one variation that I think I am gonna need.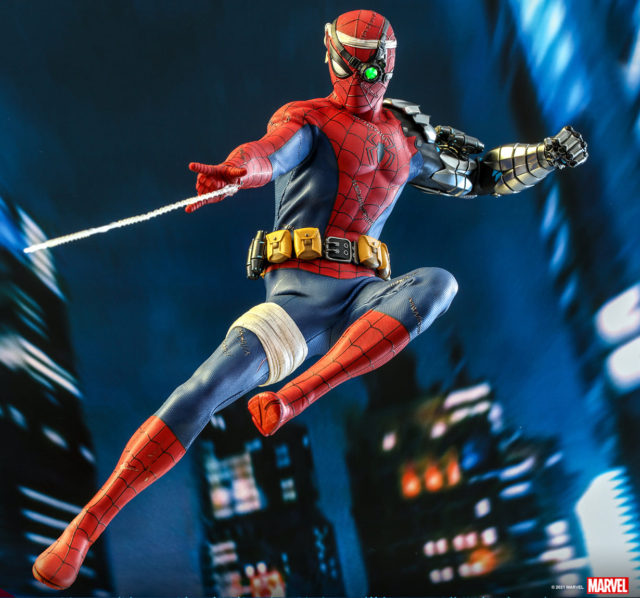 The 2021 Toy Fair Exclusives ought to be available exclusively on Sideshow Collectibles' website in the very near future, but they won't be sold through outside retailers given their limited nature. We don't know the prices or release dates yet for this duo (I'll that info once it's known), but the Toy Fair Exclusives both are likely to arrive before 2021 is through if past trends are any indication.
What are your thoughts on this new pair of Hot Toys Marvel sixth scale figures, Marvel collectors? Do either of the Toy Fair Exclusives for 2021 catch your attention, or are these particular variations leaving you cold?
The post Hot Toys 2021 Toy Fair Exclusives: Cyborg Spider-Man & Neon Iron Man 4.0! appeared first on Marvel Toy News.