Following Mezco Toyz Con's surprise announcement of new GI Joe One:12 Collective figures, the company has opened up pre-orders for the first release: DESTRO! The GI Joe One:12 Collective Destro figure is priced at $100 and is scheduled to ship between January and March 2022.
Destro, the weapons supplier to COBRA and leader of M.A.R.S., is presented in his classic tactical outfit with tech enhancements, gauntlets with missile blasters, interchangeable thigh holsters, and combat boots. Destro features three masked head portraits, sporting his iconic beryllium steel mask and includes his necklace with amulet.
The state-of-the-art weapons manufacturer totes only the best of the best, complete with a prototype modular sub-machine gun, pistol with removable magazines, rifle with removable magazines, and missiles that attach to his gauntlet.
Destro is always carrying his Cobra-issued, multilayer briefcase with light-up function. The briefcase illuminates via an on/off switch and is complete with a supercomputer and weapon storage.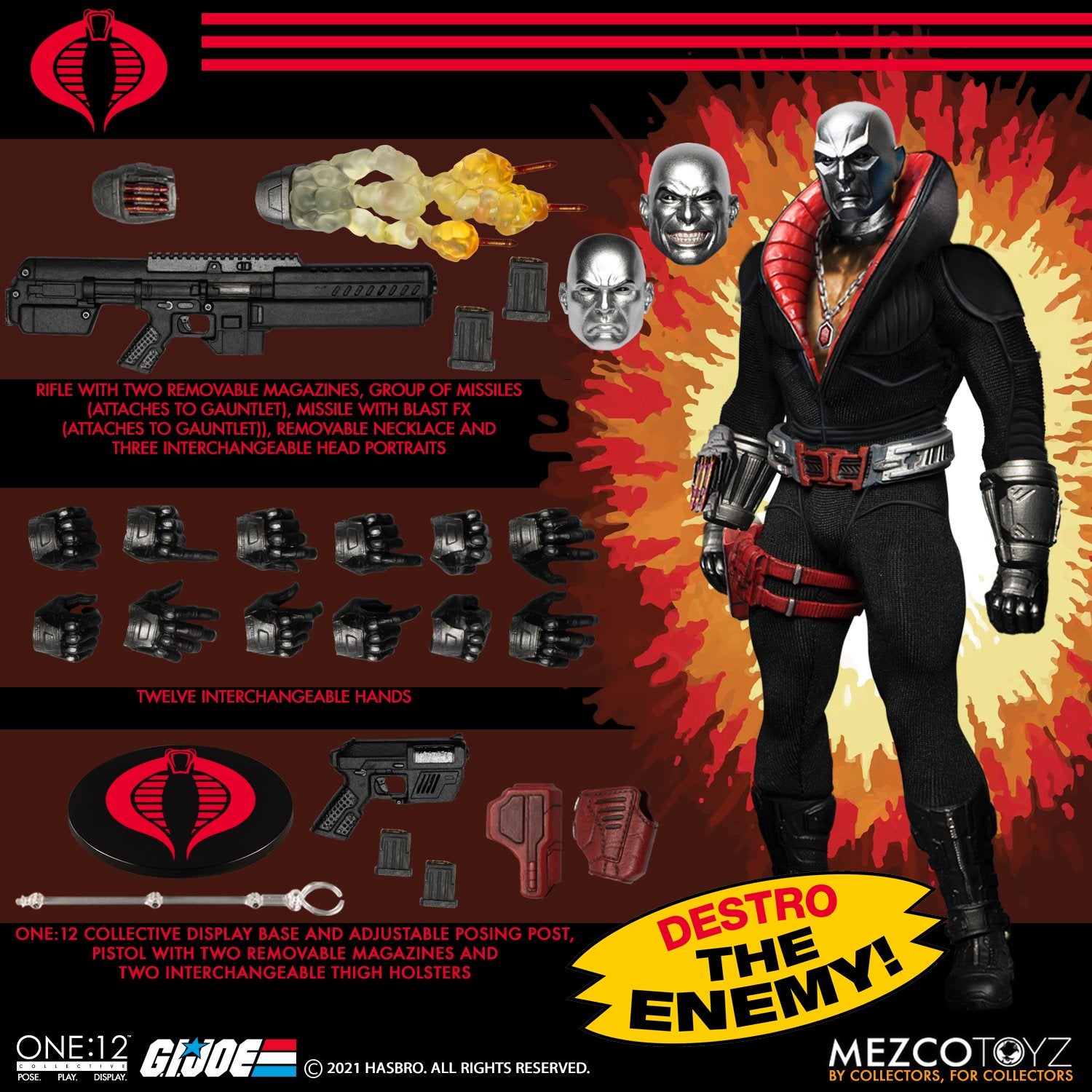 THE ONE:12 COLLECTIVE DESTRO FIGURE FEATURES:
One:12 Collective body with over 32 points of articulation
Three (3) head portraits
Hand painted authentic detailing
Approximately 17cm tall
Twelve (12) interchangeable hands including
-One (1) pair of fists (L & R)
-Two (2) pairs of posing hands (L & R)
-Two (2) pairs of gun holding hands (L & R)
-One (1) pair of briefcase holding hands (L & R)
COSTUME:
Bodysuit with tech enhancements
Necklace with family crest
Gauntlets with missile blasters
Duty belt
Interchange thigh holster
Knee-high combat boots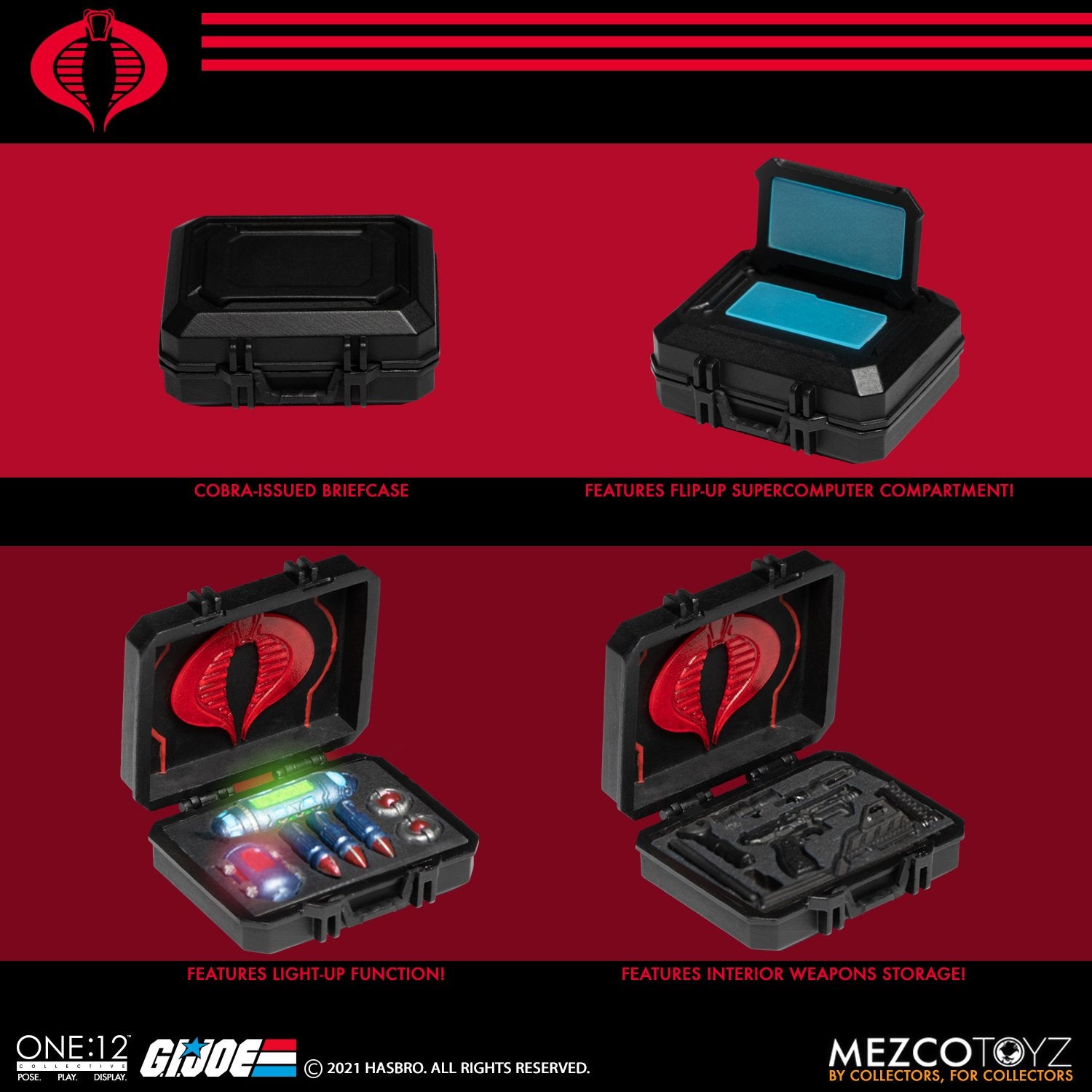 ACCESSORIES:
One (1) Cobra-issued briefcase
One (1) modular sub-machine gun
One (1) pistol with two (2) removable magazines
One (1) rifle with two (2) removable magazines
One (1) group of missiles (attaches to gauntlet)
One (1) missile with blast FX (attaches to gauntlet)
One (1) One:12 Collective display base with logo
One (1) One:12 Collective adjustable display post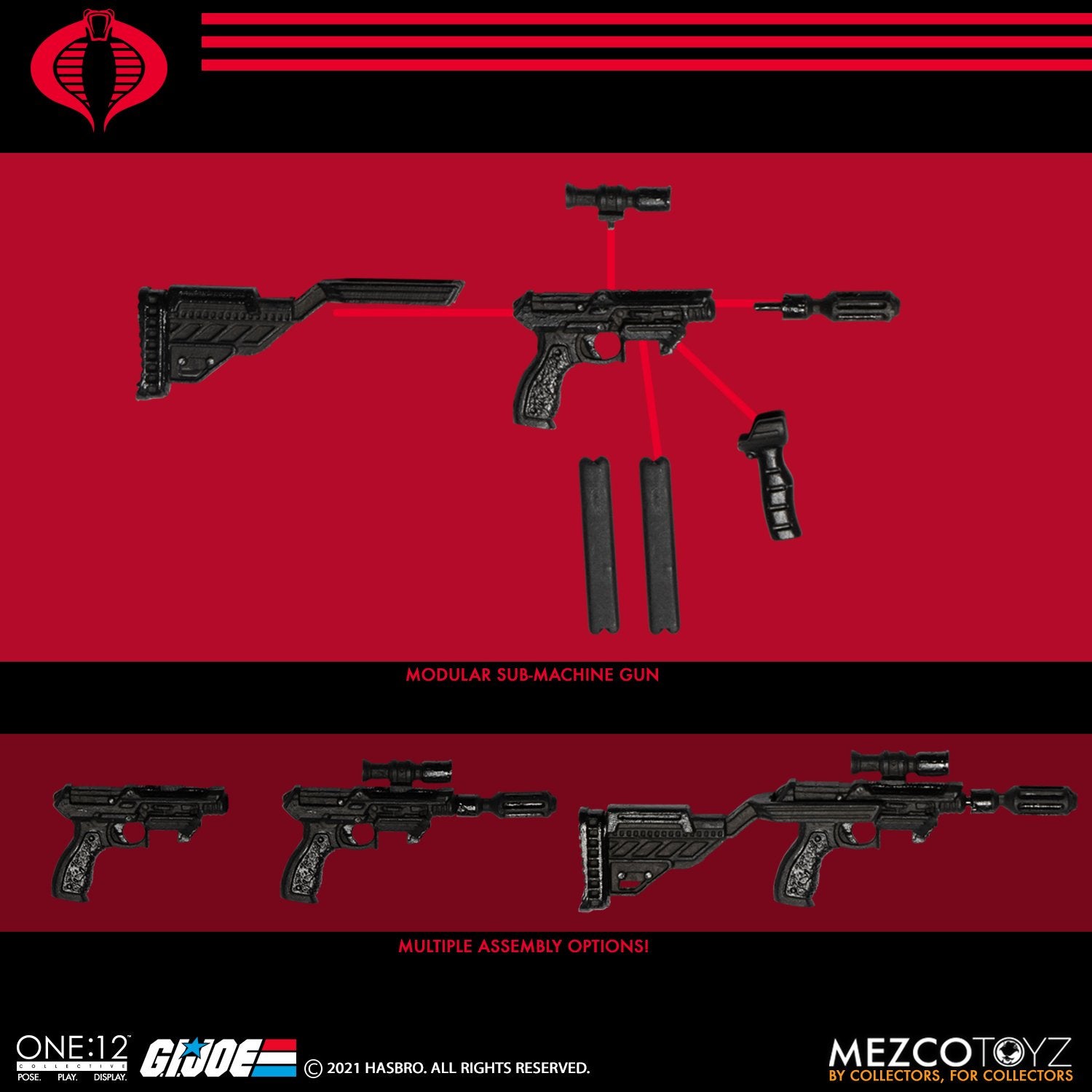 [See image gallery at www.figures.com]
---