One of the most extravagant Marvel collectibles of the entire year went up for sale yesterday, in the form of the ultra-huge and ultra-expensive Sideshow Venom Life Size Bust. But what about collectors who dig symbiote busts and don't have $1,200 to spare or a mansion to display humongous statues in? Well, Gentle Giant Ltd. has something worked up just for you! We don't see many mini busts released these days, but a surprisingly limited Gentle Giant Carnage Bust has now been put up for order… with just 450 pieces being produced!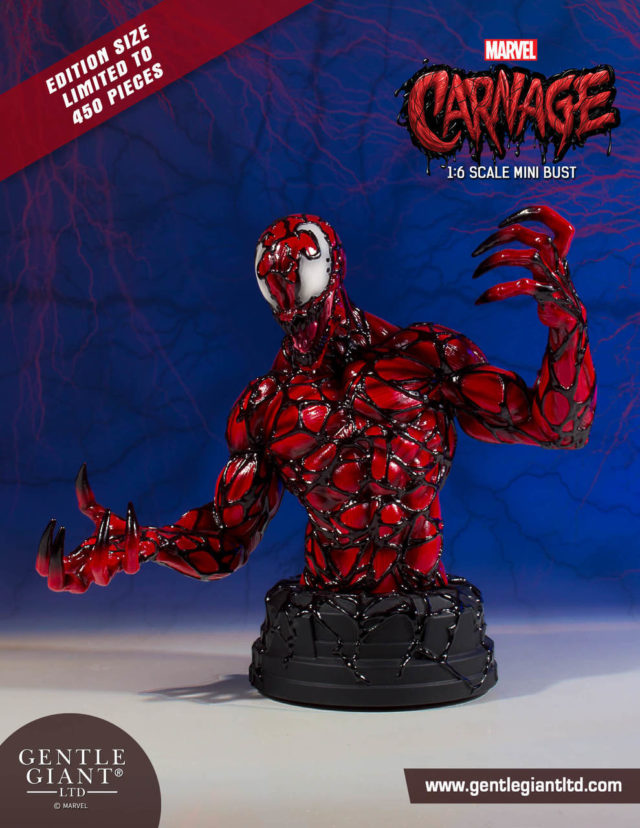 Wow, if there was ever a sign of the current state of mini busts in the collecting world, it's an all-new bust of a rarely-done top-tier character being put up for sale… and limited out of the gate to an edition size of LE 450.
Back in my day (when the 1,000,000 BC Avengers roamed the Earth), there was bedlam as hundreds of mini bust collectors crashed the Bowen Designs fax machine trying to get their pre-orders in for a Doop (yes, Doop) Bust with an LE of 500. Clearly, things have changed.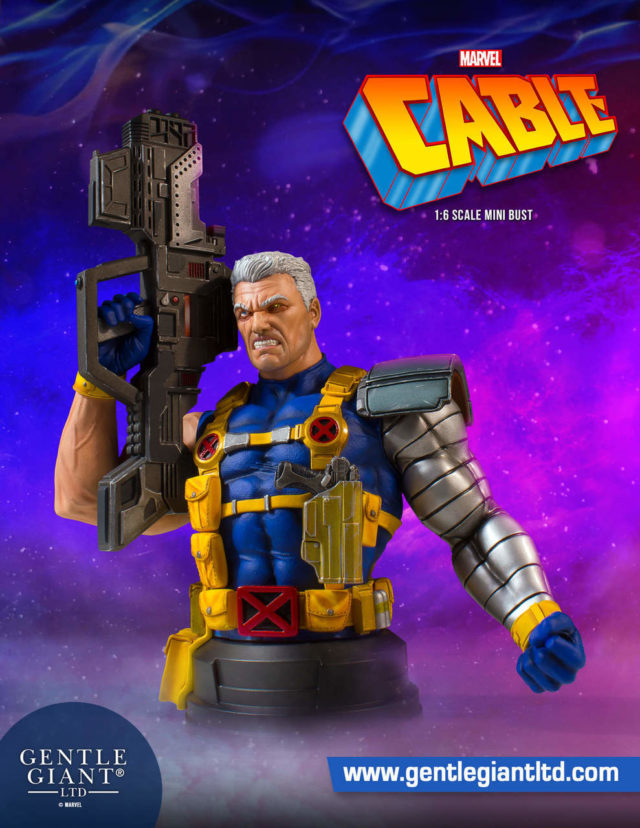 I'm still collecting Marvel mini busts personally, and Gentle Giant has had a few (okay, very few) new ones that caught my eye this year. The first was that modern Cable solicited in September, and the second is this new interpretation of Cletus Kassidy: Carnage.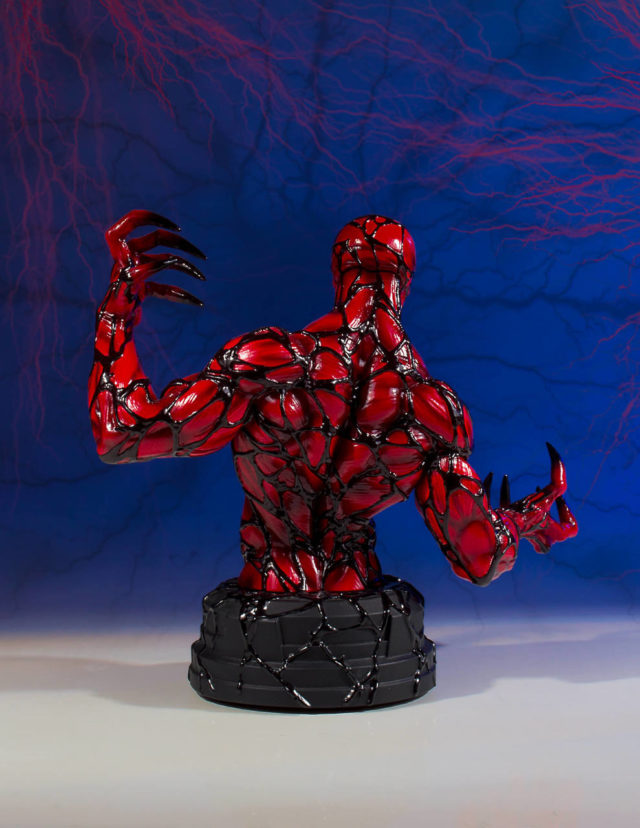 Carnage has previously been released in mini bust form only twice, by Bowen Designs and Art Asylum. Both of those sculptures have been solid, but I'm not adverse to adding another of the serial-killing symbiote to my collection.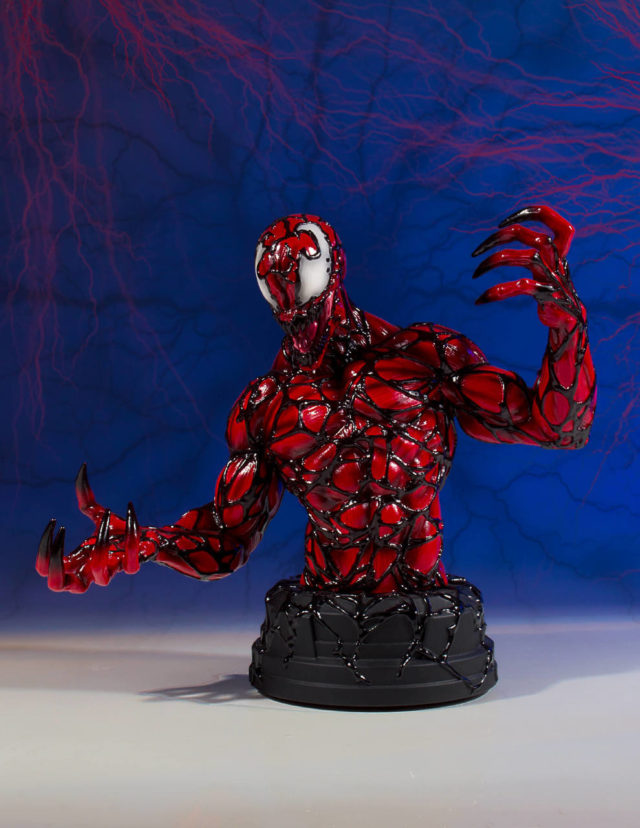 That said, I have mixed feelings on this one and haven't made a decision yet. While I really dig the super-glossy paint on this statue that really gives it an otherworldly shine, I'm cold on the way the paint deco is on the mouth.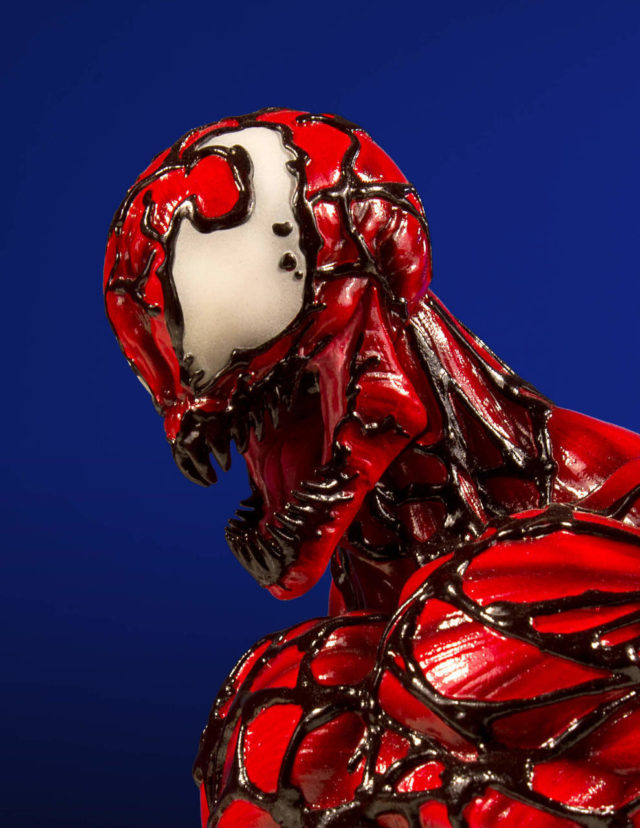 While my predilection is for a more classic Carnage style with lots of black shading covering the area from the top of the mouth to the eyes, Gentle Giant has gone for a modern look with just black paint on the teeth and a large red area above the mouth. It doesn't look bad, but it is a bit jarring to me.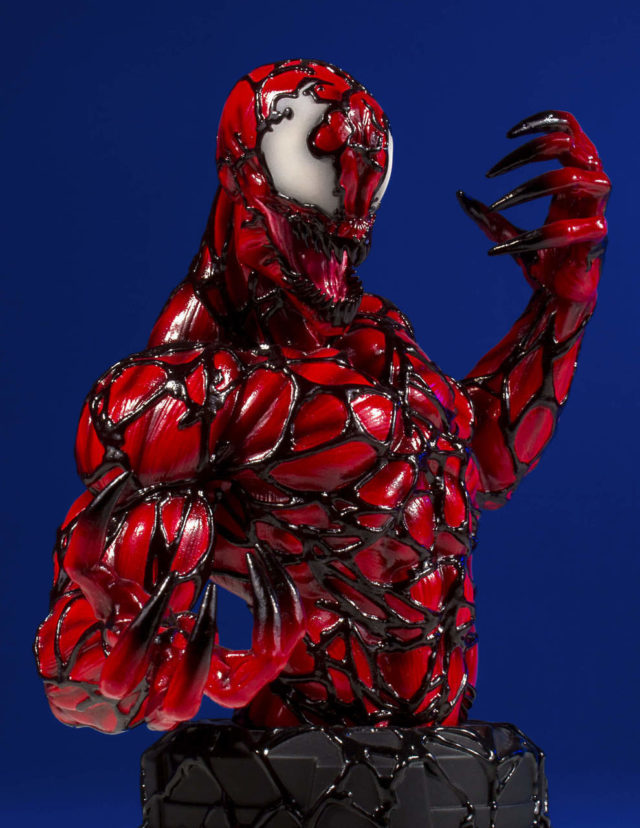 Otherwise, this is a pretty sick bust. The eyes are hauntingly sculpted and painted, and dual ultra-sharp clawed hands is how I like my Carnage (sorry axe-hand lovers!).
I haven't come to a final ordering decision on this yet myself, but I think the PO is more likely than not for me. 120 bucks shipped is a little higher than I like for a mini-bust, but with a number I can count on one hand's fingers (with fingers to spare) being released each year, I think I can budget it out.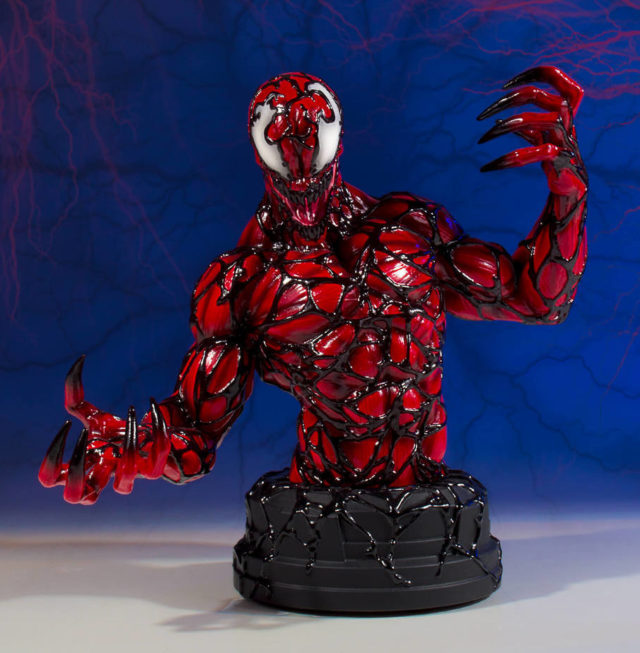 The Carnage Gentle Giant Mini Bust is now up for order, and is scheduled to ship out in Summer 2019. It's been quite a long time since I can remember there being a collector rush on a mini bust, but with just 450 pieces total being produced of an iconic villain, this seems sure to sell out well before it actually begins shipping out.
Thoughts on this Gentle Giant Carnage Mini Bust and the state of busts in general, Marvel collectors? Do you think there's still a future for small-scale half-statues like these, or is it time for the industry to give up the ghost on this two decade old tradition?
The post Gentle Giant Carnage Mini Bust Up for Order! Limited to 450 Pieces! appeared first on Marvel Toy News.