-Scott Rubin
This week we've had the pleasure of sharing with you exclusive reveals of cards from the upcoming Star Trek Attack Wing The Animated Series Faction pack from WizKids Games, and after focusing on the Klingon and Federation factions we're going to round out our previews with a look at the mission included in the set. As you well know, missions give you new and unique ways to play Star Trek Attack Wing with fun, narrative games. With the Animated pack you'll be able to recreate the Assault on Caleb IV!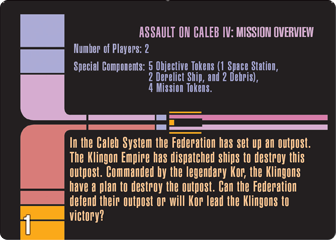 As with all Star Trek Attack Wing mission, Assault on Caleb IV is explained across two double-sided cards (four panels in total). The first outlines the basic format, what special materials you may need, and gives the background information for the story. You need two players along with 4 Mission Tokens, the Space Station Token, 2 Derelict Ship Tokens, and 2 Debris Tokens. The outline is pretty straightforward, with a Klingon fleet led by Kor attacking a seemingly defenseless Federation outpost in the Caleb System.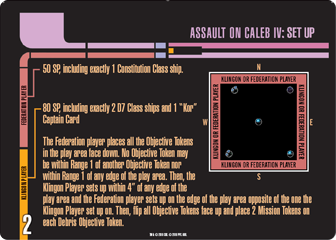 Card 2 is set up, outlining the team builds for each team as well as illustrating the battlefield! Here, Player 1 takes control of the Federation fleet with a 50 SP force that must include exactly one Constitution class ship (the Enterprise will do nicely). Player 2, meanwhile, is the Klingon with an 80 SP fleet featuring two D7 class ships (for example I.K.S. Devisor and Klothos) and captain Kor. On a standard square play area, the Federation player places the objectives, face down. Then the Klingon player picks a side where he or she will set up; the Federation fleet will set up along the opposite board edge. Finally, the objectives are flipped and 2 Mission Tokens are placed on the Debris.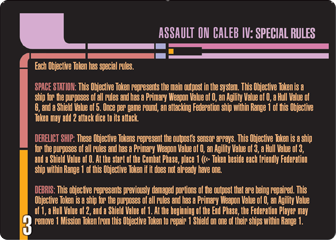 Three Special Rules are up next on Card 3. These outline the features and stats of the Space Station, Derelict Ship, and Debris. For instance, the Space Station can aid nearby Federation ships making attacks, the Debris field can be used to heal Shields, and the Derelict applies Scan tokens to nearby allies.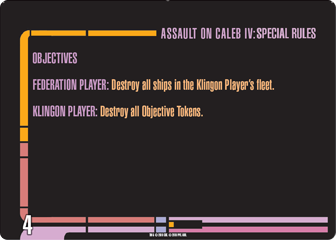 The final card presents the Objectives, which are brief and straightforward. The Klingon player must destroy all Objective Tokens while the Federation player tries to destroy all ships in the Klingon fleet; whichever one happens first determines the winner!
With the Assault on Caleb IV that concludes our look at the Star Trek Attack Wing The Animated Series Faction Pack (due in stores late this summer). Come back next week to see even more Attack Wing previews here on Figures.com!
New to Star Trek Attack Wing and want more information? Head over to WizKids.com for the lowdown!
-Scott Rubin
---
Keep up with all the latest toy news by following Figures.com on Facebook and Twitter!
To buy action figures, take a look at Hobby Link Japan, BigBadToyStore.com, TheToySource.com, Toynk.com, and BriansToys.com.